If you are a lover of banana bread, then we have the perfect recipe for you! Believe it or not, there is a way to make sugar-free banana bread that is better for you but tastes just as good. Who doesn't like the sound of that? Whether you're making this bread for a family brunch or to curb your sweet-tooth cravings, this recipe goes well for just about any and every occasion. Recipe developer Miriam Hahn came up with this tasty recipe that has so many benefits.
"My absolute favorite thing about this banana bread is that it is totally sweetened by the bananas and the maple syrup. I always try and avoid adding processed sugar to recipes," Hahn says. "If you use organic, pure maple syrup, it is unprocessed and actually adds some valuable minerals, so it is such a good option to use when making desserts." Sounds amazing to us! "It is also super moist and delicious," Hahn continued. "Everyone needs a good banana bread recipe for when they have brown spotted bananas on the counter!"
Keep reading to find out how to make this yummy bread.
Gather the ingredients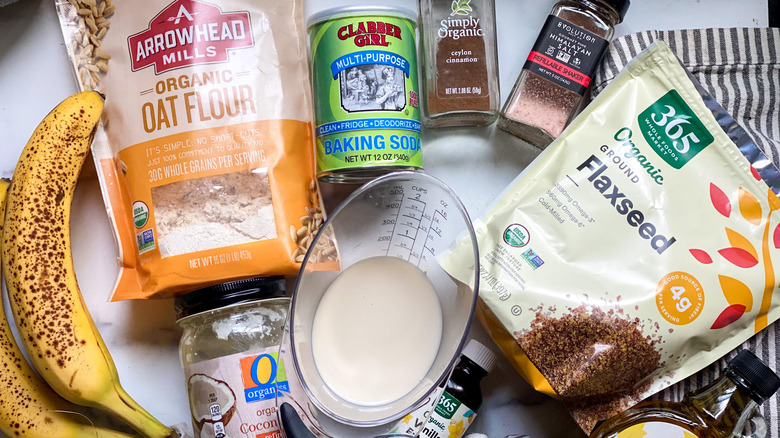 To start, you will need to gather all of the ingredients required to put together this dish. To begin, you will need flaxseed and water. In addition, you will need two ripe bananas, which should come as no surprise. Instead of olive oil, get some coconut oil and then a little bit of maple syrup for sweetness.
The recipe also calls for almond milk, and like most other bread recipes, you will need baking soda and vanilla. To round out the list, add cinnamon, salt, and organic oat flour. "One other thing to note: You can sub two eggs for the flaxseed and water mixture," Hahn shares. "I think it comes out better with the flaxseed, and it is so much healthier!"
Preheat the oven prep the loaf pan
Before you start any of the actual baking, turn the dial of your oven to 350 F, allowing it to get nice and hot while you prepare everything else. At this time, you will also want to take out a loaf pan and line it with parchment paper. That way, when you pour the mixture into the pan to bake, it won't stick to the bottom. Trust us — you won't want any of this delicious bread going to waste, and parchment paper is the best way to keep things from sticking.
Mix flaxseed and water and mash the bananas
Once you preheat the oven and prep the loaf pan, it's time to get down to business. Take out a small mixing bowl and add the ground flaxseed and the water. Give the mixture a few good stirs so that all of the flaxseeds are coated with water. Set your timer for about 10 minutes. By that time, the mixture should turn into a binding gel. That means it's good to go.
In the meantime, take out another bowl and mash the bananas with a fork. Set it aside because you will need it shortly.
Mix the other ingredients
In this step, you will mix the majority of your ingredients together. Grab a large mixing bowl and dump in the coconut oil and the maple syrup first. Use a whisk to combine the two together. Now, add in the flaxseed mixture and the bananas. Then, you can toss in the milk. Stir everything well to combine.
Last but not least, add the baking soda, vanilla, cinnamon, salt, and flour. Stir everything to combine. "You can add chocolate chips, cacao nibs, raisins, craisins, or nuts," Hahn says. "You just fold them in right after the flour has been mixed."
Bake the bread and serve
For the last step, pour the batter into your prepared loaf pan. Then, set your timer for about 55 to 60 minutes or until a toothpick comes out clean. Times may vary depending on your oven.
After you take the bread out of the oven, it's time to serve. "I like it plain, but my family will often add Earth Balance butter. It is great warmed up or cold," Hahn shares. "This is a great breakfast-on-the-go bread. With the oat flour, fruit, and flax eggs, it is a very healthy alternative to a processed muffin."
Leftovers will keep in the fridge for five days. Enjoy!
2 tablespoons ground flaxseeds + 6 tablespoons water
2 ripe bananas, mashed
⅓ cup coconut oil, melted
½ cup maple syrup
¼ cup almond milk (or any milk)
1 teaspoon baking soda
1 teaspoon vanilla
1 teaspoon cinnamon
½ teaspoon salt
2 ½ cups organic oat flour
Preheat oven to 350 F and line a loaf pan with parchment paper.
Combine the ground flaxseeds and water in a small bowl and stir. In about 10 minutes, this will turn into a binding gel.
Mash the bananas with a fork and set aside.
Add the coconut oil and maple syrup to a large bowl and whisk to combine. Now add in the flaxseed mixture, bananas, and milk. Stir to mix well.
Add the baking soda, vanilla, cinnamon, salt, and flour. Stir to combine.
Pour batter into the prepared loaf pan. Bake for 55 to 60 minutes or until a toothpick comes out clean. Ready to serve.