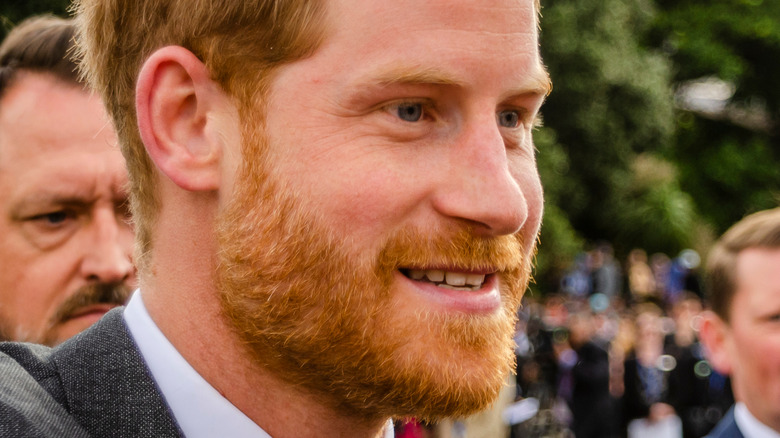 Between his extravagant royal wedding, his stepping down from his royals duties, his move to California, and his revealing interview with Oprah Winfrey, you probably at least know a thing or two about Prince Harry, Duke of Sussex. It's pretty impossible not to have heard at least the basics, considering how often he and his wife, Meghan Markle, are in the news. And that's just recently. As part of the royal family, Prince Harry has made headlines since he was a young boy.
But there's plenty more to his story than what's splashed on the front page. Between his time in the military, his many charitable passion projects, his adventurous travels, and his experiences as a young boy, this prince has had quite an eventful life. So, we've made it easy for you to catch up by compiling this list of the most interesting facts about Prince Harry. Consider it your crash course on one of the most talked-about members of the royal family.
He met the Spice Girls when he was 13
When Prince Harry was 13 years old, his father, Prince Charles, took him to visit South Africa. From what we can tell, it was quite an eventful trip! After going on a Safari, the young prince met the chart-topping girl group the Spice Girls.
A BBC News article published at the time reported, "The younger son of the Prince of Wales was a big hit with Baby Spice, Emma Bunton, who held Harry's hand and kissed him tenderly on the cheek." After meeting the Spice Girls, he and his father watched them perform for a charity concert in Johannesburg.
Their South African trip was in 1997, just a few months after the death of his mother, Diana, Princess of Wales. According to the BBC, it was Harry's first big event following the tragedy. BBC court correspondent, Jenny Bond, said this type of event was one the prince typically would have attended with his mother. "By bringing him, Prince Charles is showing, in some small way, how her influence lives on," Bond said.
He used to be made fun of for picking up trash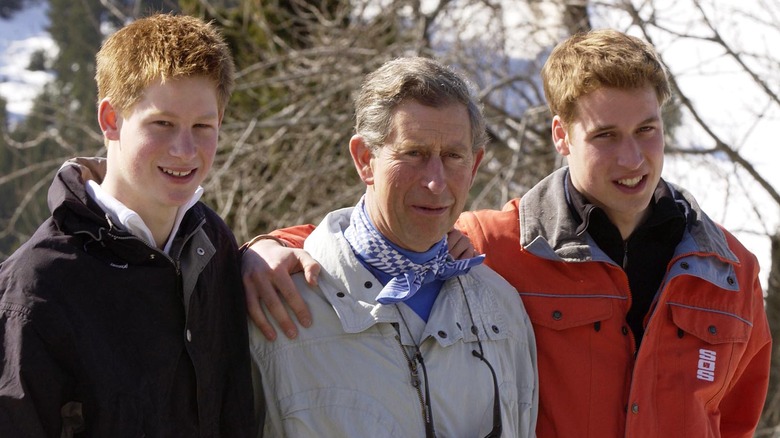 According to Hello! magazine, Prince Harry shared in the documentary "Prince, Son and Heir: Charles at 70" that he "used to get taken the mickey out of [him] at school for just picking up rubbish." The young prince always picked trash up from the ground due to a conscientiousness that he learned from his father, Prince Charles.
His brother, Prince William, explained how they learned this because their father took them to pick up litter. "We were in Norfolk on school holidays, and we went out litter-picking with him." The two of them apparently thought nothing of it, assuming it was a thing most families did. Painting the scene, he shared, "We were there with our spikes, stabbing the rubbish into plastic bags."
Despite his environmental efforts not being a hit with classmates, Harry seems to have kept that passion with him. In 2019, he spoke out about climate change, as USA Today reported, saying, "It's a race against time and one which we are losing."
Prince Harry spent his gap year volunteering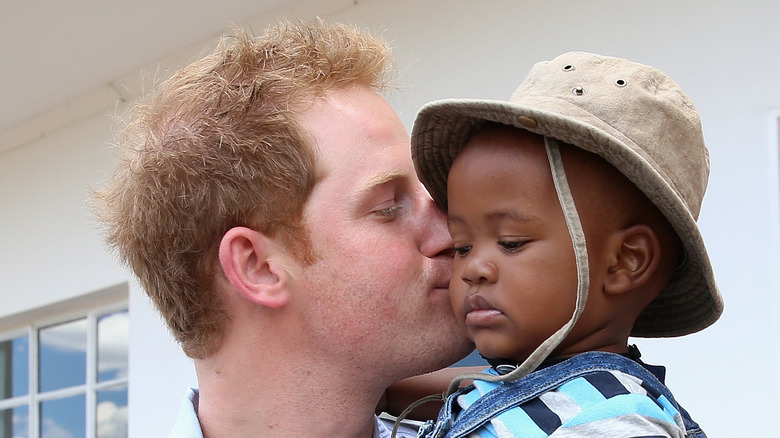 After leaving Eton College in 2003, Prince Harry took a gap year to travel and volunteer. According to the BBC, he spent some of his time working on a sheep farm in Australia. Then he went to Lesotho, where he volunteered to help orphans.
His time in Lesotho had a huge impact on him. He even founded a nonprofit, Sentebale, with the mission to help children there. Collaborating with grassroots organizations, Sentebale "[helps] the most vulnerable children in Lesotho, Botswana and Malawi get the support they need to lead healthy and productive lives." The kids they help have often been affected by HIV, AIDS, and poverty.
Nthabeleng Lephoto, managing director of the Touching Tiny Lives Foundation, spoke highly of Prince Harry and Prince Seeiso of Lesotho's work for the children. "If it wasn't for Prince Harry and Prince Seeiso, many of the children that we are supporting wouldn't be alive. That's a fact," she told ITV News.
He has a close friendship with Prince Seeiso of Lesotho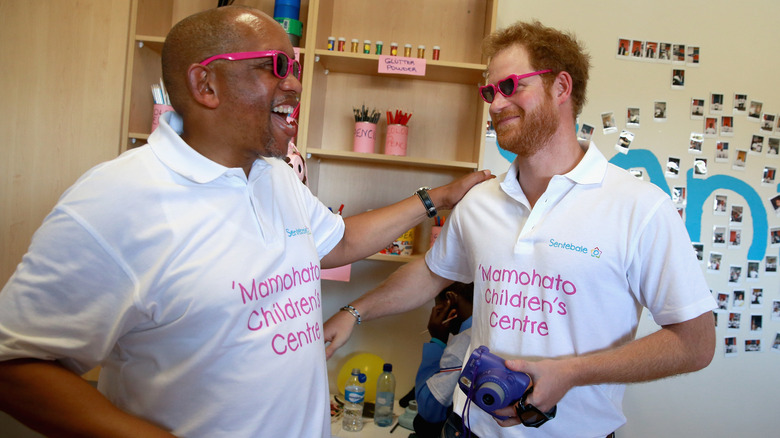 During his gap year, Prince Harry also developed a friendship with the prince of Lesotho, Prince Seeiso. The two began working closely together when they founded Sentebale in 2006. According to Town & Country, both of the princes' mothers, Princess Diana and Queen 'Mamohato, had donated time and energy to charities focused on HIV and AIDS. Sentebale was formed as a way to pay "tribute to both women," as the name means "forget me not."
On Sentebale's website, Harry spoke about his time in Lesotho and all he learned from Seeiso. "I was lucky enough to have an amazing guide in Prince Seeiso," he shared. "His knowledge and compassion for his country showed me that there could be a way of making a difference in Lesotho that would go far beyond the building projects I worked on."
Through their shared passion for helping the children of Lesotho, the two princes formed a real bond. In fact, Prince Harry and Meghan Markle avoided inviting many foreign politicians and royals to their wedding, but they made an exception for Prince Seeiso, who attended their 2018 royal wedding. Notably, he'd also been invited to Prince William and Kate Middleton's wedding in 2011.
The prince played this instrument on a song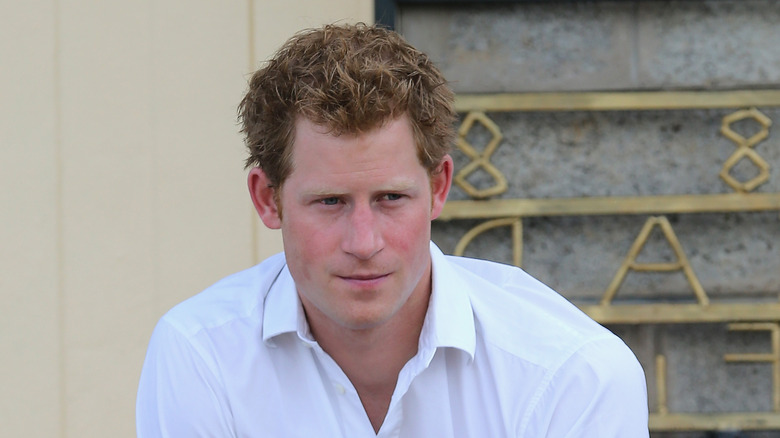 In 2012, English musician Gary Barlow created "Sing," a single for Queen Elizabeth II's Diamond Jubilee celebrations. The song, which Andrew Lloyd Webber co-wrote, features 230 musicians on the track with contributions coming from three continents, as noted by Yahoo! News.
While Barlow was traveling to record the various artists, he met up with Prince Harry in Jamaica and got the prince to play the tambourine. Barlow recorded Harry's musical talents on his laptop, and his tambourine playing is on the finished track.
Barlow talked about meeting the prince to The Daily Beast. "He's fun and relaxed and he's a really nice kid," he said. After asking the royal to contribute to the song, he said Harry first told him he didn't sing. But once Barlow explained what he had in mind," Harry was apparently game to join in. Barlow shared, "Then we met him later on that night and he did the tambourine hit and we spun it into the track. He probably hasn't got a clue what he's part of just yet."
He used secret social media accounts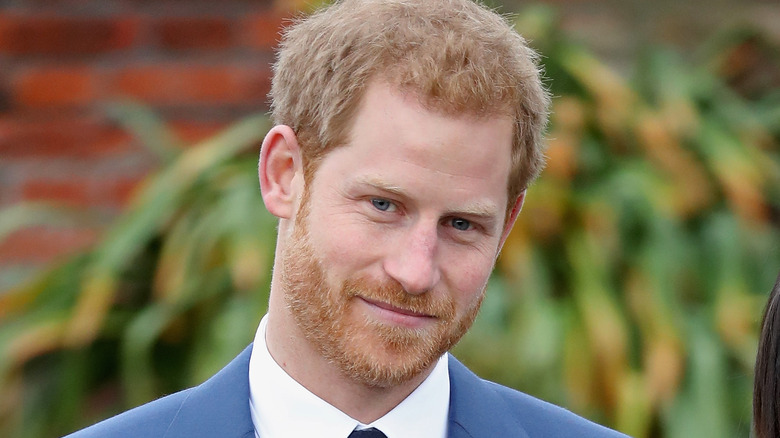 As part of the royal family, Prince Harry grew up under a microscope. So, it makes sense that the prince wanted to keep a low profile when it came to his social media accounts.
In the biography "Finding Freedom," the coauthors Carolyn Durand and Omid Scobie discuss Harry's secret Instagram account, @SpikeyMau5, as Harper's Bazaar reported. The seemingly random name was inspired in part by one of his favorite DJs, DeadMau5. And the beginning of the handle, "Spikey," is an alias the prince had used before on Facebook when he went by "Spike Wells," as noted by Hello! magazine.
The username surfaced when Meghan Markle and Harry first started dating. "Although she shared much of her London visit on social media, Meghan knew she had to keep her dates a secret. But the clues were there. Around the time of their first encounter, she began to follow a mysterious-looking Instagram account by the name of @SpikeyMau5," the biography explained. Though the authors noted that the account didn't have a profile photo featuring Harry, it was apparently his account.
Prince Harry's had to deal with many obsessed fans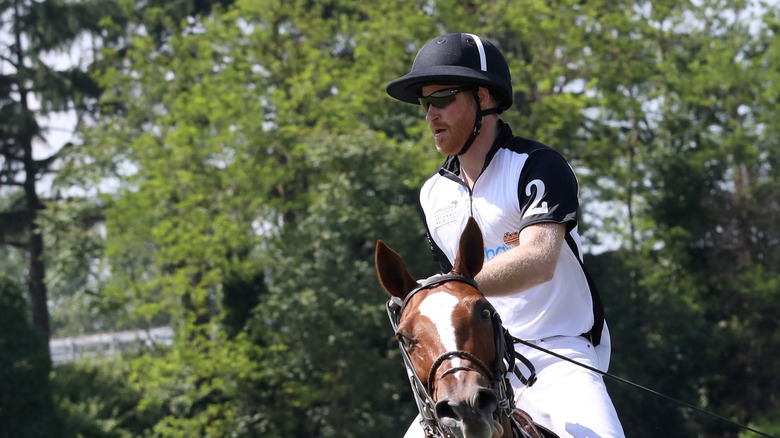 While it's fine to take an interest in the royal family, some admirers have taken that interest several steps too far. Prince Harry has dealt with this many times, as people have become obsessed with him to the point of following him.
According to Express, some of these overly enthused fans even refer to themselves as "Harry Hunters." They make a point of keeping track of where Harry will be and try to run into him. One blogger detailed his tour stops in the U.S., saying, "It is more than I could have hoped for … He goes and adds a stop in my home state of New Jersey. No, it's not just to see me, although I've heard that's why he requested this tour stop."
The Daily Mail even reported that one woman was arrested after trying to break into a charity polo match the prince was playing in. About the incident, police spokesman Kraig Gray said, "Prince Harry is a high-prominence figure. There are some people who have got an unhealthy attraction to him."
He trekked the South Pole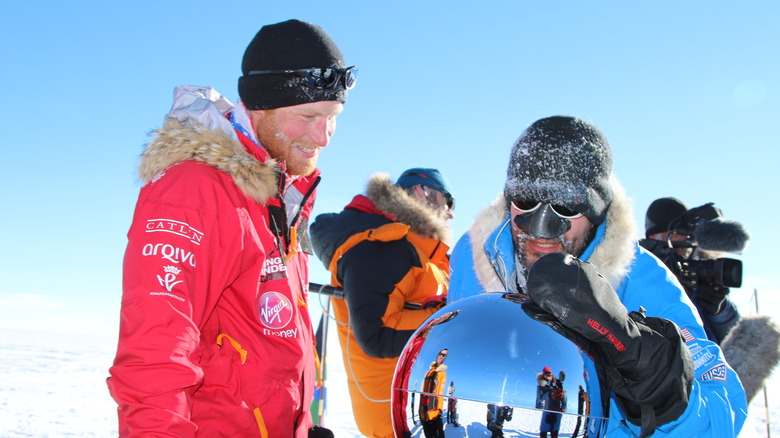 Prince Harry has proven himself to be quite the adventurer. In 2013, he trekked the South Pole as part of Walking With the Wounded's expedition there. Walking With the Wounded is a charity that helps U.K. veterans reenter society and live an independent life. These grueling annual trips are presumably one of the ways the organization funds its vital work.
The prince is a patron of the charity, and when a group of 12 injured servicemen and women decided to trek the South Pole, he joined them. Together they completed an over 200-mile trek through harsh terrain while pulling sleds weighing 150 pounds or more.
The BBC quoted Harry praising one of the veterans walking with him, Sergeant Duncan Slater, who lost his legs during his Afghanistan service. "[Slater] simply doesn't find walking to the South Pole a big enough challenge," the prince said, adding, "I think everyone back home will appreciate the fact that just being able to walk 100km (62 miles) in these conditions with no legs is a pretty amazing feat in itself."
Prince Harry rose to the rank of captain in the military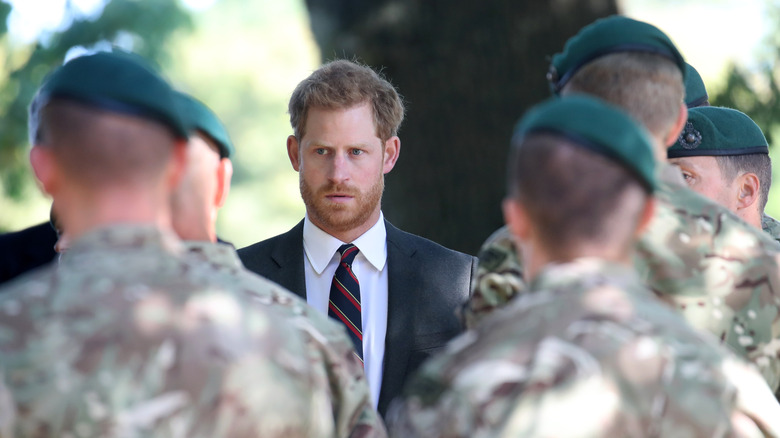 Prince Harry has had an illustrious military career, as noted by the official website for the royal family. He served in the British Army for ten years with two tours in Afghanistan. During that time, he eventually rose to the rank of captain. However, he started as a cadet just like anyone else.
The prince entered training in May 2005 and was known as Officer Cadet Wales. After completing rigorous training, he joined the Blues and Royals, a cavalry regiment in the British Army, in 2006.
In February 2008, the Ministry of Defense announced to the public that Harry had been serving in Helmand, Afghanistan, for over two months by that time. The royal family released a statement about his service, saying, "Prince Harry is very proud to serve his country on operations alongside his fellow soldiers and to do the job he has been trained for."
Prince Harry and Meghan Markle exchanged vows days before their royal wedding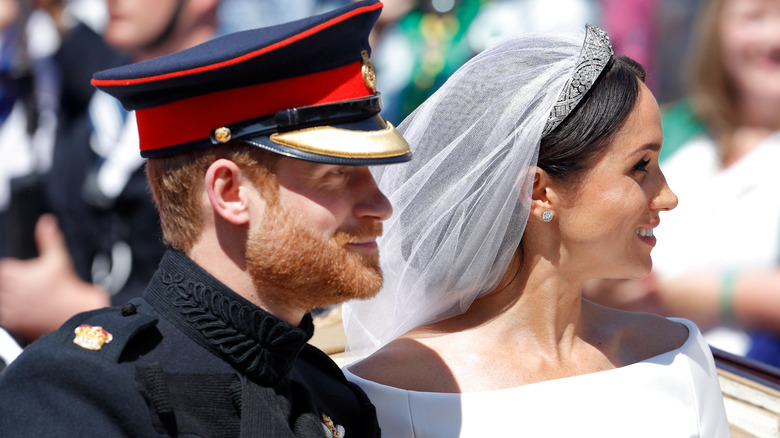 In their tell-all interview with Oprah Winfrey in March 2021, Meghan Markle revealed that she and Prince Harry had exchanged vows days before their official wedding, which was one of the best royal weddings in history. Markle said, "Three days before our wedding, we got married. No one knows that but we called [Archbishop of Canterbury Justin Welby], and we just said, 'Look, this thing, this spectacle is for the world, but we want our union between us.'"
This caused some confusion as it left many wondering if the televised royal wedding had been some kind of ruse. But Justin Welby, the Archbishop of Canterbury, spoke out to clear things up. He officiated the wedding and assured La Repubblica that the legal ceremony took place on Saturday, May 19, 2018. "I signed the wedding certificate, which is a legal document, and I would have committed a serious criminal offense if I signed it knowing it was false," the archbishop said.
However, he did confirm that he had many meetings with the couple prior to the wedding, which he considers confidential. So, based on his and Markle's statements, we're guessing the couple exchanged vows in one of these meetings, and even if they weren't legally binding, it's clear they meant a lot to Harry and his wife.
He established a sports competition for wounded veterans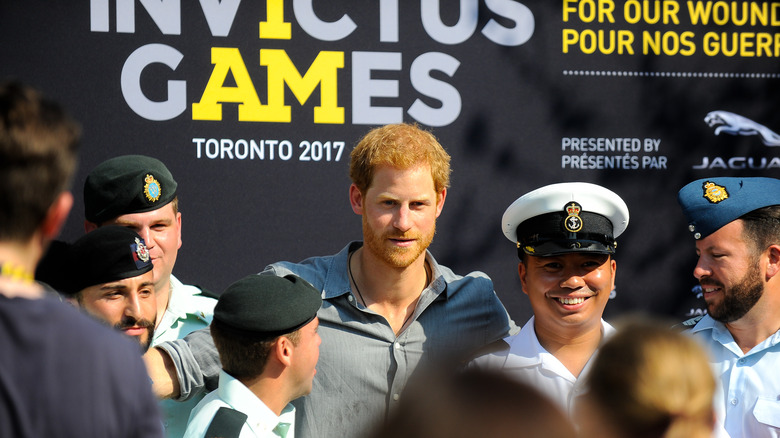 It's clear that Prince Harry's time in the military impacted him, and he's now passionate about his work with veterans. Along with his patronage of Walking With the Wounded, he's also established the Invictus Games, an international sports competition for injured and sick servicemen and women.
The annual games began in 2014 after Harry was inspired by seeing the Warrior Games in the U.S., as noted on the royal family's website. He came back with a mission to create a sports competition to "inspire recovery, support rehabilitation and generate a wider understanding and respect for wounded, injured and sick Servicemen and women," as stated by the Invictus Games website.
Prince Harry has described the competition and the participants by saying, "These Games have been about seeing guys sprinting for the finish line and then turning round to clap the last man in. They have been about teammates choosing to cross the line together, not wanting to come second, but not wanting the other guys to either." He added, "These Games have shown the very best of the human spirit."
Prince Harry doesn't technically have a last name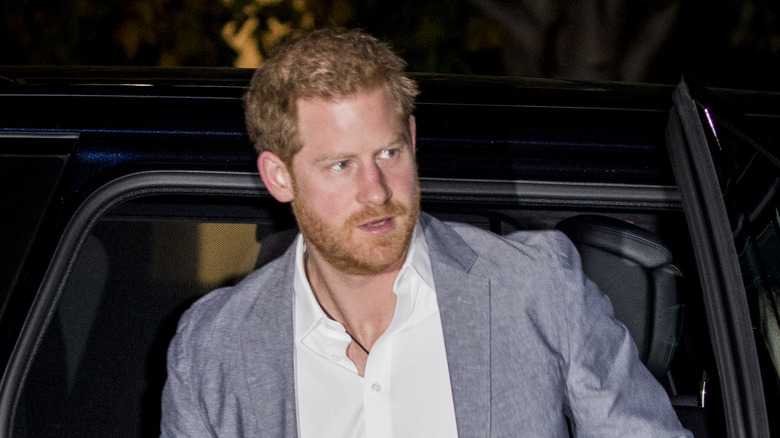 You may have noticed that when we were talking about his time in the military, we said Prince Harry was called Officer Cadet Wales. As he advanced, he was known as Captain Wales (via The Guardian). This is because the prince doesn't technically have a last name. As part of the royal family, he's always had titles, which identify him in place of any official family last name.
His full name is Henry Charles Albert David (via Britannica). Quite a mouthful, and as you may have noticed, his first name isn't even Harry. That's just a nickname for Henry. But with all those names, there's not a last name in sight. In 2020, Harry dropped the title, "His Royal Highness," but he is still called the Duke of Sussex, though that's not a last name either.
To make up for this lack of last name, both of his children are using the surname Mountbatten-Windsor. It's a family name, which, according to the royal website, is for "the Queen's descendants, other than those with the style of Royal Highness and the title of Prince/Princess, or female descendants who marry."
He and Meghan Markle adopted a rescue dog together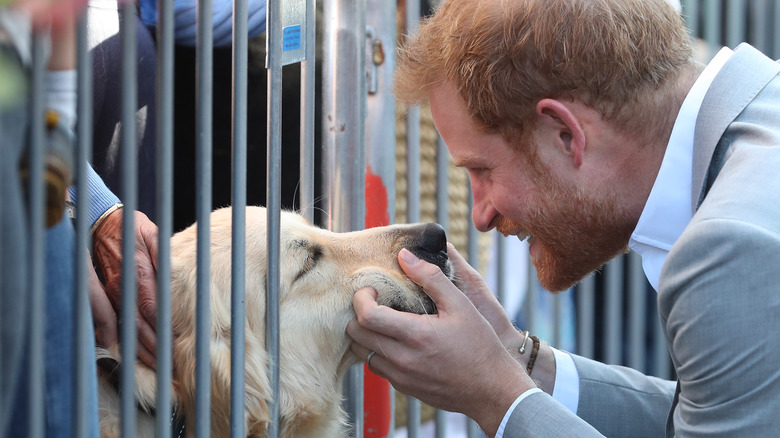 Meghan Markle has been a known animal lover for years. She's a patron for Mayhew, a nonprofit which works to rehome rescue animals, and she had two rescue dogs, Guy and Bogart, when she lived in Canada (via The U.S. Sun). So, it's no surprise that she and Prince Harry adopted another rescue dog together.
According to People, the duke and duchess of Sussex adopted a black Labrador in August 2018. They named their dog Pula, which they revealed has a very sentimental meaning for the couple. Apparently, Pula is the money used in South Africa's Botswana, where Harry and Meghan spent time after they first started their relationship. The country was clearly significant to the couple as they returned to help with Elephants Without Borders.
The two took Pula and one of Markle's original rescue dogs, Guy, to their new home in Los Angeles. However, Bogart had to be rehomed with friends in Canada since his old age made it difficult to travel.
Prince Harry inherited Diana's engagement ring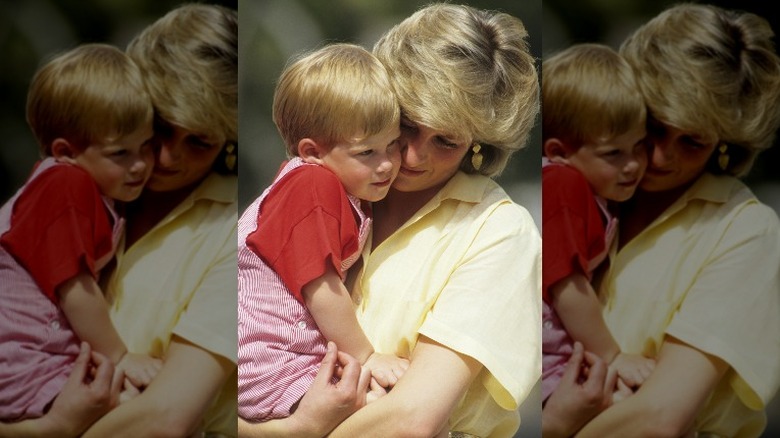 After Princess Diana's tragic death in 1997, most of her jewelry would be given to her sons, according to Good Housekeeping. While Prince William received his mother's Cartier watch, Harry received her engagement ring, a large ring with a Ceylon sapphire center surrounded by diamonds.
Notably, in the documentary "The Diana Story," Paul Burrell, Diana's former butler, recalled the prince saying (via Oprah Daily), "I remember when I held mummy's hand when I was a small boy and that ring always hurt me because it was so big."
Though he kept the memento for years, Prince Harry eventually gave the ring to his brother. When Prince William was planning to propose to Kate Middleton, his younger brother offered him their mother's engagement ring to give to her. "His one thing he kept from his mother, he gave to his brother. That's selfless, kind, and exactly who Diana was," Burrell said (via The Sun).