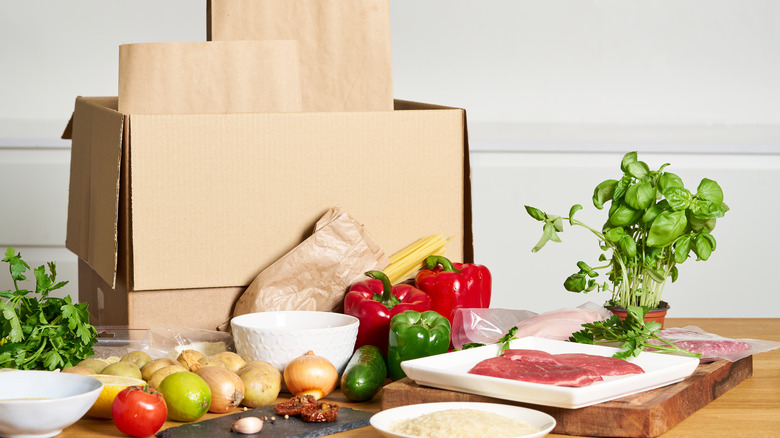 "What's For dinner?" It's the age-old question that people have been asking since the dawn of time, maybe even scrawled in some unknown language on a prehistoric wall or two. As the days get longer and daunting responsibilities swell, determining what to do for what we deem the most important (or at least most exciting) meal of the day never gets easier. Sure, you could run by the grocery store, but who has the time or energy for that? Fast food is always an option, but our arteries may hate us later.
And so, enters the crowded market that has become meal delivery services. Virtually unheard of a decade ago, you'd be hard-pressed to turn on a television these days and not see an advertisement for that convenient little box shipped directly to your home. According to the research organization Piplsay, a staggering 48% of Americans have tried a meal kit service in the past year. Whether you're trying to cut down on portions, high restaurant bills, or trying to experiment more in the kitchen, these services offer a little something for everyone. We are here to cut out the guesswork and bring a sense of ease to your weeknights. Here are the 15 best meal delivery services in 2021.
1. Freshly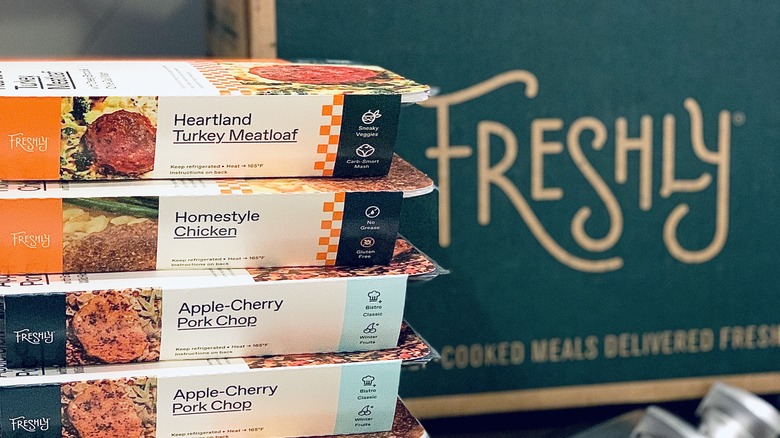 If you're all about cooking less — and we mean a lot less — this is the service for you. Your weekly shipments start with 4 to 12 individually sized meals that come straight to your door ready to be microwaved. The heat and serve element is almost as appealing as the gourmet-level quality. Depending on the shipping cost and amount of meals purchased, these waver around the $9-12 mark for each serving.
With each nutrient-packed meal full of quality proteins, fats, and veggies, each week you can choose from around 30 certified gluten-free options. Freshly keeps things, well, fresh by continually adding new meals as well as offering long-running favorites, like their steak peppercorn, and seasonally inspired picks. It's the perfect option for those looking to cut carbs and pack on the protein, as all their nutritional information is easy to find as well. Subscribers also have the ability to view the week's meals based on their dietary needs, including low carbs. They recently introduced new plant-based options, a celebrity line, and the ability to add individual proteins, like grilled chicken pieces and meatballs, to your order. Freshly is all about convenience and quality, and is an obvious frontrunner in the meal delivery service industry.
2. Daily Harvest
Daily Harvest is the "Chicken Soup for the Soul" of the meal delivery world. The long-standing popular service has been all about delivering nourishing food, like nutrient-dense soups and smoothies, full of all-natural ingredients that are thoughtfully sourced. While they've long been known for their smoothies, they've buffed up their repertoire to include flatbreads, energy bites, oat bowls, chia bowls, harvest bowls, and even lattes. Everything in their portfolio requires little prep with each item averaging out to under $10. It also has a bevy of celebrity fans.
With the focus on seasonally fresh fruit and vegetables, Daily Harvest's lineup is completely frozen, preventing any unwanted spoilage. In addition to plenty of plant-based options, your box is also customizable for a variety of diets like keto, paleo, and gluten-free. According to Joyful Healthy Eats, they work with farms that are in the process of gaining a USDA Organic certification to help alleviate the cost-intensive process. Options are wide, with usually around 80 to choose from in quantities that begin at nine items.
3. HelloFresh
One of the most widely recognized and pioneers in the meal delivery service arena is HelloFresh. Now a decade old, it's also the largest in the United States. Unlike later companies that would use the ready-to-serve models, HelloFresh provides the customers with all the ingredients pre-measured and instructions. Subscribers then cook, from scratch, a homemade meal in around 30 minutes. This is ideal for the at-home cook who may be lacking the time or inspiration to develop their own dinner concepts.
Each week provides a variety of around 25 recipes with three two-person meals a week averaging to around $65. The recipe cards are easy to follow and designed by nutritionists and professional chefs. For the diet-conscious, they offer a variety of six different meal plans, including low-carb and low-calories. It garners bonus points from us because all of their packaging is fully recyclable and sustainable. They seem to be doing something right as they are riddled with countless five-star reviews, touting the most among all meal kits, as well as being named the #1 meal kit by USA Today in both 2019 and 2020.
4. Factor
Factor is another meal service that takes the guessing factor (get it?) out of your weekly dinners that also happens to be owned by parent company HelloFresh. Pre-made, fresh meals, ready to heat and serve, arrive weekly at your doorstep, in quantities of four, six, eight, 12, or 18. Their single-serving, pre-portioned meals are conceived by the diet focused by dietitians. Unlike HelloFresh, no skills are needed. You simply pop it in the microwave and enjoy a balanced meal a few minutes later. Add-ons, like desserts, smoothies, and snacks, are also available.
According to Real Simple, the animal proteins included in the program are all antibiotic- and hormone-free, as well as grass-fed and pasture-raised. The meals are focused around the highly desired low carb, high protein diet but they have grown with plant-based options. This one may not be suited for the dairy-free eater as those options are few and far between. Delivered in eco-friendly packaging, it comes down to just under $13 a serving if you are purchasing six meals a week. If you're looking to make the commitment to your health and have limited time to prepare nutritious-centered meals that are also delicious, this is the option for you.
5. Dinnerly
Dinnerly is the answer to the budget question nagging at so many when the topic of meal delivery services arises. With meals starting at $4.69 per person, who could resist? The no-frills programs offers an accessible array of familiar entrees each week, from a glazed meatloaf to cheesy chicken quesadillas. A box of pre-proportioned ingredients and recipes arrive weekly at a fraction of the cost of other recipe kits. How do they do this? It's simple. They use a digital recipe card instead of paper as well as dishes that require fewer ingredients per meal.
Ingredients are high quality, like many other companies, but their cost-saving measures wind up saving you in the end. These also have the added bonus of promising that each meal can be prepared in six steps or less. If you're a non-adventurous cook who hates navigating the aisles of the grocery store and complex recipes, then Dinnerly is the perfect affordable option for you. According to The Frugal Girl, portion sizes are large allowing many to stretch their meals even further.
6. EveryPlate
EveryPlate is meant to appeal to every plate — with a prime affordability factory and eco-friendly packaging, this meal delivery is another winner in 2021. Averaging around $5 per serving, this cost-effective meal plan surprisingly comes highly customizable with subscribers having the ability to swap out proteins and even sides if they want. The meals are fairly straightforward, but for the price tag and convenience factor, you won't find us complaining. Much like the other services, meals come in two or four servings with the ability to order between three and five meals per week.
The weekly menus offer around 15 recipes with an emphasis on comfort food — think chicken pot pie and braised pork tacos. It's accessible for all palates but might not be appropriate for the vegetarian as they are very limited in their plant-based offerings. It's been well-received thanks to how straightforward and easy the recipe preparation with most taking no longer than 20 minutes. EveryPlate is ideal for the amateur cook that maybe doesn't want to settle for a ready-made option but won't have to risk much for a home-cooked lunch or dinner.
7. Purple Carrot
Purple Carrot's goal is to provide its subscribers with fulfilling and tasty meals that are completely plant-based. Versatile as it is exciting enough to even entice the enthusiastic meat-eater, their plans come in both meal kit style as well as fully prepared and ready to heat and serve. They have particularly marketed themselves to those looking to shed a few pounds as well as lower their LDL cholesterol. You're also doing something good for Mother Earth as a plant-based diet significantly lowers your carbon footprint.
The prepared meal arm offers an array of lunch or dinner options, like gnocchi al pesto or jackfruit carnitas, for $12.99 per serving. The meal kits offer more options, including breakfast, lunch, and dinner, with servings ranging in price from $4.49 each to $9.99. It's ideal for those looking to introduce a plant-based diet in their lives as well as vegans looking to add new options, or those who may struggle with meal planning. Far from mundane and flavorless, it will also have you rethinking your preconceived notions about a plant-based diet.
8. Home Chef
While some meal delivery services are highly designed to cater to a specific audience, Home Chef provides a little something for everyone, of all skill levels in the kitchen. Starting at just $6.99 per serving, customized meal kits are delivered to you each week with a range of options, from low carb to plant-based, and quick five-minute meals to those for the more passionate home cook. The fresh and easy plan also features grill-ready and oven-ready options, resulting in zero prep work on your behalf. They also come with another customizable feature that allows you to swap, double up or upgrade that select meal's protein choice.
Sound like a lot? If you're not up for the challenge of creating your own personalized meal plan, a quick online quiz can do it all for you. Before you dive in headfirst, Home Chef is also offered for in-store purchase at Kroger family grocery stores. This meal plan is much more focused on convenience and simplicity as opposed to the health-focused nature of other meal kits.
9. Splendid Spoon
Splendid Spoon is another plant-based meal delivery service that offers a wide range of meals and plans for those looking to add a nutrient boost to their diet. The central focus is on noodles dishes, grain bowls, soup, and ready-made smoothies that, as opposed to being priced per serving, come in a variety of box combinations. With free shipping, subscribers can customize a plan that works just from them, including breakfast only, as well as breakfast paired with lunch, dinner, and more. Each week, customers can expect around 50 dishes, handcrafted by nutrition experts, to choose from that are completely vegan and gluten-free. Everything arrives flash-frozen except for the smoothies which arrive refrigerated.
Looking to add more plant-based options to your diet? This is the way to go. It's a no-brainer method that provides ready-to-serve dishes. Weight Watchers points are provided as well as compatibility to Whole30, but the meals aren't necessarily low carb or fat, nor are they designed to be. Splendid Spoon is meant to round out a balanced diet and lifestyle.
10. Yumble
This next one is a breath of fresh air for all the busy parents out there. Yumble is a weekly subscription service for kids that promises to provide them with delicious and healthy fully-prepared meals. It was founded by moms who know all too well, the specific dietary needs and preferences of a child. With a balance of fruit and veggies, a team of nutritionists carefully sources each and every ingredient that goes into Yumble's meals. Each delivery also comes with a fun activity for the child to enjoy during mealtime. Meal plans start at four a week, priced at $9.99 per meal, and go up to 12 meals a week, which includes free shipping and is priced at only $5.99 a serving. With around 20 meals to choose from each week, you can fully customize your plan or select a "picky eaters" box which helps make the decisions for you.
Meals are delivered fresh in fully sustainable boxes each week. While making homemade meals may be more affordable, it's hard for the busy parent to put a price tag on peace of mind and convenience.
11. Green Chef
In the meal delivery world, Green Chef is the first to be classified a certified organic company. They take that commitment one step further by sourcing ingredients from family farms and local farmland. Subscribers choose from three different meal types — Keto + Paleo, Balanced Living, or Plant-powered. Much like other systems, you can choose between for two, four, or even six people that include three or four meals per week. They average around 10 choices per week with each starting at $7.16 per serving. While you are limited to four meals per week, you could adjust the serving size to account for leftovers.
With the promise that all recipes can be done in 30 minutes or under, each meal comes with pre-measured ingredients and pre-made sauces and spices. Every ingredient is organic and completely free from antibiotics, pesticides, and GMOs. Recipe cards spell out step by step their easy-to-follow instructions and also include photos and tips from trained chefs. This plan is ideal for the health-forward individual looking for a diet rich in high-fiber foods and healthy fats.
12. Sun Basket
Sun Basket is a meal kit delivery service perfect for the health-minded individual. Its mission is providing responsibly raised ingredients that as sustainably sourced, organic, and non-GMO. The popular service also has star power behind it in the form of Justine Kelly, the acclaimed chef behind the James Beard Award-winning Slanted Door. The menu each week caters to a variety of different diets including gluten-free, vegetarian, vegan, paleo, diabetes-friendly, Pescatarian, Mediterranean, and just about any other dietary lifestyle you can imagine. There is also a line of pre-made meals, breakfast options, snacks, and a number of grocery items that could be added a la carte to your order. Plans are available starting at four meals, in two or four servings each, with most meals able to be prepared in under 30 minutes.
Each meal is approved by their in-house nutritionist and typically carries between 500 and 800 calories per serving. It's applauded in reviews as some of the best recipes out there for any of the meal delivery services, according to CNET. While it is on the pricier side compared to some other plans, meal kits start at $10.99 per serving, it offers high-quality, mostly organic foods.
13. Gobble
Gobble's meal delivery kits are all about speediness so that you can gobble down a meal in just 15 minutes. Subscribers can choose three or four recipes each week from a selection of around 12 options that are available in two or four servings each. Priced at $11.99, it is on the higher end of cost but comes with zero prep and very little cleanup. They also offer a limited number of premium selections, but this will bring the price tag up to nearly $20 per serving. Add-ons are an option with Gobble as well and include desserts, soups, breakfasts, and add-on proteins and sides. They do offer the option to swap out proteins with many of the meals which can be appealing for many.
The large-format recipe card is chock full of information but that's just where the potential wasting begins. According to The Spruce Eats, Gobble's packing method results in a lot of unneeded plastic which can't always be recycled. They also explain that for the price tag, the quality could be hit or miss, with some cuts of meat completely unappealing. While there's certainly a convenience to be found, if you're on a budget and looking to reduce your footprint, this may not be the plan for you.
14. Martha & Maley Spoon
Martha & Marley Spoon is fueled by celebrity brand powerhouse, Martha Stewart. Each meal kit arrives with pre-portioned ingredients and features recipes from Stewart's personal arsenal with only the highest of quality in mind. There are 29 recipes to choose from each week that range from the familiar, like shrimp fajitas, to those with international flair, like spiced chicken gyros. Each can be prepared in under 30 minutes with no more than six steps. It's also a diet-friendly program that includes low-carb, vegetarian, and family-friendly options. Add-ons include extra proteins as well as a few pre-made dessert options.
Subscribers can choose between two or four servings of each meal and receive up to six meals a week, with portions costing between $7 and $11 per serving. As the ingredients do not come prepared, this may be more suited for the mildly experienced chef in the kitchen. While it is on the pricier side, many noted how incredibly fresh the ingredients were and that the recipes were particularly inspired.
15. Blue Apron
Blue Apron is one of the OGs that's still kicking it in the meal delivery kit game. The pre-portioned ingredient and recipe delivery service operates exclusively in the United States. Beginning out of a small commercial kitchen in New York just under 10 years ago, the company has expanded to now serving millions of meals a year. Available in their signature for two or signature for four, subscribers receive two, three, or four recipes per week, with servings costing around $7.50 to $10 each. In partnership with Beyond Meat and Weight Watchers, they also offer a vegetarian plan as well as a carb-conscious plan designed by a nutritionist for those following Weight Watchers. It's important to note that meals can run between a 25 minutes prep time upwards of 45 minutes.
Meals are well-balanced between a selection of seafood, fish, poultry, meat, and plant-based meat, and include healthier options as well as some comfort meals. Servings can be adjusted and there's the option to skip a week at any time. Premium meals are also available, including higher cuts of meat, for an added fee. Blue Apron also works with How2Recycle to implement a system that results in over 85% of packaging being recyclable. As a result of their exclusive access to renowned wineries, they also offer a wine pairing program. The program offers six bottles per box and is complete with pairing suggestions. Interestingly, they also dabble in some other venues, like an online marketplace with kitchen tools as well as meal kits for parties.