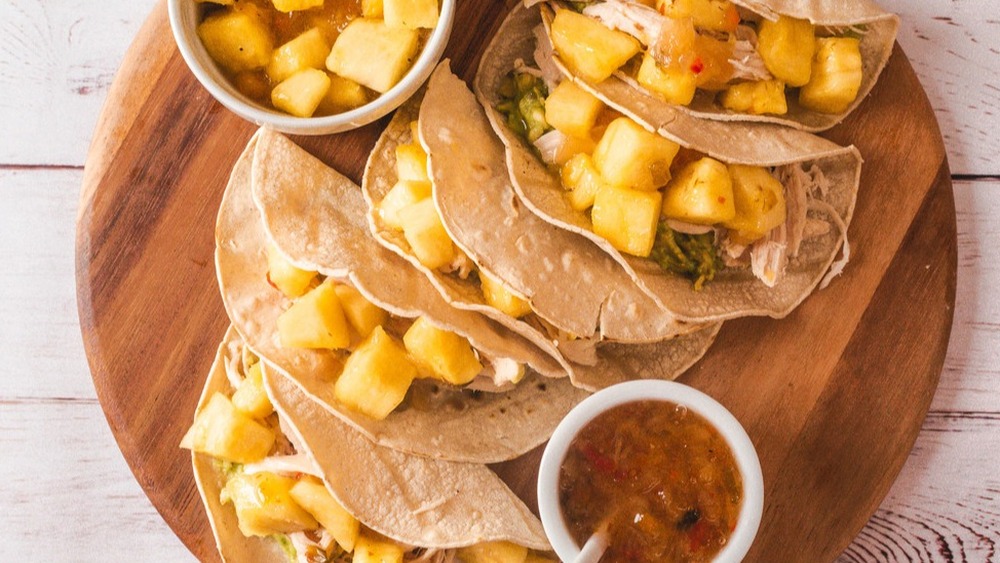 It's midnight. Maybe you've been binging your favorite Netflix show. Maybe you've been having drinks with friends. Or maybe you've been up late working on an important project. Whatever the reason for your wakefulness, now you've got the munchies and you're jonesing for something particular — a midnight snack, if you will.
Any midnight snack connoisseur knows that food just hits differently once the clock strikes twelve, and not just any ol' snack will do. Forget the diet-friendly veggies or fruit-heavy smoothies; if it's after dark, we say it's time for something delightfully sinful. Whether you go salty, sweet, or savory, if it's a midnight snack you're after, there's a good chance the snack you want is oh-so-decadent and oh-so-delicious.
But there's one problem that comes with midnight snacks: You want something amazing, but you don't necessarily want to spend an hour or so cooking that something amazing. And that's why, all too often, those in search of a midnight snack often turn to whatever delivery option is still open at that hour. But before you open that food ordering app, check out our favorite 23 recipes perfect for a midnight snack. These snacks and dishes check all the boxes — delicious, sinfully decadent, and extremely easy to whip up in a flash.
Poutine is a mix of cheese, fries, and gravy perfect for indulging at midnight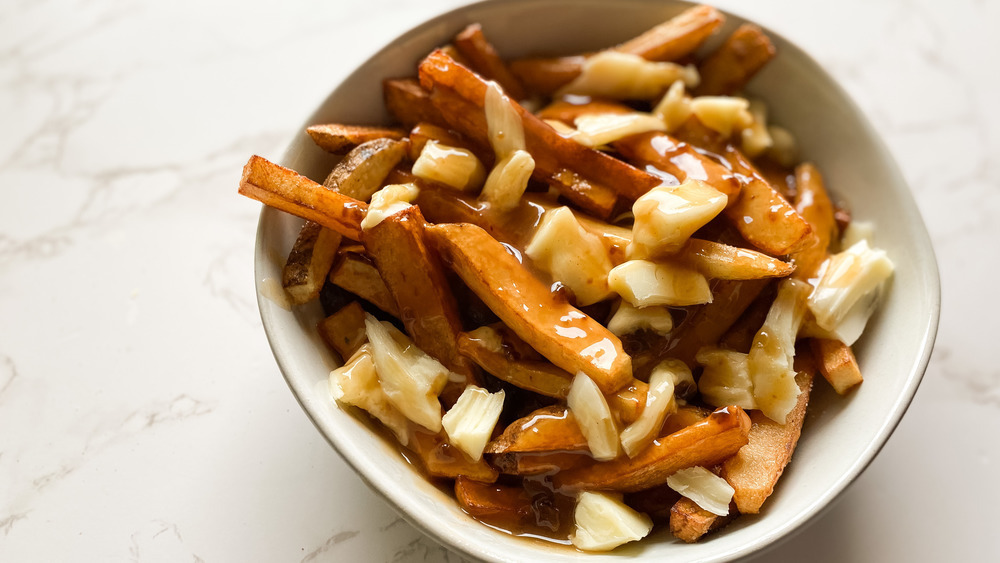 If you've yet to try the Canadian favorite, poutine, you're missing out. Made with french fries topped with cheese curds and then smothered in brown gravy, poutine is a delicious alternative to your normal cheese or chili-cheese fries. Filling, warm, and not half bad for soaking up any alcohol leftover in your stomach after a night at the bar, our poutine recipe requires minimal ingredients (potatoes, cheese, gravy mix, oil, water) and comes together in just 40 minutes.
Toss the takeout and make our drunken noodles for your midnight snack instead
Yes, ordering takeout is easy — but it's also pricey. Ditch the takeout next time you're craving some drunken noodles at midnight, and make our drunken noodles recipe instead. While the ingredients list is long, the actual prep and cooking time combined is only 30 minutes. Grab a friend or family member to help with the veggie prep (there is, admittedly, a lot of slicing and dicing involved in making this midnight meal) to make things easier, and you'll find yourself mere minutes away from an Asian dish that's likely far healthier than what you'd get from your local takeout joint.
Satisfy your midnight sweet tooth with this banana split
If you always reach for the dessert menu during your midnight snack runs, stay home instead and whip up this oh-so-easy banana split that'll rival anything you might order up at an old-fashioned soda fountain. Five minutes, a banana, ice cream, chocolate syrup, whipped cream, and a singular maraschino cherry are the only things standing between you and ice cream heaven. Since you won't need to use up your entire bunch of bananas, carton of ice cream, etc., you'll have plenty of ingredients left over to make banana splits tomorrow night, the next night … and maybe even the next night.
Try the mug cake trend for a tasty treat at midnight snack time
If you jumped on the mug cake trend a few years ago, you may have realized something — making a mug cake is easier said than done. While it seems super-simple, you still have to work within the scientific bounds of baking in order to get a delicious cake from the microwave. But there's no need to worry: We've broken down all the science and pulled together this mug cake recipe that combines your textbook cake ingredients with cocoa powder, chocolate chips, and other chocolatey goodness. The end result is a moist and delicious cake after just a minute of microwaving.
Make the ultimate bar food — mozzarella sticks — for a homemade midnight snack
Is there any bar food that's as popular and as well-loved as the mozzarella stick? But the next time you're at the grocery store stocking up for the midnight munchies, resist grabbing a frozen pack of mozzarella sticks that are going to taste more like the cardboard box they came in than anything else. Make your own from scratch for a high-quality snack that'll hit the spot. Our mozzarella sticks recipe shows you how, with only a few basic pantry staples.
These kale chips prove you can have an amazing yet healthy midnight snack
We can guess what you're thinking: Kale chips? For a midnight snack? Why don't I just eat a salad?
But hold on a second. If you want a midnight snack that won't totally ruin your healthy lifestyle or your digestive health the next morning, you might just want to opt for these tasty kale chips. They're super-easy to make, require only four ingredients, and come together in less than half an hour. You can eat just about as many of them as you like, too, because our kale chips recipe makes four servings, and each serving is only around 100 calories.
These copycat Taco Bell Fiesta Potatoes will hit the midnight snack spot
If you're going to run through a drive-thru at midnight, you're probably headed one place and one place only: Taco Bell. One of the best Taco Bell items for a midnight snack? The chain's Fiesta Potatoes. Kind of the Taco Bell version of chili fries, these seasoned potatoes are covered in nacho cheese and a dollop of sour cream — and you can make them at home with no problem whatsoever. So, the next time you're craving Taco Bell at midnight and you don't want to drive anywhere, give our copycat recipe a try.
This recipe makes midnight snack nachos a breeze
Nachos make a stellar midnight snack and our recipe makes cooking up a whole sheet pan of nachos incredibly easy. Make 'em for a gaggle of friends or just yourself, and eat them over the sink if you want to. We wouldn't blame you, because they're just that good. Follow our recipe to the letter — for a combo of peppers, tomatoes, olives, cheeses, ground beef, and spices that's guaranteed to be delicious — or swap out a few ingredients to make it all your own.
Cure your midnight chip snack cravings with this tortilla chip recipe
You walk to the fridge at midnight. You have a jar of salsa, some leftover queso, or even some fresh guacamole — but you're all out of tortilla chips. Well, never fear. If you have our tortilla chip recipe, you're all set — so long as you also have tortillas and some oil. Making homemade tortilla chips isn't as difficult as you thought. It only takes three ingredients and some time in the oven, no deep frying required.
Giddy up, pardner — these cowboy cookies will wrangle your midnight snack cravings
If you've never tried cowboy cookies before, you're missing out. Here, a chocolate chip cookie base gets a kick of extra flavor and texture thanks to the addition of oats, walnuts, and coconut flakes. These cowboy cookies come together in under half an hour, including baking time, so you're only one episode of your favorite sitcom away from a tasty and sweet midnight treat. Plus, the recipe makes 24 cookies, so you have more than enough for tomorrow night, too.
Surprise your tastebuds with this easy 7-layer dip recipe perfect for midnight snacking
If you're craving something a little bit more than mere tortilla chips or guacamole or salsa, why not combine everything you love about Mexican chip and dip into one dip to rule them all? We're talking about our 7-layer dip, which combines refried beans, cream cheese, sour cream, guacamole, cheese, salsa, fresh veggies, and seasonings for one insanely addictive dip that you'll be eating for days. There's no need to turn on the stove, either, and assembling the dip's layers only takes about 15 minutes.
A copycat Girl Scout cookie recipe for when the midnight snack cravings hit
Everyone loves Girl Scout cookies; what they don't love, however, is how Girl Scout cookies are only available for a limited time during the year. Thankfully, if your Girl Scout guilty pleasure is Do-Si-Dos, you can make them at home. While this recipe is a little more involved, and you may not want to make the cookies at midnight, this is a good one to make ahead of time for when your cravings hit. Prep them on a lazy weekend afternoon, and then, you can have them on hand once you're ready to chow down.
These cookies are chocolate on chocolate on chocolatey goodness, and they're built for midnight snacking
When no amount of chocolate is ever enough, look to these double chocolate chip cookies to cure your sweet tooth. While you could make them ahead to have on hand for all your midnight snacking, you can also make them on a whim, considering they take only a few standard baking ingredients and under 30 minutes to mix and bake. The recipe makes 10 cookies total, so you even have enough to share (though we wouldn't blame you if you didn't).
Whoopie pies are the Southern sweet you've been needing for midnight snack time
There are a lot of places that lay claim to the origination of whoopie pies — Maine, the Amish communities of central Pennsylvania, the South — but since this writer hails from the South, we're going with the South. Regardless of where they originated, though, there's no denying whoopie pies are delicious. Near-painfully sweet, fluffy, and filled with a marshmallow-y center, whoopie pies make a delicious sweet nighttime snack. Using our recipe, make them ahead of time for easier snacking, or just make them on the spot if you have 40 minutes to spare.
Lose the jar and opt for fresh bean dip when midnight snack time hits
You could grab a refrigerated jar of bean dip for your midnight snacking … or you could go with this fresh bean dip served warm and cheesy from the oven. While it does take 40 minutes to create, 30 minutes of that is hands-off oven time, and the recipe only calls for four ingredients: cream cheese, refried beans, taco seasoning, and shredded cheese. Enjoy it with some chips, plain tortillas, or even some fresh veggies like carrot or celery sticks.
Yes, it does get better than gas station taquitos when it comes to midnight snacking
Okay, so gas station food isn't exactly the culinary cream of the crop, but there's no denying the fact that gas station taquitos just hit the spot every once in a while, especially around midnight. However, those gas station taquitos can seem a little sus. How long have they been sitting on that roller? What are they even made of? Well, you can know for sure where your taquitos have been when you make your own at home. And our taquitos recipe only takes 20 minutes.
Make your own Chex mix to soothe midnight snack cravings, no trip to the grocery store required
If you love Chex mix, you probably know that buying bags upon bags of the addictive stuff can get pretty pricey. But now, you can make your own Chex Mix in bulk quantities at home, so you always have some at the ready for easy snacking. With our recipe, you can pretty easily replicate the snack mix with a few basic items, including Chex cereal, peanuts, rye chips, pretzels, and some seasonings. From there, you can get creative and add various spices and ingredients to form new flavors of your own.
Formulate the perfect midnight snack salsa for your late-night dipping needs
Chunky or smooth, super-spicy or a lil' sweet, filled with jalapenos or dotted with peaches — however you like your salsa, you can make sure you love every single bite when you make your own salsa, created specifically to your preferences, at home. Start with our easy salsa recipe if you've never made salsa before; we'll guide you through the quick process and then, from there, you can add and adjust to create a more personalized recipe.
Grab a buffalo-flavored midnight snack you can feel good about
Craving some buffalo wings, but trying to watch your waistline at the same time? If you know your stomach won't thank you later if you chow down on a bunch of chicken wings at the stroke of midnight, consider this recipe for a lighter, low-cal option: buffalo cauliflower. Our recipe comes together in 45 minutes and requires only a few ingredients. If you have cauliflower and buffalo sauce, along with a few basic pantry ingredients, you have everything you need.
Make these hot wings ahead of midnight for later snacking
When it's already midnight, some home cooks couldn't care less about the nutritional value of their snacks, and they'd rather go straight for the good stuff. On that note, if you're looking for a hot wings recipe that'll cure your midnight cravings, try our hot wings. But don't go making them at midnight, or you may just find yourself breaking a sweat. They take nearly three hours to cook, so this is a recipe you'll want to make ahead of time.
Never pay extra for Chipotle guac again, while satisfying your midnight snacking needs
Why pay extra for the guac when you can just make it at home? This easy, copycat Chipotle guacamole recipe takes literally five minutes of your time, and then you have delicious, homemade guac to enjoy alongside tortilla chips or just on its own (don't pretend like you haven't just eaten straight guacamole before!). This basic recipe only requires a few ingredients, including avocados, lemon and lime juice, pepper and salt, cilantro, and red onions.
Costco closed? You can still get those amazing tacos when midnight snack time hits
If you're craving Costco's fan-favorite tacos, but the retailer is closed, you can still get your late-night taco fix with our five-ingredient copycat recipe. All you'll need is a ten minutes, pineapple, rotisserie chicken, tortillas, habanero sauce, and avocados. It takes barely any work to put these yummy tacos together, and they make a delicious and satisfying midnight snack. Our recipe makes four servings, with two tacos for each serving.
Chow down on puppy chow, the ultimate childhood favorite made for midnight snacking
No, it's not for the dog in your life. Puppy chow is an awesome eat-with-your-hands sweet treat, kind of like the reverse side of Chex Mix. An affordable and easy-to-make snack, our recipe shows you how to throw it all together in less than half an hour. If you have Chex cereal, butter, peanut butter, chocolate chips, vanilla, and some powdered sugar, you can make puppy chow right this minute — or at midnight, when the snack cravings hit.