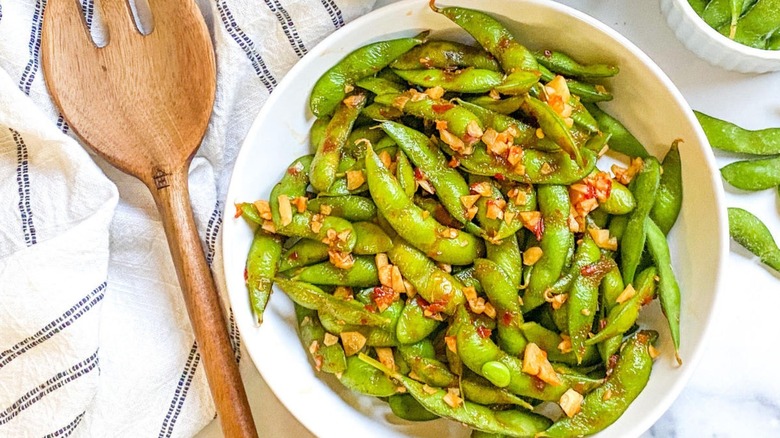 Edamame is a classic veggie treat served up at Japanese and pan-Asian restaurants. These small beans contain loads of health benefits — they're high in protein and filled with vitamins and minerals, according to Healthline. Served in a small dish, edamame is often paired with a punchy salt topping that accentuates the mellow, earthy flavor.
After being introduced to edamame by her daughter at a Japanese restaurant, recipe developer Miriam Hahn started finding ways to make it at home. As a wellness coach, Hahn finds ways to make healthy recipes as delicious as possible. This spicy garlic edamame recipe is no different. With sauteed garlic, spicy chili paste, and salty soy sauce, Hahn's edamame is a dish you'll want to eat over and over again. "My favorite thing about it is that it's so flavorful and spicy!" she shares. "You can modify the chili sauce if you want it milder, and you can add sriracha to it if you want it to have even more of a kick."
Gather ingredients for your spicy garlic edamame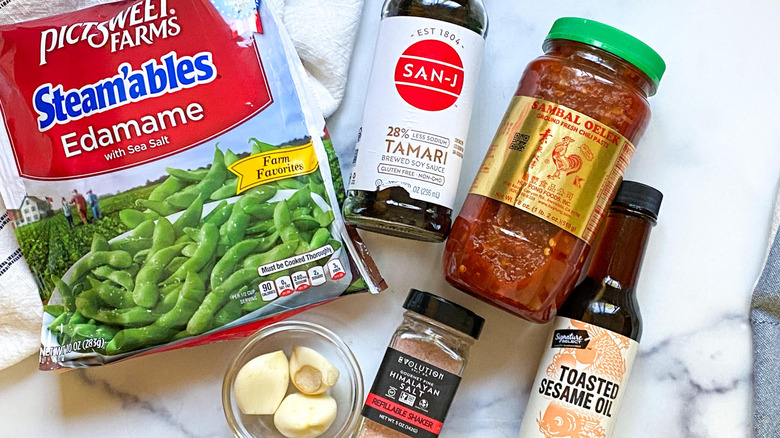 Before you can start making your spicy garlic edamame, you'll need to gather your ingredients. For this recipe, you will need one 10-ounce bag of frozen edamame in their shells, a cup of water, two teaspoons of sesame oil, three cloves of mined garlic, 1 tablespoon of chili paste (Hahn uses Sambal Oelek, but any chili paste is fine), two teaspoons of soy sauce, and half a teaspoon of salt (only if your edamame doesn't have it added. Some do, so check the package to make sure you won't be adding too much salt).
Boil the edamame
Now that you've gathered the ingredients for your spicy garlic edamame, it's time to heat up the edamame. Add one cup water and the frozen edamame shells to a small pot. Heat the water to a boil, and cook the shells for 3 to 5 minutes until they are no longer frozen. Using a colander, drain the water from the edamame shells. This is all the cooking you will do for the shells, so by this point, they should be hot and a nice, soft texture.
Cook the garlic
Now that the edamame is cooked, you can get to work seasoning it. The first step in making the edamame sauce is to cook the garlic. To do this, mince the garlic into small pieces. Next, put the sesame oil and garlic in a small frying pan, sauteeing on medium heat for two minutes. Make sure you are stirring constantly, as the mixture can burn easily. Once the garlic has been nicely toasted but not browned, it's ready to be combined with the other ingredients for the sauce.
Make the spicy garlic sauce
At this point, you've done all the stovetop cooking you are going to need for this recipe. All that's left is to make the spicy garlic sauce to flavor the edamame.
Remove the garlic from the pan and put it in a small bowl. Additionally, put your chili paste, soy sauce, and salt (if using) in the small bowl. Stir the mixture until combined, and taste to make sure the chili/soy sauce ratio is to your liking.
Pour sauce over edamame and serve
Now that you've made your delicious sauce, all that's left to do is combine it with the edamame and serve. Simply pour the sauce over the top of the warm shells and plate to serve. Feel free to mix the shells and sauce in a mixing bowl if you want a more even distribution. As far as serving suggestions, Hahn suggests pairing this edamame with any Asian dish. "I make a lot of stir fries, and this goes so great with that!" she says. Additionally, she says it "makes a great healthy snack."
1 cup water
1 10-ounce bag frozen edamame in their shells
3 cloves garlic, minced
2 teaspoons sesame oil
1 tablespoon chili paste
2 teaspoons soy sauce
½ teaspoon salt (if your edamame doesn't have it added)
Add one cup water to a small pot and add the frozen edamame shells. Boil for 3 to 5 minutes until they are no longer frozen, and drain.
Mince the garlic, then place the garlic and sesame oil in a small frying pan. Sautee on medium heat for 2 minutes. Stir constantly so it doesn't burn.
Add the cooked garlic to a small bowl and combine with the chili paste, soy sauce, and if using, extra salt.
Pour the sauce over the warm edamame and stir. Serve.