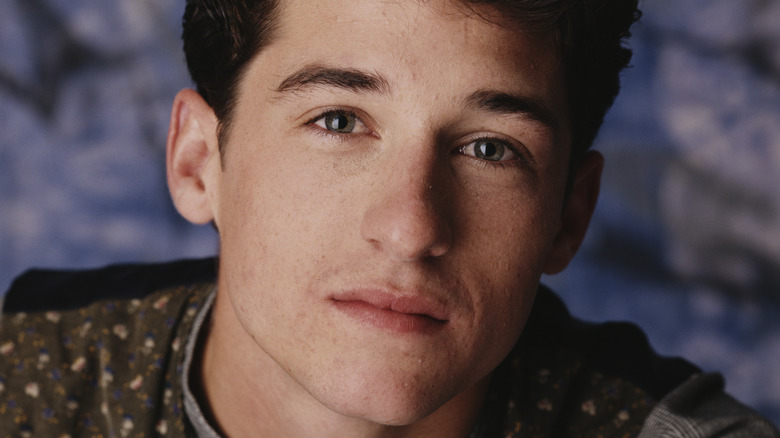 Perhaps best known as Dr. Derek "McDreamy" Shepherd on "Grey's Anatomy," Patrick Dempsey has come a long way in his life and career. But long before he was known for his amazing hair and what Glamour calls one of the best guy smiles in Hollywood, Dempsey lived a relatively normal life — well, as normal of a life as one can when you look like that. Still, that McDreamy spark has virtually always been there and it was only a matter of time before Dempsey would break out onto the big and small screens in a huge way.
Now, with a career that spans decades, Dempsey shows no signs of stopping. He's aged like a fine wine, both in his career and appearance, and continues to grace our television screens with his presence, even while taking the reins on new projects. Settle in and get ready for an extra dose of McDreamy. This is the stunning transformation of Patrick Dempsey.
As a young child, Patrick Dempsey had an undiagnosed learning disability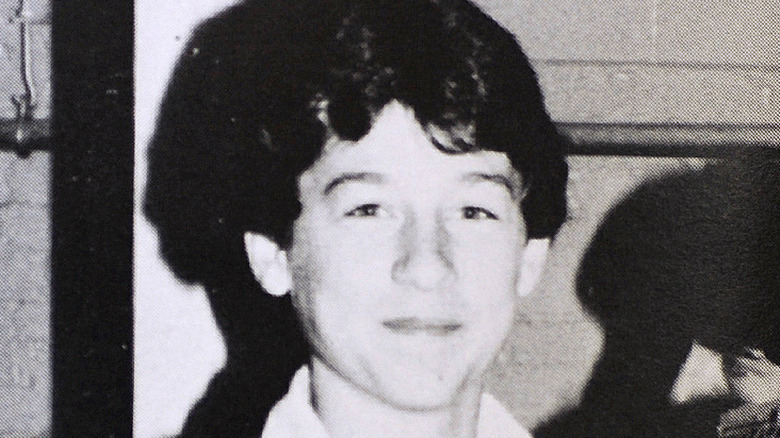 Watching Patrick Dempsey on screen, everything seems to come easily, but that wasn't always the case for the star. Speaking at Gatepath's annual "Power of Possibilities" event in 2018, Dempsey revealed (via Geek Club Books) that he was placed in special education classes when he was young due to undiagnosed dyslexia. Eventually diagnosed and given the proper accommodations, Dempsey was able to move out of special education classes. If you ask Dempsey, there's a lesson in there. "Everybody's an individual and we have to approach education in that way," he said at the Gatepath event.
Speaking with Barbara Walters of his later diagnosis and his experience growing up, Dempsey revealed, "I think it's made me who I am today … You have to keep working, I've never given up." And it certainly could have been easy for Dempsey to give up, especially on his dream of acting, as he told Walters that auditioning wasn't as easy as just reading the script in his hand. "It's very hard for me to read it off the page, I have to memorize it in order to go on," he explained. "I have to memorize everything." Fortunately Dempsey has certainly made it work, as evidenced by his long, fruitful career.
Patrick Dempsey grew up all around Maine
While you may look at Patrick Dempsey's success and think it screams Hollywood or Los Angeles, Dempsey's childhood looked a lot different than that. In an appearance on Maine Voices Live, the star revealed he lived in several towns all over Maine in his youth. "I grew up in Turner until about junior high, then we moved to Buckfield and I was there until about sophomore year and then went to St. Dom's in Lewiston," Dempsey recalled.
If you've never heard of some of those places, you aren't alone. In 2010, the population in Turner, Maine was 5,734 and Buckfield, Maine is even smaller, with just over 2,000 people in 2010. Now imagine how small they were when Dempsey was growing up in the late 1960s and the 1970s.
Those small town roots left their mark on Dempsey who told Maine, "I think the sense of a small town really applies itself when you go out into the world. Everybody knows everybody, so you have to be able to get along, and if you don't agree with your neighbor, you have to be able to work through it and be civilized." He added that he believes those are "important lessons" that should be remembered often.
Quite the young athlete, Patrick Dempsey played many sports as a kid before he began acting
Patrick Dempsey found his strengths outside of the classroom as a kid, playing just about every sport imaginable to pass the time. During an appearance on Maine's "The Nite Show," Dempsey revealed he played baseball, soccer, and football, but his real niche was ski racing. "I won the state of Maine championship in slalom when I was 13," he revealed. For those not in the know, slalom is the alpine skiing event where competitors race downhill between flags.
But despite his athletic ability, Dempsey didn't play sports at school. "I never had the grades to get on any of the teams," he continued. "I was a horrible student, I was not really an academic, unfortunately, which is why I went into acting for some reason." He added that he was pretty good at getting in touch with his emotions and expressing himself, and enjoyed participating in local theater.
Patrick Dempsey dropped out of high school to be a professional juggler
Given his academic struggles, it may not be hard to imagine that Patrick Dempsey didn't exactly love school. It makes sense, then, that he left it for what he hoped to be a brighter future. It all started, as he told Maine Voices Live, during a school power outage. Dempsey's shop teacher taught him how to juggle to pass the time and he picked it up right away. He went home, practiced, and joined a performance group. "I sort of just kind of fell into this thing accidentally," he recalled. "I put together a three-minute juggling routine and I did it here in Portland, the regional for the Talent America competition."
Dempsey won that competition and started considering a new future. As the actor told ABC News, "I was gonna run away with the circus … but I was a bit too young, they wouldn't let me in." And he explained further on "The Nite Show," "I tried to do Ringling Brothers Clown College and I didn't get accepted … So clearly it wasn't my career path, it wasn't my destiny." Still, Dempsey always seems pretty happy to show that he still has the skills, destiny or not.
Long before Grey's Anatomy fame, Patrick Dempsey was a successful actor
When clown college and professional juggling didn't work out for Patrick Dempsey, he took his talents elsewhere: to the screen. In 1987, Dempsey starred in the teen romantic comedy "Can't Buy Me Love" as a nerdy outcast trying to be one of the cool kids. The same year, he starred in "In the Mood," in which he played a hunky teenager who was on the prowl for older women, followed by 1989's "Loverboy" with a similar "cougar-hunting" premise. If you're seeing a theme here, you're not wrong. Long before he was McDreamy on "Grey's Anatomy," Dempsey was quite the teenage heartthrob in the '80s, but his career slowed a bit in the early '90s. So what happened?
Life, as they say, imitates art. Dempsey became involved with his much older manager, Rocky Parker, whom he ultimately married. After that, his career went on the back burner with mostly small parts for a while, until their messy divorce was finalized in 1994.
Patrick Dempsey's mother was diagnosed with cancer in 1997
Not long after his divorce to Rocky Parker was finalized, Patrick Dempsey's life was upturned once again. He told Maine Voices Live that he brought his then-girlfriend (now wife) to meet his mother for the first time, and she wasn't acting like her normal self. "It was odd that my mother wasn't feeling well," he shared. "She was always someone who was very active and outgoing and never ill. It was just odd."
After Dempsey returned home, he received a call from his sister with the bad news. He recalled the moment he learned of his mother's diagnosis during an interview with Today. "My sister called and said Mom had been diagnosed with cancer," he lamented. "She had ovarian cancer and the tumor was the size of a grapefruit and that she needed to go into surgery immediately." Dempsey's mother came through the surgery well and was in remission for a time, but this set off a long cancer struggle that impacted the whole family for years to come.
Patrick Dempsey's career got a second boost with romcoms and Grey's Anatomy in the 2000s
As the actor's mother continued to seek treatment for her cancer diagnosis, Patrick Dempsey's career was experiencing a resurgence, thanks to romantic comedies. He was cast as Andrew Hennings, the big city fiancé of Reese Witherspoon's Melanie Smooter in "Sweet Home Alabama" in 2002, and although he didn't get the girl in the end, the movie was a sort of new beginning for the actor.
On the heels of that movie's success, Dempsey was cast in his now most iconic role, Dr. Derek Shepherd on the ABC medical drama "Grey's Anatomy," which premiered in early 2005. While early reviews for the series were lukewarm, fans loved it and critics were eventually won over. Once again, Dempsey was catapulted to heartthrob status (per Hello! magazine). Shortly after the premiere of "Grey's Anatomy," Dempsey was cast alongside Amy Adams in the family fantasy film "Enchanted" in 2007, proving he could balance his role on television with film roles.
Inspired by his mother, Patrick Dempsey started the Dempsey Center
While his career was taking off once again, Patrick Dempsey's mother continued to fight cancer, enduring several recurrences of the disease. In 2008, Dempsey founded the Dempsey Center to give back to the community where his mother first started receiving treatment: Lewiston, Maine. According to the Dempsey Center website, Dempsey and the rest of his family realized through their mother's experience how much a cancer diagnosis impacts the whole family. That was the inspiration for the creation of the Dempsey Center, a cancer support center with resources for affected families.
Dempsey told Maine Voices Live that it was after the second or third recurrence of his mother's cancer that they started learning about wellness centers. "There's so many ways to give back and do something, but sometimes you need to just take care of your own area, your own town," he explained. "You make a bigger impact there. Sometimes people think globally but I think sometimes we forget what's going on in our own backyard … That's how it started." Dempsey's mother ultimately died from the disease in 2014, six years after the founding of the Dempsey Center (via USA Today).
To raise money for the Dempsey Center, Patrick Dempsey started the Dempsey Challenge
Founding a cancer support center doesn't come without costs, something Patrick Dempsey and his family no doubt learned quickly after the founding of the Dempsey Center. Dempsey described on "The Nite Show" how this led to the creation of the Dempsey Challenge, an annual fundraiser centered around a bike ride as well as a run and walk, about a year and a half after the Dempsey Center was founded. "We had to figure out how to raise money because all the services are free and I didn't really want to do like a banquet, they're not really that much fun," he shared. "So the bike ride is much more enjoyable and the run and the walk, it's really fun." He's speaking from experience because Dempsey himself competes in the bike rides each year.
According to Dempsey, one of the great things about the Dempsey Challenge is that there are many ways to get involved, including a 5K and 10K as well as the signature events, the 25-, 50-, 65-, and 100-mile bike ride events. On Maine Voices Live, Dempsey shared, "It's not a race. You're cruising along and then you stop at the rest stops and you go at your own pace." Over the years, the Dempsey Challenge has raised more than $16 million for the Dempsey Center, according to Central Maine.
Later in life, Patrick Dempsey reconnected to his childhood passion for auto racing
While his acting career flourished, Patrick Dempsey continued to pursue another passion project: race car driving. Dempsey revealed on "The Nite Show" that despite getting involved in racing as an adult, "I always loved car racing since I was a little kid." This led Dempsey to found Dempsey Racing in 2006, beginning his career as a competitive race car driver.
In the 2013 documentary mini-series "Patrick Dempsey: Racing Le Mans," Dempsey revealed just how important racing is to his life, sharing, "My life really started once I started racing." Dempsey went on to reveal that he'd never felt totally comfortable as an actor, probably due in no small part to his dyslexia, and that racing is where he truly feels at home.
In 2015, ESPN reported that Dempsey's team took second place in the GTE amateur category of the 24 Hours of Le Mans endurance race in France. "I think it's hard to put into words how much it means to be on the podium in Le Mans," Dempsey shared of the second place finish. "It's an amazing accomplishment — you always dream about moments like this. I've worked really hard over the last three years to make this happen, and I'm here. Vive la France!"
Why Patrick Dempsey left Grey's Anatomy
In 2015, after a decade on "Grey's Anatomy," fans were shocked when Patrick Dempsey's character, Dr. Derek Shepherd, was killed off the show following a car accident and, ironically enough, poor medical care that resulted in him being brain dead. As Entertainment Weekly noted at the time, however, Dempsey's departure wasn't a total shock given that his character had been in only a handful of episodes that season, but tell that to the fans who were truly devastated.
Given Dempsey's long run on the show, speculation immediately started about how and why he'd been given the boot from the series. But according to an interview Dempsey did with People, he left "Grey's Anatomy" simply to focus on his family and save his marriage (Dempsey's wife had previously filed for divorce). "You can only do one thing at a time and do it well," he shared. "I [learned] to prioritize. Our union has to be the priority. I wasn't prepared to give up on her and she wasn't either. We both wanted to fight for it."
He and his wife have since reconciled.
As much as he loves racing, Patrick Dempsey just can't seem to quit acting
After his departure from "Grey's Anatomy," Patrick Dempsey could have made the transition to racing as his only career, but despite never feeling at home as an actor, he just can't seem to stop acting. In 2018, Dempsey starred as the titular character in the TV miniseries "The Truth About the Harry Quebert Affair." Then in 2020, he starred as Dominic Morgan in the first season of the television series "Devils," the latter of which TV Insider notes is a very different character from the beloved Derek Shepherd and the heartthrobs he's portrayed for most of his career. Of the character, Dempsey shared, "It was unexpected for me because you don't know if he's a good guy or a bad guy. Dominic does whatever it takes to achieve his objectives."
But whether Dempsey will continue working on television shows or will make his way back to the big screen with future films is still a bit up in the air at the moment. He revealed on Maine Voices Live, "I really am enjoying shows that have like a 10-part miniseries. They're fun to do."
Patrick Dempsey made a surprise return as Derek Shepherd on Grey's Anatomy in Season 17
Stop reading now if you aren't caught up on "Grey's Anatomy" and want your life to remain relatively spoiler-free.
In the Season 17 premiere of "Grey's Anatomy" in late 2020, fans were pleasantly shocked to witness the return of a slightly older and more gray-haired Dr. Derek Shepherd, albeit in a dream sequence while Dr. Meredith Grey was unconscious after contracting COVID-19. Patrick Dempsey appeared in four total episodes of Season 17, helping Meredith come back from the brink of death by reminding her she had their children to think about.
Of the return to "Grey's Anatomy" Dempsey told Deadline, "It was great. It was really fun, very special," adding later, "It's crazy how much time has passed, but it really was so comforting, and lovely, and inspiring to go back, and to work together, to see everybody." Of course, "Grey's Anatomy" fans just can't get enough of Dempsey, and his appearance gave fans a bit of hope. When asked during an interview for Variety whether there was any hope of seeing Derek again in the future, Dempsey teased, "​​Who knows? Never say never with this show, right?" Never say never, indeed.