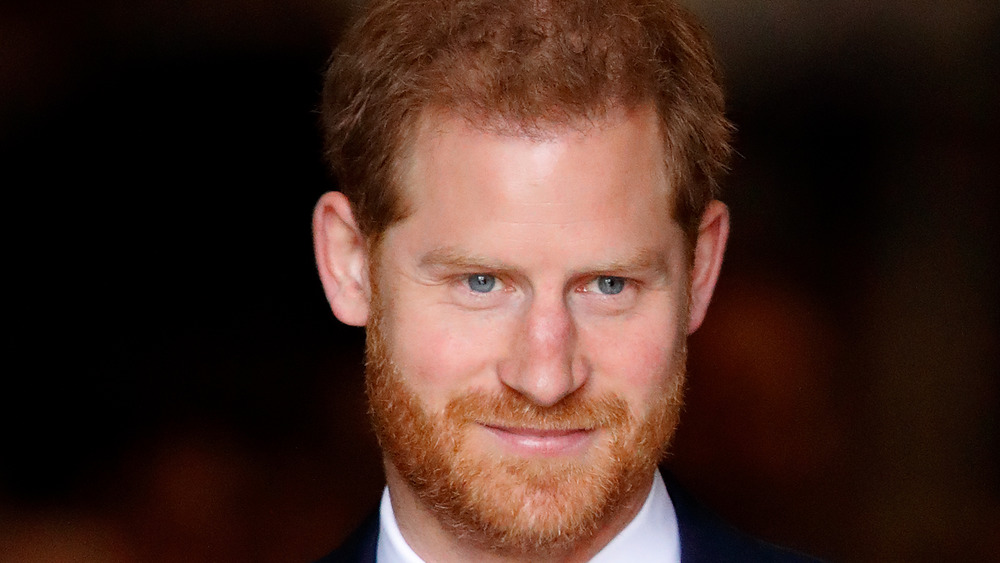 Prince Harry is one of the most popular royals in the world, as well as one of the most well known — according to data collected by YouGov, he's the fourth most famous royal in the UK following Prince William, Queen Elizabeth, and Prince Charles.
Given Prince Harry's popularity, there are plenty of details out there about him, but the sheer wealth of information floating around concerning the royal means that some of the stranger truths about Prince Harry have been obscured. To that end, if you think you know everything there is to know about Prince Harry, think again; he's more than just the younger brother of the heir to the throne of England, and there are some pretty surprising facts about his life that even the most devoted of royal watchers may not know.
For example, do you know what Prince Harry's mother, Princess Diana, called him? Or about the unusual job he had during his gap year? Here is a closer look at our favorite redheaded royal.
Prince Harry's name isn't actually Harry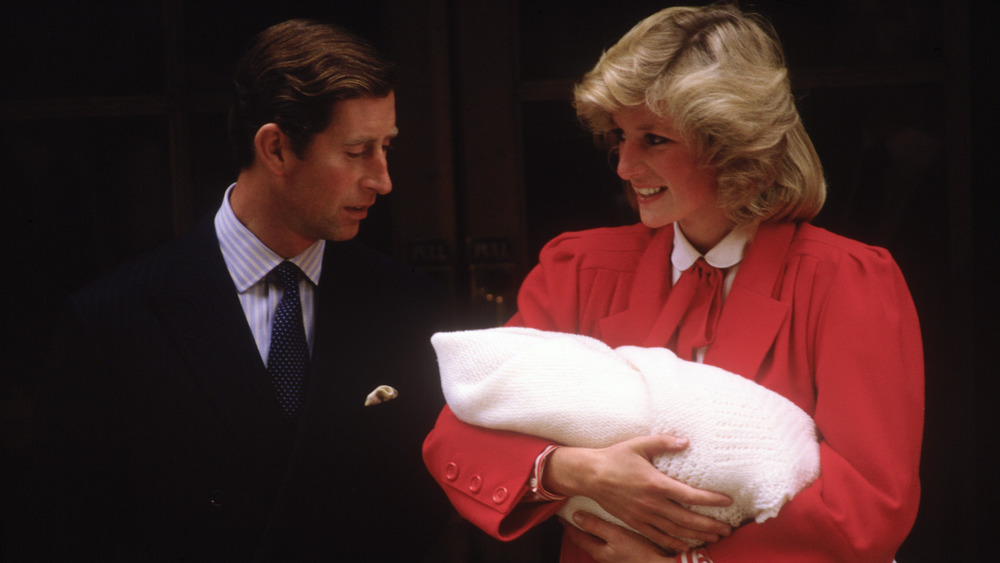 One of the most basic facts about Prince Harry isn't as it seems. While the royal has always been known as Harry, that's not actually his legal name. As noted by Vogue, the royal was christened Henry Charles Albert David — Harry is just a nickname.
Adding to the confusion is the fact that, as a member of the royal family, Prince Harry doesn't technically have a last name. "He was born with a whole suite of given names, but of Wales," explained royal biographer Dickie Arbiter. After his marriage to Meghan Markle, though, Prince Harry became the Duke of Sussex giving him another new name: his name as listed on his son Archie's birth certificate as His Royal Highness Henry Charles Albert David Duke of Sussex.
While at school, Prince Harry went by the far less conspicuous name of Harry Wales; his brother, Prince William, used the surname as well. "It was funny though because no one gave a s**** [about titles]," one of their schoolmates from Eton told The Cut. Prince Harry also used the last name of Wales when he joined the military.
Prince Harry's red hair led to a sweet nickname from his mom
Princess Diana had some adorable nicknames for her sons. Prince William was called "wombat," which he explained to NBC was because of a family trip to Australia where wombats are "the local animal."
Prince Harry had a decidedly more regal nickname from his mother, as royal correspondent Robert Jobson revealed on William & Harry: Princes At War? (via Express). "She used to refer to Harry as GKH (Good King Harry) because she thought he'd probably be better equipped for the role in the future than William," said Jobson.
Princess Diana also called her younger son "my little Spencer," noted E! News. This nickname was due to his red hair which, while not a match for Princess Diana's own blonde locks, did mark him out as a member of her family, the Spencers. While Princess Diana clearly appreciated her son being born with the same hair color as that of her siblings, royal biographer Andrew Morton wrote in Diana: Her True Story (via PopSugar) that Prince Charles was less pleased with the shade.
Prince Harry once spent a day in rehab
Prince Harry was known for being a bit reckless in his younger years. While acting up is expected of teenagers, Prince Harry's actions were in the public eye and therefore made headlines. His father, Prince Charles, tried to nip some of his more irresponsible behavior in the bud by sending him to rehab — but only for a day.
According to the Irish Times, reports that Prince Harry was smoking marijuana and drinking underage circulated when he was a teen. Prince Charles was said to be furious, and had Prince Harry go to a rehab facility when he was 17 so that he could speak to recovering addicts and learn from their experiences.
While Prince Harry appeared to have stopped smoking marijuana after that, it would be years until he gave up cigarettes. A source told People that it wasn't until 2018 that his then-fiancée, Meghan Markle, helped him kick that vice along with "any remnants of his party lifestyle."
Rumors that Prince Harry isn't Prince Charles' son have swirled for years
A lot of people think that Prince Harry isn't actually the biological son of Prince Charles, but instead is the son of James Hewitt. On the surface, the theory makes sense. Princess Diana did admit to having an affair with Hewitt, but there's just one problem with the idea that he's Prince Harry's biological dad: Princess Diana didn't actually meet Hewitt until several years after Prince Harry was born.
Some people seem to think that Prince Harry's crimson locks are proof that Prince Charles isn't his biological dad, and Hewitt just so happens to have red hair. Hewitt has publicly denied the claims, however. "It sells papers," he said of the rumor on Australia's Sunday Night (via Marie Claire) in 2017. "It's worse for [Harry], probably, poor chap."
In reality, Prince Harry's hair comes from his mother's side of the family. If you're still not convinced, there's photographic evidence that shows that Prince Harry looks quite a bit like his grandfather, Prince Philip, when he was younger. Photos of Prince Charles sporting a beard in his younger years also bear a strong resemblance to Prince Harry.
People teased Prince Harry in school for a surprising reason
Prince Harry has long been known for his commitment to the environment. In the 2018 documentary Prince, Son and Heir: Charles at 70 (via Marie Claire), Prince Harry revealed that his wife, Meghan Markle, gives him a hard time for inheriting his father's trait of being "a stickler for turning lights off." The royal's eco-conscious attitude is also behind the decision he and his wife have made to only have two children so as not to overwhelm the planet, as he told noted ethologist Jane Goodall in an interview for Vogue the following year.
Prince Harry's passion for saving the planet can be traced back to his youth, and it's something that his classmates often teased him for. "I used to get taken the mickey out of at school for just picking up rubbish," he said in the documentary (via Her). This is another habit Prince Harry got from his father, as Prince Charles would often take his sons on walks in nature where, as Prince William said, they "went out litter picking with him."
Prince Harry didn't go to university
Prince Harry was never a very good student, and after graduating from Eton, he decided to take a gap year. The royal's academic record was not strong. Tatler noted that his two A-Levels consisted of a respectable B in Art, but only a D in Geography. In comparison, Prince William earned three A-Levels, with his lowest grade being a C in Biology.
Rather than attend university, Prince Harry decided to enter the military following his gap year. Per his biography on the royal family's website, in 2005 he began training at the elite Royal Military Academy Sandhurst. After the 44-week course, Prince Harry began his military career as an officer in the British army.
Prince Harry may not have demonstrated any particular academic prowess, but he flourished in the military. By 2008, he'd been promoted to lieutenant and eventually rose to captain, noted The Telegraph. The royal left the military in 2015 after a decade of military service, which included two tours in Afghanistan.
Prince Harry has trekked to the South Pole
Prince Harry is quite the adventurer, and his travels have even taken him to the South Pole, noted the BBC. The royal made the trek in 2013 as part of a trip organized by Walking With The Wounded, a charity benefitting injured military veterans. The trip was originally planned as a challenge between a team from the U.K., one from the U.S., and a Canadian/Australian team, but the race was eliminated due to "difficult terrain," and they all ended up completing the journey together.
Prince Harry had also participated in a 2011 expedition to the North Pole, but wasn't able to complete the journey as it overlapped with Prince William's wedding to Kate Middleton.
Prince Harry didn't just go to the South Pole for the sake of adventure: he was also in charge of designing outdoor commodes. "He built these incredible intricate [toilet platforms]," actor Dominic West, who also participated in the trek, told People. West added that Prince Harry had "the artistic touch." Rather than simply digging a hole, West explained that Prince Harry's makeshift restrooms had "a flag pole and a loo roll holder… surrounded by blocks of snow."
Prince Harry inspired a bizarre reality show
Back in his single days, people all over the world dreamed of marrying Prince Harry — so much so that it even inspired a 2014 reality show called I Wanna Marry Harry. The Bachelor-style show was bizarre, to stay the least. On it, producers tried to convince a group of women that a Harry lookalike was actually Prince Harry, and that he was looking for his true love. While the women were naturally skeptical that Prince Harry was starring on a dating show, sinister details about the show that later came out revealed how so many of them were tricked. The show's winner, Kimberly Birch, told Splinter that the producers went so far as to bring a fake therapist on set to reassure "a few of us who were saying it wasn't him."
Another contestant, Meghan Ramsey Jones, told Cosmopolitan that she was pretty sure lookalike Matt Hicks wasn't Prince Harry, but ended up "second-guessing" herself. "You're sleep-deprived, you have no cell phone, no TV, no internet… nothing [else] to focus on," she said, adding, "So there were definitely times when I wondered."
Yikes. It's no wonder that the show was swiftly canceled.
Prince Harry has had secret social media profiles
If you ever get a Facebook friend request from Prince Harry, it's almost certainly not actually going to be the real Prince Harry. If someone named Spike Wells sends one, however, you may have discovered the royal's secret profile. Prince Harry has reportedly had more than one such clandestine social media profile over the years, noted Harper's Bazaar.
Aside from the Spike Wells Facebook profile (which is now deactivated), Prince Harry has also been on Instagram under the handle @SpikeyMau5, and used it to stay in touch with Meghan Markle in the early days of their relationship. "A big house music fan, he crafted the pseudonym by using part of the name of one of his favorite DJs, DeadMau5," wrote royal biographers in Omid Scobie and Carolyn Durand in their book, Finding Freedom (via Harper's Bazaar). "Spikey came from… 'Spike' [which] was a nickname sometimes used for the prince, particularly by Scotland Yard officers."
Prince Harry has a surprising talent in common with his wife
Meghan Markle may be the most famous actress in the royal family, but she's not the only talented performer among them. To that end, her husband may not have starred on a hit show like Suits, but he's no stranger to trodding the boards. As noted by Hola!, Prince Harry appeared in school plays as young as 3 years old, portraying a goblin in a performance in 1987 and a shepherd in a Christmas play the following year.
Prince Harry also took part in school productions during his time at Eton. Per the Observer, as a teenager Prince Harry appeared in several plays, including an appearance in Shakespeare's Much Ado About Nothing. Alas, Prince Harry's performances don't seem to have been captured on video — or at least such videos haven't been publicly released — so we can't be sure if his acting talent stacks up to his wife's.
Unlike other royal men, Prince Harry wears a wedding band
If you've ever paid close attention to the left hands of men of the royal family, you'll notice that their ring fingers tend to be conspicuously bare. This is for a couple of reasons. First, the tradition of men wearing wedding rings in the U.K. is a fairly new one, and it's a practice that never became "all that common among the aristocracy," as royal expert Marlene Koenig told Town & Country.
While Prince Charles wears a wedding band — albeit on his left pinky finger alongside a signet ring — other notable royals have opted not to, such as Prince William and Prince Philip, noted Glamour. David Cameron, a former prime minister of the U.K., also does not wear a wedding ring.
While royals who do wear wedding bands traditionally have them custom made from Queen Elizabeth's private store of Welsh gold, Prince Harry's ring was constructed from platinum, marking a further break from royal tradition.
Prince Harry reportedly dreamed of being the first royal in space when he was younger
The show Star Trek has long been considered the fandom of geeks, but it's possible that Prince Harry could give its reputation a royal makeover as he is reportedly a huge fan of the popular franchise. In fact, he's such a big fan that it may have even kicked off his interest in space exploration. "It's his dream to be the first royal in space," a source told The Sun (via Digital Spy) in 2011. "There's no chance of him walking on the Moon, but he wants to train with NASA — and is determined to get on a Virgin Galactic flight."
While the royal family didn't verify this, years later Star Trek star Patrick Stewart joked about the possibility of Prince Harry and his wife, Meghan Markle, joining the cast of Star Trek: Picard. "That would be perfect for us because Meghan, we know she's an actress, and Harry, I have no doubt has got all the talent and ability he needs," he told CBS This Morning in 2020.
Prince Harry worked on an Australian cattle ranch as a teenager
In the year between graduating from Eton and beginning his military training at The Royal Military Academy Sandhurst, Prince Harry spent time pursuing his interests and holding down some interesting jobs.
The image of a prince on horseback is familiar from fairy tales, but those princes aren't typically herding cattle like Prince Harry did in his time as a "jackaroo" on an Australian cattle ranch. "I have had a great time working out here," Prince Harry, who was then 19 years old, told Hello! magazine. The ranch was owned by friends of Princess Diana, but that doesn't mean Prince Harry had an easy time of it — the royal worked a grueling 11 hours days on the ranch.
Per the royal family's official website, Prince Harry also pursued his talent for athletics during his gap year, becoming certified as an Assistant Development Officer and helping train young rugby players in the U.K.
Prince Harry inherited his mother's wedding dress
Princess Diana's untimely death has been the most traumatic event of Prince Harry's life. And while nothing could have taken away the pain of losing his mother, Prince Harry inherited an impressive fortune from Princess Diana — including some pretty surprising items. Among the things bequeathed to Prince Harry were quite a bit of money and a "keepsake" from her jewelry collection. Reader's Digest noted that Prince Harry chose Princess Diana's iconic sapphire engagement ring, although he later gave it to Prince William to propose to Kate Middleton with.
One of the more unusual things Prince Harry received from his mother after her death was her wedding dress. He inherited the frock along with his brother, but it was held as part of her "residuary estate" until Prince Harry turned 30. The dress is more than a keepsake, but is also a valuable piece of royal memorabilia, and not just because of its historical significance – Brides reported that the bespoke dress cost roughly $115,000.