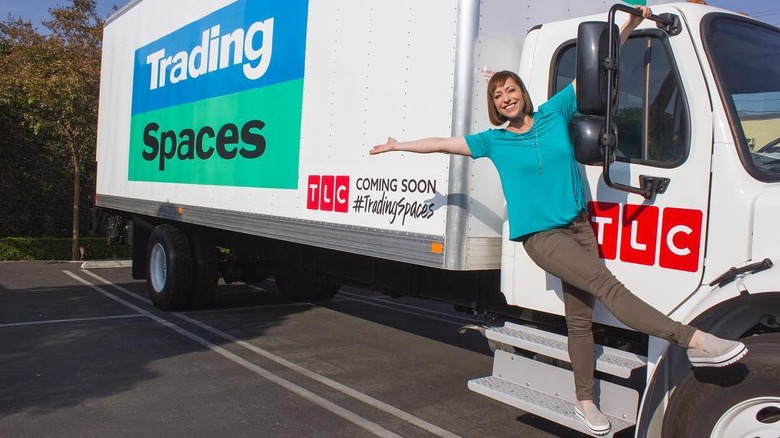 It's been a hot minute since Trading Spaces convinced homeowners to swap keys with their neighbors, switch houses, and let a group of interior design pros go wild re-vamping their rooms. After TLC announced the 2018 return of the at-times shocking series (say hello to Hildi's hay walls!), we've wondered what the show's former host, designers, and carpenters have been up to since the show's initial run. And while some of those stars continued to rise, a bit of digging has revealed that others have since left their controversial design reveals behind in favor of a quieter life.
Paige Davis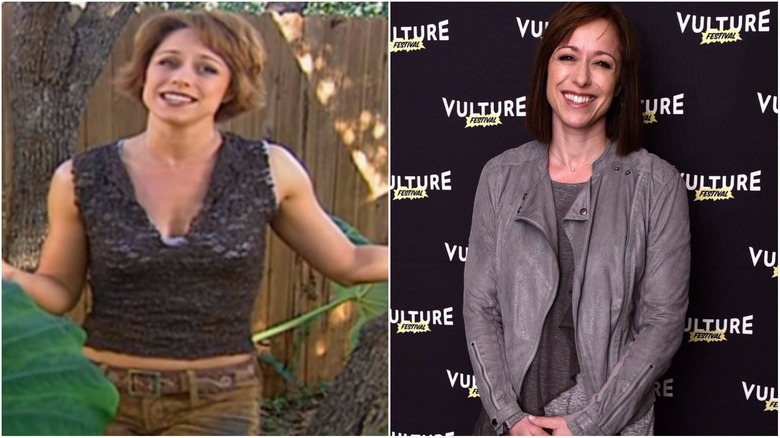 Paige Davis, the perpetually perky host of Trading Spaces, stuck with TV for awhile, serving as a host for Home Made Simple on the Oprah Winfrey Network from 2011 to 2013, and Hallmark's Home & Family in 2012.
Photos alongside fellow thespians on Davis' Instagram feed serve as a social media testament to her focus on theater work, which has included a role as Roxie Hart in the Broadway musical Chicago and the title role in the summer 2017 production of Miss Abigail's Guide to Dating, Mating & Marriage. Occasionally she returns to her TV roots for sweet gigs like acting as a judge on the Cooking Channel's 2017 season of Big Bad BBQ Brawl. Arguably her most anticipated return to TV, though, was 2018's Trading Spaces reboot, for which she resumed her role as host of the home improvement series.
While Davis' trademark pep hasn't changed, one thing about the host certainly has: that hair! "At first, it was this wispy cute haircut, and then it turned into a Carol Brady helmet flip-do," she joked to E! News about the signature hairstyle. Accordingly, Davis traded in the look for a sleek bob with bangs, which made its debut in 2014.
Frank Bielec
If it was crafty and country, you knew it came from Frank Bielec. Throw in the occasional mural for good measure, and you've basically nailed the endearing designer's Trading Spaces aesthetic.
After hanging up the hat, Bielec settled down with his wife, Judy, in Katy, Texas, and the couple created an online arts and crafts store together called Mosey 'n Me. And, as Bielec told it, the quiet life suited him just fine. "We still travel for speaking engagements, classes and shows and I'm usually mobbed. For some reason, Asian people in airports love me," Bielec told Fort Bend Lifestyle and Homes in 2011. He added, "But the people in Katy give us our space. Our favorite vacation destination is… home."
In a 2017 video teaser posted on the official Trading Spaces Facebook page, the fan favorite confirmed his return to the show, saying he was most excited to "meet a whole new generation of fans."
Sadly, Bielec passed away after suffering a heart attack in May 2020, as reported by CNN. He was 72 years old.
Faber Dewar
This Scottish-born, English-raised carpenter proved to be a big hit with fans of the TLC series, and it's not hard to see why. Faber Dewar parlayed his momentum into time on the big screen, appearing in feature films like 2013's White House Down and 2016's Independence Day: Resurgence.
Outside of acting, Dewar has served as CEO of Drink Up, a water vending machine company he founded in 2014. The eco-minded entrepreneur created the venture with the same commitment to sustainability he cited to Yogi Times as a defining principle of his carpentry — on his LinkedIn profile, Dewar stated that Drink Up "not only plans on helping rid America of the 30 billion plastic water bottles sent to landfill every year, but also to create revenue to donate to Water.Org helping those less fortunate than ourselves have access to clean water and sanitation."
Hildi Santo-Tomas
To know Hildi Santo-Tomas' work is to love it… or hate it. There seemed to be no in-between when it came to her over-the-top designs. Remember the time she glued hay all over a homeowner's walls? Or how about the time she painted a gigantic mural of her own face on another's? You've gotta give Santo-Tomas' props for never being afraid to fail spectacularly.
Since the show's original run ended, the designer has kept a much lower profile. In a rare public appearance in 2014, she spoke alongside fellow Trading Spaces alum Doug Wilson at a TVfest panel discussion. Yet, despite not courting the spotlight the way she once did as Trading Spaces' most daring designer, Santo-Tomas has still managed to find herself the center of unlikely attention: being heralded as an icon for the queer community.
As for her whereabouts, Santo-Tomas' Blogger profile states that the designer lives in Paris, France. Santo-Tomas herself confirmed her home base in a 2017 video clip announcing her return to Trading Spaces. "As you can see, I'm still living in Paris, and still traveling the world, photographing each fleeting moment, constantly in search of the remarkably uncommon," Santo-Tomas said in the clip, promising "fabulous ideas and designs" for the new season.
Alex McLeod
Before Paige Davis joined the cast as host of Trading Spaces, Alex McLeod held the job. Following her short stint on the show, McLeod grabbed another hosting gig as the face of the controversial reality competition Joe Millionaire in 2003.
She later went on to explore other passions, including indulging her love of cooking — she went on on to graduate from the prestigious Le Cordon Bleu culinary school in 2010. McLeod has also devoted time to charity work, completing a mission trip to Haiti to help rebuild homes destroyed in 2010's catastrophic earthquake — an excursion she called "enlightening and empowering."
McLeod has also gone back to hosting roots in since-removed segments about her lavish home. An Andalusian-style mega-mansion known as Hacienda de la Paz, the estate's unique features include 51,000 square feet of space on more than eight acres on the Palos Verdes Peninsula, a subterranean 10,000 square foot Hamam spa, and 24-carat gold leafed ceilings. In 2016, it was listed for sale for $40 million.
Amy Wynn Pastor
Amy Wynn Pastor held down the fort as Trading Spaces' resident female carpenter. Pastor proved popular with fans for both her talent and her laid-back vibe. That likability translated into hosting a few shows on the DIY Network after Trading Spaces ended, such as Make a Move in 2008.
Other TV work since the original Trading Spaces run included spokesperson spots for companies like Carpet One, also in 2008. In addition to her TV gigs, Pastor penned a book in 2005 titled Yes, You Can! to encourage homeowners on their own DIY journey.
TLC later confirmed that Pastor would be one of the carpenters on the cast for the 2018 Trading Spaces reboot.
Doug Wilson
When watching Trading Spaces back in the day, you could always count on Doug Wilson to forge ahead with his design ideas — homeowners be damned. Wilson was not a fan of compromising his vision, and it made for more than a few tense moments. However, that certainly didn't hinder Wilson's career after the show. In fact, he began hosting Moving Up in 2005, also on TLC, while the original Trading Spaces was still on the air.
Wilson's other post-Trading Spaces endeavors include speaking at a TVfest panel in 2014 alongside Hildi Santo-Tomas and starring in the 2015 comedy College Debts. Regrettably, he did get into a bit of trouble with a DUI in 2008.
In his announcement video that he was joining the Trading Spaces reboot, Wilson added that he had done a lot since the original series ended, including "design work," a "restaurant venture" near family in Illinois, and some theater work.
Ty Pennington
There's no denying Ty Pennington kickstarted his career as the loud, funny carpenter from Trading Spaces. However, he is perhaps best known for the work that came after — hosting the tear-jerking reality series Extreme Makeover: Home Edition from 2003 to 2012.
Pennington hasn't strayed far from the spotlight over the years, starring in the 2011 TV movie Ty's Great British Adventure and hosting American Diner Revival from 2015 to 2016. In addition to his TV work, the outgoing handy man entered into design collaborations with Howard Miller in 2009 and Lumber Liquidators in 2014.
Fans were likely happy to hear that this favorite OG carpenter-slash-designer would be making his triumphant Trading Spaces return in 2018. "When I heard they were bringing it back, I was shocked and amazed that they could really get in touch with everybody and they could really get everyone back. So, I couldn't say no because, I mean c'mon, this is my original family," Pennington said in a video on the Trading Spaces Facebook page.
Laurie Smith
Laurie Smith fell under the umbrella of "designers you hoped you'd get if you ever appeared on Trading Spaces." Her work could be a bit quirky, sure, but it always skewed toward elegance. It's no wonder the design maven has since built a thriving career as a tastemaker, according to her website.
Her accomplishments include penning a book in 2005, Discovering Home with Laurie Smith: Find Your Personal Style, and creating a lighting line with Quoizel in 2009. Judging by her Instagram, though, Smith's favorite pastime is hanging out with her adorable family. But, ICYMI, she is also quite the artist.
TLC later confirmed Smith would be another returning cast member for the Trading Spaces reboot. In an Instagram post, the designer expressed her excitement over the news, saying, "So in a blink… 10 years happened! So happy to be reunited with my #tradingspaces @TLC peeps! Check out our new season this spring!"
Genevieve Gorder
Raise your hand if Genevieve Gorder was your favorite designer on Trading Spaces! Gorder's playful personality and creative designs won her a ton of fans, which likely contributed to Gorder securing the HGTV series Dear Genevieve from 2009 to 2013 and Genevieve's Renovation in 2014. Gorder also acted as a judge on the interior design competition HGTV Star from 2009 to 2012.
In November of 2017, Gorder announced her intention to launch her own design-oriented podcast. However, Gorder's social media also reflects the fact that she devotes much of her time to being a mama to one fierce little girl — a role that makes her a perfect match for her collaboration with Land of Nod, which the children's home and decor company announced in the summer of 2017.
Gorder later returned for the Trading Spaces reboot.
Brandon Russell
It's hard to believe Brandon Russell didn't become a major star after his stint on Trading Spaces (look at his face!), but the charming carpenter's life appears to have remained relatively low-key.
His Facebook page reveals that he has continued to focus on his woodworking skills and, in 2016, his book Building Faith Through a Carpenter's Hands was published.