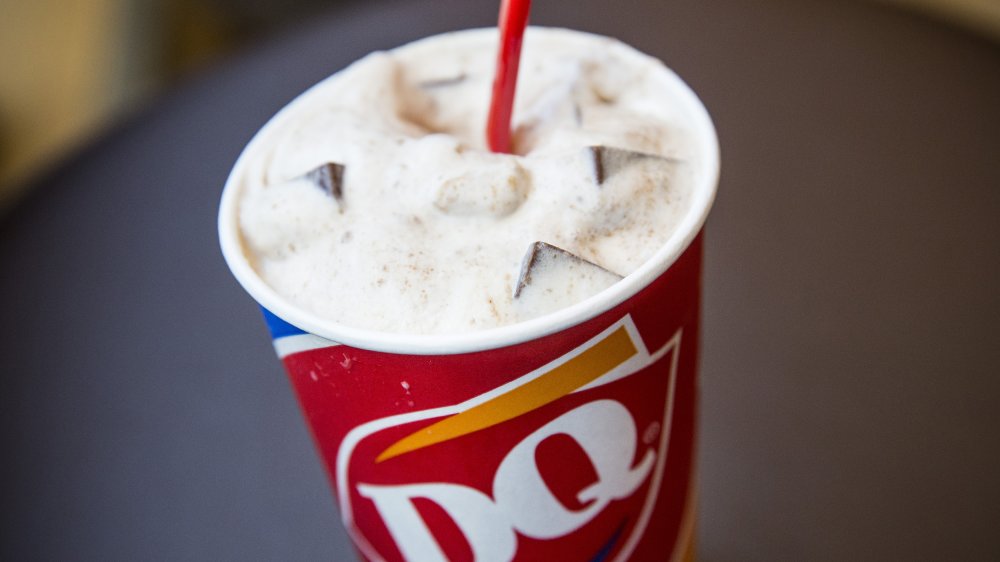 One dessert that's fantastic to enjoy year-round happens to be ice cream. Whether it's hot out, chilly, or in between, ice cream won't let you down. When it comes to DQ Blizzards, Dairy Queen rolls out seasonal flavors headlining its menu alongside longtime classics. There's something for everyone among the broad array of Blizzards, from fall favorites such as the Caramel Apple Pie Blizzard to the standard staple Oreo Cookie Blizzard. Different concoctions tempt the taste buds, and the creative, inventive flavor of the month brings ice cream lovers back regularly to see what's debuting next.
We have perused an endless list of seasonal, monthly, and classic Dairy Queen Blizzards and ranked a select 20 from worst to best. Feel free to disagree, but here is our ranking of the most popular Dairy Queen Blizzard flavors out there. Of course, you should definitely try them all to see where you stand.
20. Dairy Queen's M&Ms Milk Chocolate Candies Blizzard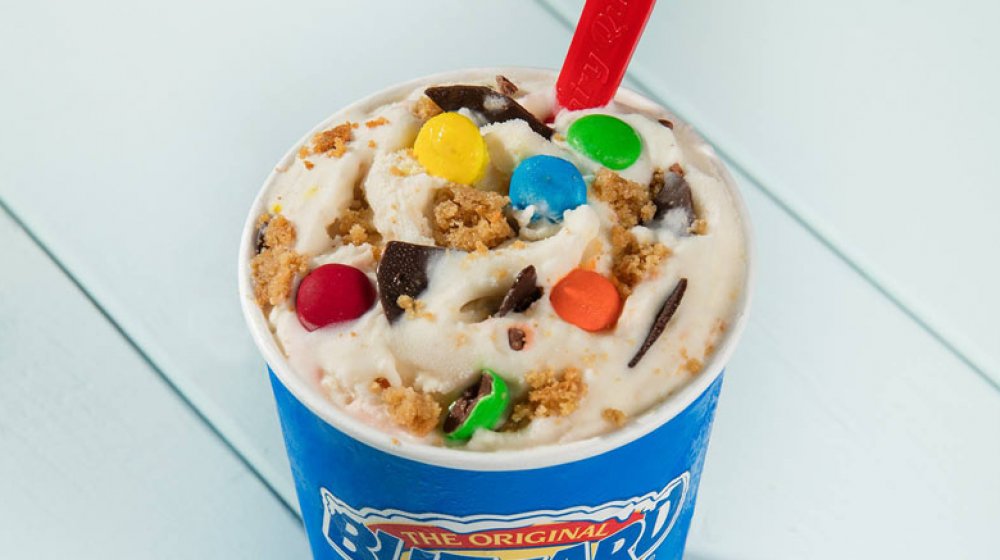 Milk chocolate M&Ms are mouthwateringly delicious combined with a fistful of popcorn or popped in your mouth by the handful. But they're not so tasty in a Dairy Queen Blizzard. They're already crunchy, and after being buried in frozen ice cream, they're even harder to chew and quickly lose their flavor. These bite-sized candy pieces of many colors also make the smooth white ice cream turn a funky brown color, which isn't all that appetizing to look at and scoop up by the spoonful.
Foodie Savanna Swain-Wilson described the M&Ms Milk Chocolate Candies Blizzard as "pretty underwhelming," particularly when compared to other more flavorful Blizzard options. She thought this dessert should have a flavor infusion of brownie chunks or something similar to help make the tiny candy bites pop more. We have to agree. The texture just doesn't do it for us here at all.
19. Dairy Queen's Oreo Mocha Fudge Blizzard
We presume there was an overwhelming majority of diehard Oreo Blizzard fans who were very disappointed when mocha and fudge flavors were incorporated into the traditional Oreo Blizzard version. In fact, slipping in some creamy fudge pieces pushed this ice cream dessert into the excessive chocolate zone, if there is such a thing. Really, there never can be too much chocolate, but crunchy Oreos hanging out with chewy fudge pieces aren't exactly the perfect pairing.
The addition of fudge shouldn't dissuade fans too much, but the mocha flavoring took it too far. Mocha flavoring is typically a dark coffee mixed with chocolate powder, but this Blizzard is brimming with too much coffee flavor drowning in chocolate. People like to dip their Oreos in milk, not coffee. We see what Dairy Queen was trying to do with this Blizzard, but the chain just didn't pull it off.
18. Dairy Queen's Heath Blizzard
Heath candy bars are a tooth-breaking candy that takes some getting used to and may leave you smacking your lips while it sticks in your teeth, but when immersed in Dairy Queen's scrumptious Blizzard concoction, it becomes a pretty delicious Blizzard, according to foodie Jeanne Paulino. She admitted she isn't a huge fan of Heath bars, but as a sugar infusion for a Blizzard, it "makes for a delightful bite with each spoonful."
But food critic Savanna Swain-Wilson, who loves Heath Bars and their ooey-gooey goodness, wasn't impressed with the Heath Blizzard. She appreciated the "strong toffee taste" but really didn't like the texture at all. Toffee tends to be quite sticky, and when blended with ice cream, it became even firm and stickier and clung to her teeth, leaving her unimpressed with this version and uninterested in finishing the refreshing dessert. Doesn't sound so great to us, even if the taste is top-notch.
17. Dairy Queen's Candy Cane Oreo Blizzard
It isn't the Christmas holiday season yet, but this flavor is as popular as cookies are to Santa for some peppermint fans. But others aren't as keen about this flavor twist on the traditional Oreo Blizzard. We loved the blend of chocolate and peppermint, and we enjoyed the balance between the sweet, rich chocolate and the fresh hit of peppermint.
But not everyone is a big peppermint fan, and some find the infusion of peppermint overwhelming. Karen, a nurse and avid runner, was seven months pregnant when she found this dessert and testified on her blog that she "ate the entire thing and could have eaten more" she loved it so much. So there definitely are fans of this holiday flavor, but not enough to keep bringing it back year after year. Lucky for them, this one is easy to replicate at home when the craving strikes.
16. Dairy Queen's Snickers Blizzard
When caramel, peanuts, and chocolate come together in a Snickers bar, it's a tantalizing treat for the taste buds. But toss it in some vanilla ice cream to make a Snickers Blizzard, and it loses some of its awesomeness and peanut punch. While it's a tried and true permanent fixture on Dairy Queen's Blizzard menu, there are more popular flavors. Maybe that's why Dairy Queen dropped the flavor in 2016. However, fans must have missed it because the chain brought it back three years later.
The crunchy bites of Snickers candy pieces contain peanuts and caramel, but the pieces kind of lose their flavor in the ice cream. Still, the blend of sweet and salty in every spoonful has fans steadily ordering this off the menu, so you know it's a good option. If Snickers is your favorite type of candy bar, then you should certainly give this one a try.
15. Dairy Queen's Brownie Dough Blizzard
Despite doctors' warnings not to eat raw dough, who can stop themselves from licking the spoon after whipping up a batch of cookies or brownies? Dairy Queen took that temptation one step further by creating the Brownie Dough Blizzard, an explosion of chocolate brownie balls embedded in smooth ice cream. This Blizzard first emerged on the menu as a new flavor for the summer in 2019, and we're so, so glad it did.
The delicious brownie dough pieces, choco chunks, and cocoa fudge are a chocolate party in a cup full of fantastic. The Impulsive Buy reviewed this dessert and described it as "wonderfully chocolatey … chewy and crunchy." However, unless you are a diehard chocolate junkie, the blend of intense chocolate and rich brownie dough chunks in a small cup of ice cream just might overwhelm your tastebuds, making it too much for those who don't swoon over chocolate. That's why we placed it toward the end of the list.
14. Dairy Queen's Pumpkin Pie Blizzard
If you're a pumpkin pie lover, give this new holiday dessert a try. Homemade, fresh pumpkin pie tempts the taste buds every fall, especially at Thanksgiving time. Dairy Queen takes advantage of the pumpkin pie obsession and has folded real pumpkin pie into its vanilla Blizzard, adorning it with whipped topping and a hearty dash of nutmeg. This seasonal flavor highlighted by Taste of Home is pretty straightforward and ushers in the fall season perfectly. But if you don't love pumpkin pie or pretty much pumpkin everything, then this Blizzard isn't the one for you. That's why it ended up toward the end of the list.
Ice cream is fantastic year-round, but infusing a seasonal flavor like pumpkin and spice with ice cream is just too tasty to pass up if you do love these tastes. For all those who mark the date when the pumpkin spice latte will finally arrive back at Starbucks in the fall, this is the Dairy Queen Blizzard for you. Sure, you may want to try it before it gets too cold, but when you're waiting for fall to finally arrive, it may just be the perfect treat.
13. Dairy Queen's Royal Rocky Road Trip Blizzard
If you love Rocky Road ice cream with its ooey gooey marshmallow mixture swirling around healthy peanuts that are drowning in chocolate flavor, then you will go nuts for this Blizzard treat. In this Dairy Queen blizzard, you'll find a single marshmallow core in the center of the cup with yummy ice cream packed in all around. There are brownie chunks infused into the mixture to bring the chocolate forth.
Ice cream lover Dubba Scoops shared that he went bonkers for the peanuts popped into the ice cream. The cocoa fudge blended in along with the brownie crumbs gave the perfect punch of chocolate. The marshmallow core reminded him of the "strong, sweet ooey gooey marshmallow swirl you find in an excellent pint of H-D Rocky Road ice cream." He declared it a delightful combo full of powerful flavors. However, there are definitely better Blizzard flavors, so that's why this one ends up in the middle of the list.
12. Dairy Queen's Choco-dipped Strawberry Blizzard
Fruit blended with chocolate swirled in soft serve vanilla ice cream becomes an insanely tasty concoction in the Choco-dipped Strawberry Blizzard. Chocolate-covered strawberries are a hit during Valentine's Day and for other romantic occasions, so it's no wonder that this particular Blizzard has people falling in love with it year-round.
Anyone who loves chocolate-covered strawberries will surely love this particular Blizzard. Joe from The Impulsive Buy described it as "a dessert from Cupid's freezer. The vanilla base combined with the strawberry syrup create a flavor closer to the fruit's Fragaria roots than that of artificial chemical." That's a relief for anyone who was hesitant to try this dessert due to a concern about it tasting artificial. However, the strawberry flavor is real. After all, you can actually see the strawberry chunks inside. When you scoop up a spoonful of rich chocolate with flavorful strawberry, it's a blissful moment. But if you're not a fruit fan, this one may not be top on your list to try, placing it toward the middle of our list.
11. Dairy Queen's Butterfinger Blizzard
Another candy bar crowd-pleaser stars in a Dairy Queen Blizzard with fans falling on both sides. The ice cream doesn't water down the flavor bursts of the crumbly Butterfinger candy pieces that add a perfect punch of crunch with creamy smooth ice cream. Foodie Savanna Swain-Wilson with Insider said the Blizzard was "good." Her Blizzard had finely ground-up candy pieces, which meant the Butterfinger's nutty flavor blended throughout the ice cream instead of popping in each bite. However, she said, "I felt the candy's chocolate coating got completely lost in the mixing process."
But Colin Legget, food critic with The Recipe, loved this Blizzard, claiming it was "wonderful, combining the sweet yet salty crunch of Butterfinger filling with chocolate and DQ soft serve to make a frozen treat that has a more complex flavor profile than most." He declared it to be one of the better classic Blizzards, which places it toward the middle of this list.
10. Dairy Queen's Chocolate Chip Cookie Dough Blizzard
If you love taking your finger and swiping that last bit of chocolate chip cookie dough out of the mixing bowl before baking a couple dozen cookies, you'll swoon over this sweet Blizzard. Candace Braun Davison with Delish said, "As if chewy orbs of cookie dough weren't enough, this Blizzard includes fudge. Fudge." It's no wonder that the Chocolate Chip Cookie Dough Blizzard flavor is wildly popular at Dairy Queen, considering cookie dough is one of the most popular ice cream flavors in the United States.
Foodie Savanna Swain-Wilson with Insider said the cookie dough bits were "just the right size" and that they filled the cup in abundance. The addition of chocolate fudge made this Blizzard stand out from store-bought cookie dough ice cream and drew out the yumminess of the dough bites. The infusion of fudge with chocolate chip cookie dough is a win-win with this ice cream dessert, landing it smack dab in the middle of this list. Who doesn't love chocolate chip cookie dough?
9. Dairy Queen's Turtle Pecan Cluster Blizzard
Nut lovers embrace this Blizzard popping with pecans, caramel sauce, and small turtle chocolate pieces stuffed with caramel. Turtle candy happens to be an acquired taste, but for those who love this blend of flavors, this Blizzard definitely does justice to the candy treat. Food critic Jeanne Paulino with Spoon University described the Turtle Pecan Cluster Blizzard as an "elevated version of the candy." She said the crunch of the pecans presents the perfect complement to the smooth, chilly soft serve ice cream.
On Chick Advisor, one user shared that as a huge fan of Dairy Queen, she was thrilled with her first and last bite of the Turtle Pecan Cluster Blizzard. "It is the perfect blend of sweet and salty and I'm obsessed … I eat these more than I should, but hey, if I have to exercise longer in order to eat one of these, I will gladly do so. YUMMY!!!" Caramel sauce, chocolate, and nuts are a fantastically classic flavor, even if this flavor is kind of intense, landing it in the middle of our list.
8. Dairy Queen's Raspberry Fudge Bliss Blizzard
A summer favorite — tart and tangy raspberries — mixed with fantastic fudge in a vanilla soft serve ice cream equals heavenly yumminess in this Dairy Queen Blizzard. Hedy Phillips with PopSugar says it's "as blissful as it sounds." Real raspberries are blended into the vanilla soft serve alongside thick and chocolately fudge pieces. There's even chocolate chunks tossed in for an extra kick of chocolate. If you've ever enjoyed chocolate-dipped strawberries and other fruit teased with chocolate, then this Blizzard will be at the top of your list. That fantastically pink and red swirled dessert is definitely sweet but with a tempting twist of fresh fruit and hearty chocolate merged together. The mini size just won't be enough with this crazy good dessert. It is literally brimming with delicious fruit and chocolate that is truly tasty year-round, not just in the summer. However, we can't place it at the very top because, unfortunately, you can't get this one year-round.
7. Dairy Queen's Choco Brownie Xtreme Blizzard
Ooey gooey brownies blend with delicious ice cream to make a tantalizing treat that's become a regular on Dairy Queen's menu. Jessica Bedewi raved about this dessert. Even though it has a vanilla ice cream base, it screams chocolate in every bite, perfect for the chocoholic who can't get enough of chocolate. There are snack-sized brownie pieces, tasty chocolate chunks, and cocoa fudge swirled together in a heavenly chocolate treat. Jessica admitted she was concerned it might be too rich, but "it was simply perfect."
She described it as a "win" for chocolate lovers and a "chocolate masterpiece." By using chewy brownie pieces and crunchy chocolate chunks in smooth ice cream, DQ manages the perfect blend of texture, creating that upside-down consistency you've grown to love from Dairy Queen. Hardly anyone can pass up brownies and ice cream, putting this Blizzard on the top half of this tasty list. If you're not a chocolate lover, though, this one's not for you.
6. Dairy Queen's S'mores Blizzard
S'mores are symbolic of bonfires and a farewell to summer as it segues into the crisp season of fall. They're a tantalizing blend of smooshy, sugary marshmallows pressed inside two pieces of graham cracker with part of a Hershey's chocolate bar nestled inside, slowly melting from the heat of the soft, fire-roasted marshmallow. Dairy Queen's S'mores Blizzard features marshmallow-filled chocolates and chunks of graham cracker. Both components of this delightful cream treat blend beautifully in this dessert.
Sam from Grub Grade marveled over Dairy Queen's very own chocolate squares etched with the letters "DQ" and raved about the taste, describing it as a campfire in a cup. The flavors of graham cracker, chocolate, and marshmallow all come through clearly, but they suggested maybe adding marshmallow crème for more of a sugar boost. If you adore spending time around the campfire, this Blizzard is the one for you. Don't like marshmallows? Choose something else.
5. Dairy Queen's Reese's Peanut Butter Cup Blizzard
What's better than peanut butter and chocolate? Peanut butter, chocolate, and ice cream. Need we say more? Candace Braun Davison with Delish described this Blizzard as "iconic." Dubba Scoops with On Second Scoop shared that this Blizzard offers a sweet flavor that complements the sweet ice cream. The chopped-up peanut butter cups are either heavy on the peanut butter or the chocolate depending upon how they were sliced and their size, giving a variety of flavor with just one ingredient.
Many peanut butter lovers would choose this particular Blizzard treat time and time again, and other foodies prefer this one over the other candy-laced Blizzards on the list. That's why this classic ended up in the top five of this list. After all, how can you go wrong when you mix Reese's peanut butter cups with just about anything? We don't think you can.
4. Dairy Queen's Snickerdoodle Cookie Dough Blizzard
This Dairy Queen Blizzard is perfect year-round. It's full of snickerdoodle cookie bites bursting with flavor. You know that sensation of walking into a kitchen where Mom or Grandma has just baked a piping hot, fresh batch of snickerdoodle cookies? You can't wait to snatch a hot cookie when she isn't looking, and it's totally worth burning your fingers and your mouth for that fresh-out-of-the-oven morsel.
You'll experience that feeling over and over again with each mouthful of this Blizzard. Colin Legget with The Recipe said this particular Blizzard "rises above other cookie dough Blizzards" thanks to its sugary cinnamon flavor that the cookie is known for. Nothing is lost in translation from the baking sheet to the Blizzard with this menu item. Not only are there flavor-popping cookie bites all throughout the Blizzard, but they're also the topping for this ice cream dessert. Sugar cookie flavoring, a hint of cinnamon, and ice cream catapult this Blizzard toward the top of this list.
3. Dairy Queen's Oreo Cookie Blizzard
This time-tested blizzard treat has been a fan favorite over the years for people of all Blizzard preferences, placing it in the top three of this list. Oreo cookie crumbles can be found at many ice cream shops because they're so versatile. But instead of Oreo cookie crumbles being dropped on top of the ice cream, these are blended in. Because of that, they actually hold their firmness and don't become soggy. The Takeout shared that this particular Blizzard might not be the "flashiest item on the menu," but it really doesn't have to be. We think that it's delectable just the way it is with only two ingredients: the chocolate Oreo cookies with their creamy center and mouthwatering vanilla ice cream. There's no licking the center out of these cookies!
While this is one of the best options, it is really basic. If you're looking for real novelty, there are better options out there.
2. Dairy Queen's Royal New York Cheesecake Blizzard
If it says royal on the menu, then this dessert must be top-notch. The Royal New York Cheesecake from Dairy Queen definitely doesn't disappoint, and it deserves the royal treatment. Foodie blogger Big Muddy Ice Cream said they were surprised that the strawberry center actually held its form. Despite being under the weather while sampling this dessert, they described the strawberry filling as "really good." It's super sweet and syrupy, and the center boasts tons of real fruit.
The graham cracker pieces were described as a "nice, subtle touch adding a bit of flavor and texture to the Blizzard." We have to agree. The blogger wasn't a huge fan of the cheesecake chunks that have become a staple in several Blizzard blends, but she definitely enjoyed these ones. When you combine cheesecake, strawberries, and ice cream, the result is definitely deserving of a second-place finish on this list.
1. Dairy Queen's Caramel Apple Pie Blizzard
If you're the type of person who goes crazy for fall scents, fall flavors, and decorating for the season, then you have to try the Caramel Apple Pie Blizzard from Dairy Queen. Nothing screams autumn like a homemade apple pie with its cinnamon-sugar apple slices, slurpy sauce, and crisp latticework top. This Blizzard blends vanilla soft serve with pieces of real apple pie, pie crust bits, and sugary caramel truffles. The whipped topping and nutmeg on top are the perfect final touches. What better way to usher in fall than with a mouthful of this delectable dessert? In fact, The Impulsive Buy likened it to a McDonald's apple pie but without the scorching hot mouth-burning experience. The reviewer noted that the crust pieces managed to maintain their crispness even while buried in ice cream. The apple chunks provided a bite of fruit flavor while the caramel-coated truffles are beyond indulgent with a surprise hidden inside each one, earning this Blizzard the top spot on our list.