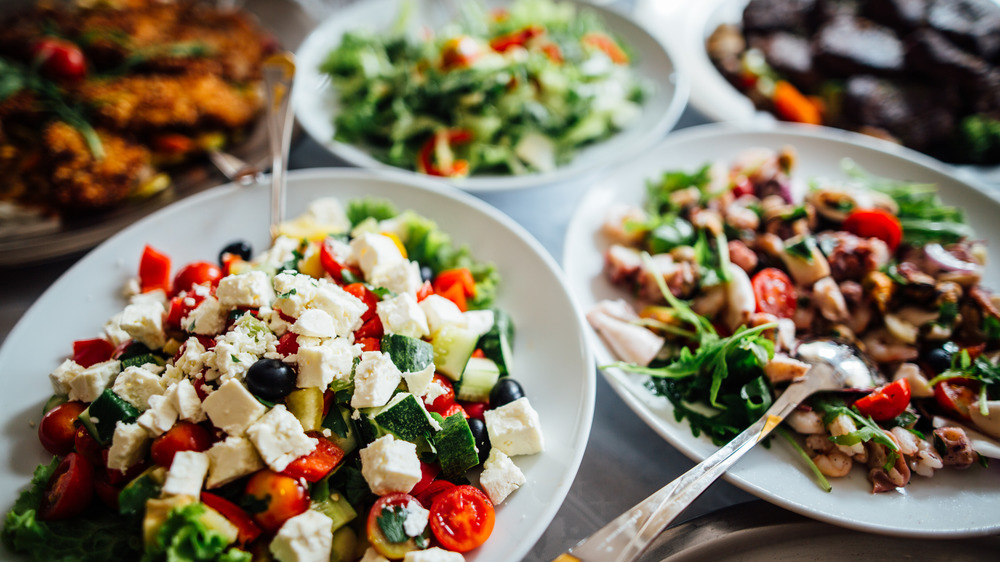 Hardcore cooking isn't for everyone. If you're the type who thinks of a well-balanced dinner as a Hot Pocket and a bag of veggie chips, chances are you're not going to be whipping up a six course meal for all your friends anytime soon. But just because you're not the "cooking type," that doesn't mean you can't master a few simple recipes to pull out and use when the occasion calls for something more than basic boxed mac and cheese.
The trick is to choose recipes (like the following) that are quick, don't require many ingredients, and certainly don't require much in the way of actual cooking. Salads and dips are a great place to start, as are single-ingredient sides, but don't overlook tools that help make cooking even easier, like Instant Pots and slow cookers.
At the end of the day, no one's going to give you a hard time for taking shortcuts here and there — so grab the bags of pre-cut veggies from your local grocery store to cut down on prep time, and choose just one or two recipes to truly master. Plus, there won't be that many occasions where you need to share a homemade dish (maybe an office holiday party or a potluck gathering with friends), so there's no need to take on more than you can chew (so to speak). Just keep in mind, once you master one or two recipes, you may realize you don't hate cooking as much as you thought you did.
Baking potatoes in your Instant Pot couldn't be easier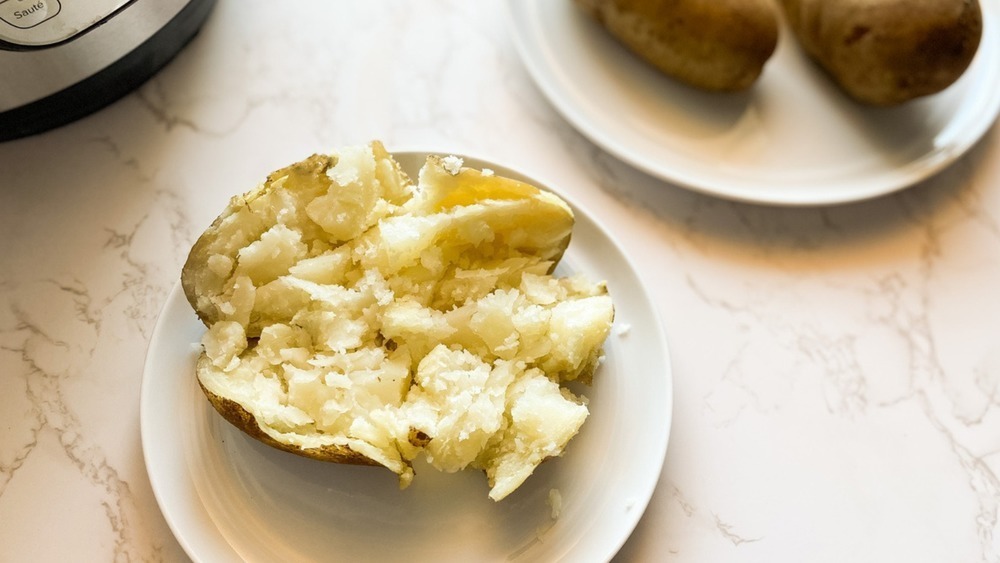 Baking potatoes in the oven is easy, and you just need to take the time to do it, but baking potatoes in the Instant Pot? It seriously couldn't be easier. You simply place russet potatoes in the Instant Pot, set to "pressure cook," and let the pot do its thing for 20 minutes. Yes, just 20 minutes. And when they're done? Remove them from the pressure cooker, slice them open and dollop with a bit of butter and cheese for an easy side dish. Or, even better, put together a potato bar (you don't even have to assemble potatoes for other people!) with pre-shredded cheese, a stick of butter (and a knife, of course), pre-cut chives, and maybe even pieces of rotisserie chicken peeled off a chicken you picked up at the store.
It takes just 5 minutes to roast this easy cauliflower recipe
Roasted cauliflower is another one of those single-ingredient side dishes (other than seasonings) that makes for a surprisingly delicious side. All you have to do is preheat the oven to 450 degrees Fahrenheit, prep the cauliflower (save a little effort by picking up bags of fresh florets from your deli that have already been broken apart) with a few simple seasonings, then pop them in the oven for about 35 minutes. It's a good idea to take about a minute to flip them halfway through cooking, but really, the whole process is about as easy as "cooking" comes.
No cooking is required for this easy cucumber tomato side salad
You can skip cooking altogether when you just slice and dice a few vegetables for a tasty side salad. And you don't even have to wash lettuce to make this summer-perfect salad. All you need to do is cut up some cucumber, red onion, and cherry tomatoes, and then, you'll toss them in a homemade vinaigrette that's equally as easy to mix together. Chopping vegetables can take a little while to do, but it's a task that's practically impossible to mess up, making this a foolproof option for the cooking impaired.
Rice pilaf is easier to prepare than you think
OK, so rice pilaf sounds fancy and like it would be hard to pull off, but aside from some minor stovetop cooking, this recipe only calls for seven total ingredients (including oils and dry spices). Plus, you get to use a bag of frozen peas and carrots, rather than having to cut up veggies on your own, so really, if you can boil water for the rice and sauté the onions, peas, and carrots together in a pan, you can make this recipe. Plus, it's a good next step after mastering a simple salad and a one-ingredient roasted vegetable.
Instant Pot makes this baked beans recipe super simple
It'll take about 10 minutes to prep this homemade baked beans recipe, and there is some back-and-forth with switching ingredients (you cook the beans first, then set them aside to cook up the veggies and sauce before mixing the beans back in), but if you can handle dicing veggies and managing a timer, you'll have no problem making to-die-for baked beans from scratch. It really all comes down to that sweet and savory sauce, and with the provided measurements of its ingredients — ketchup, barbecue sauce, brown mustard, vinegar, liquid smoke, and brown sugar (plus jalapeno and cayenne pepper if you like added heat) — you'll want to whip up a batch of beans at least once a week.
Roasted broccoli is a tasty side dish that's easy to make
Once you've learned how to roast one type of veggie, you're pretty much ready to roast all types of veggies. Essentially, you need an oven preheated to at least 425 degrees Fahrenheits — usually 450 degrees Fahrenheit or above — then a pan full of veggies spread in an even layer and coated in oil and an assortment of seasonings or spices. This 30-minute recipe for roasted broccoli is really no different. Simply cut your broccoli into bite-sized florets (or, you know, buy them pre-separated from the store), then use olive oil, salt, pepper, and lemon juice to add flavor. The soft-and-crunchy result (you really do want those edges to turn a nice brown) might just have you hankering for broccoli every single day.
Wow your family with this quick and easy corn pudding
According to the recipe developer Erin Johnson, this corn pudding recipe is "almost impossible to mess up," which should lend a vote of confidence to those who don't love cooking. Plus, it pairs well with practically any meal, so once you've received rave reviews, you can keep it in your regular mealtime rotation. And while you do have to make time for the one-hour bake, the prep work only takes five minutes — if you can open cans of corn (creamed and kernels) and whisk them up with a few other ingredients, you can successfully make this recipe.
Mexican street corn is a perfectly easy dish for summer barbecues
Corn on the cobb is simple to make, whether in the oven, on the grill, or boiled in a pot of water. But if you want to look like a real chef (without doing much more work), try your hand at this Mexican street corn recipe. You can make it in the oven or on the grill, and in addition to corn, you just need butter, mayonnaise, taco seasoning, and cojita cheese. The entire recipe takes just 15 minutes, and you're bound to end up with rave reviews.
Whip up an easy Greek salad in minutes and pair with any meal
By adding simple ingredients to a basic green salad, like Kalamata olives, feta cheese, and a little grated garlic, you can amp up your salad game and have delicious, restaurant-style Greek salad ready in just about 10 minutes. The real trick comes down to whipping up your homemade Greek salad dressing, which is really just mixing together a bit of olive oil, some dried spices, Dijon mustard, white balsamic vinegar, and a little sour cream. By doubling or tripling the salad dressing recipe, you can store it in a jar in your fridge for a few days, cutting down on prep time when you realize you want to make this Greek salad every day. And remember, you can turn it into a full meal by throwing a few slices of pre-cooked chicken on top.
Once you try this simple acorn squash recipe, you'll make it all the time
Come autumn, you need a seasonal side dish to serve up to your family and friends, and you really can't go wrong with this acorn squash recipe. It involves nothing more than halved acorn squash with the seeds scooped out, which is baked for an hour with butter, a little salt, and some brown sugar inside the handy pre-made hole. Simply baste the acorn squash with the melted "syrup" every 15 minutes while baking, and when it's done, eat up! Who said seasonal side dishes need to be complicated to be delicious?
Anyone can make this easy red beans and rice recipe
Red beans and rice made the traditional way can take hours, but with the help of an Instant Pot, you can cut down significantly on cook time (and reduce the number of pots and pans you have to wash later). Of course, you do have to spend some prep time slicing and dicing the veggies for this dish, but once that part's done, you can cook your rice in just a few minutes (the Instant Pot really is magic), set it aside, saute the sausage and veggies in the same gadget, and then add the beans and other ingredients to pressure cook for a little more than an hour. All-in-all it'll take you about an hour and a half to make, but most of that's time you can spend doing other things as you wait (and drool over the scent wafting through your house) for the beans to finish cooking.
Cabbage steaks are simple and pair with any meat dish
OK, so if you think a cabbage steak is a good replacement for an actual steak, you're going to be disappointed. But if you think of it as a delicious side for whatever protein you want to pair with it, you'll be pleasantly surprised by the flavor of this baked veggie. Plus, if you can use a knife to slice into a head of cabbage, and you can turn on the oven to 350 degrees Fahrenheit (that's typically the temperature the oven is pre-set to heat up to, so just turn on the oven!), you can make this recipe.
You don't have to cook a thing to make this easy cabbage side salad
Any time you pull together a homemade salad dressing, you get instant points as a "chef." And this cabbage salad recipe calls for a peanut butter and soy sauce-based dressing that will give the salad an Asian flavor that pairs deliciously with practically any pasta, rice, or protein-based meal you plan to whip up (or order in). The whole thing (including the time it takes to chop veggies) only takes about 12 minutes, and if you top it with slices of pre-cooked chicken, you've got a whole meal ready to go in less than 15 minutes.
Pumpkin hummus and veggies couldn't be easier to make
As far as we're concerned, dips with crackers, veggies, and chips, definitely count as a side dish — especially when you're serving up something as tasty as this pumpkin hummus recipe. The best part? You actually just get to buy your favorite pre-made hummus and mix some pumpkin puree and pumpkin pie spice into it. Just be sure to transfer the whole thing into a nice bowl to make it look like you put in more effort. Serve with crackers and (pre-cut from the deli) veggies, and you've got a delicious side ready in about five minutes.
Pair guacamole with chips for a simple no-cook side dish
Guacamole and chips is the perfect side to serve up with fajitas, tacos, kabobs, enchiladas, or even quesadillas. And while the store-bought guac isn't bad, you and your guests won't be able to stop diving into this guacamole recipe that includes tomatoes and corn as "secret" ingredients. The real trick is that you broil the tomatoes and limes for 10 minutes before making the guacamole, giving it a roasted flavor you don't typically find in the fresh dip. Otherwise, the whole thing takes no more than 20 minutes, start-to-finish, and is about as easy to make as can be.
Pico de gallo is a fast and easy way to add veggies to your meal
Pico de gallo is another one of those dips that can easily stand on its own as a side dish for Latin American entrees. For instance, why not enjoy arroz con pollo (rice with chicken) with a side of pico de gallo, patacones, or fried plantain chips? You can typically find a few of these ingredients in the international section of your grocery store, or better yet, if you want to save some money while exploring new cuisines, in ethnic markets that cater to immigrant populations. But even if you serve up fresh pico de gallo with standard tortilla chips, it's a tasty way to add veggies to your dinner without feeling like you're adding more veggies to your dinner.
Broccoli salad is a fresh twist for an easy side salad
When the summer days get shorter and the air starts smelling of fall, it's time to switch out your leafy green summer salads for a more autumnal option, like this broccoli salad with peanuts and cranberries. Aside from chopping up some apples, the whole thing basically just requires emptying bags of pre-cut broccoli florets and pre-shredded carrots into a bowl with the other ingredients and then mixing together a mayonnaise-based dressing. The rest of the 30-minute prep time is simply leaving the mixed salad to sit in the fridge to allow the flavors to meld and chill before serving. And, if you decide you really love this refreshing broccoli salad, you can keep enjoying it year-round — just replace the dried cranberries with raisins for a more summery feel.
Caprese salad is a perfectly easy pairing for Italian food
A truly efficient genius developed the Caprese salad, and for that, we can all give thanks. This classic Italian side dish features nothing more than slices of heirloom tomatoes, fresh mozzarella, and fresh basil leaves topped with balsamic vinegar, olive oil, salt, and pepper. And while it clearly pairs nicely with pasta, seafood, and chicken dishes, it also makes and easy accompaniment to classic American barbecues and outdoor summer potlucks. Just think about it — a piece of grilled chicken, a dollop of potato salad, and a Caprese salad? What could be more perfect on a hot summer day?
Skip the boiled carrots and opt for simple roasted carrots, instead
Once you've learned to roast one type of veggie, you can pretty much roast them all. The main difference between this roasted carrots recipe and some of the other roasted veggie recipes around is that this one uses butter instead of oil as the fat to roast the carrots in. Better yet, you can choose to bring out more of the sweetness in the carrots with a drizzle of honey, too. And by choosing bunches of carrots that are a little thinner, you can cut down on total cook time and end up with slightly crunchier (aka, more delicious) ends where you peel them to a point.
This quick Caesar salad recipe pairs with everything
Okay, so it's no secret that you can pick up a bag of pre-made Caesar salad at the local grocery store, but typically, these pre-made mixes leave something to be desired. If you want to wow your family and friends with a truly tasty Caesar (including with homemade croutons!) without putting in much work, try this simple Caesar salad recipe. The main work comes in mixing up the homemade salad dressing (really, how hard is it to mix a few ingredients together?) and turning on the oven to bake your croutons, which are just made from a day old baguette you can pick up from the grocery store.
You can whip up these mashed potatoes faster than you think
If you didn't already know, you don't actually have to put in the hard work to boil and mash potatoes to enjoy a restaurant-worthy side dish. This copycat KFC mashed potato recipe uses instant mashed potato flakes as its base, along with whole milk, butter, and salt and pepper to taste. Of course, the real magic is in the knockoff gravy that pairs with the potatoes, which also isn't hard to make on your own. All in all, you'll end up spending about 30 minutes prepping and cooking, which is about as long as it would take you to drive to KFC and go through the drive-through.
Bruschetta is simple — even for novice cooks
Bruschetta is really just a fancy word for delicious garlic toast that can be dressed up with extra toppings (might we suggest guacamole or pico de gallo topped with cheese?). All you have to do is slice a pre-purchased baguette into thick slices, broil for about two to three minutes until the edges are crispy and golden, rub with a mashed garlic clove, brush with olive oil, and sprinkle with salt. That's seriously the entire recipe, but the result is a toasty and delicious treat that you'll want to eat with every meal.