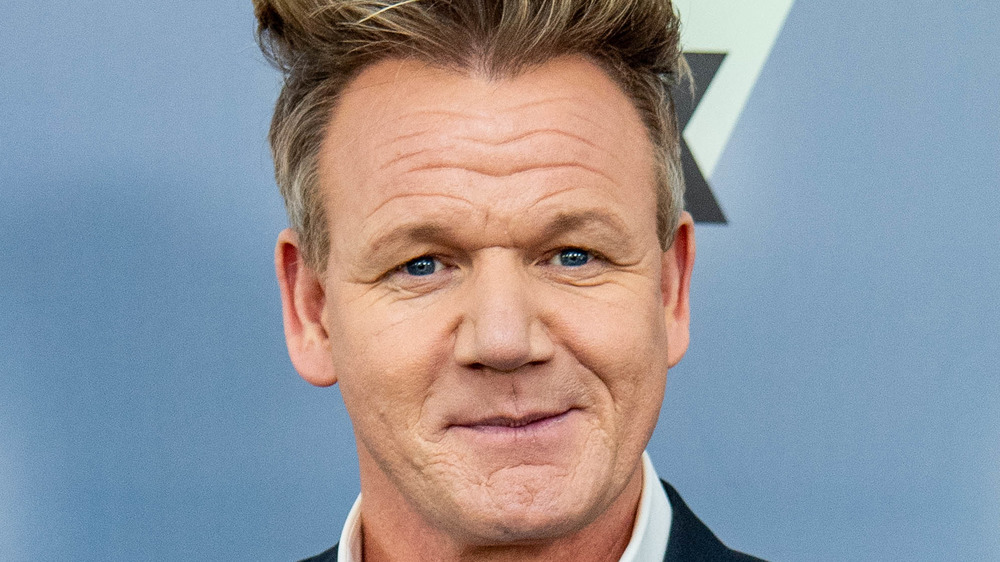 Gordon Ramsay is arguably one of the most famous chefs in the world. His many, many restaurants, Michelin stars, TV shows and public appearances have turned him into a borderline omnipresent celebrity, whose stern face, liberal use of swear words, and inventive insults are a bigger part of his brand than any dish that has ever left his kitchens.
However, things weren't always this way. Ramsay didn't pop out of an oven in a Michelin restaurant's kitchen, wearing chef's whites and screaming profanities at everyone within earshot who can't make a beef Wellington in their sleep. He started out very, very small. Indeed, it has taken several twists of fate and an absolutely shocking amount of work to get where he stands today.
Because Ramsay has been a celebrity for such a long time, the viewers have been constantly exposed to his gradual changes, to the point that it may actually be difficult to notice any change. Yet, in the process of his long climb to the top of Food Mountain, he's gone through many formative events that have changed him — both mentally and physically. Today, we'll take a look at the many faces of Gordon Ramsay throughout the years and how his transformation has been seriously turning heads.
Gordon Ramsay spent his youth in an abusive household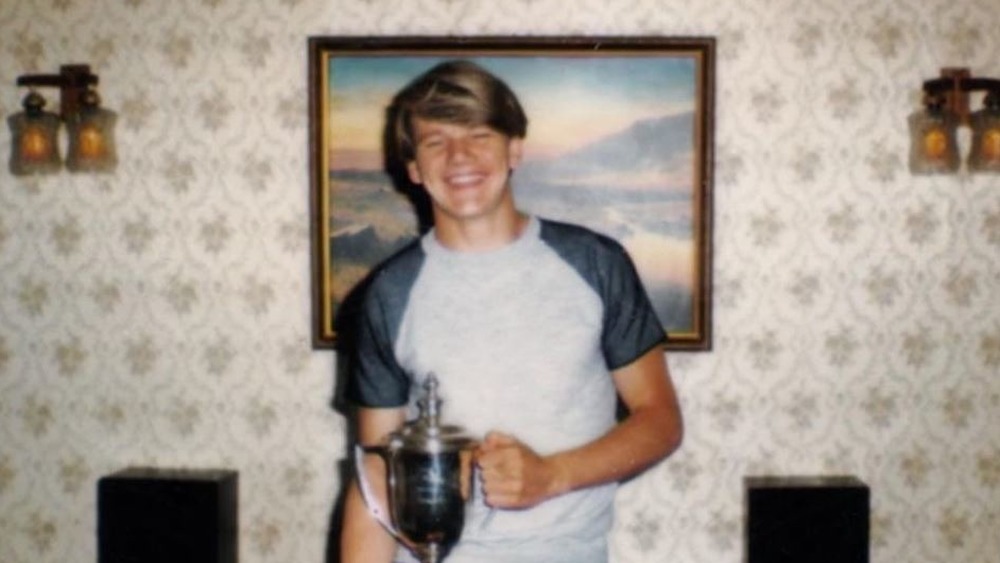 Gordon Ramsay might be smiling in some of his early photographs, but it's probably fair to say that those happy faces were in spite of his family situation, not because of it. As Ramsay himself has told CNN, he didn't come from a happy home. The superstar chef's father was a violent alcoholic who got fired from many jobs and was aggressive towards his mother. As a result, the Ramsays had to move often, and sometimes, things got so bad that these violent periods separated the entire family. "There were instances when the police were called to take him away; mum was taken to the hospital while we kids were taken to a children's home," the chef wrote. What's more, Ramsay has told 60 Minutes that his brother became a heroin addict and that the future chef actually had to witness his drug use.
Though Ramsay's mother and father eventually divorced, he has stated that the combination of his sorry family affairs was ample motivation to come up with plans to improve his life. He's fully aware that he defied the odds by actually managing to do this. "I mean, the chances of any form of success were pretty slim," he told 60 Minutes.
It's probably no surprise that with experiences like these, Ramsay is staunchly against domestic violence, to the point that he and his wife Tana became ambassadors of the Women's Aid charity (via CNN).
Gordon Ramsay tried to become a professional soccer player
Sometimes, a slight twist of fate is all it takes for a person's life to veer in a completely different direction than what they originally intended for themselves. Gordon Ramsay is no exception, and if his life would have gone the way he first meant for it to do, he might still have been famous — though in a dramatically different context.
As Ramsay told Observer Sport Monthly in 2002, his original career plan was to become a professional association football player, preferably for the first team of his beloved Glasgow Rangers. He says he made quite a bit of progress as a hard, fast defensive player (left back, to be precise), and even played for the Rangers a bit — though according to Reuters, his company later clarified that his appearances on the pitch were actually "a couple of non-league matches as a trialist," and he never actually made it as a professional.
Sadly for the aspiring athlete — but luckily for the world of high-class cooking — a grievous ligament injury killed his chances of ever making the team. He's still a big football fan, though, and as Goal tells us, he has been known to participate in the celebrity soccer charity matches of Soccer Aid. Besides, his cooking career has earned him more money than all but the absolute biggest soccer stars, so it's hard to see him being too disappointed about the way things turned out.
Gordon Ramsay and his former culinary teacher don't get along
Per Britannica, Gordon Ramsay moved on to the culinary world after his injury, moving to London in the 1980s to further his skills as a chef. It proved to be a fateful but tumultuous choice as his culinary career progressed. One of young Ramsay's most prominent culinary teachers was the legendary chef Marco Pierre White. However, it wasn't an easy time, The Independent reports. White's approach to training his apprentices was not unlike the one Ramsay himself would later use. At one point, the famously hot-tempered White actually managed to break the 20-year-old Ramsay. "Gordon crouched down in the corner of the kitchen, buried his head in his hands and started sobbing," White wrote in his memoir. "'I don't care what you do to me,' he said as he wept. 'Hit me. I don't care. Sack me. I don't care.'"
Ramsay may have learned the ropes in White's famed restaurant, Harvey's, but their relationship eventually crumbled into animosity. As The Guardian notes, things got so heated that in 1998 Ramsay had someone steal his own restaurant's reservation book, and publicly blamed the deed on White. The older chef was less than pleased when the truth emerged nine years down the line. Still, according to The Express, White says that their relationship had no shortage of reasons to go south. For him, the biggest issue was that Ramsay once smuggled a camera crew into his former mentor's wedding without permission.
Young Gordon Ramsay moved to France
After working for chefs Marco Pierre White and Albert Roux in London's restaurant scene, it was time for Gordon Ramsay to hone his French cuisine skills in … well, France (via Britannica). He spent a chunk of the early 1990s working for two legends of French food, Guy Savoy and Joël Robuchon. As Neil Simpson's book Gordon Ramsay: On Top of the World tells us, it was not an easy time, as the young chef didn't initially even speak the language. However, he learned a lot during those days. "I trained my palate in Paris and learned that taste is what should be held in the memory, not what the dish looks like on the plate for the first 30 seconds," Ramsay said.
As Fine Dining Lovers notes, Paris also taught him to defend himself in the kitchen. When one chef broke an egg on Ramsay's head when he was cooking on the main line, the Scotsman soon made clear that he didn't appreciate this action — by returning the favor with a bunch of rotten pigeon livers. Oof.
Gordon Ramsay triumphantly returned to London
The year 1993 marked Gordon Ramsay's transition from student to master, according to Britannica. This was the year he left France and made an extremely triumphant return to London, courtesy of Marco Pierre White, whose connections got Ramsay a job as the head chef of Aubergine restaurant (via The Independent).
Aubergine was a smash hit. The place won its first Michelin star in 1995, and a second one came soon after in 1997. Though Ramsay would have to wait for a third Michelin star until he launched his own successful restaurants later down the line, The Guardian points out that people like food critic Jay Rayner considered his Aubergine experience easily superior to what White's three-star The Restaurant had been able to offer.
In 1998, Ramsay moved on to bigger things, but his years at Aubergine have evidently stayed with him. According to The Caterer, in 2014 he even purchased his first Michelin restaurant's former site.
Gordon Ramsay turned heads as a restaurant magnate
Gordon Ramsay might be best known now for his various TV appearances, but his rather literal bread and butter is the restaurant industry. According to Britannica, Ramsay started his own restaurant, the appropriately named Gordon Ramsay, in 1998, and followed it with a string of other highly respected establishments, including (but not limited to) Pétrus, the Savoy Grill, and Maze. Gordon Ramsay (the restaurant) earned three Michelin stars in as many years, and his other places started raking in stars as Ramsay (the person) worked his way up as a culinary powerhouse, as well.
Ramsay's had restaurants in cities ranging from Dubai to New York City, and countries from South Africa to Japan. He has also added to his empire with a number of successful cookbooks. Of course, things haven't always been smooth sailing. Per The Hollywood Reporter and The Guardian, the celebrity chef has had legal and financial trouble with his business partners (including his own father-in-law) over the years, and despite his success, Ramsay has experienced his share of failures and closed restaurants, too. Still, running an empire as large as Ramsay's is a huge ordeal, and frankly, it would be more surprising if he didn't face the occasional hurdle through the decades.
Gordon Ramsay pivoted to TV stardom
You can talk about Gordon Ramsay all day long, but it's pretty much impossible to do so without at least mentioning his vast array of TV shows. His on-screen appearances have been just as instrumental to his fame as his kitchen skills, if not more so. In fact, if you flip through the channels long enough, you're virtually guaranteed to see the man's face somewhere.
Per Biography, Ramsay has hovered around MasterChef quite literally throughout his small screen career. His first TV appearance was a judge on the British version of the show in 1996, and a cool quarter-decade later, he was tormenting the competitors on the 2020 season of MasterChef Australia. However, his first true starring stint came on a 1999 documentary series called Boiling Point, which truly introduced the world to the force of nature called Chef Ramsay as he opened his first fine dining establishment.
After that, it was just a matter of time, really. The year 2004 brought us his two arguably most iconic shows, Kitchen Nightmares and Hell's Kitchen, and, well … the man currently has 170 IMDB credits and counting, and that doesn't even include his various acting cameos and producer credits. What's more, it seems that the chef isn't afraid to explore new avenues of small-screen entertainment, either. In 2020, Ramsay made a surprising announcement about his newest TV stint as the host of a BBC game show called Bank Balance.
Gordon Ramsay became a family man
As Hello! Magazine tells us, Gordon Ramsay might seem like a pretty intimidating dude, but he's also the father of a huge family. Ramsay and his wife, Tana, got married in 1996, and they have no less than five children together. According to E! Online, the chef's methods for dealing with his children are different from his sweary work self. In fact, he's taken pains over the years to make his home life as free of profanity as humanly possible. However, being Gordon Ramsay, his own mouth sometimes gets stuck in potty mode, so he's devised a system of almost-swears for family use. "So rather than saying the word 's**t,' which, you know, is not nice…'Shitake'! Like the mushroom," Ramsay explained when he described his method of circumventing naughty words at home.
In an interview with 60 Minutes, Ramsay made it clear that he puts family first. His wife was quick to confirm that the chef is considerably more mellow during his downtime. " People say, 'Does he swear at home?'" Tana Ramsay said. "And I think, 'What a stupid thing to ask.' I mean, He's home — he's not under high pressure — so why would he come in the door cursing and swearing?" When you put it that way, it does make sense. After all, no one wants to take work home, even if you're Gordon Ramsay. Still doubtful? Then just watch him be extra nice to the kids on MasterChef Junior.
Gordon Ramsay got out of shape
Though he got into sports early on with his youthful aspirations of a soccer career (via Observer Sport Monthly), Gordon Ramsay has been known to pack on some extra pounds on occasion. According to Runner's Weekly, he ran his first London Marathon as early as 2001 in order to shed some of the pounds he'd gained over the years. At the time of his first marathon, Ramsay says he weighed 280 pounds, and as such, the experience was less than pleasant. "You know it's bad when you look behind you and the tow truck is picking up the cones," the chef said of his performance at the time.
Ramsay has told Men's Journal that his hectic work schedule caused him to once again become flabbier in his mid-40s, which he found an especially hard pill to swallow because his wife remained quite athletic throughout his weight gain. "I was overweight, 18 stone [252lbs]; I looked like a sack of s**t," Ramsay said. "I look at the pictures and think, 'How did Tana stay around?'" He also worried about his own health, a particularly throny issue given that his own father died at age 53. Of course, as anyone who's seen pictures of Ramsay can attest, the chef tends to be quite trim these days, so evidently, he managed to find a way to shed the excess weight.
Gordon Ramsay became an accomplished athlete later in life
By his own admission, Gordon Ramsay has been known to develop a bit of a spare tire around his waist when his work schedule gets too frantic, per Men's Journal. However, don't think for a second that he's afraid to work out whenever needs must — which, according to him, is more or less all the time. As the Daily Mail reported, the then-51-year-old Ramsay revealed that his fitness enthusiast wife Tana is a big inspiration in his quest to stay ultra-fit, which is a quest he's fully committed to. "'I started focusing on getting super-fit five or six years ago when my life got super-busy," the chef stated.
In Ramsay's case, "super-fit" is not an exaggeration. With the help of expert triathlete Will Usher, he started a brutal fitness training that got him in a shape to take part in Half Ironman Triathlons, arduous events that feature 13.1 miles of running, 1.2 miles of swimming, and a crushing 56 miles on a bicycle to top it all off. These days, marathons and triathlons are so important to Ramsay that he even sings their praises on the Gordon Ramsay Restaurants website. On top of that, Daily Mail also notes that Ramsay's a mixed martial arts practitioner and cage fighter. "I don't do it at home, but I've been into a cage and worked closely with a coach, and it's something I've worked heavily on in the last couple of years," Ramsay said.
Gordon Ramsay underwent cosmetic surgery
As people who have followed Gordon Ramsay's highly visible career over the years may have noticed, the superstar chef has lived a highly hectic life and bears the wrinkles to prove it. Or, rather, used to bear. Ramsay has told Radio Times (via Esquire) that spending an increasing amount of time in the looks-centric Los Angeles contributed to his decision to undergo cosmetic procedures. "In LA it was all 'Oh my god, when did you go through the windscreen?'," he said of people who acted surprised to see his previously untouched looks. "You put up with it, but then you get f*****g sick of it." He has specifically mentioned getting some lines on his chin smoothed out, but maintains that's the extent of the work he'll ever have.
Ramsay revealed that fellow TV show judge and noted plastic surgery aficionado Simon Cowell was instrumental in his decision to make his face more in line with the local market. "Simon Cowell suggested that now I'm a success in America, I should do something," Ramsay has said. "So I had a filler put under the deep crevices. It hurt," he told Radio Times (via What's on TV).