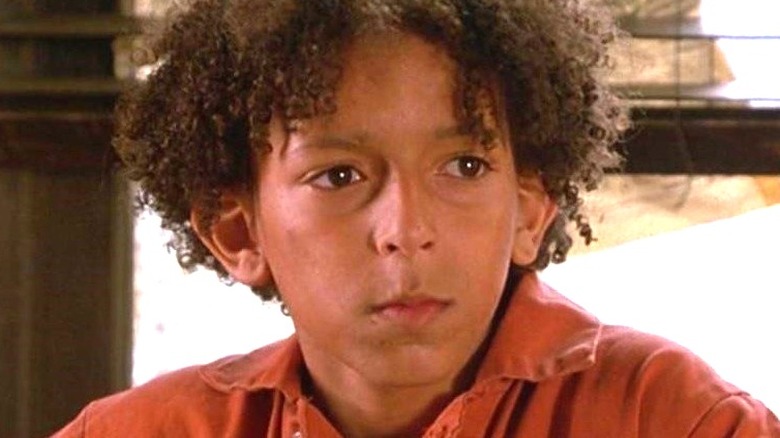 The children's novel "Holes," by Louis Sacher, was a massive award winner when it was published in 1998. It took home the Newbery Medal, the National Book Award for Young People's Literature and several others along the way. It didn't take long for Disney to snap up the rights to bring "Holes" to the big screen.
It tells the story of a boy named Stanley, who is accused of a crime and sent to a labor camp as punishment. There, he and a group of boys are forced to dig holes in the middle of nowhere, with the camp warden claiming it will build character. In reality, she has motives beyond just bettering her charges.
"Holes" has a nostalgic place in many hearts for a number of reasons, but a major part is its impressive collection of actors. Here's what the stars of "Holes" are up to today. Keep in mind that many of the film's child actors didn't act much beyond this movie — so you'll be disappointed if you want to find out what happened to the performers who played characters like Armpit and Squid.
Shia LaBeouf (Stanley)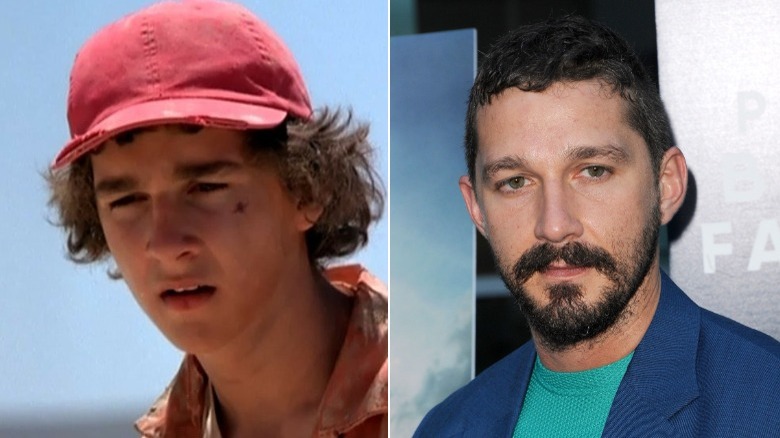 Casting kids in movies like "Holes" can be tough — there are plenty of movies out there that sank because they just couldn't land a believable lead. "Holes" did not have that problem, calling on Shia LaBeouf to take on the role of Stanley. LaBeouf was already a pretty big name thanks to his role on "Even Stevens," and he's only continued to find more success in the years since. He has also courted some controversy during that time.
LaBeouf has an eclectic resume of film roles, starring in huge blockbusters as well as quieter indie flicks. He's played major roles in huge franchises, such as Mutt in "Indiana Jones and the Kingdom of the Crystal Skull" and Sam Witwicky in multiple "Transformers" films. In more recent years, LaBeouf generally tackled more character-driven titles. He played the volatile John McEnroe in 2017's "Borg vs. McEnroe" and had a major role in the vastly underrated film "The Peanut Butter Falcon." LaBeouf also wrote and starred in the semi-autobiographical film "Honey Boy."
LaBeouf has also been a part of some odd controversies. He's had a few plagiarism accusations and arrests for disorderly conduct alongside other similar activities. He's also been a part of numerous, bizarre performance art exhibits. Who can forget when he wore the paper bag on his head for days, or when he let fans just … drive him around?
Sigourney Weaver (The Warden)
Every good adventure movie needs a menacing villain, and the camp warden in "Holes," Louise Walker, is exactly that. Legendary actor Sigourney Weaver brings all her stoic badassery into the role, doing a great job of hiding her true motives and playing the part with just-under-the-surface malice.
Running through Sigourney Weaver's impressive career is a tough task, as she's played roles in some of the most well-regarded science fiction films of all time. She's one of the patron saints of female heroes, playing Ellen Ripley across several installments of the "Alien" franchise. She played Dana Barrett in "Ghostbusters," a role she would return to decades later in "Ghostbusters: Afterlife." You can also catch her as Dr. Augustine in "Avatar," another role she's set to reprise in the numerous planned sequels.
Weaver has made good use of her instantly recognizable voice as well, and has a number of voice acting roles under her belt. She voiced the ship computer in Pixar's "Wall-E" as well as the Myth-Speaker in the Netflix series "The Dark Crystal: Age of Resistance." Weaver also serves as the narrator for a number of nature documentary series: she's the voice behind "Secrets of the Whales" and the US version of "Planet Earth," among others.
Jon Voight (Mr. Sir)
Warden Louise Walker doesn't like to get her hands dirty unless she has to — she often leaves the real nasty work to her second-in-command, Marion Sevillo. This menacing figure, who Stanley and his fellow prisoners refer to as "Mr. Sir," is played by Oscar-winning actor Jon Voight, who is more than capable of chewing the scenery alongside Weaver herself.
Voight's been in the acting game for a long time: born in 1938, his first credited role came as a guest spot on the TV series "Naked City." He would go on to become one of the biggest stars in Hollywood during the 1970s, with roles in movies like "Midnight Cowboy," "Deliverance" and "The Champ." Voight has been nominated for a handful of Academy Awards, and he's taken home one for his role in an embittered, paraplegic Vietnam veteran in 1978's "Coming Home."
Voight has slowed down in recent years, but he still makes an occasional high profile appearance in films and prestige TV. He portrayed Henry Shaw, the newspaper magnate, in "Fantastic Beasts and Where to Find Them," and played Ray's dad, Mickey, on the Showtime series "Ray Donovan." Of course, to many a '90s kid, Jon Voight will be remembered as the manipulative snake hunter Paul Serone in "Anaconda."
Tim Blake Nelson (Dr. Pendanski)
Everyone is seemingly out to get our heroes in "Holes," and yet another powerhouse actor takes on the role of camp counselor Dr. Pendanski. The doctor is played by Tim Blake Nelson, and don't let that southern drawl and goofy smile fool you: he's an extremely talented and versatile actor who plays charming and carefree just as well as he plays menacing and nasty.
Nelson's first credited role came in 1989, but he really hit the big time just a few years before "Holes" was released, when he appeared alongside George Clooney and John Turturro in the 2000 comedy "O Brother, Where Art Thou?" Nelson is rarely cast in true "starring" roles, but he's regularly part of the central ensemble and is a great addition to any genre. He appeared as Samuel Sterns in 2008's "The Incredible Hulk," and there's always the possibility he could return to the MCU, given the character's comic arc and his cliffhanger ending in that film.
Speaking of comics and the Coen brothers, they both play a hand in two of Nelson's most notable recent roles. He played the title character in "The Ballad of Buster Scruggs," and he also played Wade Tillman, aka Looking Glass, on the HBO series "Watchmen."
Khleo Thomas (Zero)
We learn fairly early in "Holes" that Stanley's family is actually cursed due to a mistake made by his ancestor, who failed to uphold his end of the bargain with a fortune teller. Stanley is eventually able to fulfill the promise that was made, as he carries Zero (who is a descendent of the fortune teller), up the mountain to save his life. Zero is played by actor Khleo Thomas.
Thomas appeared in a number of roles right about the same time "Holes" was released and, though he still acts on occasion, has not quite gotten back to the same level of activity. After "Holes," he had major roles in films like "Walking Tall" and "Roll Bounce." In the years since, however, most of his acting work has come via guest appearances on TV series. A few have turned out to be multi-episode arcs: Thomas played Lewis Wilks on a two-parter of "Major Crimes" and Dylan Oswald on a few episodes of "Shameless."
Thomas is also a successful Twitch streamer and musician. Even though his last onscreen appearance came in 2019, he has a few projects in various stages of production as of this writing.
Patricia Arquette (Kissin' Kate Barlow)
Kissin' Kate Barlow doesn't get a ton of screentime in "Holes," but we eventually learn that her character drives the entire plot. The kids at the labor camp aren't just digging holes to build character, but because the warden knows she buried a treasure chest somewhere in the desert. Barlow is played by the talented actor Patricia Arquette.
Arquette has always been a bit choosy with her roles — a policy that has worked out well for her, as she's got a number of awards to her name. She really started to hit the big time in the early 1990s, appearing in films like "True Romance" and "Ed Wood." One of Arquette's most memorable roles came on the TV series "Medium," in which she starred for five seasons and well over 100 episodes. She has occasionally taken up recurring television roles in more recent years, including starring gigs on the short-lived spinoff "CSI: Cyber" and in the Hulu miniseries "The Act."
On the film side of things, Arquette's most notable performance in recent memory is probably her Oscar-winning turn in "Boyhood." You can also hear her in "Toy Story 4," where she voices Harmony's mom.
Dulé Hill (Sam)
One character who stands out as essential to the plot of "Holes" but also doesn't get a lot of screen time is Sam, the onion man. He only appears in the flashbacks that clue us in to Kate Barlow's story, and he is killed when the citizens of the town catch him and Kate together, prompting her to seek vengeance. Sam's onions prove pivotal as well, as they keep Stanley and Zero safe from the poisonous lizards that roam the desert. Sam is played by Dulé Hill.
Hill has appeared in a handful of films over the years, but he is much better known as a television actor. Most audiences probably first encountered him on "The West Wing," where he played part of the central ensemble as Charlie Young. Immediately after that series concluded, Hill landed a starring role on "Psych," and reprised it in the films based on the series.
In more recent years, Hill appeared in recurring roles on both "Ballers" and "Suits." He also has a major project in the works, starring in the remake/reboot of "The Wonder Years."
Henry Winkler (Stanley's father)
Stanley's poor, cursed family is actually played by a few very well-known actors. His dad, Stanley Yelnats III, is an inventor constantly searching for his big, eureka invention, which actually materializes at the film's end when he perfects his odor-neutralizing shoe spray. Few actors play exasperated goofballs quite as well as Henry Winkler, who is clearly having a blast with his limited screen time.
Winkler, of course, is known and beloved in television history for his portrayal of Arthur "The Fonz" Fonzarelli on "Happy Days" and a number of other sitcoms of the same era. However, for someone known for playing one of the most notable "cool guys" of all time, Winkler mostly plays clueless weirdos when you see him now.
Winkler has continually popped up in a number of television series and movies, including as the inept family lawyer, Barry Zuckercorn, on "Arrested Development," Dr. Lou Saperstein on "Parks and Recreation" and Sy Mittleman on "Childrens Hospital." Many could argue that Winkler has actually been doing his best work recently: you can hear him voicing Fritz on the Disney+ series "Monsters at Work," and he's won accolades — including an Emmy — for his performance on HBO's dark comedy "Barry."
Siobhan Fallon Hogan (Stanley's mother)
Stanley's mother, Tiffany Yelnats, doesn't forge quite as much of an identity as the other members of the Yelnats family, but she still gets a few moments to shine in "Holes." Stanley's mom is played by actor Siobhan Fallon Hogan, who pops up in a number of recognizable comedies without being much of a household name.
Hogan started out in television, landing guest spots on a number of series and working as a cast member of "Saturday Night Live" for a brief stint in the early 1990s. Sitcom fans might also remember her for a small, recurring role as Elaine's irritating roommate, Tina, on a few episodes of "Seinfeld." Some of her most memorable roles came in the late '90s and early 2000s: she played Beatrice, Edgar's wife, in "Men in Black," and also had minor parts in "Daddy Day Care" and "Fever Pitch," among others.
In recent years, Hogan has had small roles in films like "The House that Jack Built" and "Clifford the Big Red Dog." She also had a brief but memorable guest spot on an episode of "What We Do in the Shadows," where she played an animal control officer.
Eartha Kitt (Madame Zeroni)
One of the most indelible side characters in "Holes" is Madame Zeroni, the fortune teller who is responsible for the curse being placed on the Yelnats family. Zeroni is Zero's ancestor, meaning that Stanley actually breaks the curse when he carries Zero up the mountain near the end of the film. Zeroni is played by the legendary performer Eartha Kitt.
Kitt was best known for her musical career, performing on stage with a sultry, flirtatious style that would also help gain her an audience as an actor. You probably hear Kitt on the radio around Christmas every year, requesting all sorts of outrageous gifts from St. Nick in one of the most popular versions of "Santa Baby." She had a number of other jazz and lounge hits as well.
Though she began as a singer, Kitt moved into acting and stayed there for several decades. She played Catwoman on the Adam West "Batman" series for one season, replacing Julie Newmar. She also had a great deal of success as a Disney character: she was the voice of Yzma in "The Emperor's New Groove" and several of its spinoffs. Sadly, Kitt passed away in 2008 at the age of 81.