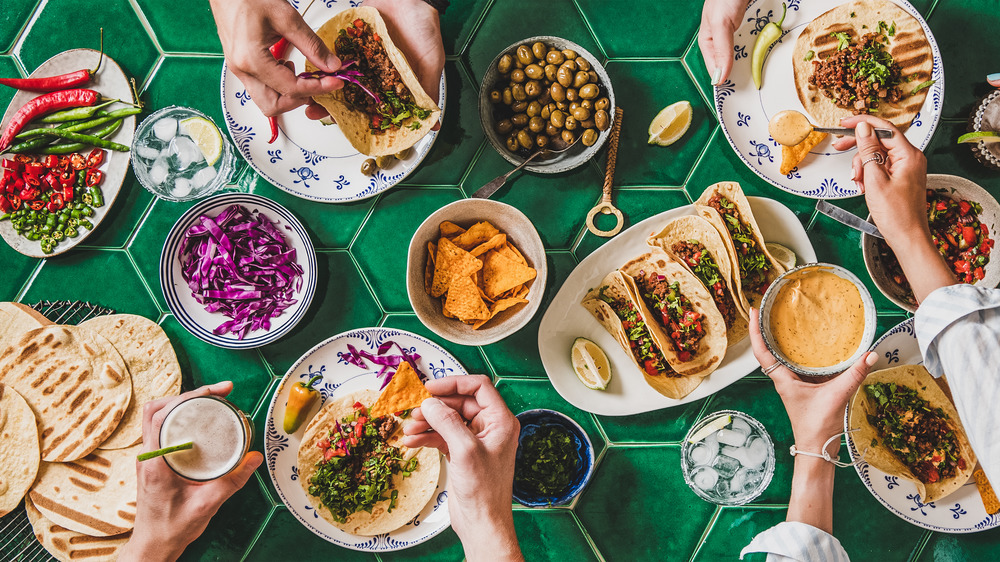 Tacos are tasty, versatile, and can easily adjust to your whims and desired level of spiciness. With many variations in what constitutes a taco, you could theoretically make every day Taco Tuesday and still enjoy tons of variety for a long time. Want to throw together a quick weeknight dinner in 10 minutes? Tacos can get you there. Looking for a casual, but colorful and impressive spread to share with family or friends? Tacos come through again.
Tacos can take many forms, which is what makes them so versatile. At their simplest, they are encased in a hard or soft tortilla shell, filled with meat or beans, and topped with vegetables, cheese, salsa, and other condiments. Once you've got the basics down, you can mix and match ingredients in this formula to your heart's content.
That said, it always helps to start with a recipe. These taco recipes are fun to conquer any, or every, night of the week.
5-ingredient Costco tacos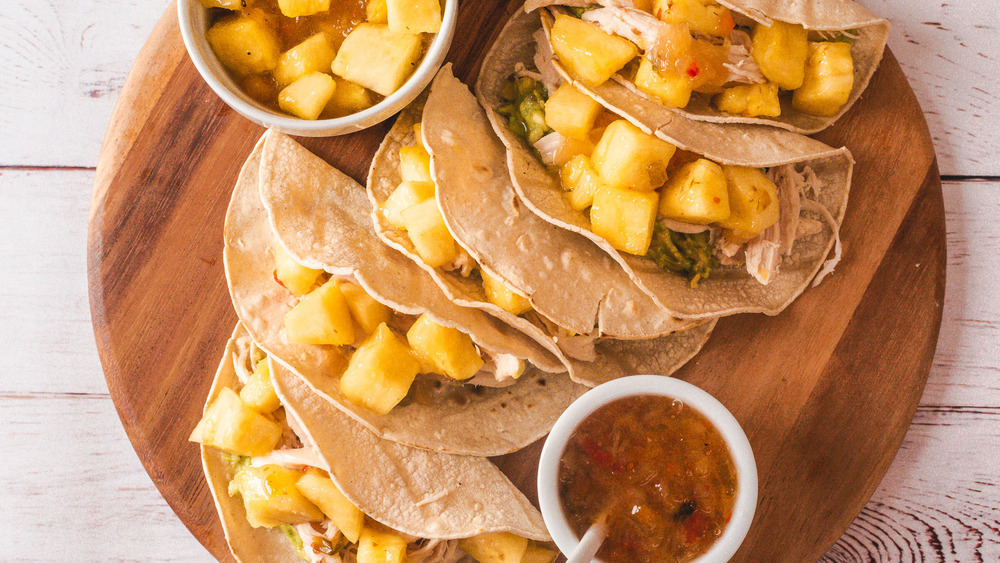 Costco has everything you need to make this fresh and flavorful 10-minute taco dinner. It's spicy, sweet, and packed full of protein and fruit.
While you could pick up the main ingredients of pineapple, rotisserie chicken, corn tortillas, and avocados at just about any store, the Robert Rothschild Roasted Pineapple and Habanero Sauce isn't available everywhere. However, it is sure to be at Costco. Yes, you should feel free to swap in another sauce of your choice, but the roasted pineapple really elevates these tacos with a spicy flavor that might have you imagining you've just picked up tacos on a beach vacation.
This recipe is especially suited for quick weeknight dinners. Grab the ingredients on your next shopping trip or just pick them up on your way home for an easy meal that's healthier and nearly as fast as your closest drive-thru. With pre-cooked rotisserie chicken, most of this recipe's tasks consist of simply assembling ingredients. The most time-intensive thing you'll do to make these tacos is cut up the pineapple –- which you could cut back by using canned pineapple -– and spend about a minute heating up each tortilla.
Aldi 5-ingredient carnitas tacos
These Aldi 5-ingredient tacos are a great choice when you want to keep your shopping list short and your belly full. Aldi's seasoned carnitas boneless pork shoulder comes loaded with all the seasonings you need for an authentic carnitas flavor without having to round up a bunch of different spices. The shredded pork goes a long way in these traditional carnitas tacos packed with onions, cilantro, and fresh-cut salsa.
You can cook the pork shoulder roast in the Instant Pot, a slow cooker, or in your oven. Prefer to spice things up? You can add more seasoning -– like cumin or taco seasoning -– to the pork as you broil it. Want a shortcut on the toppings? You could just swap in prepared pico de gallo. Ultimately, the hardest thing you have to do is cook the pork and then shred it.
Easy chicken tacos
These classic chicken tacos are simple, fast, and easy to make. With familiar taco flavors and simple ingredients, they're good for picky eaters or as a base for more adventurous toppings.
Pick up a rotisserie chicken or just use any kind of cooked chicken for these chicken tacos that have a classic taco taste but fairly minimal effort. You only need to cook onions and pepper with the chicken and spices, then finish off the tacos with your favorite toppings. Feeding a crowd? Serve up the tacos hot and set out toppings in separate dishes so everyone can add their own for a custom-topped taco sure to please everyone.
20-minute breakfast tacos
Could you eat tacos for every meal? Certainly, if you have these quick breakfast tacos in your meal rotation. They're tasty, come together fast, and offer a savory, veggie- and protein-packed option to start your day off right.
Eggs, cheese, onion, pepper, and potatoes come together in flour tortillas for these breakfast tacos with color and texture to liven up breakfast. They're great to eat at home or you can take them on the go, too. Just wrap them up and take them anywhere. You can get from start to tacos in about 20 minutes. If you wake up just a little early, you could have tacos ready to go before the rest of your house is even dressed.
Parmesan-crusted shrimp tacos
Shrimp taco night is a treat any way you can get it, but this shrimp taco recipe takes things to the next level. It starts with quick-pickled red onions, which add a beautiful pop of pink color and a tangy-sweet crunch that plays well with the lime and spicy jalapeño.
But the real secret to what makes these shrimp tacos great is the Parmesan-crusted tortillas. They're made simply by melting Parmesan on each tortilla until it's turned golden and developed a wonderfully crisp texture. Topped with jalapeño, cilantro, avocado, lime juice, and hot sauce, these tacos pack a lot of freshness and flavor into every bite.
Chimichurri shrimp tacos
Want to mix up your shrimp taco game? Chimichurri adds a new flavor to your taco night rotation, which can come in handy (and is pretty dang delicious) if you're getting tired of standard taco fare. With charred tortillas and a custom sauce, these tacos look like a big production. But in reality, it only takes about 30 minutes from start to finish to make this impressive and flavorful taco.
To get started on these chimichurri shrimp tacos, you can make your own chimichurri sauce with cilantro or basil, or skip ahead and use prepared sauce. The shrimp cook in about four minutes or less — don't overdo it, unless you want rubbery shrimp — while you char the tortillas in the oven for crunch and char flavor.
20-minute chicken tacos
Simple, easy-to-find ingredients come together in these chicken tacos that go from the fridge to your table in about 20 minutes with just seven ingredients. Seasoned chicken tenderloins and red onion, cilantro, avocados, and limes create a simple taco with wide appeal. Want to mix it up a bit? You can turn this recipe into a taco bar by setting out toppings including salsa, sour cream, cheese, lettuce, and diced tomatoes.
Copycat Fiery Doritos Locos Tacos
Craving a Doritos Locos taco but want to skip the drive-thru? You can recreate Taco Bell's addictive Doritos taco shell at home with a regular taco shell and spices. Or, if you're feeling ambitious, you can make your own seasoned taco shells from scratch.
The dry rub features chili powder, smoked paprika, onion powder, garlic powder, Accent seasoning, and Romano cheese. You'll then coat the hard taco shells with a Cholula chili-lime hot sauce, sprinkle the spice mix on the sauce-painted shell, and you're well on your way to the Doritos Locos Taco flavor. After all, the real star of the show is the spicy chip shell.
Ground beef and some simple toppings including lettuce, tomato, and shredded cheese can satisfy your Taco Bell craving without leaving home – and maybe faster than you'd be able to hit the drive-thru.
Bacon weave mac and cheese taco
This dish may look like a plain old taco at first glance, but it's actually quite different. While tacos are typically tortillas filled with protein, fresh vegetables, and tongue-teasing spice, this version goes all-in on comfort food featuring bacon and mac and cheese. Yes, this bacon-weave taco wraps one of your favorite pork products around homemade beer mac and cheese.
A bacon weave mac and cheese taco isn't easy to make, to be certain. Neither is it a meal that your doctor may want to hear you've eaten, but it's worth the splurge now and then. Cook your mac and cheese in the slow cooker, incorporating an IPA beer that adds bitterness and bite to balance out the cheese.
The most challenging step in this recipe: weaving the bacon into a taco. Start with thick-cut bacon, which is the easiest to hold together. You'll weave the bacon before cooking, then cook it about halfway so you can cut it into rounds without letting them fall apart. You can finish the cut shells in the oven, then fold and fill them with mac and cheese. And even if your bacon crumbles without ever forming anything resembling a taco, you still have bacon with beer mac and cheese to enjoy.
Copycat Taco Bell beef
Any great taco starts with a protein anchor, whether it's beef, shredded chicken, or tofu. A familiar taco taste for Taco Bell devotees is the taco beef that's the foundation of many of the restaurant's offerings, ranging from classic crunchy tacos to Crunchwraps and burritos.
Spices -– with just a touch of MSG –- help turn regular ground beef into Taco Bell-worthy taco meat, but you'll need a somewhat unexpected ingredient to get the full effect.
The secret ingredient here is floured oats, which keep the beef moist and tender. The oats also stretch your dollars a little further, since they're cheaper than beef. You just need to start with old-fashioned oats and process them down into flour before adding them to the beef. Cook the beef and oat flour together in a cast-iron skillet and spice things up before using the taco beef in tacos, burritos, and more.
Copycat Chipotle guacamole
What's a taco without guacamole? Let's hope we never have to find out. If you love avocados as much as we do, you might think of tacos as a guacamole delivery system. Whether you eat it as a side with chips or add it to your taco night spread, classic guacamole can add freshness, flavor, and healthy fats to your meal. Don't skimp on the citrus, which can add zip and help preserve your guacamole.
The recipe for Chipotle copycat guacamole is simple: combine avocados with lemon and lime juices, salt, pepper, red onion, and cilantro. It takes about five minutes to make and might be gone just as fast. But if you happen to have leftovers, you can add lemon or lime juice to the top to minimize browning.
Homemade taco seasoning
Any night can be taco night if you add a little spice. If you have taco seasoning poised and ready in your pantry, you can turn leftover ground beef, chicken, and even tofu into tacos in just minutes. Sure, you could buy pre-mixed taco seasoning and skip all the steps, but there's a good reason for making your own.
Making your own taco seasoning is cheap, easy, and healthy, plus you probably already have what you need in your pantry. But the biggest appeal of making your own taco seasoning is the fact that you can adjust the flavor to your tastes, leaning heavier or lighter on spice, salt, or other ingredients as necessary. Here, you'll mix paprika, onion powder, chili powder, salt, cumin, and oregano for your custom blend taco seasoning.
5-ingredient Mexican street corn
Mexican street corn is a show-stealing side for taco night. With fresh corn, bright spices, and lots of flavor, you might find yourself going for corn before you dig into your taco.
This classic Mexican street food might look intimidating to make and potentially messy to eat, but you don't need any special ingredients or equipment to bring this side dish together. The corn is cooked either under your broiler or on the grill, then slathered in butter, cheese, mayo, and spices. Yes, you may need a napkin or two for clean-up afterward, but you certainly won't mind once you get a taste. This corn is a great choice for a backyard taco picnic.
Simple sopapillas
Want to top off your taco night with something sweet? Sopapillas fit the bill, especially if you're a fan of fried dough desserts. Think of all the other beloved variations on this theme, for instance, including donuts, funnel cakes, and churros –- they're all in the same flavor family as sopapillas.
These sopapillas are easier to make than you probably think. Don't be intimidated by the dough, as it doesn't require kneading and only needs to rest for 15 minutes. Plus, there's nothing complicated about forming these pastries. Just roll out and cut into squares about 1/8 inch thick.
It takes just over 30 minutes to make the dough and fry it up before covering them with sugar and cinnamon. The result is a sweet, crispy treat that's extra tasty dipped in honey.
Easy refried beans
Another great side for taco night is surely refried beans. These beans add a lot of protein and fiber to your meal without skimping on the flavor. Plus, this refried bean recipe is vegan. You could even use refried beans as a base for a bean burrito or vegetarian taco. Beans, onion, spices, and lemon juice quickly come together for an easy, healthy side that's way better than what you can buy pre-made at a store.
Mexican rice
A classic taco night side dish, Mexican rice pairs great with just about any taco and much more. If you happen to have leftovers of this Mexican rice after taco night is done, you might be tempted to eat it with eggs the next morning or wrap it up into a burrito for lunch or dinner.
All you need to make this Mexican rice side is rice, oil, diced tomatoes, garlic powder, and tomato bouillon. If you don't have tomato bouillon in your pantry, you could swap in a different bouillon, such as chicken, beef, or vegetable, but tomato bouillon will give your rice a more authentic flavor and color.
Instant Pot carnitas
Carnitas can be a base for tacos and much more, including burritos and quesadillas. While you could slow cook pork shoulder all day, it doesn't have to take that long with the right equipment. The Instant Pot provides a quick shortcut for carnitas without sacrificing flavor. Even better, it saves on dishes, since you can use the Instant Pot for multiple steps in the recipe.
You can start by using the Instant Pot to easily sear the pork on sauté mode before you pressure cook. After the carnitas come out of the Instant Pot, you'll shred them. If you prefer wet carnitas similar to Chipotle's with the pork in the liquid it was cooked in, you can go straight from shredding to the taco. If you'd like a crispy carnitas taco, you can fry the meat in its liquid on sauté mode in the Instant Pot. The extra frying step concentrates the flavor and adds texture.
Tofu-based sofritas
Tacos aren't just meat-based. Vegetarian taco options typically include beans or potatoes, but tofu is on the menu, too. Tofu-based sofritas can take the place of ground beef, chicken, or pork in many taco recipes, though it most closely resembles taco beef.
You'll use firm tofu, roasted poblano pepper, onion, tomatoes, apple cider vinegar, and spices to make this vegetarian meat alternative. This recipe only takes about 40 minutes to pull together, so you can make sofritas even if you're a little pressed for time on taco night. Make the sofritas ahead of time and you can have a tasty protein base not just for tacos, but taco salads, burritos, and quesadillas.
Taco salad
Prefer your taco not in a tortilla or shell, but in a bowl? Taco salad can give you the flavors of tacos with a great opportunity to load up on veggies, too. And it's uncomplicated and ready in about 30 minutes.
Feeding a mixed crowd? Let them choose whether they want a traditional taco or a taco salad. You can set out all of the components of taco salad for taco night with your family and let everyone build their own meal, whether they're putting ingredients in a tortilla, shell, or salad bowl.
You'll make your own taco salad dressing to top it with a spice mixture made of mayonnaise, sour cream, apple cider vinegar, dill, salt, and taco seasoning, which whisks together delightfully fast.
Taco pizza
Taco pizza combines two popular foods: tacos and pizza. So if you can't agree on dinner, or if you have picky eaters in your house, taco pizza might just be a peacemaker at your discontented dining room table. Or, if you live in more peaceful times, it might just give you a chance to mix things up on Taco Tuesday traditions.
Inspired by quesadillas, taco pizza tops pizza dough with traditional taco ingredients, which include ground beef, refried beans, and cheese. This recipe is fun to make and can be modified easily with optional ingredients such as black olives, sliced jalapeños, tomatoes, lettuce, and sour cream.
Pico de gallo
Like guacamole, pico de gallo is a staple for taco night that you might look forward to almost as much as the tacos. You can add it to your taco night spread and add it to your taco, or eat it with tortilla chips on the side. You could also use it to add some pep to a nacho cheese sauce.
Packed with fresh produce, including onions, peppers, tomatoes, and cilantro, pico de gallo is a taco night favorite you can feel good about eating. And it only takes about 10 minutes to make two cups of this mix.
Copycat Taco Bell quesadilla sauce
An awesome sauce can take a taco from good to great – and this Taco Bell quesadilla sauce copycat can take tacos, taco salads, burritos, and other dishes to the next level. It adds a lot of spicy flavor for very little effort, starting with a base of ranch dressing, Sriracha sauce, and sliced pickled jalapenos, plus spices.
The great thing about this sauce is that you can adjust it to your tastes, dialing the spice up or down by changing how much Sriracha you add. This sauce takes about five minutes to make and stores great for about a week.