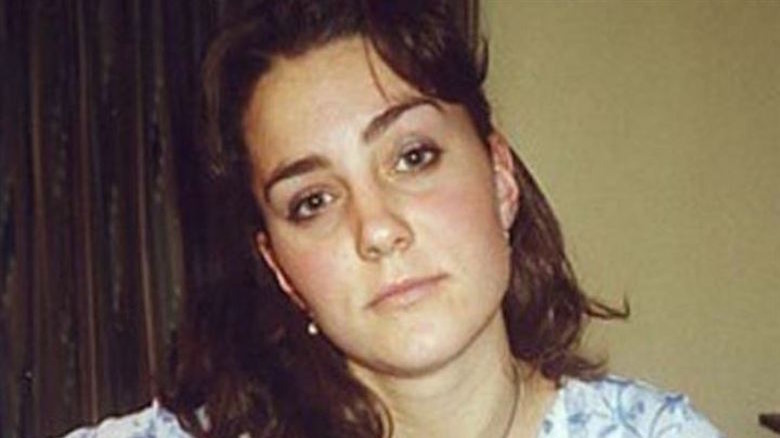 When Kate Middleton married Prince William at Westminster Abbey in 2011, she went from commoner to the Duchess of Cambridge in mere moments. An estimated two billion viewers around the globe were glued to their seats and screens as the bride and groom recited their vows. Needless to say, it was an exciting day for many.
In the grand scheme of things, the duchess hasn't been a part of the royal family for very long — just seven years as of this writing. So, why does it feel like much longer? A royal butler explained it to Express this way: "She was up on that, dare I say it, royal way of life … She wasn't a stranger to it, she understood what she was expecting. It wasn't second nature but it wasn't difficult."
Still, transforming into a member of the royal family isn't for the faint of heart. This is how Kate did it — and here's why it wasn't all that difficult for her.
A "chubby cheeked" baby with an unconventional upbringing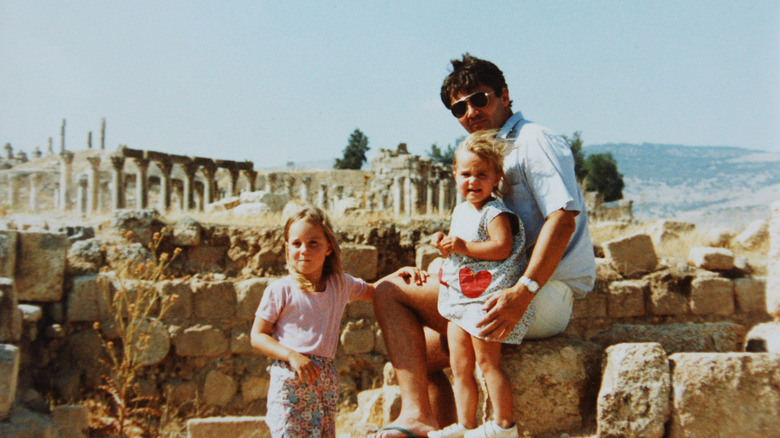 After a heavy snowfall on January 9, 1982, Michael and Carole Middleton welcomed their first child, Catherine (later, "Kate") Elizabeth Middleton at the Royal Berkshire Hospital, according to the duchess' biography, Kate: The Future Queen, by royal expert Katie Nicholl. Carole's friend and neighbor, a woman known as George Brown, went to visit baby Kate a week after her birth. She remarked, "Catherine was a lovely little baby, cherubic and chubby cheeked and so good. I remember she didn't cry much at all."
Kate's parents met when her mother was working as a British Airways flight attendant and her father, who hailed from a wealthy British family, was a flight dispatcher — "one of the best paid and most important management jobs at the [Heathrow] airport," according to Kate.
Four months after Kate's second birthday, and just eight months after Kate's little sister Pippa was born, Michael accepted a transfer to Amman, Jordan. And so, the family of four made the trek from the U.K. to the Middle East.
An extraordinarily cultured preschooler
The Middleton family would end up living in Amman for two and a half years. Since Michael knew from the start that his transfer to the Middle East was temporary, he and Carole arranged for Kate's schooling well in advance. Robert Acheson, headmaster of St. Andrew's Pre-Preparatory School, explained in Kate: "I first met them in 1983 before they went abroad. They had inquired about the school and I sent a prospectus out."
With education being of utmost importance to the Middletons, it's unsurprising that Kate's parents enrolled her in the "most expensive nursery for 3- to 5-year-olds in the district" while living in Jordan. There she learned through play, spoke Arabic, ate Jordanian foods, listened to passages from the Koran, mastered table manners, and bonded with children of British, Japanese, Jordanian, Indonesian, and American backgrounds. Great training for a future world leader, wouldn't you say?
A "one-hundred-m.p.h. girl"
When the Middletons returned to the U.K., Kate was nearly five. "She was tall for her age, with curly hair, bleached blonde from her years in the sun," expert Katie Nichol wrote in Kate. Our duchess, blonde?! It's true. Back in Britain, though, that color didn't last long.
As Michael and Carole had planned, they enrolled their oldest daughter at St. Andrew's, which was made possible, in large part, due to the Middleton trust fund. According to the school's headmaster, Kate dove right in to her studies. The school focused on "pastoral care, playing, and making friends." They often went on field trips and learned how to care for living things — two guinea pigs, to be exact.
According to St. Andrew's sports instructor, Denise Allford, Kate loved "tearing around the place" and "was a one-hundred-m.p.h. girl." Headmaster Robert Acheson also labeled Kate "a delight to teach right from the start" and a student who "worked hard." He attributed much of her ethos to her parents, who he said worked "jolly hard" to get Kate ready for school after returning from Jordan.
Did she skip right over her awkward tween years?
As a video of 13-year-old Kate acting in the high school play The Murder in the Red Barn proved, she must not have experienced those tween-to-teen awkward years with which we're all so familiar. With the exception of her dark hair being fashioned into a bob, she looks remarkably similar to 2018 Kate. And, even though she was dressed in character for the play, she still managed to look fashionable in Victorian-style apparel.
Perhaps even more interesting than the play itself was how similar it ended up being to Kate's real life. Well, you know, minus the murder… and the red barn. As explained in the video description, Kate's fellow classmate starred opposite her as a fortune-teller. She can be heard telling Kate that her palm indicates "love" and "riches." The fortune-teller continued, saying, "Soon you will meet a handsome man, a rich gentleman." Not only that, but he will fall in love with, marry, and "take [her] away" to London. Oh, and his name? William. Spooky!
Passing through school mostly unnoticed
Bo Bruce, daughter of the Earl of Cardigan, former classmate of Kate's, and, later, a star on The Voice, spoke with Hello! magazine about attending school alongside the Middleton sisters. "They were such cool girls at school and were both universally loved," she dished, "Kate looks like a glamorous film star these days, she was always incredibly beautiful — I'm a big fan."
Despite possessing various alluring traits, Kate wasn't one to attract attention in school. "She kept quite a low profile. She did nothing to draw attention to herself. Very discreet," Professor Peter Humfrey, who was head of the art history department during Kate's time at St. Andrew's, told The Telegraph. Although the professor admitted that such qualities don't necessarily make for "juicy anecdotes," they would, instead, "stand her in good stead in her future role." In agreement with the professor's opinion of Kate's unobtrusiveness, a classmate added: "You barely noticed her, she very sweetly just slipped in and out of class."
She may have been unassuming back then, but oh how the tables have turned!
She still caught this prince's eye
Kate kept her head down in school, but that didn't prevent Prince William from noticing her. In an interview with the U.K. Press Association in 2010, William and Kate divulged some of the details about meeting each other and their eventual relationship "Well I actually think I went bright red when I met you and sort of scuttled off, feeling very shy about meeting you," she said (via ABC News) in reference to her beau. Over time, the two became close friends and even shared an apartment in college as flatmates before making the decision to date.
But, what was it about Kate that initially caught Will's eye? Was it the sheer — super sheer — black dress Kate wore to the St. Andrews University fashion show in 2002? According to Kate's biography, yes. The prince "became intrigued and interested in Kate in a new way." As someone who really never called attention to herself, the see-through ensemble was quite an unexpected departure — and one that may have altered the course of history.
A varied career path and a secret love
Whether it was the brief catwalk experience in college that sparked her interest in fashion or not, Kate accepted a job in 2006 as an assistant accessories buyer at Jigsaw, a British clothing company in London. At this point in time, she and William were secretly dating, according to Kate's biography. Though, it was a pretty poorly kept secret thanks to the tabloids.
Although Kate graduated in 2005 with a degree in art history, her biography states that finding a job was difficult, in large part because it needed "to be considered respectable by the royal family" while also enabling time off without much notice. Before long, Kate decided to leave Jigsaw and study portrait photography instead.
Ultimately, the college graduate's path would lead to being a member of the royal family. While you could argue that her educational background and work history are not all that vital to her current position, she excels at incorporating art history, photography, and, yes, even fashion into her work.
An eventual engagement
After years of dating and one breakup, William and Kate finally got engaged in November 2010. With their engagement also came the release of the couple's official portraits. It's no surprise that Kate's outfit of choice was stunning, given her background in fashion and the help of creative director of the clothing brand Issa, Daniella Helayel.
Kate's royal blue (we see what you did there, Kate) Issa wrap dress sold like hotcakes after the pictures were revealed. However, it ended up being too much of a good thing. According to NBC Today, Helayel decided to leave the label after "experiencing an overwhelming demand for orders." In March 2018, the designer once again chose to launch the iconic dress at House of Fraser. While you can't get it in Kate's color, you can snag a version of the dress in "melon" red for £29 (about $38) as of this writing.
Little did we know at the time of Kate's engagement debut that her dramatic dress would just be the beginning of her epic royal wardrobe.
The wedding dress we're still not over
Fashion changes quickly, and yet, Kate's wedding dress still looks as stunning as it did in 2011. On her wedding day, the wedding dress designer was revealed to be Sarah Burton of Alexander McQueen — and dressing a duchess doesn't come cheap. CBS News estimated that it cost $434,000.
In addition to looking every bit royal by wearing the Queen Mother's tiara, a bespoke French Chantilly lace gown, and two-foot veil, Kate herself sparkled. After reportedly taking private lessons with London makeup artist Arabella Preston, Mark Niemierko told People that Kate felt "comfortable and confident in doing [her makeup] herself" — even on her big day.
Niemierko continued, saying, "The royals obviously do their own makeup for royal engagements. Part of the whole protocol of learning to be royal is learning how to do your own makeup!" Well, color us impressed. Who knew that was part of the royal transformation?
A wardrobe fit for a duchess
In the year 2017 alone, Kate completed over a hundred royal engagements — 63 at home in the U.K. and 42 abroad. While she fulfilled the fewest engagements compared to other members of the royal family, you can't forget that, for part of the year, she was a mother of two little ones, pregnant, and suffering from hyperemesis gravidarum, a severe form of morning sickness that put her in the hospital during her first pregnancy.
In 2018, while still pregnant, she doubled the number of royal engagements she took on in her first and second pregnancies, according to Town & Country. This duchess can werk. Of course, attending public engagements also means, well, being seen in public. With that comes the need for an extensive, inoffensive — yet stylish — wardrobe. From her early duchess days to current day, Kate manages to follow a strict royal dress code while still looking effortless chic.
She's not afraid to show her post-baby bump
Kate may have seamlessly evolved into a modern goddess duchess, but that doesn't mean she hasn't taken fashion risks. While some have criticized Kate for playing it too safe with her royal wardrobe, she took a big leap for fashion — and women — in summer 2013.
Not long after delivering her first child, she stepped outside of the hospital beside Prince William to show off the newest royal. Plainly visible was Kate's postpartum belly. Unlike what Hollywood would like us to believe, post-baby bumps can take weeks or even months to shrink, Leslie Goldman, body image expert, told Shape. Kate showed the world that it is totally normal — and worthy of embracing — your post-pregnancy bod. "This is the first celebrity-type new mom I can remember seeing with her post-baby bump so evident and just out there for the whole world to see," Goldman explained. Now how's that for taking risks?
Yes, she rewears outfits
While Hollywood convinces us that wearing the same outfit more than once is somehow a faux pas, Kate clearly couldn't care less. At the end of 2017, Insider compiled 34 ensembles Kate has recycled over the years and — from outerwear to dresses to suits. The duchess has proved she's 100 percent comfortable donning the same fashion twice, thrice, or more. Kate may just like to wear some frocks over and over again because she enjoys them, but she also has a budget to keep in mind — albeit a larger one that most.
Of Prince Charles' Duchy of Cornwall income of $28 million, William, Harry, Kate, and Meghan are allotted money to buy clothing for royal engagements. In 2017, $5 million of that paid for the expenses, including wardrobe costs, incurred by the Queen's grandchildren and grandchildren-in-law (sans Meghan). Split three, and now four, ways, it's not really as much money as it sounds to attain such royal standards. Recycling clothes may just be necessary. Regardless, the Duchess of Cambridge is the Queen of practical royal fashion.