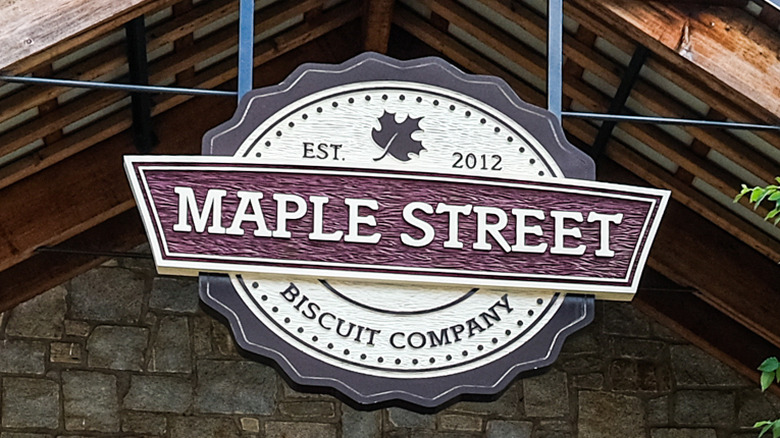 Sometimes it's the simple things that leave the biggest impressions. That can be doubly true when it comes to the culinary world, and that certainly seems to be the idea behind Maple Street Biscuit Company, where customers can expect a satisfying breakfast and easy Sunday morning vibes — no matter what day of the week it is. The company all started with two friends, a shared love of fluffy pastries, and a mutual dream to build a community through food and atmosphere. What resulted is a growing breakfast and brunch chain that's got people coming back for more than just the biscuits (though the biscuits are pretty dang good, too).
Maple Street Biscuit Company is known for its creative takes on comfort food, its reliably delicious cups of coffee, and the chance to meet new friendly faces each time. Since opening its doors, the company has expanded across the American South, been bought by another famous chain, and even grabbed the attention of celebrity chefs with its buttermilk biscuits.
So what's all the fuss about? Keep reading for everything you need to know about the Maple Street Biscuit Company.
Maple Street Biscuit Company began in 2012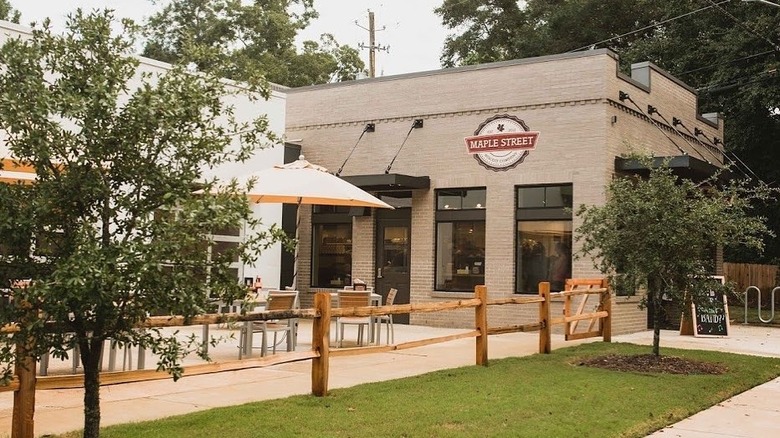 Maple Street Biscuit Company has been working to make a name for itself for nearly a decade. It was founded by two friends in Jacksonville, Florida, Scott Moore and Gus Evans. The pair decided to go into business together after falling on some hard times that might have discouraged other potential business owners. Moore, now the CEO of Maple Street Biscuit Company, told Built to Sell Radio that the idea for Maple Street Biscuit Company took shape after he lost his job as an executive with the supermarket chain Winn-Dixie. Moore says he made a big bet, investing a large part of his life savings into building the restaurant.
Thankfully for Moore and other stakeholders in the venture, the gamble paid off. Maple Street Biscuit Company first opened its doors in November 2012, serving up scratch-made comfort food "to a community with open arms and hungry tummies," as the owners put it. A second and third location soon followed, leading Moore to develop a business plan with an eye towards an even greater expansion that sought to put Maple Street Biscuit Company locations throughout the southern U.S. region.
Maple Street Biscuit Company was a community effort from the start
One word you'll hear over and over again at Maple Street Biscuit Company is "community." It's one of the company's guiding principles, and it's clearly one of the reasons the increasingly popular company has become what it is today. In fact, even the name of the restaurant was a community effort. In a somewhat unusual move, Evans and Moore came up with a list of names that might work and let a wider audience help decide what fit best.
According to Homewood Life magazine, their neighbors suggested using the word "maple" somewhere in the name, since so many of the recipes they came up with featured the ingredient. The owners also told the Jacksonville Daily Record that other potential names include "Maple Way" and "White Wood Biscuits," while friends, family, and local community members also helped to develop the comforting biscuit-focused menu customers have since come to love. CEO Scott Moore says that for several months during this development process, he would host "food throwdowns" at his home, inviting dozens of people over for mass taste tests, complete with spreadsheets to help everyone rank the recipes (via Built to Sell Radio).
Maple Street Biscuit Company is all about bringing people together
The spirit of community that helped create Maple Street Biscuit Company is still present in every aspect of the business, and customers will feel it as soon as they walk in the doors. According to SoWal, customers are first greeted by friendly staff members, who are themselves managed by a "community leader."
When they order their food, instead of giving their name for the order, they answer a question of the month, that focuses on things like their favorite movie. The customer's unique answer is called out when their meal is ready. It's not only a fun quirk but can also help spark a conversation among diners, which is one of the company's main goals when creating the unique atmosphere inside their locations (via Maple Street Biscuit Company). Those conversations can take place easily at the huge communal tables found in every restaurant, gently encouraging strangers to sit together, and hopefully get to know each other (via SoWal). And when they've finished their meal and their chats, guests are asked to kindly clean up after themselves to help welcome the next set of diners (via Built to Sell Radio).
Maple Street Biscuit Company has spread all over the south
What started out as a local restaurant in Jacksonville, Florida has since spread its biscuit-making prowess all over the American South. After the first Maple Street Biscuit Company got off the ground, the owners quickly opened up a second and a third location to see if their new restaurant concept was worth a larger investment (via Built to Sell Radio). After seeing continued success at all three locations, Evans and Moore went all in and started to expand Maple Street Biscuit Company even further, all while keeping that strong community focus in mind. According to Nation's Restaurant News, that includes some surprising business moves. For instance, the company doesn't look for profitable locations to open new restaurants. Rather, they look for the next "community leader," focusing on finding the right person to carry out Maple Street Biscuit Company's people-focused mission.
It's a strategy that continues to work today. Currently, you can find Maple Street Biscuit Company not just all over Florida — where there are 21 locations — but in eight states across the south, including Alabama, Georgia, Kentucky, North Carolina, South Carolina, Tennessee, and Texas. There are currently a total of 45 restaurants, with more openings planned in the future.
Their biscuits are made with a not-so-secret ingredient
It's certainly no secret what Maple Street Biscuit Company is known for: its biscuits. And a restaurant touting biscuits in its name better be serving up the best of the best. That's why the chain puts a lot of love and effort into making their biscuits in-house and from scratch, every single day it's open. The namesake treats are made with real butter, artisanal flour, fresh buttermilk, and a special ingredient. That last ingredient is not really a surprise either, if you've been paying attention to some of the details, but it is unique in the world of biscuit-making
Co-founder Gus Evans was experimenting with recipes before the first restaurant ever opened, and developed a winning biscuit dough that was made with real maple syrup instead of sugar (via Jacksonville Daily Record). This unique ingredient adds a touch of natural sweetness while lending a distinct flavor and yet still staying perfectly true to the Maple Street Biscuit Company brand. Once the ingredients are mixed together, the biscuits are hand-kneaded and rolled before being baked to fluffy perfection, then served up hot and fresh to waiting customers.
Maple Street Biscuit Company takes its biscuits to a whole other level
Maple Street Biscuit Company bills itself as "comfort food with a modern twist." And when they say twist, they really mean it, especially when it comes to their biscuits. The menu at Maple Street Biscuit Company is packed full of creative and fully loaded up biscuit sandwiches and platters. Things like The Farmer sandwich, which comes piled high with fried chicken, cheddar cheese, pecan wood smoked bacon, and homemade apple butter. Or, you might order the Garden Bird sandwich, which is made with a fresh fried egg, house-made collard greens, and a splash of hot sauce.
You can also fork and knife it with a classic biscuit and gravy platter, where those maple-infused biscuits are smothered with house-made sausage or shitake mushroom gravy and topped with perfectly runny, over-easy eggs. If you're craving something sweet, there's also the signature iced cinnamon pecan biscuit, drizzled with a sugary glaze. And that's just scratching the surface of Maple Street Biscuit Company's full slate of delectable offerings.
There's more than biscuits at Maple Street Biscuit Company
If biscuits aren't your thing, Maple Street Biscuit Company still wants you to feel welcome. And they've got so much more on their menu to prove just that. For those who still like to go classic with breakfast-style foods, there's a selection of waffle platters on the menu, obviously with their own twists as well. The signature waffle is made with vanilla and has cheddar cheese and bacon baked right into it for the perfect salty-sweet combo. There's also The Sweet Grace, a homemade chocolate chip waffle piled up with strawberries, powdered sugar, whipped cream, and maple syrup.
If you want to go savory all the way, you could instead opt for the Bluegrass Grits Bowl, which is served up with bacon, eggs, cheddar cheese, and hot sauce. There's also the Sunshine in the Garden Bowl, which comes with two eggs swimming in a tomato sauce with shallots and green peppers, then finally topped with feta cheese and fresh basil. And don't forget to check out the whole list of side dishes, which include things like Smoky Mountain Mac and Cheese, fried green tomatoes, and cheesy hash brown cakes.
Maple Street Biscuit Company makes its own coffee
As a restaurant that's primarily open in the earlier hours of the day, it's an unspoken requirement that Maple Street Biscuit Company is pouring out quite a few delicious cups of fresh coffee to its customer. To make sure that the quality of the brew is up to snuff, the restaurant actually makes its own coffee to serve in all of its restaurants. Maple Street Biscuit Company has a whole team of coffee roasters, who are tasked with finding the best Arabica beans sourced from countries in both Central and South America. Those beans are freshly roasted each week at the company's dedicated roasting house in Jacksonville, Florida. They are then delivered to each Maple Street Biscuit Company location, where the beans are then ground fresh every single day. All told, you won't be getting a stale cup of coffee at any Maple Street Biscuit Company location.
Customers can fill their cup with the signature dark roast (Dark Bark), the Light Amber blend, the Maple Tap (which comes infused with real maple syrup), or a totally pure, water-washed decaf blend. And assuming you love their coffee as much as they think you will, Maple Street Biscuit Company also sells it to customers in 16-ounce bags, and even in a convenient K-cup form for those with Keurig machines.
Maple Street Biscuit Company is now owned by Cracker Barrel
After seeing several years of growth, Maple Street Biscuit Company received the ultimate confirmation of success — an offer to be bought by a huge, publicly-traded company. In this case, as the Florida Times-Union reports, the offer came from another southern comfort stronghold: Cracker Barrel.
The offer was seemingly an easy one to say yes to for the smaller though still growing company. At the end of 2019, Cracker Barrel announced that it had bought the Maple Street Biscuit Company for $36 million dollars in upfront cash. And here's what's even more telling about the offer. Cracker Barrel was so confident in the business model and company culture of Maple Street Biscuit Company, that it abandoned its efforts in the biscuit company that it already owned, Holler & Dash (via Eater). Rather than dealing with a competing brand, the company had decided to buy Maple Street Biscuit Company instead and convert all of its Holler & Dash locations into the newly acquired brand (via Built to Sell Radio).
Co-founder Scott Moore, who remained with the company as CEO, said in the official press release that the deal made sense because the two brands "share many similarities such as scratch cooking and an emphasis on hospitality." He added, "Cracker Barrel will help us grow our brand and further achieve our mission of helping people, serving others, and being a part of the community."
Maple Street Biscuit Company is dedicated to giving back
Maple Street Biscuit Company has said from day one that it is dedicated to being more than just a good place to eat. The company says that, before it ever opened its doors, "it wasn't out to just make a profit. It was out to make a difference, and to be a part of the community." To that end, Maple Street Biscuit Company is always looking for ways to give back and to be more than just another breakfast joint. Examples include opening their doors early for civic and church groups to use as a meeting place or donating meals in times of need (via Homewood Life).
And for the past two years, Maple Street Biscuit has started a new tradition called the "Day of Good." On the designated day, all of the company's locations close early. Store team members then go out into their respective communities to complete different service projects. In 2021, it was estimated that team members would contribute some 400 hours of volunteer time (via The Chattanoogan).
Maple Street Biscuit Company said on social media that their teams "served animal shelters, cleaned up beaches, put together bouquets with an assisted living facility, cleaned local schools, put together care packages for families at Ronald McDonald House, wrote notes of gratitude to healthcare workers, put together school supplies, fed public school staff and local firefighters" and more, all with the goal of giving back to its supportive community.
Maple Street Biscuit Company is closed in the evenings
If chowing down on a huge, hearty breakfast filled with flaky biscuits and freshly roasted coffee sounds like the perfect Sunday morning to you, then you're in luck. Maple Street Biscuit Company is open for breakfast and lunch seven days a week at all of its locations. But it's worth noting that wasn't always the case. In early 2020, the company announced that it was making a big change to its standard schedule, after previously being closed to the public on Sunday (via GSA Business Report).
CEO Scott Moore said the decision came in response to customer demand, adding that "in listening to our guests and creating a store leadership model that gives our Community Leaders even more resources, we are now able to take that step and are here to serve you every day of the week." But it's also worth noting that the change was enacted just a few months after the company's acquisition by Cracker Barrel. According to the Jacksonville Daily Record, adding a seventh day of business was also a strategy to meet some of the target profit goals set by the parent company.
Either way, this change means that hungry customers can get their biscuits and gravy whenever they want them. At least, as long as it's in the morning or early afternoon. Most Maple Street Biscuit Company restaurants are open every day from 7 a.m. to 2 p.m. and are closed in the evenings.
Maple Street Biscuit Company has been featured on Food Network
Even if you live far from the southern United States, there's still a chance that you've already heard of Maple Street Biscuit Company. At least, there is if you're an avid Food Network viewer. The company caught the attention of celebrity chef and "Chopped" judge Amanda Freitag, who was so blown away by one of their specialty biscuit sandwiches (the Squawking Goat, if you're curious) that she had to put it on TV for the world to see (via Built to Sell Radio).
"If you were me, you're guilty of getting messy," Frietag admitted on the series "Guilty Pleasures," which features some of the most popular Food Network Stars showing off some of "their best-kept, most-intimate, guilty-pleasure secrets" from all over the culinary world.
So what's in this mouthwatering masterpiece that made such a devotee out of Freitag? The fan-favorite biscuit is loaded up with a huge piece of fried chicken, a golden medallion of fried goat cheese that melts in your mouth on the first bite, and is topped with house-made, spicy-sweet pepper jelly. Say no more.