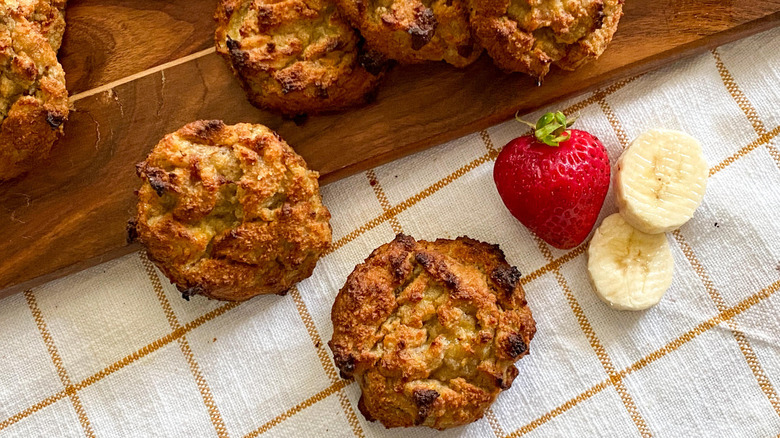 Are you looking for a sweet little treat, but something that's on the healthier side? It may be hard to decide between a cookie, a muffin, or a sweet bread. Well, you are all good on all fronts with these unique little banana bread cookies, because, as chef and recipe developer Miriam Hahn of YouCare-SelfCare says, "They are a blend of all of those things, [and] they honestly taste just like banana bread, but in cookie form."
Hahn's recipe uses almond flour. These cookies are gluten-free, and of course, they deliver a healthy dose of potassium, copper, and various vitamins, via Healthline, thanks to the bananas. And as for how you can enjoy these convenient, hand-held-ready little delights, that's entirely up to you. "They are great as an on-the-go breakfast, but also a dessert," says Hahn, adding, "Or [they make] a great snack, [whether] with coffee, tea, almond milk, fruit, [and so on]. You can also add butter." Every sweet lover out there will have an easy time deciding when and where to enjoy them, that's for sure.
The recipe calls for basic ingredients you quite likely have in your kitchen already, so the next time you have a few too many bananas ripening, go ahead and whip up a batch of these tasty banana bread cookies. The entire family will enjoy them.
Gather just five ingredients to prepare these banana bread cookies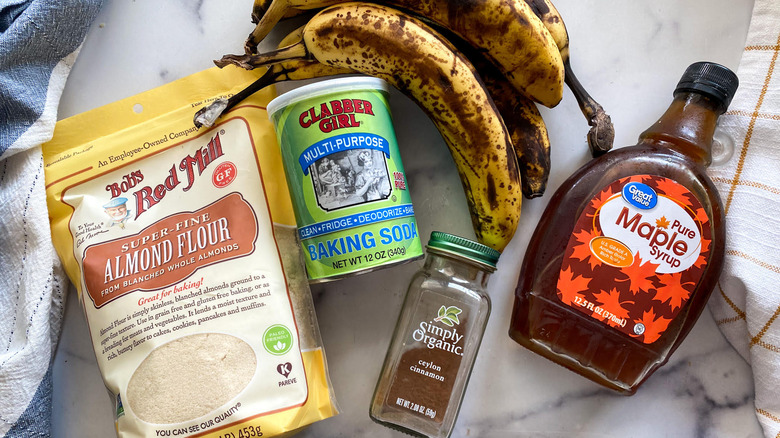 As the name of the recipe makes rather clear, there are five ingredients used to make these banana bread cookies. And that includes ripe bananas (brown all over or spotted, according to Hahn), almond flour, baking soda, cinnamon, and maple syrup. While that's all you need to make this delicious treat, there's some room for experimentation, too. "You could add in some other fun things," Hahn says. "I would probably add cacao nibs to keep them [healthy and sweet]." The choices are endless, as you can consider walnuts, cranberries, or even both.
Combine your ingredients in order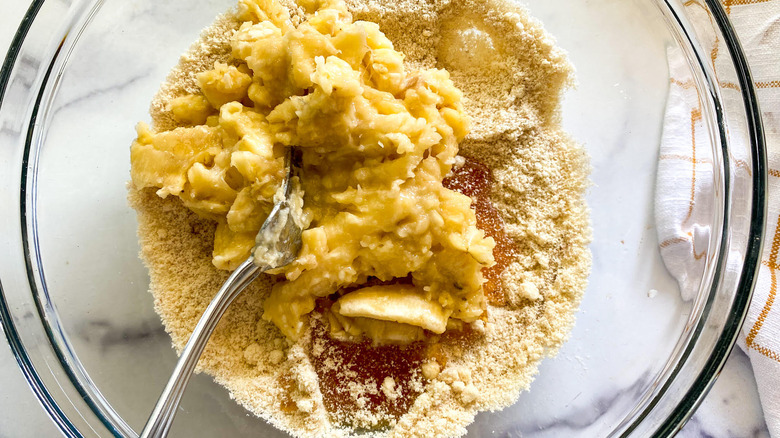 To start off, preheat your oven to 350 F, that perfect temperature for so many baked goods. Next, get a medium-sized bowl, and mix the almond flour, baking soda, and cinnamon together. "I use a whisk, because the almond flour may have lumps in it," Hahn says.
Then, mash the bananas, and add them to the flour mixture. Here is where it's critical the bananas were good and ripe, as they will be softer and easier to blend in. "Using ripe spotted bananas is best … you want them really soft and moist inside," says Hahn, adding also "they come out sweeter that way." You'll then drizzle in the maple syrup, and stir well to combine everything.
Scoop out mounds of batter onto a baking sheet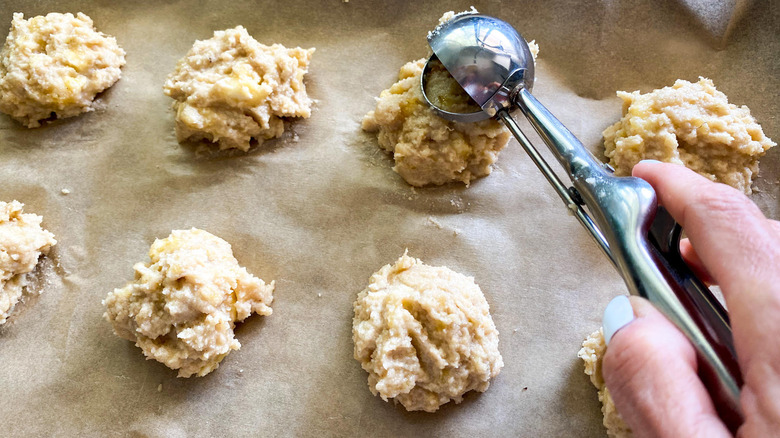 Next, line a baking sheet with parchment paper (or a silicone baking sheet), then distribute the batter out onto the prepared pan in 12 large mounds. "I use a large cookie scoop and then smooth [them] out with a spoon, but leave [the tops] rounded," says Hahn.
Now, pop the dough mounds into the oven on a center rack, and bake them for 28 to 32 minutes, or until the tops are lightly browned and a toothpick comes out clean when you poke one.
It's time to enjoy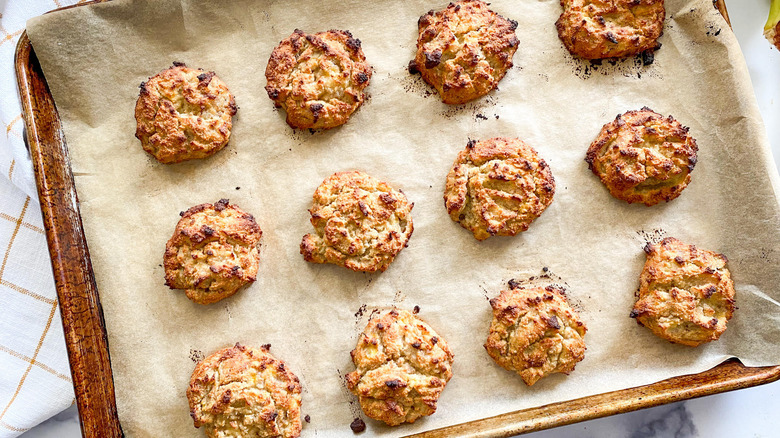 Once the cookies are done baking, take them out of the oven. "They will still be a little jiggly when they come out," says Hahn, "[but they] will harden as they cool." To let them do that, transfer the cookies to a cooling rack for 20 minutes before eating. Once cooled, you can dig in and enjoy.
But no rush, either. "[You can] store them in the fridge for up to five days," says Hahn, and they taste great chilled (they'll be firmer, which you may even prefer), or you can reheat them in the oven or in the microwave.
This recipe is a great one to have on hand when you're craving something sweet, but you can also put them on a nice platter, and serve them for dessert at your next party!
1 ½ cups almond flour
¼ teaspoon baking soda
¼ teaspoon cinnamon
4 ripe bananas
1 tablespoon maple syrup
Preheat oven to 350 F.
Mix together the almond flour, baking soda, and cinnamon.
Mash the bananas, and add them to the flour mixture along with the maple syrup. Stir well to combine.
Distribute the batter into 12 large mounds on a parchment-lined baking sheet.
Bake for 28 to 32 minutes, until the tops are lightly browned.
Cool on a cooling rack for 20 minutes before eating.