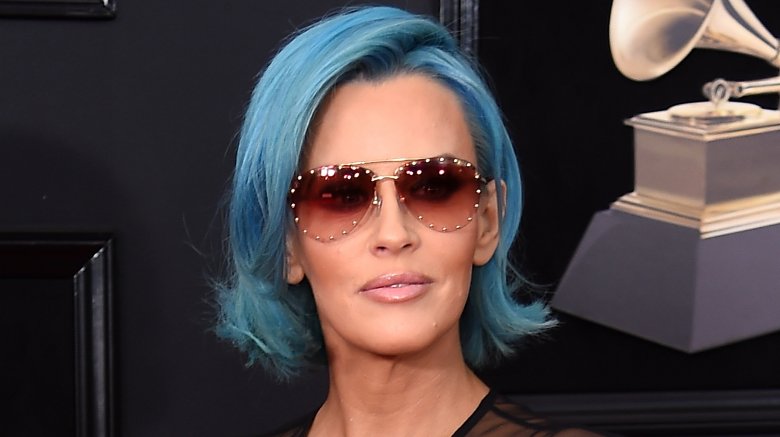 The entertainment industry can be as much of a family business as a Greek diner or a high-flying trapeze act. Directors such as Judd Apatow and Clint Eastwood have famously cast their own kids in their movies, so it's no secret that having close ties to famous folk can really boost one's career. But while other well-known dynasties such as the Hustons, the Fondas, and the Judds have collaborated in all kinds of ways, other famous family members have chosen to keep their relationships more private. Well, that or maybe it's just that we never paid that much attention to their family trees.
From Hollywood stars who share a common last name to A-listers who look more than a little similar, there are plenty of actors and athletes that boast secret bonds, but their relations are rarely talked about in the press. Read on to learn which celebrities surprisingly share a gene pool.
Rob Schneider and Elle King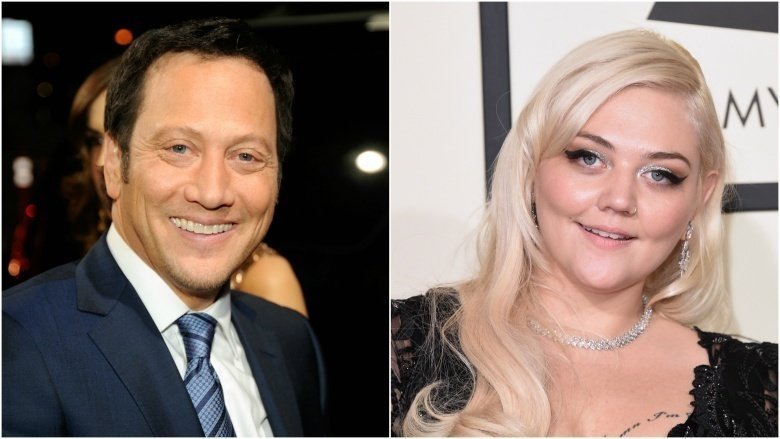 Singer/songwriter Elle King is daughter to SNL alum Rob Schneider and model London King. Their progeny got the best of both worlds — striking good looks that favor her mother and wild-child performance antics that scream "comedian's kid." She told Billboard, "Sometimes I'm too loud and sometimes I get too drunk and sometimes I'm not very ladylike, but I'm myself."
Elle seems to have inherited the confidence and swagger necessary to make it in the entertainment industry. She probably caught the bug early, since she played "Cookie Girl" in her dad's 1999 film, Deuce Bigalow: Male Gigolo. Let's face it, one does not appear in a movie where your father plays a prostitute and grow up to become an accountant.
Riley Keough and Elvis
Actress Riley Keough is Lisa Marie Presley's daughter, making her Elvis "The King" Presley's granddaughter. If you take into consideration that her mom was once married to Michael Jackson, Keough is technically the "King of Pop's" step-daughter too. All that musical royalty seems to have had little impact on the Mad Max: Fury Road star, who told Esquire, "The reality is I know as much about my grandpa as you'd know about a grandpa you never met," and "I remember this Disney watch that Michael gave me. I think I sold that for five (dollars)." EBay dealers the world over just broke out in tears.
Tom Cruise and William Mapother
Mission: Impossible superstar Tom Cruise is no stranger to making headlines. And yet, despite the many magazine articles written about Cruise's romances with exes Nicole Kidman and Katie Holmes — not to mention his relationship with Scientology — there's been little coverage about his relation to fellow actor William Mapother. For those not in the know, Cruise and Mapother, who's known for playing Dr. Ethan Rom in the ABC hit Lost, are cousins. They look a little alike now, right? By the way, Cruise's real name is actually Thomas Cruise Mapother IV.
Maybe the reason Will's rarely connected to Tom is because he's not interested in dishing about Tom's personal life. Speaking with BlogTalkRadio (via Page Six), Mapother said "there's kind of an ever-wavering boundary between the things I'm willing to talk about, and the things I'm not." He added, "And part of the reason that I find myself particularly cautious in this area is because of the things my cousin has been through."
Rip Torn and Sissy Spacek
If you put Rip Torn and Sissy Spacek side by side, their faces give away their family tree. The two thespians are cousins. Spacek credits Torn for inspiring her acting career and helping her move to New York City to pursue it. He also advised her to keep her first name (which was a family nickname), telling her "You shouldn't change what you are in search of success," according to a 1977 interview with Photoplay magazine (via the Orlando Sentinel). And he should know. Born Elmore Rual Torn, Jr., Rip went by his own family nickname despite the fact that it sounds like someone describing a split in the seat of their pants.
Eve Hewson and Bono
Actress Eve Hewson is the daughter of U2 frontman Bono. The ever-sunglassed Irishman, whose real name is Paul David Hewson, welcomed Eve into the world back in 1991 with his longtime wife Ali Hewson. While her dear old dad has been famous for rocking out since the 1980s, Eve went in a different direction for her career. Rather than strapping on a guitar, she became a film and TV star — and a pretty good one at that, though we doubt Bono enjoys seeing all of her performances. Her breakout role as Nurse Lucy Elkins on The Knick, for instance, features a scene where she injects cocaine into Dr. John W. Thackery's (Clive Owen's) nether regions during sex, which is probably not something Bono foresaw when he signed her up for drama camp as a child. Then again, Eve probably wasn't too thrilled when her iTunes automatically downloaded her dad's crappy album, so we guess that makes them even.
Jason Sudeikis and George Wendt
If George Wendt seems like the kind of guy who'd be cool to have a beer with, it's not just because he played lovable Norm Peterson in Cheers. Wendt is also a down-to-earth Midwestern guy who had some hilarious advice for his then-aspiring-actor nephew, Jason Sudeikis. He told Playboy that his uncle advised him to "get on one of the best sitcoms of all time and then ride it out," Sudeikis obviously admired and emulated his uncle's spirit, and while he didn't exactly follow his path, the Horrible Bosses star seems to be doing just fine.
Lily Allen and Alfie Allen
The Allen siblings do not shy away from controversial subject matter. Lily has endured her share of public scrutiny over her music and has spoken openly about her desire for her songs to "provoke thought and conversation" about topics like "objectification of women within modern pop culture," according to Buzzfeed. Her brother, Alfie, plays the loathsome Theon Greyjoy in Game of Thrones and has not only bared it all, but also gruesomely lost it in one of the shows most controversial scenes. They say fortune favors the bold. Well, that and being born into a show business family, but why split hairs, right?
Al Roker and Lenny Kravitz
What do the Today show weather guy who admitted to once crapping his pants at the Whitehouse and the rock legend who was once connected to an illegal Bahamian dental clinic have in common? They both have Roker blood! Crazy right? Yeah, not really, but we just wanted a reason to bring up those other two bizarre facts about each dude.
Roker opened up about their connection on the Today show, explaining that their grandfathers were cousins. "My mother was Roxie Roker, my grandfather, Albert Roker from the Bahamas. Has to be," he stated. Though he may not be super close with Kravitz, Roker appears to be more than pleased just having the knowledge that he's related to the musician. "All I know is I'm going with it," Roker said. "Kids think it's cool." Yeah, we'd brag about that too if we were related to the "American Woman" rockstar. Wonder if Kravitz does the same about Roker…
Snoop Dogg, Brandy, and Ray J
Everyone knows that Brandy and Ray J are siblings, but did everyone also know that Snoop Dogg is their cousin? The D-O-Double-G revealed the family connection in a 2006 interview with MTV saying, "Brandy's my first cousin. We never really told the world because we weren't trippin' off of that, but that's my family."
Since then, he's collaborated with his kin on several occasions, including, but not limited to an edition of his Double G News network with Ray J, as well as the song, "Special" featuring Brady and Pharrell Williams. Who else is Snoop Dogg secretly related to? Our money's on Willie Nelson. Call it a hunch.
Virginia Madsen and Michael Madsen
This one should be obvious given the last name, but for some reason nobody ever puts it together that American Gothic star Virginia Madsen and The Hateful Eight actor Michael Madsen are sister and brother. Just take a look at those chins! Of course, they're related! Speaking about their upbringing and their passion to pursue acting careers, Virginia told the Press Herald in 2010, "There was nothing they could do to stop us — my brother and I were both very, very serious about it."
Virginia and Michael have since both gained massive success in the entertainment industry. While Michael has starred in major projects such as Reservoir Dogs and Kill Bill, Virginia made a name for herself with roles in Dune, Candyman, and Sideways — not to mention Witches of East End and Designated Survivor. These two have done pretty well for themselves. Well, if we ignore all of Michael's legal troubles.
Jason Patric and Jackie Gleason
Jason Patric is not known for having the most glowing opinion of Hollywood, and his thoughts on his famous lineage aren't much better. When asked about having beloved comic actor Jackie Gleason as a grandfather, Patric told Vulture, "I only saw him a handful of times in my life. He's had as much effect on me as he's had on you. He has nothing to do with me or my bloodline; I'm not a thoroughbred or purebred dog or something." Yikes. Look, we were all disappointed getting that $5 check in the birthday card, but there's no reason to be a jerk about it, okay?
Bill Bellamy and Shaquille O'Neal
Who could've seen this coming? Basketball great Shaquille O'Neal and former MTV veejay Bill Bellamy are cousins — or, rather, second cousins, reported Page Six. While they might share blood relatives, it appears that Bellamy and Shaq couldn't be more different. While Bellamy does stand-up comedy and appeared in the 2016 movie Kindergarten Cop 2 alongside Dolph Lundgren, Shaq does literally whatever he wants. Why? Because his net worth is a cool $350 million thanks, in part, to that sweet Icy Hot gig.
Speaking with New Jersey Monthly in May 2016, Bellamy confirmed that he and the NBA star are related and spend quality time together. "Yeah, I saw him two nights ago, and we were cracking up," Bellamy said. "With him, when we're together, it's just like boom, boom, boom. Everything's funny." Bellamy even joined a crew of celebs to roast Shaq for his birthday in 2002.
Jenny McCarthy and Melissa McCarthy
Of all of the celebrity kin on this list, first cousins Melissa and Jenny McCarthy might have the most well-known family connection. While Jenny got the jump on Melissa in the entertainment biz, Melissa has since eclipsed her cousin in terms of stardom, having made her way onto Forbes' "World's Highest Paid Actresses List" by starring in a string of hit comedies since her breakout role in Bridesmaids. During that same time period, Jenny's resume boasts a few episodes of Two and a Half Men, an appearance on International Ghost Investigators, and an XM Radio show.
Jenny also married a Wahlberg, but it wasn't Mark or the other one who makes the burgers, so it's no surprise she still lets everyone know that she gave Melissa her start any chance she gets. "When she was starting out, I was fortunate enough to be in a position to get her a job on a show I was doing, to learn the ropes and get some experience on a TV set in front of the camera and behind the scenes," Jenny told People. Hopefully, one day Melissa will return the favor.
Patty Duke and Sean Astin
Sean Astin grew up believing his parents were actors Patty Duke and John Astin and that he was the product of a scandalous affair between the two, but the true story is even stranger than that. Speaking with People in 2001, Sean revealed that Duke told him when he was 14-years-old that his real father was Desi Arnaz, Jr., the son of TV legends Lucille Ball and Desi Arnaz. But wait, there's more. Soon after ending things with Arnaz Jr., Duke briefly married Michael Tell, a man who'd been "subletting her apartment." They divorced 13 days later.
Sean arrived post-Arnaz, post-Tell, and after John and Patty went public with their relationship, but speculation over his paternity lingered. Finally, after getting all three of his potential dads to agree to a DNA test, it was revealed that Tell was Sean's biological father. That scientific truth reportedly did not sit well with Duke, but it was not a big deal for Sean, who described the situation to ABC News in 2004 like this: "I can call any of them on the phone any time I want to. John, Desi, Mike or Papa Mike [Michael Pearce, Duke's husband of 30 years]…my four dads."
Berry Gordy, Redfoo, and Sky Blu from LMFAO
Though they clearly share a musical inclination, it may be hard to believe that Motown Records founder and living legend, Berry Gordy, is the father and grandfather to the two guys from LMFAO. Known as Redfoo and Sky Blu, the "Sexy And I Know It" singers are actually Stefan Kendal Gordy (Berry Gordy's son) and Skyler Austen Gordy (Stefan Gordy's nephew), respectively.
When asked how he feels about his party-rocking progeny, whose lyrics include "When I'm at the beach, I'm in a speedo trying to tan my cheeks," the man responsible for the careers of soul legends like Stevie Wonder, Marvin Gaye, and Smokey Robinson told The Hollywood Reporter, "I'm delighted." He added, "Their goal is to make people happy. At a time like now, people need what they give — love, happiness, a party — and they're doing it better than anybody I've seen in a long time…They're making the world a better place."
Justin Theroux and Louis Theroux
Cousins Justin and Louis Theroux exist on opposite ends of the fame spectrum. Justin is an actor and screenwriter who was married to megastar Jennifer Aniston. Louis is an award-winning British documentarian whose most notable project is probably My Scientology Movie, his doc about the cult-like religion practiced by many in Hollywood. As far as their relationship goes, they've each said nice things about each other in the press.
Speaking with the Mirror, Louis had nice things to say about Aniston and said Justin even let him to tag along to some "A-List parties." Meanwhile, Justin marveled at Louis' intellect in an interview with The Telegraph. He recalled a childhood story that involved Louis casually reading Chaucer while Justin sat by eating a Styrofoam cup. "I think I did then throw it up," Justin added, "And in a weird way that sums up our different career trajectories."
Peyton Manning, Eli Manning, and Taryn Manning
Though their last name clearly denotes a few shared branches of a family tree, even if only distantly, Taryn Manning insists that she is not related to the Super Bowl-winning brothers, Peyton and Eli Manning. She addressed the supposed non-familial connection at The 2015 SAG Awards, suggesting to E! News (via People) that she would likely be taller if there was a shared bloodline. "I think somewhere along the way [we might be related]," Manning, said, adding, "But no, it's not true. We should squash that rumor right here, right now."
So why, you may now be justifiably asking, are they on this list? Well, in 2014 Manning was singing a different tune on Twitter. "Yes we are related for you curious folks…#Mannings," she tweeted, along with a link to an article that suggested her father, Bill, and Archie Manning (Petyon and Eli's dad) were cousins. Sounds like Pennsatucky's a little confused.
Phil Collins and Lily Collins
Phil Collins is the legendary rock singer and drummer from the band Genesis who also produced smash solo hits such as "In the Air Tonight." His daughter, Lily, his only child from his marriage to antiques dealer Jill Tavelman, earned her fame in an entirely different medium: movies. She's also branched out into writing, penning the memoir, Unfiltered: No Shame, No Regrets, Just Me. In it, she wrote an open letter to her dad, forgiving him for being largely absent due to his heavy touring schedule.
For his part, Phil has also acknowledged his faults as a father. Speaking with Rolling Stone in 2016 to promote his own memoir, Not Dead Yet, he addressed the guilt he feels about not being around when his older kids were young — that's presumably a reference to Lily and her half-siblings, Joely and Simon Collins. "When I take my younger kids [Nicholas and Matthew] to football practice or give them advice, I'm reminded I didn't do that with my older kids," he said.
Liev Schreiber and Pablo Schreiber
Wait, "Pornstache" from Orange is the New Black and Ray Donovan are brothers? Half-brothers, actually. According to the New York Post, their dad is "acting teacher" Tell Schreiber, who raised Pablo in British Columbia while older brother Liev grew up in NYC with Tell's "eccentric" first wife, Heather. Liev caught the acting bug early, according to Pablo, who chalked it up to a fascination with his distant and "mysterious" father. Pablo chose athletics as a young man, but eventually shouldered up to his big bro in Hollywood with his breakout role as one of most hated prison guards in cinematic history. So, is there any kind of rivalry there?
"Liev and I have a really nice relationship," Pablo told the New York Post, though they didn't even meet until he was 16. "He's an incredibly talented actor, and I look up to him a lot." He also says Liev encouraged him to make it in the industry on his own, rather than have his famous older sibling pull strings for him, which he now views as sage advice.
Dennis Leary, Conan O'Brien, and Frankie Shaw
It's long been rumored that actor Dennis Leary and late night host Conan O'Brien are cousins, but as far as we can tell, the closest either of them has come to confirming the kinship is a 2003 CNN interview in which O'Brien jokingly says, "We're related the way any Irish people from Massachusetts are related, you know…after about a few drinks, [Leary says] 'Hey, buddy, you and me, we're cousins, right?' And then he hit [me] up for money. So let's — yes, sure, we're related."
The subject came up again 14 years later on Conan's TBS show during an interview with SMILF star Frankie Shaw, whose family also claims a distant relation Leary. O'Brien jokingly shirks the question again when Shaw point-blank asks him if he's related to Leary: "We're all related to Dennis, yeah…" As far as Shaw's connection? Well, her aunt once told her, "My dad, your grandfather and namesake, is Dennis' mother's first cousin. So your great-grandmother and Dennis' grandmother on his mother's side were sisters." Apparently, that makes Leary her "second cousin once removed," based on Shaw's aunt's "research." We'll go ahead and take her word on that.
Jason Schwartzman, Talia Shire, and the Coppolas
The Coppolas are a Hollywood dynasty, starting with The Godfather director Francis Ford Coppola and continuing to his Oscar-nominated children, Roman and Sofia Coppola, and his Oscar-winning nephew, Nicolas Cage. But there is another, lesser known Coppola connection, via Talia Shire, Francis' sister who, thanks to her adoption of her first husband's surname, is perhaps not so quickly associated with the family. Best known as Adrian Balboa from the Rocky franchise, Shire had her son, Jason Schwartzman, with second husband Jack Schwartzman, making him first cousins with the famous Coppolas. Outside of just the family connection, Schwartzman has also collaborated professionally with his cousins, particularly Roman, via several projects with Wes Anderson, Coppola's sometimes writing partner.
In a chat with The Hollywood Interview, Shire described her kin as "a circus family," by which she meant, "We kill ourselves for our work … we don't like lazy people, and there's no free ride. We may be competitive, but as in great circus families, we never drop the other members, so we can do what I call 'the dangerous tricks.'" Wow. Pretty intense.
Bonnie Bedelia and Macaulay Culkin
According to AARP, Die Hard star Bonnie Bedelia was born Bonnie Culkin, sister of Christopher "Kit" Culkin, who happens to be the dad of the famous brood of kid actors that includes Macaulay, Kieran, and Rory. Macaulay famously emancipated himself from his parents when he was a teenager, and that strained relationship hasn't changed much since. When Kit suffered a stroke in 2014, his step-daughter, Thalia Baker Fuchs, told the Daily Mail that he had not been in contact with his biological children since his bitter divorce and custody battle with their mother, Patricia Brentrup, in 1995.
Bedelia's relationship to the Culkins is unclear, but Fuchs told the Daily Mail that Bedelia let Kit stay with her for months while he recovered from the stroke. If that's really the case, it's unlikely Aunt Bonnie has had much contact with her brother's kids either.
Carrie Fisher and Joely Fisher
Considering Carrie Fisher and Debbie Reynolds tragically died just one day apart in December 2016, it's unlikely that anyone is still unaware that the screen legends were actually also mother and daughter. But Fisher shares another Hollywood bloodline with her half-sister, actress Joely Fisher, who is perhaps best known for her role on the 90s sitcom Ellen.
After Carrie's death, Joely penned a moving essay for The Hollywood Reporter in which she recalled growing up with the Star Wars actress. "We spent the better part of our childhoods as neighbors, our two families right next door," Joely wrote, describing how her mother, actress Connie Stevens, just so happened to buy a house right next door to Debbie Reynolds in Malibu in 1977. Joely went on to describe how she and Carrie stayed in each other's lives, even helping to care for one another's ailing mothers in the days and weeks before Carrie's untimely death. "You all lost Princess Leia and Carrie Fisher; I lost my hero, my mentor, my mirror."
Brendan Gleeson and Domnhall Gleeson
Veteran actor Brendan Gleeson once told the Irish Mirror of his two actor sons, Domnhall and Brian, "They are always going to be more successful than I am. That's just the rule, that's just the way it goes. I hope they are." He also cautioned them to make meaningful choices and to strive to make art that makes some kind of an impact.
Domnhall, who is by far the more successful of the brothers, has padded his resume with both critically acclaimed indie projects such as Ex Machina and massive blockbusters, such as as the Star Wars and Harry Potter franchises. Domnhall has described his father as "amazing." He also told the Irish Mirror in a separate interview, "My dad will always be a man I aspire to be, and he'll always have the career that I aspire to have."
Jayne Mansfield and Mariska Hargitay
Law and Order: SVU star, Mariska Hargitay, is the daughter of the late Jayne Mansfield, who was a 50s pin-up girl and actress. In 1967, Mansfield died in a car crash that also claimed the lives of two others, although thankfully not her three children, Mickey, 8, Zoltan, 6, and Mariska, 3, who were passengers in the backseat, according to Country Living. Mansfield was just 34 years old at the time of her death.
Though she has no memories of the accident or her mother, Hargitay told Closer Weekly that having such a famous mother was at times "a burden," and that "losing her at such a young age is the scar of my soul." It wasn't until Hargitay had children of her own that she was able to truly emotionally connect to Mansfield. "Now I understand the love she had in her," Hargitay said, adding, "And it makes me feel closer to her."
Casper Van Dien and Mark Twain
One is an author, often quoted humorist, and American icon whose work is still taught in basically every school today. The other starred in Starship Troopers as Johnny Rico, an intergalactic Marine who battled giant space bugs. But somewhere along the way, the Van Dien and Clemens (Twain's real name was Samuel Clemens) families intertwined, making the legendary writer the D-List actor's great-great-great uncle.
Speaking with TV Guide about the surprising connection, Van Dien said, "You know, it was a thrill for me to read his books and see myself as Tom Sawyer and Huck Finn as a kid. But then to know that you're also related in some way is fun." He also revealed that it was Twain's great-great-grandchildren, John and Tom Clemens, who reached out to him. "They're fans of me when they're the great-great-grandchildren of one of the greatest writers ever!"
Emma Roberts and Julia Roberts
This is probably the most well-known celebrity family connection on this list, however, what some people may not realize is that Julia Roberts wasn't exactly enthusiastic about her niece, Scream Queens actress, Emma Roberts, following in her footsteps. The Pretty Woman star famously lamented to The LA Times in 2013 that she worried Emma wouldn't remain "the same magical girl she used to be" after entering a business that can easily lead one to compromise their "sense of self."
That never stopped Emma, who is also the daughter actor Eric Roberts, Julia's brother, from seeing her Oscar-winning aunt as a role model, and in fact, as the person responsible for whetting her show business appetite. In an interview with Allure, Emma spoke about falling in love with acting while visiting the set of Erin Brockovich, recalling, "I remember it feeling like summer camp, just the feeling of creativity."
Warren Beatty and Shirley MacLaine
Though Oscar-winning brother and sister Warren Beatty and Shirley MacLaine have each risen to the top of their game, they by no means did it as a team. According to The Telegraph, they've been in competition all their lives, with Beatty supposedly launching his acting career after growing tired of living in the shadow of his already famous sister. Jockeying for top marquee position allegedly led to personal animus for years. According to a passage in author Peter Biskind's Beatty biography, Star, MacLaine once said (via The Telegraph), "I only know what I read in the papers about Warren. We rarely see each other … he just doesn't seem to want to communicate with me."
These two seem to have mended their relationship in later years, particularly in the wake of Beatty's now-infamous 2017 Oscar's flub. When asked how she felt watching her little brother's viral gaffe, Maclaine described it as a "horror" to USA Today. "I'm concerned with how he must have felt being so close to him," she said. "I'm three years older and I'm protective."
Tommy Chong and Rae Dawn Chong
It's well-known that stoner legend Tommy Chong is '80s actress Rae Dawn Chong's dad, but we're including them here because what's likely not common knowledge anymore is her tumultuous upbringing. According to People, Rae Dawn was the product of Tommy's affair with a 17-year-old stenographer named Gail Toulson. After winning custody of Rae Dawn, Tommy returned to his live-in girlfriend, Maxine Sneed, and allegedly presented the baby girl and said: "Look, this is what I did when I was away." Rae Dawn claims she maintained a good relationship with her "three mothers" (Tommy later left Sneed for another 17-year-old) and her dad, who shipped her off to boarding school to "get the discipline [he] couldn't give."
The two have even gone to bat for each other publicly, with Tommy defending Rae Dawn's racially-charged attack on Oprah Winfrey, and Rae Dawn defending Tommy after an apparent snub from Bernie Sanders' 2016 presidential campaign. "I just hate when my daddy is hurt," she wrote in a Facebook post, slamming Sanders' anti-marijuana stance that allegedly led to Tommy's canceled appearance at a campaign rally. "Makes me laugh because Bernie isn't so progressive after all," Rae Dawn said, adding, "Go Hillary!"
Sam Waterston and Katherine Waterston
Law and Order veteran Sam Waterston has three actor kids: Katherine, Elisabeth, and James Waterston, but until recently, none of them rose to the ubiquity of their dad, whose eyebrows alone are probably enough to invoke that *dun-dun* sound in the brains of anyone who's owned a TV set since the '90s.
Katherine, as of this writing, is enjoying a late career surge with roles in notable projects such as Alien: Covenant, Logan Lucky, and Fantastic Beasts and Where to Find Them. She made her way on her own, confessing during a 2017 appearance on The Late Show that her dad couldn't even get her a gig on Law and Order. "I'm like the only actress that has ever lived in New York City that could not get hired on that show," she joked.
Growing up around the business encouraged her to follow her dad's lead. "When you are the kid of an actor, it's always a very inviting world," she told The Sydney Morning Herald. "Everyone is nice to you, the hair and make-up people braid your hair and play with you, and the costume department makes outfits for your teddy bears. It's really misleading, because then when you actually go to pursue a career in acting, you realize that people aren't so friendly."