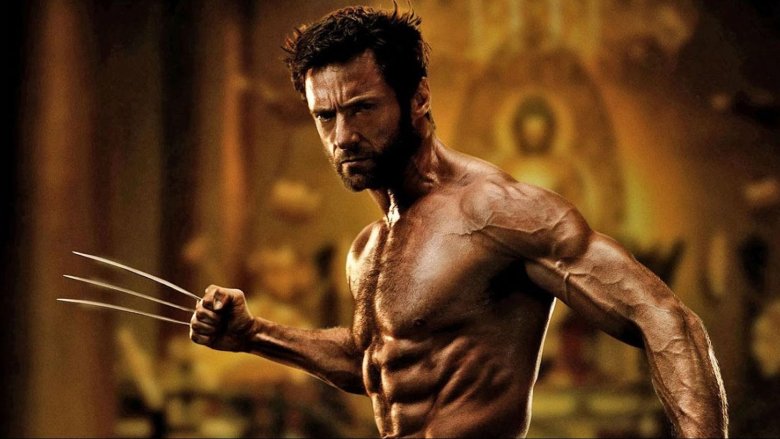 Picking the perfect actor for a movie role is a delicate process, one that even the most-experienced casting professionals or directors can get wrong. Sometimes an actor just isn't right for the role after all, or they might have "creative differences" with the director or producers once they arrive on the set. Other times, an actor has to leave a production right before or in the middle of filming because of unforeseen circumstances or other obligations.
These issues sometimes leave producers and directors scrambling to find a replacement, and sometimes those replacements have very little time to prepare for their new part. Here are some of the craziest last-minute replacements we've seen on the big screen—many of which ended up being the replacement actor's most successful role.
Mike Myers in Shrek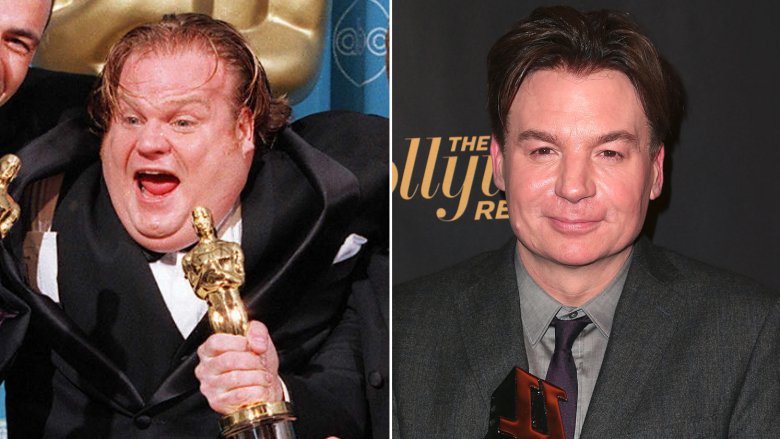 After four full-length movies, countless video games, holiday specials, and other spinoffs, it's hard to imagine anything but Mike Myers' voice coming from Shrek. But the story of how Myers became the voice of the lovable green animated ogre is actually quite tragic. Originally, comedian and character actor Chris Farley had been cast in the role of Shrek, and according to his brother Kevin, Farley actually completed recording nearly all of his dialogue for the original Shrek film. Kevin also revealed that "originally the Shrek character was a little bit more like Chris, like a humble, bumbling innocent guy."
Unfortunately, Farley had been struggling for some time with alcohol and substance abuse, and it finally got the best of him. On December 18th, 1997, Farley was found dead in his Chicago apartment after an accidental drug overdose. His death left the crew at DreamWorks scrambling to find a replacement; they chose Myers, also recasting the character of Fiona (originally voiced by Farley's SNL castmate Janeane Garofalo) with Cameron Diaz. Along with the recastings came a whole host of changes to the script before Shrek's 2001 release. While there's no doubt Myers did a great job with the role, if you'd like to hear what Farley would have sounded like, check out some of the audio footage available on YouTube.
Hugh Jackman in X-Men
Hugh Jackman got extremely lucky when he landed the part of Wolverine in the 2000 comic book movie X-Men. The role (and film) would spawn a franchise worth millions of dollars, essentially setting up the then-unknown Australian actor for life, but Jackman wasn't director Bryan Singer's first choice for the role of the troubled mutant with a mysterious past. Originally, Singer wanted Russell Crowe for the part of Wolverine, but Crowe turned it down. He recommended his friend (and fellow Australian) Hugh Jackman for the part, but Singer decided to go with a more experienced actor, and cast Dougray Scott instead.
For Scott, 2000 was shaping up as a banner year. He'd been hand-picked by Tom Cruise to play the bad guy in Mission: Impossible 2, and the role of Wolverine had the potential to propel him to superstardom. Unfortunately, production on Mission: Impossible 2 was delayed, which left Scott unavailable when shooting for X-Men was getting underway. Forced to make a last-minute change in the main cast after filming had already begun, Singer called in Jackman for an audition, gave him the role, and the rest is history.
Geena Davis in A League of Their Own
Geena Davis won the hearts of moviegoers everywhere with her performance as Dottie Hinson in the 1992 sports dramedy A League of Their Own, but originally, a completely different actress was set to lead the Rockford Peaches. Debra Winger was director Penny Marshall's original choice for the role of Dottie, but she wasn't interested in blockbuster movies or entertainers with big egos, and she grew furious when she learned that Marshall had cast Madonna in a supporting role. Marshall later recalled in her memoir that Winger told her "You're making an Elvis film!" before walking off the set. Winger subsequently took a nearly decade-long hiatus from the industry after her Oscar-nominated role in the 1993 film Shadowlands.
Winger's late departure left Marshall in a tough spot, and she had to act fast to find her new Dottie Hinson. She eventually settled on Geena Davis, who auditioned in Marshall's backyard by proving that she could accurately throw a ball. While the rest of the cast had been training together for months prior to filming in order to hone their ball-playing skills, Davis had to work hard and fast to get into shape for the demanding role. She proved she was definitely up to the task—impressing her coaches and even performing that famous catch while doing a split.
Christian Bale in American Psycho
In an odd turn of events, Christian Bale ended up replacing himself for the role of Patrick Bateman in the 2000 black comedy horror film American Psycho—well, sort of. In a classic example of what happens when the producers and the director have very different visions for their movie, both Christian Bale and Leonardo DiCaprio were cast for the part of Bateman. Director Mary Harron had chosen Bale for the role, but the British actor wasn't yet the superstar he is today. The executives at Lionsgate Films wanted a high-profile actor that could deliver a box-office success with his star power alone, and made a $20 million offer to DiCaprio—without informing Harron.
DiCaprio's casting as Bateman was later announced at the 1998 Cannes Film Festival, which blindsided both Harron and Bale. Although Harron fought hard to keep Bale, Lionsgate eventually removed her from the project, too—replacing her with Oliver Stone. After Stone started revising the script, the film fell into a period of development hell, and DiCaprio eventually left to film The Beach. Following DiCaprio's departure, Stone also left, and Lionsgate execs finally came back to Harron, hats in hand. She agreed to return as director, and Bale (who had cleverly kept his own schedule clear) was cast again as Bateman. Their perseverance definitely paid off, as the film became a polarizing box office success and eventual cult classic—helping propel Bale to the top of Hollywood's A-list.
Paul Dano in There Will be Blood
The 2007 drama There Will Be Blood was widely acclaimed upon its release, and eventually went on to rack up dozens of accolades—including an Academy Award for Best Actor going to star Daniel Day-Lewis. But did you know that the other lead character—Eli Sunday (Paul Dano)—was originally played by someone else entirely? That's right, the part of Eli was first assigned to actor and director Kel O'Neill. However, after a month of shooting, director Paul Thomas Anderson decided that O'Neill just wasn't right for the part.
After O'Neill was let go, Anderson didn't have to look far to find a replacement. Paul Dano had already been cast in the film with a smaller part as Eli's brother, Paul Sunday, and had so impressed Anderson that he decided to make the Sunday brothers twins so Dano could play both parts. Dano did an impressive job with the last-minute change, taking only four days to prepare for the new role, which he subsequently knocked out of the park.
Claudia Wells in Back to the Future
While you may have known that Michael J. Fox wasn't the original actor cast as Marty McFly in 1985's comedy sci-fi classic Back to the Future, you might be unaware there was another major actor replacement in the movie. Originally, Eric Stoltz landed the role of Marty McFly after first choice Michael J. Fox was unavailable, but was famously dumped from the movie by director Robert Zemeckis after five weeks of filming. While Stoltz wasn't bad as Marty, the filmmakers thought he was a bit too serious for the role. When Michael J. Fox's Family Ties schedule eased a bit, he was cast as Marty, and a reshoot was scheduled. Unfortunately, this casting change presented a problem for actress Melora Hardin, who had been originally cast as Marty's girlfriend Jennifer.
Hardin had been a great counterpart to Stoltz during table readings, but the top dogs at the studio were concerned that she was too tall for the more diminutive Fox. As a result, they let Hardin go from the production before she had filmed a single scene, and cast Claudia Wells in her place. Later, Wells would also have to be replaced for the sequel when she was unavailable during filming, with Elisabeth Shue taking her place as Jennifer in Back to the Future Part II. While losing out on the original role of Jennifer surely stung at the time, Melora Hardin is still going strong today. You might recognize her from her role as Jan on the hit U.S. version of the TV comedy The Office, or as Tammy Cashman in Transparent.
Clint Eastwood in Dirty Harry
Along with his part in Sergio Leone's trilogy of Spaghetti Westerns as the Man with No Name, Clint Eastwood is also frequently remembered for his role as the hard-as-nails homicide cop Harry Callahan in Dirty Harry. But that movie—which spawned an entire franchise of sequels—almost went to another famous blue-eyed performer: Frank Sinatra. Originally, producers had quite a hard time trying to fill Harry Callahan's shoes; they reportedly offered the part to many of Hollywood's leading men, including Robert Mitchum, Steve McQueen, Burt Lancaster, and John Wayne.
Frank Sinatra was eventually cast as Callahan, and interestingly, the script written for him supposedly had Harry toting a 12-gauge shotgun as his signature weapon. But as the production got underway, Sinatra had to back out—a broken hand he sustained while filming a fight scene for 1962's The Manchurian Candidate left him unable to hold a gun. After ensuring the original script (and not the heavily revised Sinatra version) would be used, Eastwood agreed to play Harry—cementing his place in pop-culture history with a .44 Magnum and the oft-misquoted line, "you've got to ask yourself one question: 'Do I feel lucky?' Well, do you, punk?"
Michael Biehn in Aliens
For fans of the Alien film franchise, it's probably hard to picture anyone but Michael Biehn as Dwayne Hicks in the 1986 movie Aliens. In truth, Biehn was a last-minute replacement; originally, James Remar was supposed to play the corporal who teaches Ripley how to use a pulse rifle. However, a couple of weeks after filming started, Remar abruptly left the production. He later revealed during a Sidebar podcast interview that while he had originally cited "urgent matters at home" to explain his departure, the truth is that he was struggling with drug addiction at the time, and director James Cameron fired Remar after he was arrested for possession.
With literally no time to prepare for the physically demanding role, Michael Biehn was brought in as Remar's replacement. Even though no recognizable footage of Remar as Hicks remains in the finished film, Indiewire did manage to dig up some photos of Remar from the set before Biehn took his place.
Viggo Mortensen in The Lord of the Rings
Sit tight, and we'll tell you the tale of how the vampire Lestat almost played Aragorn in Peter Jackson's three-film adaptation of the The Lord of the Rings. When Jackson was casting for 2001's The Fellowship of the Ring, he had a difficult time finding the right actor to play the mysterious Aragorn. Reportedly, the part had been offered unsuccessfully to Daniel Day-Lewis, Nicolas Cage, and Russell Crowe, while Vin Diesel auditioned but never received an offer. Finally, Jackson turned to Irish actor Stuart Townsend, who you may remember as the modern version of vampire Lestat de Lioncourt in the 2002 film Queen of the Damned.
Townsend traveled to New Zealand with the rest of the cast and spent two months training and working alongside them, only to be fired the day before filming began. Jackson apparently decided the baby-faced Townsend was too young to convincingly play the rugged and much older Aragorn of the books. While Jackson claimed things with Townsend ended amicably, Townsend later expressed quite a bit of bitterness towards the director for firing him—and for allegedly stiffing him on his paycheck. Mortensen was subsequently offered the role of Aragorn, but only agreed after being urged to accept by his then 10-year-old son, Henry. Mortensen flew down to the set (reading the book on the plane to prepare), jumped right into filming, and the rest is cinematic history.
Ed Harris in The Truman Show
While star Jim Carrey was undoubtedly the driving force behind the success of the critically acclaimed satirical sci-fi film The Truman Show, the film (and the "Truman Show" itself) wouldn't have been possible without the efforts of the obsessive showrunner Christof, played masterfully by Ed Harris. But Harris wasn't director Peter Weir's first pick for Christof—originally, Dennis Hopper was cast in the role.
After filming began, Weir and Hopper ran into "creative differences" on the set, leading Hopper to leave the production entirely. Hopper later revealed that he was fired after only two days of filming—a decision he called "a major blow" at the time. Called up at the last minute to replace Hopper, Harris threw himself into the role with gusto—earning himself a Best Supporting Actor Oscar nomination for his efforts.
Christopher Plummer in All the Money in the World
While less common than scheduling conflicts or "creative differences," sometimes an actor is fired because of criminal accusations or bad behavior. Robert Downey Jr. was fired from Ally McBeal because of his arrests, and CNN actually keeps a running timeline of Lindsay Lohan's various legal troubles. However, these examples pale in comparison to the serious accusations facing Kevin Spacey. In the wake of sexual assault allegations made against producer Harvey Weinstein, Star Trek: Discovery actor Anthony Rapp leveled similar charges against Kevin Spacey. Rapp alleged that a drunken Spacey had once pinned him down on a bed and tried to seduce him. Spacey offered Rapp an apology, drawing ire from many for also using his response to come out as gay. Following Rapp's accusation, at least 15 others came forward with similar claims of sexual abuse—including several people involved in the production of Spacey's long-running Netflix series, House of Cards.
The backlash was immediate and intense. Netflix cut all ties with Spacey, suspending production on House of Cards and axing their release of their biopic Gore. His publicist dropped him, and the International Emmy Awards withdrew an honor that Spacey was slated to receive in 2017. Additionally, director Ridley Scott removed Spacey entirely from All the Money in the World, due in theaters December 22, 2017. Scott announced that Christopher Plummer would take Spacey's place and that he would re-shoot all of Spacey's scenes—a decision that will reportedly cost millions in production costs and rush fees.
Scarlett Johansson in Her
Most last-minute actor changes happen before filming gets fully underway, but in 2012, Scarlett Johansson was asked to replace an actor on a movie that was already in post-production. In Spike Jonze's 2013 sci-fi romance drama Her, Joaquin Phoenix plays a lonely writer who finds himself falling in love with "Samantha," an artificially-intelligent operating system. Initially, English actress Samantha Morton provided the voice of the computer program that bears her name, but Jonze decided after filming wrapped that something wasn't quite right.
Jonze said Morton had been "amazing" on the set, but he ultimately "realized that what the character/movie needed was different from what Samantha and I had created together." He recast Scarlett Johannson in the role, rerecording all of the scenes that Morton had previously done and also adding a number of new scenes that Jonze "had wanted to shoot originally but didn't."
Jamie Dornan in 50 Shades of Grey
As director Sam Taylor-Johnson was preparing to make her 2015 adaptation of author E. L. James' best-selling erotic drama, she found that casting the perfect pair of actors to be her Christian and Anastasia was not an easy task. Before eventually deciding on Dakota Johnson for the part of Anastasia Steele, Taylor-Johnson auditioned a number of other prominent actresses in the role. She even offered the part to Game of Thrones star Emilia Clarke, who turned it down due to the nudity required.
For the role of 27-year-old billionaire Christian Grey, a number of Hollywood's leading men were considered or even offered the part—including Robert Pattinson, Ryan Gosling, Garrett Hedlund, Chace Crawford, and several others. In September 2013, it was announced that Charlie Hunnam had been chosen for the part of Christian. Not all fans were thrilled with the decision—a Change.org petition calling for Matt Bomer and Alexis Bledel to be given the starring roles eventually garnered over 90,000 signatures. Less than a month before filming started, Hunnam was forced to drop out of the film because of scheduling conflicts with his popular television series Sons of Anarchy. Another lightning-fast round of auditions for the part of Grey ensued, with Jamie Dornan eventually coming out on top.
Jodie Foster in Panic Room
After achieving a major box-office success with Fight Club in 2000, director David Fincher turned to his next project, the 2002 thriller Panic Room. The movie focuses on a mother and daughter who must retreat to a safe room in their new home after it is invaded by burglars. Fincher knew that finding the right actresses to play the women would be integral to the success of his movie. Interestingly, neither of Fincher's original casting choices for these parts ever made it into the film. At first, Nicole Kidman and Hayden Panettiere had been cast as the mother and daughter, but Panettiere dropped out of the project before filming got underway. She was replaced by Kristen Stewart in what was her first starring role.
Filming for Panic Room began in January 2001, but Kidman didn't last long. Just two weeks after principal photography began, Kidman was hurt on the set, aggravating an old knee injury she sustained while filming Moulin Rouge. Kidman left Panic Room to recover, and Fincher had to scramble to find a replacement quickly. Meanwhile, actress and director Jodie Foster had to shut down production on her own movie, Flora Plum, after its star Russell Crowe was also injured. After being tapped to take on Kidman's former role in Panic Room, the irony of the situation wasn't lost on Foster. "I remember emailing Russell saying, 'I'm doing Nicole's movie—how ironic is that?"
Harrison Ford in Raiders of the Lost Ark
When director Steven Spielberg was first preparing to make Raiders of the Lost Ark, his friend George Lucas (who co-wrote the Raiders script) was adamantly against the idea of casting Harrison Ford as Indiana Jones. At that point, Ford had already starred in three of Lucas' other films—American Graffiti, Star Wars: A New Hope, and Star Wars: The Empire Strikes Back—and Lucas was worried about working too often with the same actor. Lucas told Spielberg that he didn't want Ford to "be my Bobby DeNiro"—referring to the numerous collaborations between actor Robert DeNiro and director Martin Scorsese.
Instead of Ford, Spielberg and Lucas initially cast Tom Selleck as Indy. Selleck did a screen test for the part (which you can watch on YouTube), and he later explained to David Letterman that he did not turn down the role, as some may believe. When Spielberg and Lucas offered him the part, Selleck was under contract with CBS because of the pilot he'd just completed for Magnum P.I. Spielberg and Lucas attempted to negotiate with the network to "borrow" Selleck for their movie, but CBS wouldn't budge, refusing to let Selleck do Raiders. Spielberg convinced George Lucas to give in, and Harrison Ford was cast in what would become one of his most iconic roles less than three weeks before filming began.
Michelle Pfeiffer in Batman Returns
In 1992, Michelle Pfeiffer made waves when she gave a provocative and slightly-unhinged performance as Catwoman in Batman Returns—but the part was originally meant for someone else. Director Tim Burton had cast four-time Academy Award nominee Annette Bening as Catwoman—a decision that left Pfeiffer heartbroken. "As a young girl, I was completely obsessed with Catwoman. When I heard that Tim was making the film and Catwoman had already been cast, I was devastated," she explained.
However, Pfeiffer got a chance to make her childhood dream come true when Bening became pregnant and was forced to drop out of the film. Burton recast her in the role, and Pfeiffer threw herself into kickboxing and whip training in order to give a convincing performance. Unlike Halle Berry's take on the part in 2004's Catwoman—which was unhinged in a much different way—Pfeiffer earned acclaim for the role. Even more than 25 years later, Pfeiffer's Catwoman remains one of our most favorites.
Mark Wahlberg in The Lovely Bones
When Lord of the Rings director Peter Jackson was getting ready to make the 2009 supernatural drama The Lovely Bones, he initially cast Ryan Gosling in the leading male role. Gosling was to play grieving father Jack Salmon, who becomes obsessed with finding the person responsible for his teenage daughter's murder. Shortly before filming started, Gosling unexpectedly announced his departure from the film. At the time, Gosling claimed that he left The Lovely Bones because he felt "the age of the character versus my real age" just wasn't working out. However, the truth is that Peter Jackson actually fired the La La Land star from the movie.
Apparently, Ryan Gosling showed up on the set sporting a scraggly beard and weighing some 60 pounds heavier than he'd been when he was cast—a physical transformation that the actor hadn't discussed with the director. Although Gosling was supposed to be playing a severely depressed man, Jackson fired Gosling for the unplanned weight gain—which reportedly involved Gosling drinking melted Häagen-Dazs ice cream. "We had a different idea of how the character should look," Gosling said. "I just showed up on set, and I had gotten it wrong…then I was fat and unemployed." He was replaced by Mark Wahlberg, who was given the part just one day before filming began.
Kevin Peter Hall in Predator
If we told you that Jean-Claude Van Damme had originally been part of the cast in 1987's Predator, you might imagine him playing Arnold Schwarzenegger's role as Major Alan "Dutch" Schaefer. Actually, Van Damme was supposed to play the Predator creature itself. At that time, the Predator was supposed to have a much different fighting style—one that would make use of Van Damme's martial arts skills. What's more, the original Predator costume designed for Van Damme had "backward-bent reptilian legs, extended arms and a [protruding] head."
Reportedly, Van Damme (who was not yet a star) didn't understand that he was essentially to be a stuntman for the duration of the film. He had thought that audiences would get to see his face and that he'd get to fight Schwarzenegger in some hand-to-hand combat scenes. When he found out the truth, Van Damme was "seething." In the documentary If It Bleeds We Can Kill It: The Making of 'Predator,' it was also reported that Van Damme had passed out while filming jungle scenes in the hot creature suit. Eventually, John McTiernan scrapped all of the original plans for the Predator—including Van Damme's casting. He was replaced by the seven foot two inch tall tall Kevin Peter Hall in the role, and the costume itself was redesigned into the iconic Predator that we know today.
Rafe Spall in Life of Pi
For Ang Lee's acclaimed 2012 survival drama Life of Pi, the director originally intended to use a cast comprised of unknown actors. The sole exception to this was Tobey Maguire, who Lee tapped to play Yann Martel—the Canadian author who actually wrote the novel Life of Pi that Lee's film was based upon. Maguire arrived on the set and had actually filmed all of his scenes before Lee decided that it wasn't working: the actor was too recognizable and stuck out like sore thumb among the rest of the cast. Lee cut Maguire from the movie, explaining that "to be consistent with the other casting choices made for the film, I decided to go with an entirely international cast." He re-shot all of Maguire's scenes with Prometheus star Rafe Spall, who got a chance to share in Life of Pi's glory when it received eleven Academy Award nominations and four wins.
Sofia Coppola in The Godfather Part III
If you hated The Godfather Part III, don't blame Sofia Coppola—she wasn't even supposed to be in the film. Among fans of Francis Ford Coppola's trilogy of films about the fictional Corleone crime family, Part III is usually considered the weakest entry. This is largely due to his daughter Sofia Coppola's flat performance as Michael Corleone's daughter, Mary. Finding an actress to play the central figure of Mary was one of Francis Ford Coppola's biggest problems. He had originally offered the part to Julia Roberts, but she had to drop out because of scheduling conflicts elsewhere. Madonna was eager to land the role, but Coppola felt that she was too old to play the part of the teenaged Mary. He'd scheduled an audition for Rebecca Shaeffer, but the actress was tragically murdered on her own doorstep the morning of her audition.
Coppola eventually cast the 18-year-old Winona Ryder, who was fresh off her success with Edward Scissorhands. However, Ryder was suffering from nervous exhaustion when she arrived on-set, and dropped out at the last minute. With production already running behind schedule and over budget, Francis Ford Coppola made the difficult decision to cast his own 18-year-old daughter, Sofia. The decision to cast Sofia (who had no formal acting training) drew ire from fans and charges of nepotism, and critics treated both Sofia and her father harshly in their reviews of the film. In the years since, Sofia Coppola has gone on to have a successful career as a director, but her part in The Godfather Part III remains a black mark on her Hollywood resume.