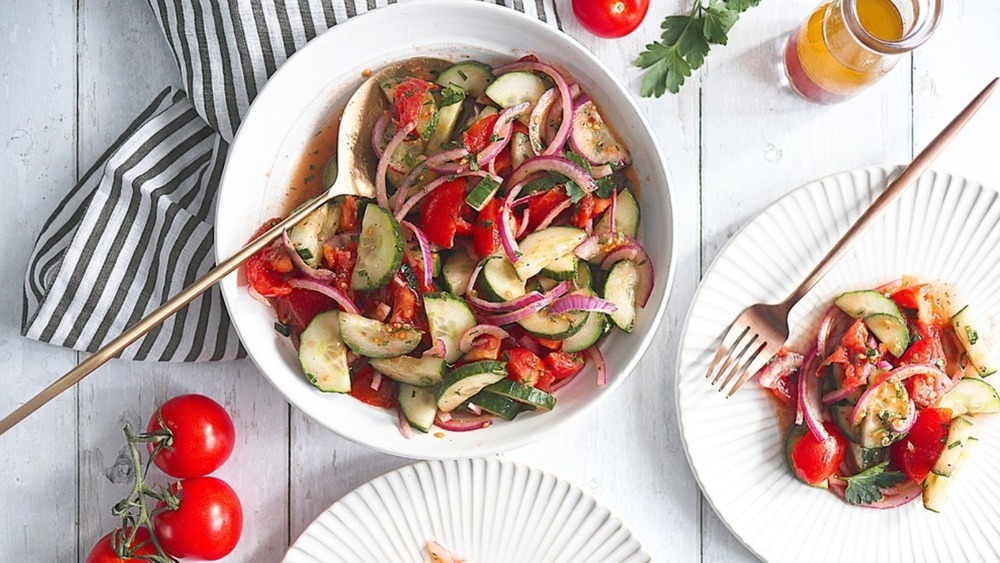 You'd be hard-pressed to find someone who doesn't love a side of french fries, a gravy-covered mound of mashed potatoes, or a generous helping of mac and cheese. But there's no denying that while these are tastebud-pleasing sides, they're also not exactly the healthiest options around. There's no reason to completely nix french fries from your diet, but instead of relying on them as your staple side dish, it may be time to substitute in a few healthier options.
And here's the thing — you may be surprised how easy these healthy side dishes are to make, and how much you and your family will end up enjoying them. By substituting nutrient-rich leafy salads for some of your carb- and fat-filled favorites (potato and macaroni salads come to mind), or by opting for roasted veggies in place of deep-fried sides, you can significantly cut down on your calorie intake while amping up your vitamin and mineral intake. Here are healthy and delicious sides to pair with any entree.
Try this easy and delicious roasted cauliflower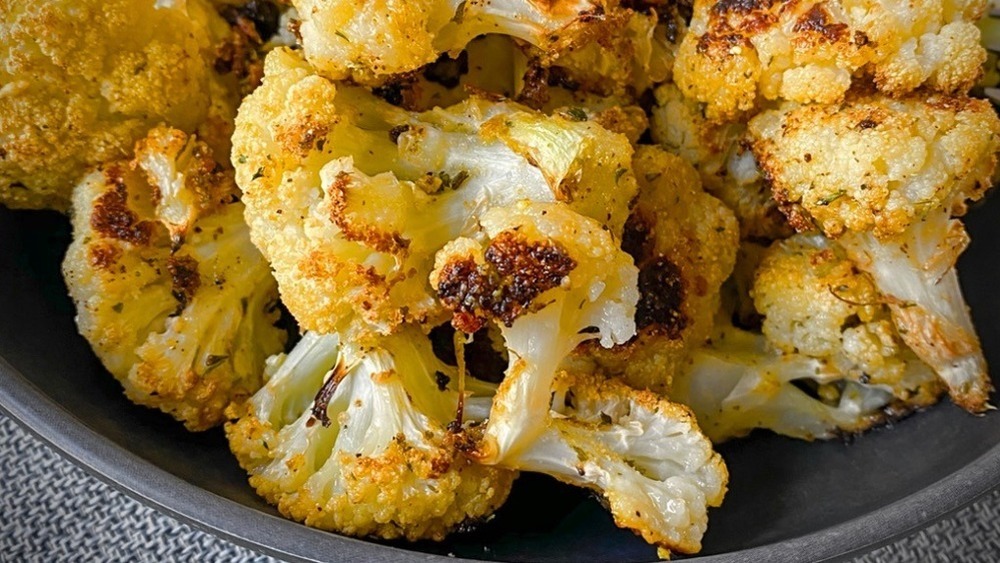 If you haven't ever tried roasted cauliflower, you're legitimately missing out. By cooking with nothing more than a little oil and some spices under high heat in the oven, the edges of the cauliflower florets crisp up while the insides soften. The result is the perfect fried food alternative to enjoy alongside practically any dish. Because cauliflower is becoming a popular alternative to carb-heavy options, it makes sense to sub them alongside hamburgers or chicken in place of french fries. Add the dipping sauce of your choice to complete the effect.
Roasted broccoli is simple and delicious
A side of steamed broccoli is pretty common on its own, but switching up your routine for roasted broccoli is bound to become your new favorite side. With very little added oil, and with basic seasonings like salt and pepper, the roasting process turns broccoli from a good-for-you but "meh" side to something really delicious. Plus, just like you can add cheese, nuts, or other seasonings to your favorite broccoli recipes, there's no reason not to jazz up your roasted broccoli in the same way.
This cabbage salad recipe's peanut dressing is to die for
Switch out your regular green side salad that gives you nothing more than a feel-good, "I ate a salad today" result and try this cabbage salad recipe instead. Featuring green and red cabbage, along with carrots, cilantro, peanuts, and a quick and easy peanut dressing, it'll take your salad game from "ho-hum" to "wow!" You can even add chicken or fresh grilled tuna to turn this side dish into a standalone lunch or dinner.
Yes, roasting carrots is a tasty side, too
Once again, learning to roast your veggies will add new flavor sensations to your cooking repertoire. Plus, roasting helps bake in all the good-for-you nutrients without adding many fats. This applies to roasting carrots, too. When roasted with salt, pepper, and a little parsley, the outsides will get a little crisp and take on the salty flavor, while the inside remains soft and sweet. You can even slice the carrots into smaller length-wise strips and serve them like french fries.
This fresh side salad will be all you serve in the summer
When you're looking for a fresh, easy summer side dish, look no further than this delicious and nutrient-rich cucumber tomato salad served with a light vinaigrette as the dressing. You don't even have to chop up lettuce or cabbage as the green base. Really, you just need tomatoes, cucumbers, red onion, fresh basil, and parsley, along with seasonings for the dressing, to serve this salad up in less than half an hour (which mainly gives you time to chill the salad and dressing, too).
When you can't choose just one roasted veggie, eat them all
Roasted veggies take the gold once again for providing a delicious side dish that's full of good-for-you nutrients and makes it easy to "eat the rainbow." In fact, this recipe for roasted veggies includes onions, broccoli, carrots, and bell peppers. Together, they make the perfect side option to serve a crowd when you're hosting a summer barbecue or pool party. They take about 30 minutes to make, but most of that is cook time, with only 10 minutes needed to prep your veggies.
Try cabbage steaks as a warm side salad
When you're serving up some hearty meat, cabbage "steaks" make for an excellent alternative to a wedge salad or baked potato. The cooking method is simple and the seasonings are nothing more than salt, pepper, garlic powder, and a little olive oil. The "steaks" are ready in roughly 40 minutes and you can serve them as a warm salad, adding the dressing of your choice or topping with the other items on your menu, like grilled chicken or that perfectly cooked steak.
This bacon-filled broccoli salad is a fun way to get your veggies
To be clear, this broccoli and bacon salad isn't low in calories or fat, given that it includes bacon, cheddar, and mayonnaise. However, if you're struggling to eat your veggies, recipes like this might help you ease into a new routine. And you'll still benefit from the nutrients in the broccoli, onions, and raisins, while getting a decent dose of protein, too. The trick is to not overdue your serving size and to gradually use less mayonnaise or cheese as you get used to eating more veggies.
Cauliflower rice is a much healthier side than standard rice
If you're trying to cut back on carbohydrates, switching out your standard white rice for this copycat Chipotle cauliflower rice recipe is a good place to start. Even if you're skeptical about the flavor difference between the two, rest assured that, with the right flavorings and pairings, you'll hardly notice a difference. The trick is to enjoy it hot — as the cauliflower rice gets colder, the flavor differences between the two become more obvious — and to serve it alongside (or mixed with) a strong flavored main course.
Acorn squash is the perfect, healthy winter side dish
If you've never tried acorn squash, you're in for a treat. Not only is this acorn squash recipe incredibly simple to prepare but, while it bakes, the simple combination of brown sugar, butter, and a little bit of salt infuse the squash with a sweet flavor perfect for cool fall nights. Plus, it's literally all vegetable. Sure, there's a touch of added sugar and fat but, in the grand scheme of things, it's practically nothing. You may decide to make acorn squash a daily end-of-day treat, too.
Add avocado toast as a simple and delicious side
Who says you have to enjoy avocado toast in the morning? Given that bread is regularly served as a side, why not switch it out for avocado toast? The benefit is two-fold. First, you're increasing your intake of healthy fats and vegetables. Plus, when you use avocado toast in place of chips and guacamole, you've got built-in portion control. It's incredibly easy to plow through an entire bowl of guac without thinking, but if you serve yourself a single half-slice of avocado toast, it's harder to overdo it.
Pair a side of tomato soup with a sandwich or baked potato
You may not regularly think of soups as a go-to side dish, but why not? Soups (particularly broth-based varieties) can help fill you up while delivering up a wide range of veggies. Just think about it — recipes like this simple tomato soup are practically all veggies, along with some herbs, spices, and a touch of healthy fats in the form of olive oil. Served next to a sandwich (grilled cheese are always popular), grilled chicken, or a baked potato makes for the perfect, well-balanced, nutrient-packed dinner.
Candied yams are a sweet side dish for fall
Candied yams are another perfect fall or winter side dish that pairs with practically any stew or meat dish. And yes, you're getting some extra fat and sugar when you make them with maple syrup and butter, but for the most part, you're going to be eating baked yams (with lots of vitamin C!) with spices and seasonings like cinnamon, nutmeg, cloves, and ginger. So, go ahead and eat up!
Caprese salad is tasty, healthy, and simple to serve
When you're looking for more of a summer side dish that you can pull together in minutes flat, keep a Caprese salad at the top of your list. All you need is fresh tomatoes, fresh mozzarella, basil leaves, and olive oil, and balsamic vinegar as the dressing. This side offers calcium and protein in the cheese, a little bit of healthy fat in the olive oil, and the vitamins and minerals via tomatoes and basil. If you can cut a tomato, you can pull this salad together.
Fresh broccoli salad is filled with healthy nutrients
You will love this broccoli salad recipe that's perfectly served up as a fall or winter side dish. The broccoli florets are the base of the salad, which also includes dried cranberries, chopped apples, shredded carrots, and red onion as the other nutrient-packed fruits and vegetables in the mix. A little mayonnaise, apple cider vinegar, and honey are whisked together to create a tangy, creamy, and sweet dressing that complements the flavors of all those veggies.
Roasted brussels sprouts will become a family favorite side dish
Hey, guess what? There's another vegetable that tastes infinitely better when roasted — Brussels sprouts. These bite-sized veggies can have a sharp, bitter flavor when raw, but when roasted and served with a dressing that includes fish sauce, vinegar, lime, sugar, garlic, and chili peppers, you end up with the type of side dish you'll want to eat at least once a week. Try them alongside grilled chicken, pot roast, or even pizza. You won't be disappointed.
Shrimp rolls are a fun, new way to get your veggies
If you're a shrimp fan, you're going to love adding these simple shrimp rolls to your favorite dishes as a side. The shrimp and noodles only take a few minutes to cook and, aside from whisking together a peanut dipping sauce, the only other thing you have to do is slice up the veggies and use rice paper to wrap it all together. Each roll has fewer than 200 calories but includes plenty of protein and a rainbow of veggies, thanks to bell peppers, fresh cilantro, cabbage, and chives.
Caesar salad makes the perfect healthy side for Italian dishes
A classic Caesar salad is simple, delicious, and offers a good way to amp up your leafy green vegetable intake. It can be paired with practically any main dish, whether that's grilled chicken, fish, pizza, or pasta. It's also easy to add more veggies based as you please. Love tomatoes and olives? Would prefer your salad with red onions? Go for it! The only "hard" thing about making this salad are the few minutes it takes to bake a day-old baguette to make homemade croutons. Otherwise, it couldn't be easier.
Fried zucchini helps you sneak in some extra veggies and protein
So, fried zucchini is another one of those sides that isn't exactly low in calories or fat content, but it's a quick and easy way to add some veggies to your favorite meals in a package that even picky kids are bound to love. Plus, zucchini is a good source of vitamins and minerals. Eating a variety of fruits and vegetables helps to ensure you're getting a wide range of nutrients. If occasionally adding fried zucchini to a meal helps expand your palate, it makes a good side dish.
Greek salad is a delicious and fresh summer side salad
There's just something about the cool mix of veggies, feta cheese, and, lettuce, all tossed in a light vinaigrette, that makes for the perfect summer side dish. This Greek salad recipe comes together in just 10 minutes and offers a nice mix of flavors, textures, and nutrients all in a single bowl. You can even throw chicken on top to turn it into a stand-alone meal. If you make double the dressing, you can save the extra in the fridge for the next time you're craving a fresh side salad.
Change up your side salad game by serving a classic Nicoise
When you need to add lots of veggies to your daily intake, look no further than a classic Nicoise salad to help pack them all in at once. This easy side dish takes less than 20 minutes to make and is loaded with lettuce, potatoes, tomatoes, olives, green beans, and boiled eggs, and canned tuna, which give the salad a whopping 39 grams of protein per serving. As such, you can enjoy it as a meal on its own, as well as a delicious side for sandwiches and soups.