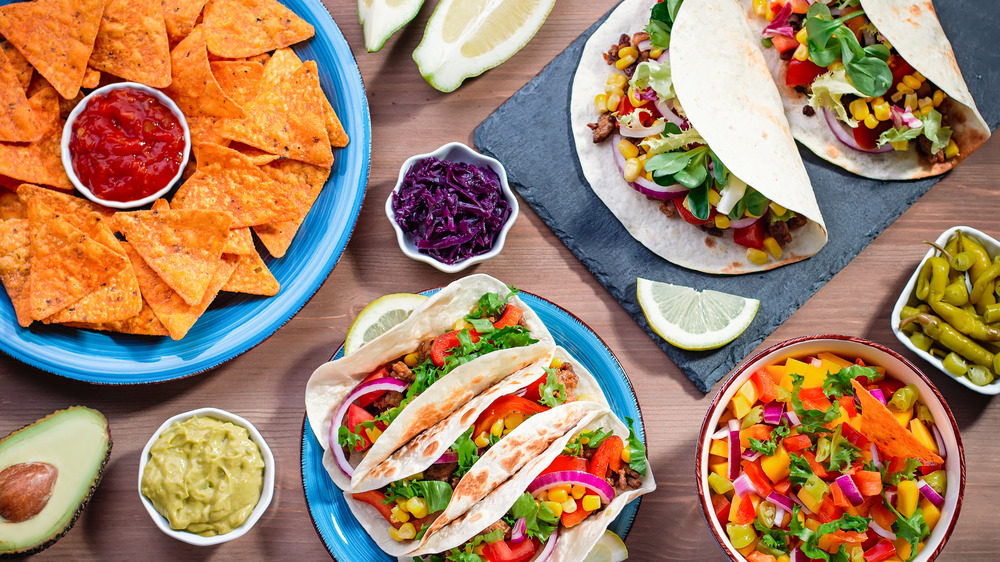 For the longest time, Tuesday didn't really have anything special about it. It's not as terrible as Monday, it doesn't have the excitement that comes with hump day, it's not the day before Friday, and it certainly doesn't give us the same feels as Friday or the weekend. But ever since Taco Tuesday became a thing, we have a reason to look forward to this formerly blah day of the week.
Real talk: Who doesn't love tacos? And here's the thing — Taco Tuesday isn't just about tacos, either. It's about all the cuisine that celebrates our neighbors south of the border, and the fusion between Mexican and American cuisines. Sure, you can whip up your usual batch of tacos, and they'll be undeniably delicious. But we have a ton of other ways you can make Taco Tuesday an evening meal of family legends.
Before we get into the recipes, here's a pro tip: Make your own taco seasoning, and keep it on hand. It's much easier than you'd think, and not only will you be able to make it as spicy or as mild as you'd like, but you'll also be able to go light on the salt. That being said, let's look at all the fun ways you can use that taco seasoning to get something fun on the dinner table.
5-ingredient Costco tacos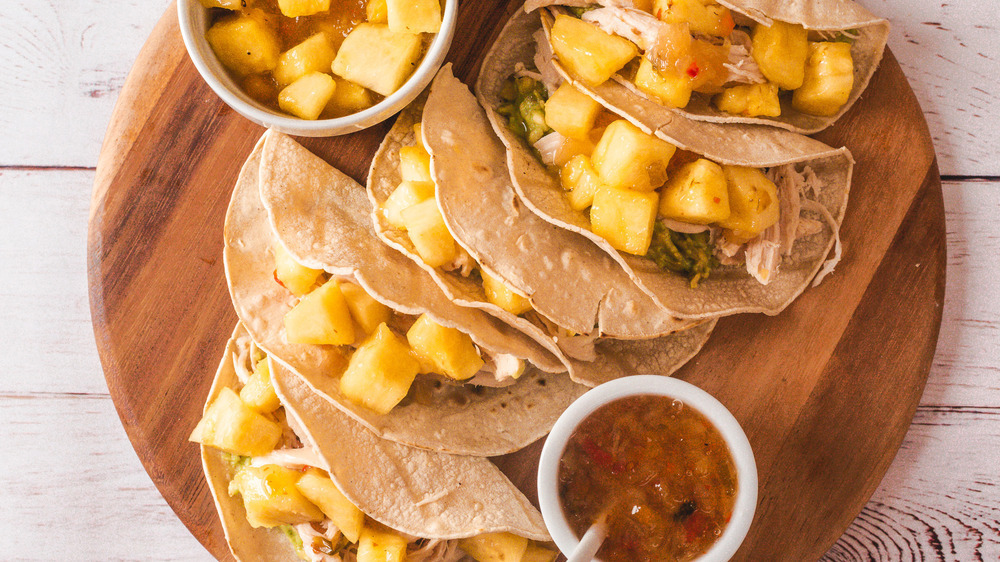 Most people have their go-to grocery stores, but Costco fans take grocery shopping to a whole new level. Their rotisserie chicken alone is enough to keep people coming back, and if you're a fan, you're in luck, because that chicken is the centerpiece of our 5-ingredient Costco tacos.
These aren't tacos you're going to pick up at Costco. Instead, these are brilliantly fresh, delicious tacos you can make with just a few ingredients you pick up at Costco. And spoiler alert: Some of these ingredients aren't what you'd expect. These creamy, fruity tacos with a spicy kick are best eaten ASAP after you assemble your ingredients, but they're also so good that's not going to be a problem.
Copycat Chipotle guacamole
Guac might not be a meal by itself, but check out our copycat Chipotle guacamole recipe for a super easy way to make Taco Tuesday just that much better. Making guac doesn't get much easier than this, and it'll take less than 10 minutes to whip it up. Pro tip: Save this until last to make, because avocado has a tendency to turn brown pretty quickly. A squeeze of lime isn't just for flavor — it'll help the guac hold that bright, vibrant color longer — so make sure you have a couple extra limes on hand, too.
Chicken enchiladas
Burritos and fajitas are good, but if you like extra sauce, then enchiladas are the way to go. We've come up with an amazingly simple chicken enchilada recipe that is sure to become one of your go-to Taco Tuesday dishes. Making enchiladas might seem really involved, but this dish comes together in a cool 45 minutes from start to finish. As a bonus, here's a fun fact you can share as you serve: Enchiladas were apparently eaten by the Aztecs, according to History Today.
Chicken fajitas
Getting enough vegetables into your diet can be a struggle, and our chicken fajitas are a great way to make eating veggies fun. We're talking onions and peppers at least — along with the tomatoes that are in the salsa we know you're going to use — but you can also opt for adding sliced zucchini or even Portobello mushrooms. Even without extra veggies, these baked chicken fajitas are super healthy, but don't worry — they're also so tasty that your family will absolutely overlook the healthy part.
Mexican street corn
There's a certain season for corn on the cob, and that's the perfect time to add something extra special to Taco Tuesday or really any time you're heating up the grill. Although our recipe for Mexican street corn can be done in an oven, it comes out even better when it's prepared over a charcoal grill. If you're not familiar with Mexican street corn, it's a traditional street food that's as delicious as it is messy. Fresh corn, spicy seasonings, and a layer of cheesy goodness is perfect to serve on the side of enchiladas, fajitas, or a burger.
Aldi 5-ingredient carnitas
Here's one for the Aldi fans out there. Our Aldi 5-ingredient carnitas are built around Aldi's Carnitas Seasoned Boneless Pork Shoulder, which we picked because Aldi does such a good job pre-seasoning their pork shoulder that you'll hardly need to add more (although we'll tell you how to do that if you so desire). All the rest of the ingredients can also be found at Aldi, and although we kept the toppings simple, fresh, and light, this is a recipe that can be adjusted for your family's personal tastes.
Taco salad
We have a taco salad for Taco Tuesday that isn't as hard on the waistline as one from your favorite fast food spot may be, and it won't leave you struggling with any regrets after you finish eating it. There's no deep-fried shell here. Instead, this recipe calls for frying tortillas in a shallow layer of oil to provide the crunch. This is a highly versatile recipe that's perfect for anyone who has picky eaters in the house.
Sopapillas
If you want to end your Taco Tuesday meal on a sweet note, don't forget about dessert. That's where our recipe for sopapillas comes in handy. What exactly are sopapillas, might you ask? They're essentially light, fluffy squares of fried dough, covered with a cinnamon-and-sugar mix. While they're not technically of Mexican origin — they're more accurately from New Mexico — Taco Tuesday is a celebration of the American-Mexican fusion of cuisine, so sopapillas are every bit as authentic as any other recipe.
Refried beans
These refried beans are a great addition to Taco Tuesday for a few reasons. For starters, beans are full of muscle-building protein and all kinds of other good stuff. Also, they're incredibly versatile. You can add some into your tacos or burritos, serve them on the side with some sauce or over rice, or pile some on your nachos. They're also great the following day, reheated and wrapped into a burrito. Why wouldn't you want to extend Taco Tuesday into lunchtime Wednesday?
Chicken tacos
Everyone has their go-to when it comes to tacos. As far as toppings are concerned, the sky's the limit. Maybe that's why everyone's such a fan of Taco Tuesday. It's super easy to customize a taco for everyone's individual tastes, and make it as spicy or as mild as each person wants. And even if you have your own way of whipping up tacos, check out our recipe for easy chicken tacos. There's a secret ingredient (and a few tricks) that you don't want to miss to make dinner prep just a little bit easier.
Tostadas
Tacos and burritos are undeniably amazing, but they can get a little heavy — especially when they include beef and beans. Sometimes, you're just not in the mood for something that filling, but you're still craving all that flavor. Those nights are perfect for our healthy tostada recipe.
What makes it healthy? We bake our tortillas instead of deep-frying them, which is great because they won't turn your fingers into a greasy mess. We'll give you some ideas for healthy toppings, too, but really the sky's the limit.
Mexican rice
Our recipe for Mexican rice is another one that you might want to keep handy. It's not only a great filling for tacos and burritos, but it's a delicious side, too. It's perfect for nights that you're not looking for something super heavy, and it's not as difficult to prepare as you might expect. There's another bonus here, too, because brown rice is better for you than white rice. Opt to use brown rice alongside other flavorful ingredients in this dish, and enjoy.
Instant Pot carnitas
If you picked up an Instant Pot with all the best intentions of using it, then promptly left it to gather dust in a corner of the kitchen, let us help you out with this recipe for Instant Pot carnitas.
Carnitas can be one of those meals that you just don't make because you don't have the time for it. The Instant Pot fixes all of your time worries, and our recipe addresses any concerns you might have about not having a ton of ingredients on hand, or of spending a lot of time in the kitchen. The end result is flavorful, tender meat that's a great filling for tacos, burritos, or quesadillas. It's also great to serve as a meal with a few sides.
Sofritas
If you're looking for new ways to phase meat out of your diet even a few nights a week, take a look at our recipe for sofritas. It's a tofu-based filling that might just be the perfect introductory dish for anyone who cringes at the thought of tofu. It's crumbled, so there's no questionable texture, and the seasonings — which can be adjusted to be as spicy or as mild as you like — ensure that this is the farthest thing from bland you'll have all day. Swap any protein in any other recipe out for sofritas, and you might just find yourself getting a head start on Taco Tuesday by planning out a Meatless Monday.
Enchilada casserole
There's a reason why that casseroles have been popular for more than a century, and our enchilada casserole is guaranteed to become a family favorite. It's not only easy to prepare, but it also makes great leftovers for lunch the following day. It's a meal that comes packed with all the delicious flavor you're craving in a Mexican dish, with none of the mess. Enchiladas — covered in sauce as they are — can be super messy to eat, and this casserole eliminates the mess while keeping the flavor.
Pico de gallo
If you usually make salsa, we're going to give you something different to try to switch things up. This 10-minute recipe for pico de gallo is bound to become a family favorite.
Both salsa and pico de gallo are made with the same ingredients — like tomatoes, onions, and peppers — so what exactly is the difference? Pico de gallo is typically not cooked, so the end result is a fresh, chunky topping. Salsa may be pretty runny in your tacos, while pico de gallo is flavorful and less juicy. We told you it would be a win.
Quesadillas with homemade flour tortillas
When it comes to tacos, burritos, and quesadillas, toppings are important, but it's the tortilla that holds everything together. If you have a tortilla that rips easily or turns into a soggy mess, there's nothing that'll ruin the meal faster.
That's where our quesadilla recipe comes in, and it isn't your usual quesadilla. This isn't taking a few store-bought tortillas, spreading some meat in the middle, and frying them up. We show you how to make your own tortillas from scratch, and even though that might sound intimidating, it's actually so easy, you may always want to make them yourself.
Shrimp tacos
Chicken and beef might be standard, but how about shrimp tacos? Check out our shrimp taco recipe for some tips and tricks, because using shrimp as your protein works best with other light and fresh ingredients. Instead of piling on salsa and cheddar, consider ingredients like lime and onion instead. We've also got a recipe for a fun and light white taco sauce, along with tips on how to create the perfect tortillas. You can't go wrong.
Sheet pan nachos
Taco Tuesday doesn't have to involve tacos at all, and hear us out: What about turning Tuesday into a game night, too? It's easy with the help of these sheet pan nachos, which will allow everyone to serve themselves from a large sheet pan. Not only will adults and kids alike love these nachos — and adding their own toppings like salsa and sour cream — but they're perfect for putting in the middle of the table while enjoying a board game. Dinner doesn't have to be just about eating, after all — it can also be about catching up on family quality time.
Slow cooker chicken tortilla soup
The long, cold months of the year are great for hearty soups and stews, and just because it's Taco Tuesday, that doesn't mean you've have to forgo a comforting soup. Check out our recipe for chicken tortilla soup that's bound to please the masses, and don't be afraid of the 6-hour prep time. This is a slow cooker recipe that's going to fill your house with all kinds of delicious scents, and honestly, the only thing that's better than serving up plates of tacos is a Taco Tuesday aroma you can enjoy all day long.