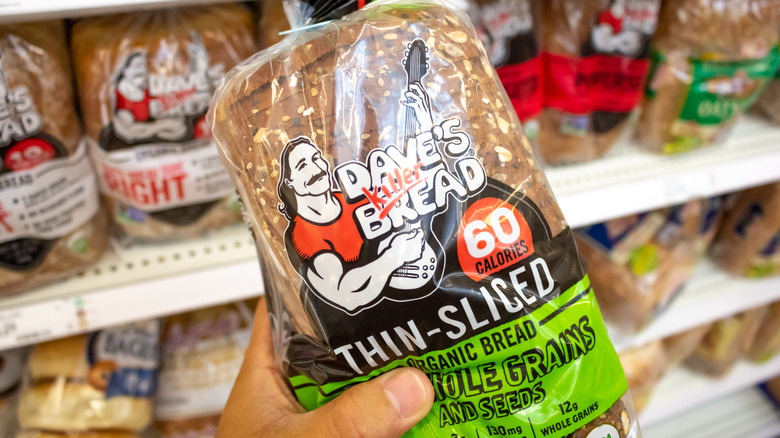 Dave's Killer Bread is a giant among bread brands, to say the least. With its unique, seedy flavors and distinctive label depicting brand founder Dave Dahl himself, these loaves have become household favorites across the United States and Canada. But the smiling face on whom the label of Dave's Killer Bread was based wasn't always happy — Dahl's path to success was a long and winding one, with plenty of speed bumps and, oftentimes, the odds consistently stacked against him.
Rumors about Dave have circulated since his loaves of bread hit the market. Who was the ex-convict running one of the most successful bakeries in the country? What was he trying to do with his bread and his image? Was the brand name a joke, or was there another reason it was called "killer"?
It all started with family. Despite Dave's early legal troubles, his brother offered him a job at the bakery the Dahl family had owned since 1955. What began as an easy gig mixing dough in an attempt to stay out of trouble became a multi-million dollar company renowned for its tasty organic bread and relatively affordable price tag. Dave himself became something of a celebrity among bakers and bread lovers, his story one shrouded with mystery and intrigue. Read on to find out more about the infamous Dave Dahl behind Dave's Killer Bread.
Baking runs in the Dahl family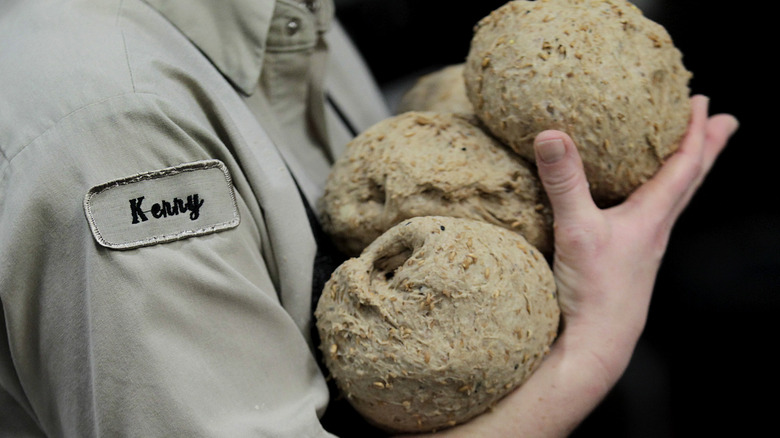 Dahl grew up in the Seventh-day Adventist Church in Portland. His family owned a small bakery, named NatureBake (via Inc.). Their religion, in which abstaining from tobacco, meat, and alcohol is highly valued, inspired them to make bread that was organic and used non-GMO ingredients. Though these healthy loaves are everywhere nowadays, back in the '70s, organic branding wasn't very popular. Furthermore, "clean" ingredients that were free of many common modifications were difficult to come by at grocery stores. Plus, as with any small business, the bakery simply needed plenty of manpower. As soon as Dahl and his siblings were old enough to work, they put in hours at the bakery to help the business survive (via The Ringer).
But Dahl took a detour before finding his success in the baking industry, experiencing numerous troubles with the law and even serving multiple prison sentences. After spending 15 years in and out of prison, Dahl returned to the family business with a renewed appreciation for baking and a desire to make the bakery the best it could be. According to the Dave's Killer Bread website, Dahl's brother welcomed him back to the bakery with open arms, and in 2005, Dahl brought his unique, meticulously made multigrain loaves to the Portland Farmers Market. Before long, the bread gained its striking name and many fans. Soon enough, the Dahls' company garnered massive success and Dave's cartoon mustache and biceps began gracing supermarket shelves across the country.
Dave Dahl spent a lot of time in prison
Dahl's rebellious streak began at a young age. By the time he was in high school, he had begun drinking, smoking weed, and taking hallucinogens. While some teens stop there, for Dahl, it only got worse. Soon enough, things got so bad that he dropped out of high school and began using methamphetamines. In 1987, he was arrested for the first time for robbing a house (via Willamette Week).
He spent time in prison for several other offenses over the next 15 years. In 1997, he was caught in a drug bust in Portland, Oregon. At the time, he told the cops, "Why don't you just beat me to death and make us both happy?" (via Willamette Week).
One of Dahl's most tragic offenses happened after he had already found success with his bread company. In 2013, Dahl met up with Christopher Dailey, a friend he met in prison who claimed a weekend away was just what he needed to maintain his sobriety. Instead, Dahl shared his alcohol with Dailey and gave him the keys to his car. Dailey's body was found in a field the next day. "I made a dumb move, and the guy never came back and he died," Dave told The Ringer. "I was heartbroken."
If you or anyone you know is struggling with addiction issues, help is available. Visit the Substance Abuse and Mental Health Services Administration website or contact SAMHSA's National Helpline at 1-800-662-HELP (4357).
It wasn't always smooth sailing for Dave's Killer Bread
While young Dave Dahl was spiraling into drug use and crime, his brother, Glenn, took over the family bakery when their father grew too old to run the place. Glenn and Dave weren't always close. But, as his older brother, Glenn often offered Dave help. For example, when Dave was a rebellious teenager, Glenn invited him to live in his house, according to Inc. Though Dave continued to struggle while living with his brother, Glenn gave him a job at the bakery and supported him through his issues.
Glenn hired his brother to mix the dough at the bakery in an attempt to help him get his life on the right track, but Dave, struggling with undiagnosed mental illness at the time, didn't appreciate his efforts. It didn't take long before Dave arrived to work high one day, picked fights with his coworkers, and quit when Glenn confronted him. The situation only escalated from there as, later that night, Dave broke into Glenn's house and stole a gun, destroying pieces of furniture in his wake (via Inc.).
But despite their contentious relationship, when Dave was released from prison in 2004, Glenn again offered him a job at the bakery. This time it somewhat smoother sailing for the Dahl brothers, though they experienced interpersonal issues at the beginning, according to The Ringer. To the surprise of many, Dave became the unexpected powerhouse that propelled the bakery to fame and fortune.
He changed his life from lockup
Dave Dahl was in jail for dealing meth when he began the transformation that would change his life — but Dahl had to hit rock bottom first. "I was 38 years old, in prison, suicidal, trying to figure out a way to kill myself that would work," he told The Ringer. In a desperate attempt to get help, Dahl submitted a written request (known as a "kite" amongst inmates) and sent it to the prison wardens. He hoped for the best, knowing that it could be his last chance to receive the help he needed.
Luckily, the request was received and, soon after Dahl sent his message, the prison psychiatrist prescribed antidepressants to Dahl. Even though Dahl hadn't been diagnosed with a mental illness at that time, it didn't take long for the medication to start having an effect on both Dahl's outlook and behavior. "Everything started working better," Dahl said (via The Ringer). "I started playing guitar and learning quicker." He started taking drafting classes in prison and finally felt some hope for the future, as Willamette Week reports.
Slowly, Dahl began the process of turning his life around. "I hadn't found Jesus," Dahl wrote in his book, "Good Seed" (via Willamette Week). "But I had found a way of living that gave me the strength to leave the needle behind."
He gives back to causes that are close to his heart
According to EdSurge, Dave's Killer Bread calls itself the largest organic bread baker in the United States. Dave Dahl's success was not easily achieved, however. With consideration to his own difficult past, Dahl wanted to give back to people who have struggled through the prison system. This means that Dave's Killer Bread makes a conscious effort to hire people with criminal records, something most companies avoid. Dahl has also spent time volunteering with organizations that help formerly incarcerated people adjust to regular life after their prison sentences, and he has donated money to these companies as well.
One of these companies is Nucleos, a startup founded in 2017 that offers education and training to people impacted by the criminal justice system. "Nucleos gives people a chance to do what I've done in prison," Dahl told EdSurge, referring to the computer-based drafting class he took while incarcerated. "I want to help put other people in that direction."
According to World Population Review, 44% of people who have been incarcerated return to jail within a year of their release. For many of these folks, reintegrating into life outside a prison cell is difficult. That's especially so considering that it can be nearly impossible to find employment, making formerly incarcerated people dependent on friends or family members for support. Companies like Nucleos help bridge the gap between leaving prison and living a thriving, free life.
Dave Dahl still hasn't quit smoking
Dahl's favorite cigarettes are Camel Wides, which he planned to quit in 2018, though he told The Ringer then that their strong flavor is what keeps him coming back. "As long as I'm going to f*** myself up, I might as well do it right and enjoy it," he said. "I've gotta quit, by the way."
Dahl has had plenty of vices over the years, and smoking, the one he hasn't yet kicked, is admittedly amongst the least destructive of the lot. From using meth to robbing homes, Dahl's life has been full of wild experiences that landed him numerous prison sentences. Eventually, after several years in and out of jail, Dahl got clean from other substances and started taking antidepressant medication, which helped him put his energy toward expanding and improving the family baking company and away from self-destructive behavior.
Now his occasional Camel Wides are one of the last vestiges of his former rebellion. Still, Dahl isn't the same man he once was. These days, when he finishes a cigarette, he takes care to throw it away rather than leaving it on the ground and contributing to litter. And when misses the trash can, he picks his butt up off the ground and makes sure it goes where it's supposed to go. "If there's another one there already, I'll pick that one up, too," he said to The Ringer.
Dave's Killer Bread employs felons
According to the company website, Dave's Killer Bread believes in "Second Chance Employment," a policy that encourages hiring managers to give ex-felons a second chance by employing them, an effort that many companies still avoid. Because of Dahl's experience in the prison system, he understands the difficulty of returning to regular life on the outside after being imprisoned. According to Prison Policy Initiative, the unemployment rate among formerly incarcerated people in the United States is more than 27%. In 2019, the national unemployment rate was 3.5% (via US Bureau of Labor Statistics). For context, at the height of the Great Depression, the unemployment rate peaked at 25% (via CNBC). Seeing this, Dave and Glenn Dahl wanted to offer opportunities for folks like Dave who may not have other options.
Even when the Dahls sold 50% of the company to Goode Partners, they remained true to their beliefs. John Tucker, the president of the new brand, reaffirmed Dave's Killer Bread's commitment to their community. "It's really simple," he told SOCAP Digital. "When these people come out of prison, they need to be able to find a living-wage job. If they can't, their chances of succeeding, of turning their lives around, of being positive contributing members of society, are dramatically diminished." Dave's Killer Bread hopes to break the cycle by providing fair wages and rewarding work to people who would otherwise struggle to gain employment because of their criminal record.
Dave Dahl was diagnosed with bipolar disorder
In 2013, after Dahl had established his Dave's Killer Bread brand, he stopped taking the antidepressants that had changed his life when he was in prison. "Your brain plays tricks on you when you start feeling better," Dahl told Mental Health PDX.
It didn't take long for the effect to start taking its toll on the Dave's Killer Bread icon. After a vacation, Dahl returned to work one day and began acting strange, alarming his family and coworkers. A court document obtained by The Ringer states that Dahl was "fixated on a theme of peace, love, and enlightenment, identifying himself with Jesus and Buddha." Dahl also punched a cardboard cutout of the cartoon version of himself that's printed on bread labels and "physically intimidated" employees and customers, according to a 911 call. The arrival of law enforcement triggered a high-speed car chase that ended with Dahl hitting three police vehicles, spending a night in jail, and attending a series of court hearings (via Mental Health PDX).
Dahl later confirmed that he has bipolar I and has struggled with mental health throughout his life. "The lows are horrible, because you just don't believe in anything," he said. "I know there's a lot of people who think I'm a jack*ss." Still, Dahl continues working hard to overcome his obstacles. "I'm a good guy and I want to do good things" (via Mental Health PDX).
He sold Dave's Killer Bread for $275 million
In 2015, the bakery the Dahl family had owned for 60 years was sold to Flowers Foods for $275 million — in cash. According to The Ringer, Dave himself received an estimated $33 million and would later watch as the brand made its way into 22,000 stores across the nation. Though Dahl was excited about the change and welcomed the influx of money, it was tough to say goodbye to the business that had changed his life and bore his cartoon image. He also wanted to make the transition as smooth as possible despite the big shift. "I'm doing my best to be a good example now and watch others take over the company and make it a bigger company and more successful," he told AZCentral.
Luckily, Dahl had built a strong brand held up by a solid moral foundation and Flower Foods was a company willing to uphold similar values. John Tucker, the Flower Foods CEO, vowed to keep the flavors and the prices of Dahl's bread more or less the same. Furthermore, none of the employees lost their jobs in the transition and Tucker promised to maintain the company's dedication to hiring formerly incarcerated people.
Dave relinquished all stakes in the company, saying it was "bittersweet." "It's happening," he said in AZCentral. "And now I'm just going to kick back, and watch it grow and enjoy my life."
He left the baking business to curate African art
After Dave Dahl and his family sold the bakery, he began spending his weekends traveling to garage sales (not that he really needed a deal on lawn chairs after the $275 million sale made him a multimillionaire). At one of them, an African mask happened to catch his eye. Soon enough, Dave threw himself wholeheartedly into collecting similar pieces of art, and before long, he found himself with three warehouses full of African tribal art with origins from across the continent (via Discover African Art).
Dahl attributes this new business venture to a now-familiar pattern in his life. "When I did drugs, I had to sell drugs," Dahl told The Ringer. "When I did bread, I had to sell bread." His obsession with African art came out of seemingly nowhere (as of 2018, he'd never been to Africa), but with some extra money in the bank and nothing else to do, Dahl saw an opportunity. After his initial purchases, Dahl continued studying African art, meeting with art dealers, and collecting more and more masks, sculptures, and furniture.
Though he's passionate about it, the business model isn't particularly sound, according to The Ringer. Many of the items Dahl collects don't necessarily sell, so he sometimes gives them away for free or donates them to charities so they can sell the art for a profit.