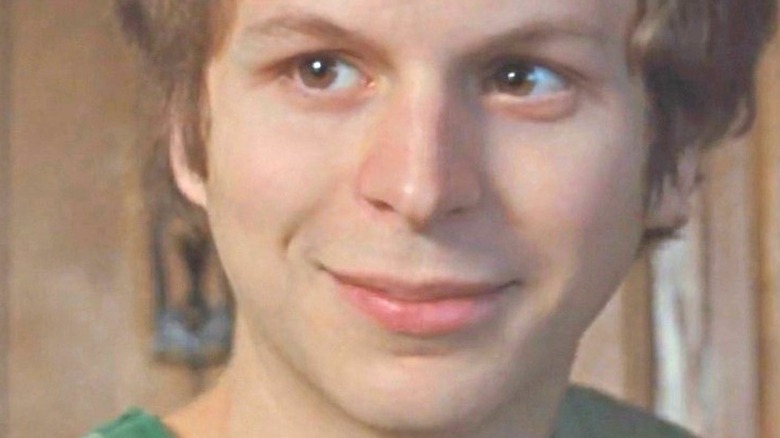 Debuting in August 2010, "Scott Pilgrim vs. The World" was a blow across the chest of pop culture. Combining so many different mediums of artistic expression (video games, music, films, comics, etc.) into one propulsive action/comedy, the screen adaptation of Bryan Lee O'Malley's comics defied easy descriptions even by the standards of director Edgar Wright's masterfully idiosyncratic filmmaking. Though a box office flop, the uniqueness of "Scott Pilgrim vs. The World" has ensured it has endured in the public consciousness, to the point that several lines from the feature have now become common parlance among moviegoers of a certain age. When a movie is this distinctive, it's bound to resonate with somebody.
All those unique qualities inform "Scott Pilgrim vs. The World" and its memorable approach to designing and executing a comic book adaptation. From Wright's perception on how key casting choices were made to what genre of filmmaking inspired the action sequences to even the film's unforgettable San Diego Comic-Con presence, the untold truth of "Scott Pilgrim vs. The World" further reinforces what a one-of-a-kind movie this title has turned out to be.
Michael Cera was the only choice for Scott Pilgrim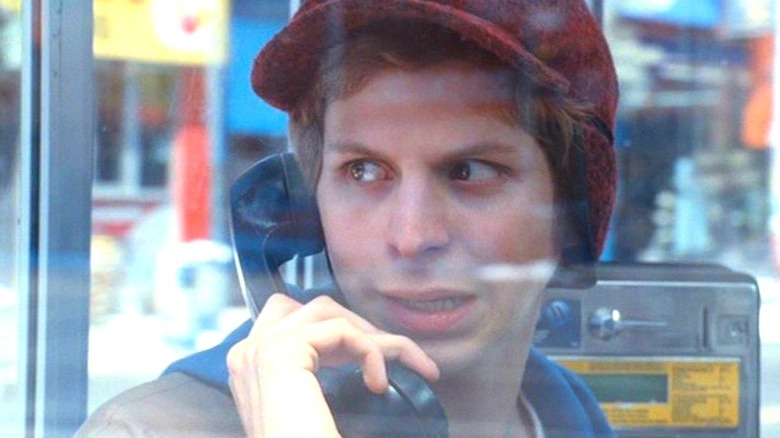 Even with all the famous roles Michael Cera has inhabited, it's still difficult to separate him from his performance as Scott Pilgrim in "Scott Pilgrim vs. the World." Cera's distinctive film persona was just such a perfect fit for this character and his gift for timing means that he's responsible for the best line deliveries in the entire movie. Given how snugly he fits into this role, it shouldn't be a surprise that Edgar Wright always envisioned the part as being one that only Cera could portray.
"Michael was my first and only choice for the role," Wright explained to CinemaBlend in a 2010 interview. "I've been working on this for, like I said, five years and I remember in 2005 writing the first draft of the script and saying to (co-screenwriter) Michael Bacall — we were watching a lot of 'Arrested Development' at the time –- 'Oh, it's a shame that George Michael kid isn't older. He'd be perfect for Scott Pilgrim.' And then cut to 2010 and he's 22 and the character is 22 and we're all good." Wright also noted that another advantage to casting Cera in the part was how it was "fun, entertaining, novelty to see somebody who isn't an action star doing big action scenes. And as a sort of challenge, you know, can we get Michael Cera to a 'Kill Bill' level and stuff? That was it for me. And he was Canadian."
How Edgar Wright took to directing the ensemble cast
Edgar Wright movies often have tons of memorable supporting performances, with the likes of "Baby Driver" or "Hot Fuzz" being two-character stories chock full of unforgettable supporting figures. "Scott Pilgrim vs. the World," meanwhile, has the most packed cast of any Wright feature, with many of them getting developed far beyond just one-dimensional stereotypes. Working with so many performers at once could intimidate some filmmakers, but Wright embraced the chance to work with such a stacked ensemble cast.
"It was great. It's interesting," Wright remarked to CinemaBlend about working with all these actors. "I think with an ensemble — hopefully people watch the film more than once — you can actually start to watch the bit players. Like Kieran Culkin said a funny thing. He said, 'You can watch a completely different film if you just watch Johnny Simmons in every single shot.' Which is absolutely true! If you look at Johnny Simmons in the last shot in the film, which most people don't spot straight away, he does something so stupid in its final shot, and it makes me laugh every time. That's very true to the books. In the books, there's this kind of peanut gallery feel where there's things going on and nothing going on in the background, and the ensemble is always doing something in the books. I tried to pull that off in the film as well."
Edgar Wright wanted no British actors in the cast
"Scott Pilgrim vs. the World" is a departure from other Edgar Wright movies in several key ways, including that the project had a significantly bigger budget than prior Wright works like "Shaun of the Dead." However, another key departure from Wright's other films was that this British-born filmmaker was insistent that there were no British performers utilized in the cast.
"Because this is my first North American film and working with all American and Canadian actors, I actually said to the casting director, I didn't want any Brits doing American accents and I didn't want any British actors in the film," Wright said in a featurette, according to BBC America. "I wanted them to all be American or Canadian." Of course, European talent is so widespread in the acting community that someone from across the pond was bound to sneak onto the cast list for "Scott Pilgrim vs. the World."
"Satya Bhaba, which I found out after he was cast the film…not only is he from London, he also grew up like five minutes from where I live in London," Wright recalled. "So he completely fooled me in the audition, and, fair play to him, because he's fantastic in the film."
Ellen Wong doubted she'd get to play Knives Chau
One of the performances most critical to making "Scott Pilgrim vs. The World" work as well as it does is Ellen Wong's turn as Knives Chau. What could have been a passive performance, the forgettable "other girl" to the more prominent Ramona Flowers (Mary Elizabeth Winstead), becomes unforgettable in Wong's hands. What's especially impressive is that Wong makes sure Chau never lapses into being a mocking caricature. Even when she's having a breakdown over Scott Pilgrim seeing another, older woman, Wong injects a relatable quality into Chau's psyche that makes us fully understand her perspective. Given just how perfectly she inhabited this role, it can be shocking to hear that, initially, Wong was convinced she had no chance at securing the part.
"As an Asian actress, I was never going out for a role like this," Ellen Wong recalled to Entertainment Weekly. "This was not the type of role that I would be able to even look at." Thankfully, for the sake of the overall movie, Wong not only auditioned for "Scott Pilgrim vs. the World" but also scored the part of Knives, in the process ensuring this film would have one of its most important performances.
Wright was pleased with the prominence of women in Scott Pilgrim
"Scott Pilgrim vs. the World" has garnered varying degrees of responses to its approach regarding female characters. However, one objectively true fact about the film is that there are several women in the story beyond Scott Pilgrim's love interests Ramona Flowers and Knives Chau. Played by the likes of Brie Larson and Aubrey Plaza, among others, these characters and their comedic moments are some of Edgar Wright's favorite parts of this production.
"The thing I'm really pleased about with this film, as opposed to some of the other comedies out there — and even stuff I've done before — is that it has a lot of funny women in it," Wright told Collider. "Really a large part of the cast, and even the books are not just about his love life, but his exes and family, and friends. There's this one scene the other day that I would describe as 'the funny lady relay race' … it's just Michael being attacked from all sides from all the different women in the film." Given how the characters played by performers like Plaza and Larson became some of the most beloved scene-stealers in "Scott Pilgrim vs. the World," it's a good thing Wright made time to shine the spotlight on multiple women in the film.
Bryan Lee O'Malley griped about the film's lack of diversity
While a widely acclaimed project, "Scott Pilgrim vs. the World" has, like any movie, not been without some criticism. Most notably, the film has been critiqued for its casting, which largely employed white actors. Among those who have registered grievances with this is Bryan Lee O'Malley, who penned the film's source graphic novels. An author of French-Canadian and Korean heritage, O'Malley has been open about his issues with the eventual casting of the "Scott Pilgrim vs. the World" movie.
"Honestly, when I saw the Scott Pilgrim movie it was kind of appalling to see just how white it was — to not even really see myself represented on the screen," O'Malley wrote on Radio Maru. "At least in the comic they were just cartoons. You can project yourself into a simple drawing of a person so easily; race seems to matter less (look at the global popularity of manga, where everyone is ostensibly Japanese)." He went on to note that the casting of this film was a key influence in his decision to add more diversity to his subsequent works like "Seconds." These comments reflect the complicated legacy of even movies as well-received as "Scott Pilgrim vs. the World."
Edgar Wright's dedication to authentic Canadian locales
American movies filmed in Canada are a dime a dozen, thanks to the country's charitable tax incentives. However, these productions usually use Canadian backdrops to double as other places, including famous American cities. "Scott Pilgrim vs. the World" departed from this norm by taking a cue from its source material and setting Scott's story in specific locations all across Toronto, Canada. To make sure he approached these backdrops properly, Edgar Wright did his homework and committed fully to understanding just where he'd be shooting "Scott Pilgrim vs. The World."
The Globe and Mail noted that "Scott Pilgrim vs. the World" was one of the biggest films to be set in Toronto up to that point. This feat was accompanied by Wright spending countless hours observing the terrain of Toronto and making sure "Scott Pilgrim" would utilize landmarks in the area. "The books are super-specific in their local details," producer Miles Dale explained. "And Edgar Wright, from the beginning, was set on using images from the books. Universal never suggested setting it anywhere else." Committing to this backdrop is emblematic of the specific details that make "Scott Pilgrim vs. the World" such a uniquely entertaining experience.
The hardest action scene to film
The assorted action sequences in "Scott Pilgrim vs. the World" are a masterful blend of visual and auditory elements that required a lot of effort to execute. But one particular action scene turned out to be the most challenging part of "Scott Pilgrim Vs. the World" to film. This was none other than the climactic showdown between Scott Pilgrim and Gideon Graves.
"We were raring along at this amazing pace," Edgar Wright recalled to Entertainment Weekly about the initial vibe during the film's principal photography. "And then there was this final set piece on a pyramid. Suddenly, we slowed down to doing 10 shots in a day, which is very slow for me. I sat there on top of this pyramid, looking down at these enormous platforms being maneuvered around and I thought, 'Whose idea was this?' And it was mine." While the scene itself proved to be exhilarating to watch unfold in a movie theater, it's apparent the complicated sets and choreography made it an enormous undertaking to actually shoot. Thankfully, for Wright and company, all of that effort ended up paying off handsomely since this climactic battle closed out "Scott Pilgrim vs. the World" on an exciting high note.
How that title sequence came about
From the very start, "Scott Pilgrim vs. the World" makes it apparent you're going to watch something special when a performance from the band Sex Bob-omb triggers a visually aggressive opening credits sequence. The names of key cast and crew members are displayed against frantic animation and a wave of colors that clue the viewer in on the kind of visually unpredictable and audacious movie they're about to absorb.
In breaking this sequence down for The Art of the Title Sequence, Edgar Wright revealed several fascinating facets of this segment, including that its very existence came at the suggestion of Quentin Tarantino after the "Pulp Fiction" director saw an early screening of the film. The artists in charge of crafting these opening credits also had to come up with their own unique visuals — they couldn't draw from imagery in either the film itself or the "Scott Pilgrim" graphic novels. It took an enormous amount of effort and craft to pull off such an unusual approach to an opening credits sequence, but the result was something that made "Scott Pilgrim vs. the World" a captivating experience right from the start.
Musicals inspired the action sequences
Music plays a big part in "Scott Pilgrim vs. the World." How could it not? After all, Scott plays in a band called Sex Bob-omb and so many of the film's big action scenes begin with bands performing on stage. But music's influence in this film was not just limited to in-universe performances. The world of musicals also had a significant influence on how Edgar Wright composed the various major action set pieces.
"We thought it should play out like a musical in a way, in terms of the fights are not dissimilar to the songs," Wright said to Collider about the action scenes. "I always thought there were a lot of martial arts films that were like musicals, so we wanted to take that further. Ya know, in a Gene Kelly film when he performs an amazing routine, at the end of the scene no one goes, 'Oh my god, that was f***ing amazing!' The song is about something, and then there might be some dialogue at the end that is also about that theme. And that's kind of how this works where people have these huge fights — and it's kind of like how it is in the books — where everything goes back to normal, and there's a little reaction to what just happened, but there's no sort of mourn the dead."
Coping with Scott Pilgrim's box office shortcomings
In the aftermath of "Scott Pilgrim vs. The World" failing to take the box office by storm, the conversation inevitably turned to what went wrong. One recurring answer as to how such an acclaimed film failed to click with audiences was to look at the film's marketing, which many deemed lackluster and a key culprit in the box office performance. Of course, those who made the film have their own thoughts as to what it was like to advertise such an unorthodox title.
"After the film didn't open well, I realized the thing to do is to take responsibility for it but also just believe in the fact that it was a good film and people would find it eventually," Edgar Wright told Entertainment Weekly in 2020 for the movie's 10th anniversary. "The worst thing you can do [is] the blame game, after the weekend. 'It's something else's fault.' 'It was the day.' 'It was the poster.' 'Oh, the studio decided to do this.' I never did that. Even though people in interviews were always asking me, 'Do you think the marketing was the thing? Or do you think the poster?' The thing is, I realized that it was a film that was difficult to sum up in one sentence. But obviously it was tough at the time."
That iconic Comic-Con panel
"Scott Pilgrim vs. the World" was a movie made by nerds for nerds. So it shouldn't be a surprise that the movie didn't just have a presence at the 2010 San Diego Comic-Con, but was screened in its entirety right after its panel. Even before the film itself was shown though, the panel in the San Diego Convention Center's cavernous Hall H turned out to be one for the ages with its many surprises. These included the presence of former Edgar Wright leading men Simon Pegg and Nick Frost, plus several memorable moments, such as Michael Cera coming out in a Captain America costume – a nod to "Captain America: The First Avenger," which was also showing off footage at the event.
The whole event became so packed with excitement that the Associated Press ran a piece on the event with the headline "Scott Pilgrim Creates Comic-Con Pandemonium." Looking back on that Comic-Con panel, the film's creative participants have nothing but good memories. "That was a huge experience for me," Mary Elizabeth Winstead recalled to Entertainment Weekly. "I had been to Comic-Con before a couple of times, but it was such a bigger version of it when we went for 'Scott Pilgrim.' It just felt like a huge deal. At Comic-Con it felt like it was the biggest film of all time."