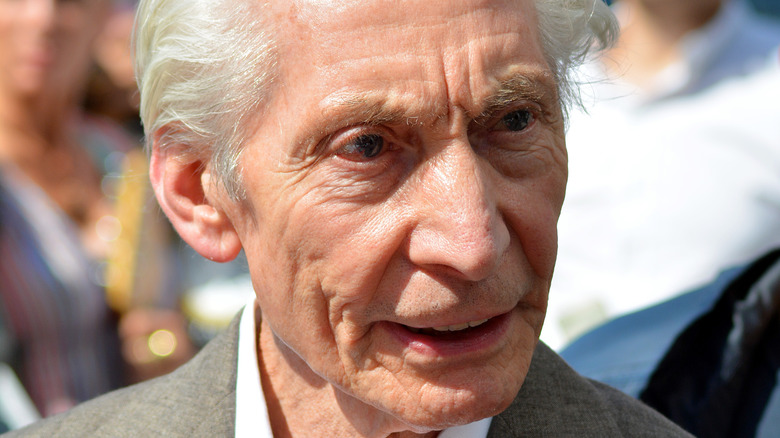 The following article includes mentions of drug and alcohol addiction.
Rock 'n roll forever lost one of its icons when Charlie Watts, the longtime drummer for The Rolling Stones, died at age 80 on August 24, 2021. The musician had "passed away peacefully in a London hospital" and was "surrounded by his family," according to his publicist, Bernard Doherty (via the AP). The beloved musician was further described by Doherty as "a cherished husband, father and grandfather and also … one of the greatest drummers of his generation."
It appears from this statement that Watts lived a full and mostly happy life, not only personally alongside his family, but also as part of one of the most famous rock bands of all time, since replacing the group's original drummer in 1963. "The Stones were just another gig, but then we started touring around England," he told The Guardian in 2013. " … I was waiting to start another job, but I never went back to it." Throughout his decades-long career in music, which earned him an impressive net worth of $250 million, Watts seemed to stay under the radar a lot more than his fellow band members, such as lead singer Mick Jagger and guitarist Keith Richards. And so, for the most part, he avoided a lot of the drama that comes with being a famous rock star.
Yet, Watts did deal with own fair share of problems throughout his career. Let's break down the tragic details about Charlie Watts' life.
Charlie Watts had to pull out of The Rolling Stones' 2021 tour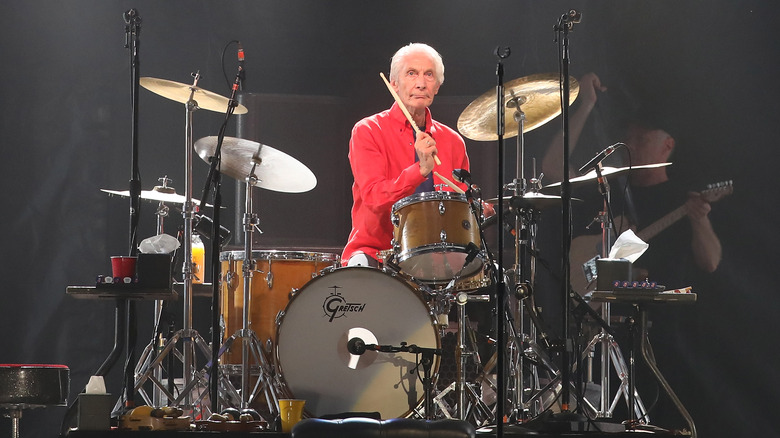 Only a few weeks before his death, Charlie Watts had to pull out of The Rolling Stones' fall 2021 tour of the U.S. due to health issues. The band made the announcement on Twitter on August 5, writing that Watts had an unspecified "procedure" done, and while it was "completely successful," the drummer needed "proper rest and recuperation." The band's spokesperson added, "It's also fair to say no one saw this coming."
As for Watts, while it's safe to assume he was disappointed, he appeared to understand that it was what needed to be done. "For once my timing has been a little off," he said in his own statement. "I am working hard to get fully fit but I have today accepted on the advice of the experts that this will take a while." Watts also made it clear that he was putting his fans first by adding that, in the wake of the COVID-19 pandemic, "I really do not want the many fans who have been holding tickets for this Tour to be disappointed by another postponement or cancellation."
According to Variety, Watts' last show with The Rolling Stones was back on August 30, 2019, when they played in Miami. They also joined the April 2020 "One World Together" livestream with several other celebrities. While Watts' "great friend," Steve Jordan, stepped up to fill in for him on tour, no Rolling Stones concert will ever be quite the same without Watts.
He was diagnosed with throat cancer in 2004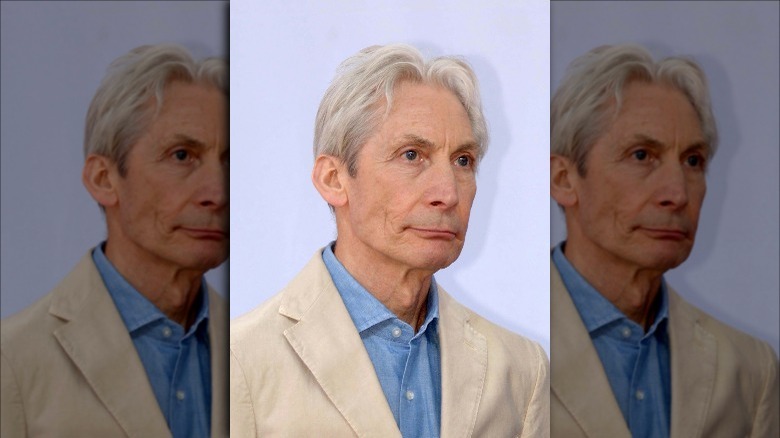 Charlie Watts' undisclosed medical procedure that happened weeks before his death wasn't the only time that The Rolling Stones' drummer faced major health issues. In 2004, Watts was diagnosed with throat cancer. A spokesman for the band informed News of the World that July (via the Independent), "Having been diagnosed with throat cancer following a minor operation in June, Charlie is reaching the end of radiotherapy." Watts had been a smoker, but had quit in the 1980s, and was "expected to make a full recovery and start work with the rest of the band later in the year."
While his prognosis seemed optimistic, Watts was not. The drummer told BBC 6 Music (via Ultimate Classic Rock) that he thought the diagnosis for sure meant death. He revealed that while a surgeon had told him that his tumor was benign, "​​He said we should take it out. … He said, 'You have cancer of the whatever.'" This apparently sent Watts into an understandable panic, as he continued, "That night I thought I was going to die. I thought that's what you did. You get cancer and waste away and die."
Yet, that thankfully wasn't the case for the rocker, who ended up successfully undergoing treatment and later going into remission. Watts told Rolling Stone the following year that he felt "very lucky" that his doctors had "caught the cancer early" on and that, to him, it was "amazing how quickly your body heals."
Charlie Watts dealt with substance abuse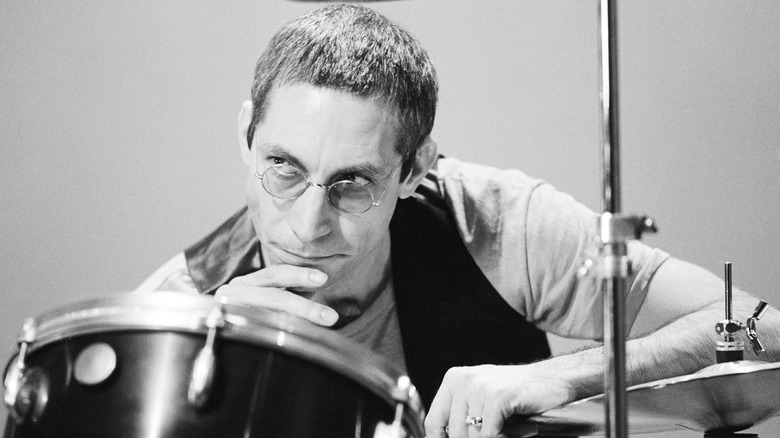 Sadly, like a lot of high-profile rock stars, Charlie Watts dealt with an addiction to drugs and alcohol. Luckily for him, however, that time in his life didn't seem to last beyond the 1980s. "It was very short for me. I just stopped, it didn't suit me at all," Watts told the Mirror in 2012. He elaborated saying, "I drank too much and took drugs. I went mad really. But I stopped it all." The drummer even explained what led him to that decision, which was getting physically hurt: "I broke my ankle when I was playing at Ronnie Scott's so I had to get straight really, so I did."
Substance use was also something Watts' longtime wife, Shirley Ann Shepherd, appeared to be very against. The Rolling Stones star explained to BBC 6 Music (via Ultimate Classic Rock) that while he had a "period of taking heroin," he would make sure to "get off it whenever [he] went home." However, Watts added, "My wife noticed I wasn't the same."
While Watts' bandmates also dealt with addiction, they didn't seem to want Watts using. "I fell asleep on the floor during [the recording of] 'Some Girls' and Keith [Richards] woke me up and said, 'You should do this when you're older.' Keith telling me this!" Watts dished, before going on to say that it "stuck and I just stopped along with everything else." He added, "I was lucky that I never got that hooked."
If you or anyone you know is struggling with addiction issues, help is available. Visit the Substance Abuse and Mental Health Services Administration website or contact SAMHSA's National Helpline at 1-800-662-HELP (4357).
The Rolling Stones' drummer struggled with fame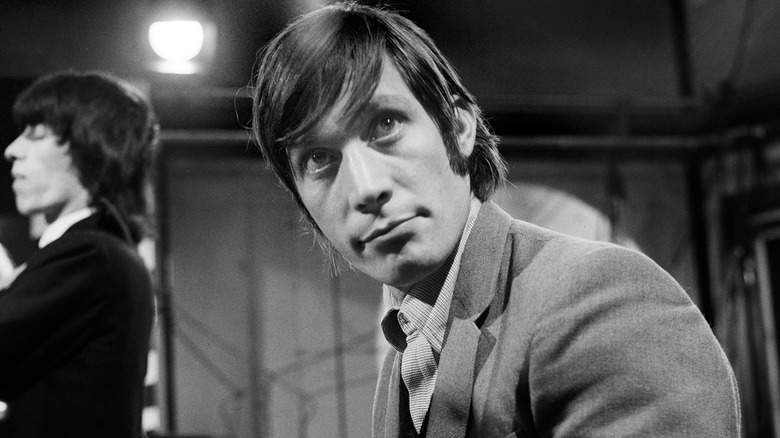 Despite being in one of the most famous bands of all time, The Rolling Stones' drummer, Charlie Watts, had a hard time with fame. The New York Times reports that in the 2001 book, "According to the Rolling Stones," he revealed, "I wasn't interested in being a pop idol sitting there with girls screaming."
Having echoed this sentiment in a 1991 interview with The San Diego Union-Tribune by emphasizing, "I've actually never been interested in all that stuff and still am not," it appeared that Watts, then, was all about the music. He dished, "I don't know what show biz is and I've never watched MTV. There are people who just play instruments, and I'm pleased to know that I'm one of them." Watts also revealed that he had trouble doing interviews, saying, "​​It's nice to talk about things that I love; the only thing is I don't like talking about myself." Watts did point out, though, that other members of The Rolling Stones "are very good at that."
Even when his bandmates were out partying and enjoying their celebrity, Watts would reportedly go back to his hotel room alone after their concerts. He told Rolling Stone in 1996, "I've drawn every bed I've slept in on tour since 1967." Later in life, Watts lived away from onlookers in a rural area of England, where his wife had a horse farm, according to CNN. It's clear that the rock star lifestyle was never for Charlie Watts.
Charlie Watts once had beef with bandmate Mick Jagger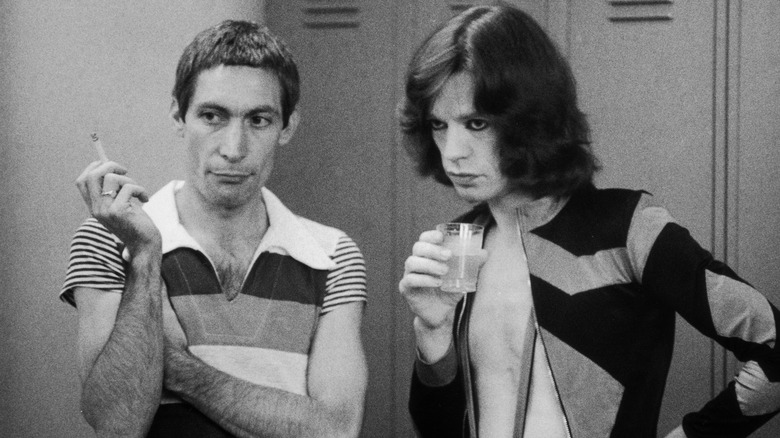 While Charlie Watts and fellow Rolling Stones band member Mick Jagger appeared to mostly have a good relationship, they did sometimes bump heads. At one point in the late 1970s, The Week reports, there was tension between Jagger and the band when the frontman was contemplating going solo. This reportedly led to Jagger insulting Watts to his face.
As Bill German recounted in his "Under Their Thumb" book, "[Jagger said] something like: 'None of this should matter to you because you're only my drummer.'" Watts apparently didn't take that well. German explained that he "kept it bottled inside until he got back to his hotel room," but later "walked down the hall and knocked on Mick's door." When Jagger "opened it," German alleged, "His drummer clocked him on the jaw." Watts even supposedly told Keith Richards in the hallway, "'I've just punched Mick Jagger in the face.'"
While that could have been bad for the band, the duo's friendship, or even ended Watts' career right there, it's clear that these musicians were able to get past their differences. In early August 2021, while Watts was recovering from an undisclosed health issue and had to pull out of their tour, Jagger took to Instagram to offer his support, writing, "We really look forward to welcoming Charlie back as soon as he is fully recovered."
Sadly, of course, Jagger never got the chance, but the two did get to enjoy decades of playing concerts together before Charlie Watts' death.