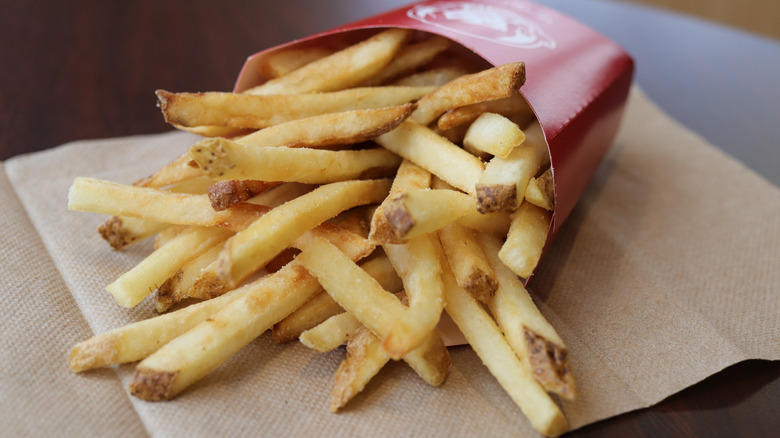 No snack compares to fast food french fries, especially when you've been out and about driving for hours on end. Whether you have embarked on a road trip or just a long day of errands, making a pit stop for a batch of french fries is one of life's simplest pleasures. While there's surely a fry for every person, you can tell a lot about someone's personality by their favorite style of this iconic side.
Wendy's, despite being a huge name in the world of fast food, might be more well-known for its Frosties than fries. It's even possible that you haven't had the opportunity to try Wendy's sea salt french fries for yourself if you frequent McDonald's, Burger King, or Chick-fil-A when you want to get your fry on. Next time you crave a quick drive-thru snack, keep Wendy's in mind and enjoy everything this crispy side has in store for you.
What type of fries does Wendy's have and how are they made?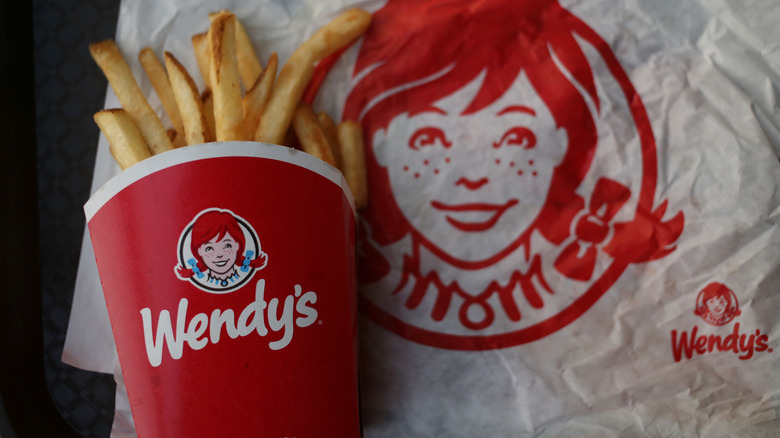 Chick-fil-A has waffle fries, Arby's has seasoned curlies, McDonald's has thin-cut classics, and Wendy's has signature, natural cut, skin-on fries. Slightly thicker than what you might find at other chains, Wendy's fries get seasoned with sea salt and get served extra crispy (via Wendy's).
According to Vox, Wendy's fries use 100% russet potatoes. The potatoes then get cut to shape and cook in vegetable oil until they're golden and simmering. While the french fries themselves don't contain any common allergens, Wendy's notes that the potatoes cook in the same oil as menu items that contain wheat, milk, and fish. If any of those items set off mental alarms, approach this side with caution.
For those who like a no-frills, traditional fry, Wendy's may be your new favorite stop. Right in the middle of thin-cut and wedges, they're a good middle ground and come in four sizes — junior, small, medium, and large, making for plenty of options depending on how hungry you are or how many people you need to serve.
What do Wendy's fries taste like and how are they ranked?
Most critics seem to agree that Wendy's fries don't stack up well when compared with other similar options. Thrillist ranked them as the third-worst fry on a list of 19 options, writing, "They have this odd, barely-present-but-definitely-there artificial taste that seems off, visible flecks of potato skin notwithstanding." Insider also didn't approve of Wendy's take on this side, describing them as "disappointingly bland" and citing an uneven salt distribution. Despite the flaws, the particular critic did note the fries weren't greasy, coming ahead of McDonald's.
On a brighter note, Fast Food Menu Prices also reviewed Wendy's fries and commended the side offering, writing the french fries offered up an earthy, natural flavor that the reviewer found preferable. While Wendy's might not have critics raving, it doesn't mean the fries can't make you happy. What some call bland, others may refer to as simple and if you like a fry that tastes a little more muted, this side item has your name on it.
Are there other variations on Wendy's fries?
It could be easy for some to read reviews of Wendy's fries and immediately turn away. Before you write off these french fries for good, you should know Wendy's has more than just your run-of-the-mill fry for sale. The chain has four different loaded french fry options and unlike other fast food restaurants, you're not restricted to just ketchup as a topping.
According to Wendy's, you can order Cheese Fries, Baconator Fries, Chili Cheese Fries, and Pub Fries in addition to the classic fries. Take your pick from Cheese Fries that come covered in warm, creamy cheese or Baconator Fries that have the same cheese sauce with additional cheddar cheese and applewood smoked bacon. If you want to kick things up a notch, opt for the Chili Cheese Fries, which build upon the standard Wendy's fry and add hearty chili to the mix. The Pub Fries resemble the Baconator with cheddar cheese and bacon. Instead of a cheese sauce, Pub Fries come coated in a beer cheese sauce. After throwing these toppings on, it'd be pretty hard to call these french fries bland.
Are Wendy's fries nutritious?
It's a fair question to wonder how Wendy's fries stack up to the french fries found at other restaurants. According to Wendy's, a small order of the regular fries at the chain has 270 calories, with 210 milligrams of sodium, 13 grams of fat, and 2 ½ grams of saturated fat. Comparatively, a small fry at McDonald's has 220 calories, 180 milligrams of sodium, 10 grams of fat, and 1 ½ grams of saturated fat (via McDonald's). A small serving of fries at Burger King has 320 calories, 476 milligrams of sodium, 14 grams of fat, and almost 2 ½ grams of saturated fat (via Fast Food Nutrition).
While there are small differences from one brand to another, Wendy's fries aren't really in a different nutritional ballpark from any other french fry. With a bit of discipline, anyone can fit this snack into their diet.
How much do Wendy's fries cost and how can you order them?
While the cost varies depending on the size, Wendy's fries are priced low and easy to get ahold of. According to Real Menu Prices, a small order of the side costs $1.69, a medium goes for $1.99, and a large comes in at $2.19. If you want some cheese fries or other loaded options, each variation starts at $2.19.
French fries are such a standard part of Wendy's menu and ordering them couldn't be easier. You can grab them at any Wendy's restaurant when you place an order at the drive-thru window or at the register. Feel free to even use the Wendy's app to place a mobile order, so your meal will be ready right when you pull into the parking lot (via Wendy's). You can also order the fries as a side without having to order a sandwich, and for a true treat, it's been said that Wendy's fries are best enjoyed dunked in a Frosty (via Taste of Home). With a versatile side like this, make Wendy's your number-one stop next time you get a craving for some quick fries.