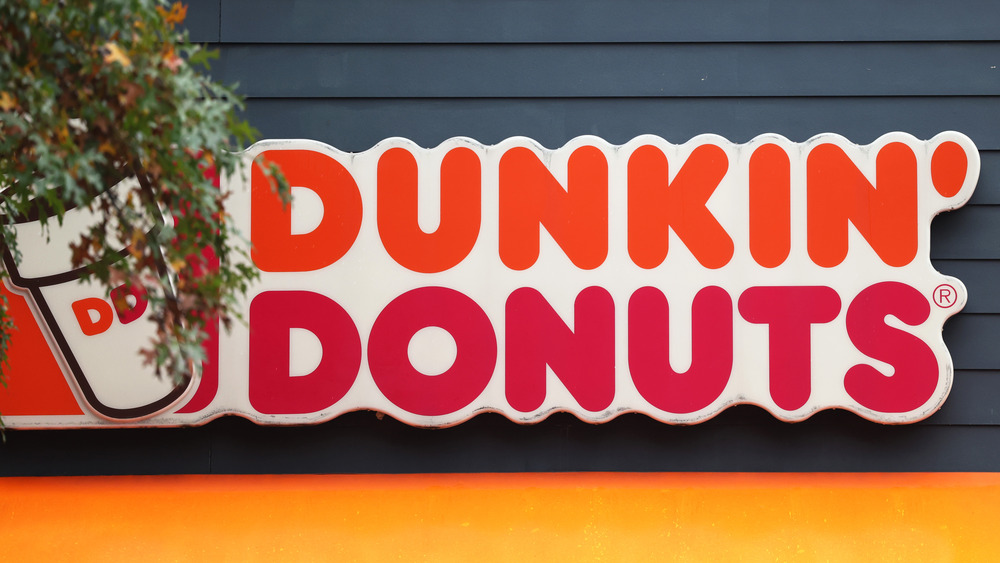 What don't you know about Dunkin's Beyond Sausage breakfast sandwich? First, a primer on its star ingredient, Beyond Meat. The meat alternative is one of the most popular on the market these days. By using pea protein, mung beans, fava beans, and brown rice, Beyond Meat is able to emulate the flavor and texture of sausage, and pack in up to 11 grams of protein per serving — all while still remaining entirely plant based (via Beyond Meat).
Beyond Meat was established in 2009 with a mission to "positively impact four growing global issues: human health, climate change, constraints on natural resources, and animal welfare," per their website. Soon, it was a plant-based favorite, raking in $407 millions in revenue in 2020, with consistent annual revenue increases yearly since 2017 (via Macro Trends).
Customers love Beyond Meat for its uncompromising values, great taste, wholesome ingredients, and nutritional benefits. All Beyond Meat products contain no gluten, soy, or GMOs, and are completely hormone and antibiotic-free. No wonder it's a fan favorite!
This is where Dunkin's Beyond Sausage breakfast sandwich was born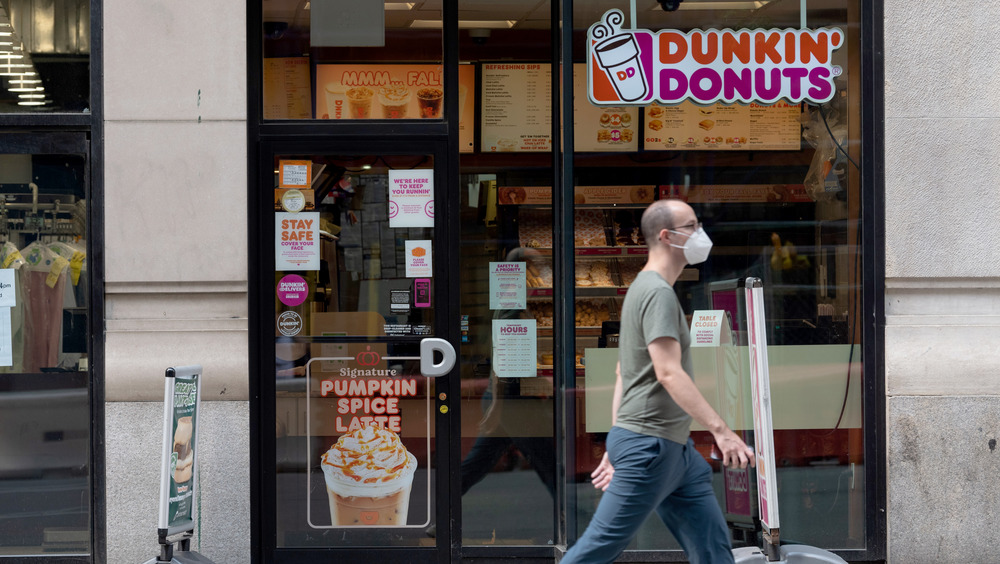 In the summer of 2019, when Dunkin' Donuts decided it was beyond time to get into the plant-based market, Beyond Meat was an obvious choice for a partner. The doughnut purveyor immediately turned to Beyond Meat to help them release the new vegetarian Dunkin' Donuts and Beyond Meat menu. "Beyond Meat has earned the national spotlight for its innovative products and for creating incredible awareness and excitement for the benefits of plant-based meat," David Hoffmann, Dunkin' Brands Chief Executive Officer and President, said of the decision (via Beyond Meat). "We are proud to collaborate with this industry leader to become the first U.S. restaurant chain to serve a Beyond Breakfast Sausage option."
In July 2019, Dunkin' Donuts rolled out a limited release of the Beyond Sausage breakfast sandwich in their Manhattan locations. The new sandwich featured a plant-based Beyond Sausage breakfast patty seasoned with sage and black pepper, topped with a fried egg and American cheese on an English Muffin.
The initial release of Dunkin's Beyond Sausage breakfast sandwich was a huge success
As if offering a vegetarian breakfast option wasn't enticing enough, Dunkin' Donuts was also able to pack all that savory flavor into a breakfast sandwich that had "29 percent less total fat, 33 percent less saturated fat and fewer calories, cholesterol and sodium" than a traditional breakfast sandwich, according to the Dunkin' Donuts Blog.
Additionally, Beyond Meat Founder and CEO Ethan Brown was sincerely excited about the release of Dunkin's Beyond Sausage breakfast sandwich. "Dunkin' is truly an iconic brand and part of the fabric of so many communities," he proclaimed in a statement obtained by PR Newswire. "Partnering with them as the first U.S. restaurant chain to serve Beyond Breakfast Sausage represents not only an exciting moment for both of our companies, but a big step forward in making plant-based meat accessible and easy to enjoy, even while on-the-go."
The Dunkin' Beyond Sausage breakfast sandwiches were an instant hit, and soon, Dunkin' Donuts fans were clamoring for it to be a regular menu item at all locations nationwide.
Both Beyond Meat and Dunkin' were thrilled to take the product nationwide
By October of 2019, Dunkin' Donuts decided to go national with the Beyond Sausage breakfast sandwich. "Dunkin' is the brand that democratizes trends for America, and this latest addition to our menu gives consumers more choice to meet their evolving needs," Hoffman said of the decision in a statement, according to PR Newswire. "As we continue to transform our brand, we're proud to use our platform to give everyone the opportunity to enjoy the great taste and benefits of plant-based protein."
Beyond Meat was equally proud of the partnership, as well as pleased about the expanded release of Dunkin's Beyond Sausage breakfast sandwich. "We're excited to introduce the Beyond Sausage Sandwich nationwide and in doing so, offer an option with fewer calories, less total fat, saturated fat, cholesterol and sodium, while delivering more protein and iron than a comparable pork sausage sandwich," Brown added. "We are excited that everyone who runs on Dunkin' now has the option to make a delicious plant-based sausage sandwich part of their day."
Dunkin's Beyond Sausage breakfast sandwich is an environmentally-friendly choice
Customers who order Dunkin's Beyond Sausage breakfast sandwich can not only feel good about the personal health benefits, but also about making a choice that benefits the health of the planet. The reason? Plant-based protein not only contains less saturated fat and cholesterol than meat, which is good for people, but it's also been shown to be far more environmentally-friendly than traditional meat products. Manufacturing plant-based protein uses less land, water, and energy than beef cultivation, thus reducing the negative climate impact caused by greenhouse gas emissions, while also improving animal welfare (via Beyond Meat). To that end, the success of Dunkin's Beyond Sausage breakfast sandwich was an important step in the right direction to help Beyond Meat and Dunkin' Donuts deliver on their goals for a more environmentally-sustainable future.
While the Beyond Meat patties themselves are vegan, customers should note that the Beyond Sausage breakfast sandwich does contain eggs and cheese. However, as Beyond Meat notes, customers can order their sandwiches without the toppings for a vegan-friendly option.
Dunkin' now has over 20 vegan offerings on their menu
Dunkin' Donuts has since expanded their vegan offerings even further, introducing oat milk in 2020 and adding avocado toast to their menu as well. These items join their existing vegan options, like their hash browns, English Muffins, oatmeal, and cinnamon raisin, plain, everything, or sesame flavored bagels. Per Dunkin's blog, they now have over 20 menu items that are vegan or can be made vegan, including most of their drinks — like their cold brews, Refreshers, Coolatas, lattes and macchiatos — which can be made vegan with an almond or oat milk substitution.
So while historically, fast food chains haven't offered the most vegetarian- or vegan-friendly fare, the times are changing, and Dunkin' Donuts has been on the forefront of that change. The breakfast chain now has many delicious offerings to satisfy people with all kinds of dietary preferences. And with their menu growing and expanding every year, it's worth keeping an eye on Dunkin' Donuts to see what new items they may offer their plant-based customers.