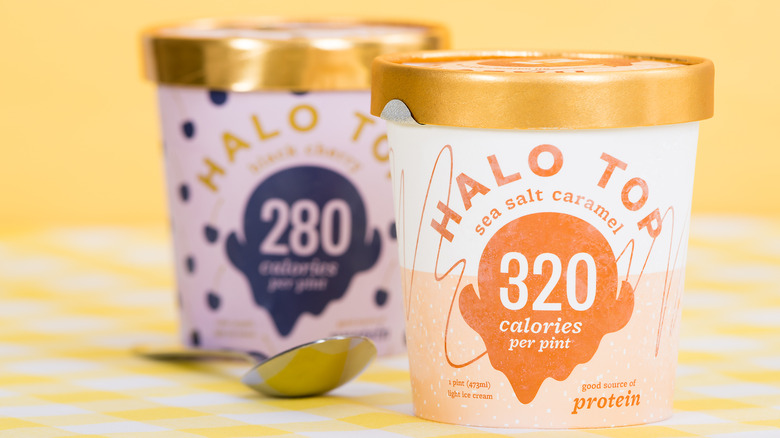 Usually, when you think of snacks, the first options that come to mind are budget buys like old-school candy bars, classic chip varieties, ice cream, and baked goods made from scratch. Nowadays, however, the snack food category has grown to include far more niche fare that you may or may not have heard of in your culinary travels. Whether these newfangled munchers cater to individuals with particular dietary restrictions and consumers chasing the latest trends or are simply made with higher quality ingredients, they tend to share a common theme: The cost of admission is far higher than your standard snack pick.
To be clear, there is absolutely nothing wrong with splurging on a snack since it is, of course, the best meal (or meals) of the day. But we all have our spending limits, after all, and it doesn't hurt to be mindful of how your snack habit could be impacting your budget. Below we've highlighted some pricey treats across the full snack spectrum — from fancified brownies and chocolate bars to alternative jerky and ice cream pints — that just aren't worth the investment.
Moon Cheese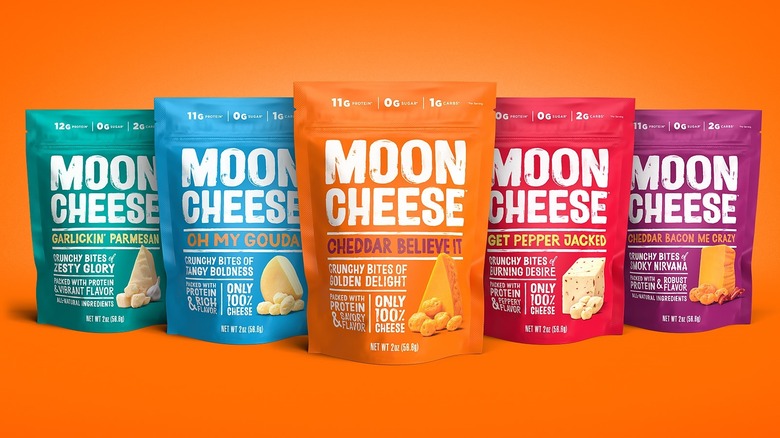 The crunchy, moon-rock-shaped snack known as Moon Cheese checks plenty of boxes. It's made with 100 percent cheese (perfectly suited for the keto set) and is shelf-stable, which means you don't have to worry about mold rearing its ugly spores any time soon. The protein and calcium content in the bag are high, too, while the carbs and sugar are low. Plus, the flavor names, which include Get Pepper Jacked and Oh My Gouda, are delightfully, well, cheesy. And despite the healthy snack label, they taste great — think maximum queso Cheetos without all the guilt and messy cheese dust.
But there is a dark side to Moon Cheese. Once you realize how much cheddar a bag of Moon Cheese costs, it'll bring you back down to earth. A 10 ounce "large size" bag will set you back $14.99. Smaller options are even more expensive considering the relative weight of the total snack, though you can at least save 10 percent by joining the Moon Cheese Crunch Club.
With a price tag so sky-high, we'll just stick with Chester Cheetah's preferred food source. Well, unless someone like Elon Musk is picking up the tab.
Sugarfina Gummies
Considering the exorbitantly high price of Sugarfina gummies, it would make perfect sense to assume that they're prepared with a certain Snoop Dogg and Seth Rogen-approved ingredient that shall currently remain nameless. But while there may be smoke, there is definitely no fire on that front. Well, if that's not the case, perhaps there's something else in there. Since some of the most popular offerings have names like Rosé All Day Bears and Champagne Bubbles, you might think that you're spending that extra money for a boozy infusion. Nope. All of Sugarfina's candies are non-alcoholic and completely kid-friendly.
So why are these gummies so dang expensive? Given that they're sumptuously supple and full of juicy flavor, they are absolutely better than your average gummy bear. But the main reason people are willing to pay a premium is likely for the full package, namely the little clear cube that houses Sugarfina's confections. It's certainly a classier alternative to your run-of-the-mill bag, especially if you plan on serving candy at a swanky event. But for general snacking purposes, it simply ain't worth the upcharge for a piece of plastic that is just going to end up in the garbage or recycling bin immediately after you polish off your sweets.
Round Swamp Farm Lisa's Brownie Bites
Just like Ina Garten and Tate's Bake Shop, the little culinary center known as Round Swamp Farm is yet another culinary superstar to emerge from the Hamptons. The always crowded market offers several enticing made-in-house specialties, but the brownie bites courtesy of baker Lisa Niggles are the main attraction. The sinfully fudgy squares successfully evoke the decadence of their Gatsby point of origin. Unfortunately, they have a price to match that might hurt your wallet unless you also have a mansion-sized budget. Plus, getting your hands on them brings up another Hamptons theme: traffic. Writing about Round Swamp Farm, Vanity Fair noted the market's "snaking lines" the come right along with the "eye-popping prices."
As for that first issue, there is a workaround. You can get the brownie bites shipped to your door — but only if you happen to have a New York address. If you don't live in the Empire State, don't be too disappointed, though. Sending away for this treat will set you back $29.99 (plus shipping) for a minimum of two packages of Lisa's sweet treats. Eye-popping, indeed.
Until Round Swamp Farm takes a cue from Tate's and makes a major retail push, you're better off getting your brownie fix locally or, better yet, making a batch from scratch.
Edamame
It wasn't that long ago that edamame was a relative rarity on the menu of stateside Japanese restaurants. Of course, nowadays, the salted pouch of green soybeans is as much of a fixture on the table now as sushi and tempura.
Its popularity can be easily explained. There is no doubt edamame is a healthy and shareable pre-meal snack. Plus it's fun to eat. Slurping those soybeans and enjoying their sweet nutty flavor and semi-soft texture is a pretty satisfying experience for the diner. But for the restaurant, the benefits are even greater. Edamame itself is super cheap, as there is nothing else to preparing the dish beyond steaming the beans and adding a sprinkle of salty seasoning. It's the perfect combination of big margins plus minimal effort (the kitchen staff doesn't even have to shuck the pods!) which is why servers often nudge a table to order it. With all that in mind, paying several bucks for a small bowl of edamame while dining out isn't worth it, especially since you can make a quick and simple batch at home for mere pocket change.
Pepperidge Farm Farmhouse Thin & Crispy Cookies
Ah, good old reliable Pepperidge Farm. Beyond being the source of a popular meme, the supermarket aisle legend has been cranking out tasty baked goods for the last several decades. While it may be most notable for producing the iconic Goldfish, it's also the brand behind a number of quality cookie varieties such as the classic Milano and hefty Chunk options that include the nutty Sausalito and the soft-baked oatmeal Mackinac.
One of Pepperidge Farm's latest cookie additions is the Farmhouse Thin & Crispy line. Introduced in 2017, these throwbacks are exclusively made with no more than a dozen real ingredients. While that looks good on paper, the cookie ultimately comes up short, with many complaining of an unpleasant grainy mouthfeel. Unlike some of the options on this list, Farmhouse cookies won't cost you an arm and a leg, but they aren't exactly a budget buy either. And considering the similar but far superior Tate's craft baked cookies are in the same price range, this is a Pepperidge Farm option that simply isn't worth the dough.
Halo Top ice cream
If you are an ice cream fan (who isn't?), you've probably noticed an influx of low-calorie pints taking up precious real estate in the supermarket freezer aisle. Well, you have Halo Top to thank, or perhaps lambast for that trend. Over the last few years, this "diet" ice cream has become a massive phenomenon that offers a multitude of flavors, each less than 400 calories for the entire pint.
Sounds too good to be true? Pretty much. Let's start with the presumed health benefits compared to your standard ice cream. Healthline noted that, while Halo Top is comparatively low in calories, neither is it a nutrient-rich powerhouse. And as for that magic calorie count, well that's largely a lot of hot (or rather cold) air. According to Time, you should really be paying attention to the weights, given that a pint of Halo Top is only a little more than half the weight of a pint of Ben & Jerry's. It's no wonder it's easy to down the whole shebang in just one or two snacking sessions.
As for the taste, it's no surprise that lowering the fat content and swapping a portion of sugar for the sweetener substitute stevia results in an admittedly inferior flavor and texture. If you're going to pay premium ice cream prices, you're better off just sticking with the real deal and simply consuming your ice cream in moderation.
Compartés chocolate bars
If you're not already familiar with Compartés, you may want to just skip ahead for the sake of your waistline and your wallet. The over 70-year-old Los Angeles-based chocolatier has been a longtime celebrity favorite with huge name fans including everyone from Marilyn Monroe and Elvis Presley to Gwyneth Paltrow and Tom Brady which is a particular achievement considering the dude rarely eats sweets that aren't made with avocados, according to Sports Illustrated.
The stunning art deco packaging is a company signature but it's what is tucked away inside the wrapper that truly entices most folks. Compartés is well known for incorporating add-ins into its high-quality cocoa. Offerings such as the California Berries and Pink Elephants chocolate bars wow the eyes as well as the taste buds. But is it worth an average of $9.95 a bar for the experience? Not quite, especially when there are equally mouthwatering (though perhaps not as visually appealing) chocolate bar options like Theo and HU, which you can typically snag for half the price.
Macadamia nuts
The meaty, buttery macadamia is arguably at the summit of the nut hierarchy and unfortunately, you're also going to have to pay a king's ransom to enjoy them. Granted, the hefty price tag is certainly warranted. According to Business Insider, it takes up to a full decade for an individual tree to start producing the nuts, making the whole process agonizingly slow and therefore pretty darn expensive.
Even with that in mind, the cost, which can be upwards of $20 a pound, is a little too nutty for our tastes. If you happen to be heading home from the Maui airport and forgot to buy a gift for your loved ones, then by all means, grab some macadamias. And for a batch of white chocolate chip cookies or for an occasional indulgence, we're on board too. But as an everyday snack, we're happy to just slum it with almonds, peanuts, and pistachios.
gimMe Seaweed Snacks
Nori has long been a sturdy co-star in the world of Japanese cuisine, often spotted playing the wrapper role in sushi rolls like maki. But roasted seaweed can also shine solo when it comes to snacking. Combining a pleasant oceanic funk with a supple crunch, it hits all the right flavor notes, especially with a sprinkle of sea salt or a light dusting of sweet teriyaki or spicy wasabi seasoning. It also happens to be low in calories, packed with vitamins and minerals, vegan, gluten-free, and, in the case of gimMe seaweed snacks, USDA certified organic and non-GMO.
But snagging some nori from gimMe Organic will also cost you a lot of green. A single pack will set you back only $2.00 or so, which seems reasonable until you realize that's only for a measly .35 ounces of seaweed. (Just to confirm, that decimal point is, in fact, in the right place.) Per pound, that comes out to nearly $100! To be fair to gimMe, seaweed snacks across the board carry a hefty price tag, but it's still hard to justify that price tag when you do the math. If you're craving a seaweed snack, we definitely recommend buying in bulk in order to maximize the bang you get for your buck.
Garrett Popcorn
Chicago's own Garrett Popcorn Shops has been a local favorite since 1949. But it became an international sensation in 2002 when the popcorn purveyor received an endorsement from Windy City legend Oprah Winfrey after the company's oversized tins appeared for the first of many times on her Favorite Things List. According to CNN, the surge in interest definitely boosted sales, though it proved tough for Garrett employees to keep up with the demand at first. It's since become a go-to gift from many an aunt and uncle and we certainly don't object to having a massive haul of flavored popcorn delivered to our door.
Garrett's large, crunchy kernels definitely impress and the company's signature sweet and savory duo of CheeseCorn and CaramelCrisp offers a highly munchable one-two flavor punch. But for $33 a bucket (and that's the small version) it's simply not a snack that we're inclined to order for ourselves on the regular.
Far be it from us to second guess an Oprah-approved snack, but if you're enjoying popcorn at home there is no reason you should be paying movie theater prices, at least not all the time.
The Coconut Cult Yogurt
Taking a cue from the craft ice cream explosion (via New York Times), the yogurt industry is branching out far beyond your basic Dannon and Yoplait fruit blends. Whether it's thick and tangy Greek yogurt or Icelandic skyr, made from cow's or goat's milk, dosed up with acai or strawberry there are options aplenty for yogurt that covers a wide range of costs.
At the tippy top of that price bracket is the appropriately named brand known as The Coconut Cult Yogurt. This variety is chock full of probiotics (25 billion a serving, according to the brand) and covers plenty of other food trends and dietary needs — it's vegan, organic, dairy-free, and soy-free. If that all sounds appealing, brace yourself, because there is a good chance the price will leave a sour taste in your mouth. A 4-pack of 8-ounce jars retails for a jaw-dropping $78. The questionably named "budget pack" does over a better value: 8 jars for a mere $132. That's a lot of Instagram influencer revenue that has to be made in order to cover those costs. Like virtually every cult, this is yet another one we'll be avoiding.
Lesley Stowe Raincoast Crisps
These small-batch fruit, nut, seed, and herb studded crackers are at the top of their class. We're talking whole grains, no preservatives, and all-natural flavors up in this crisp. Raincoasts are so fancy that the pack day, batch number, and unit number are printed right on the front of the box. That type of luxury comes at a hefty price, however, which is basically around the cost of a freshly baked boule from a high-end bakery.
And sure, Lesley Stowe makes a mighty fine product, perhaps even the best in the biz. But for snacking purposes, a cracker ultimately takes a back seat to its topping, be it cheese, meat, produce, or all of the above. Essentially you're paying Ted Lasso money for a Coach Beard product. And as much as we love Coach Beard, he simply ain't Ted Lasso. Our advice: don't blow your budget on the second fiddle and use those savings to invest in some top tier queso.
Wild Joy Goods Banana Jerky
There is nothing wrong with vegan jerky. In fact, we're huge fans of the Shark Tank-approved Pan's Mushroom Jerky which rivals its beefy brethren with a satisfying chew and tantalizing blast of umami flavor.
Banana jerky, however, ain't exactly our cup of meat. On one hand, you have to hand it to the marketing department at Wild Joy Goods who decided to eschew the boring old "dried fruit" moniker for a term that's far more buzzy. Perhaps if this was a better product we would be more forgiving but the reviews are far from enthusiastic. And yet, considering its increasing shelf real estate at Whole Foods, there is certainly still a fan base for the stuff.
Whether you opt for a superior meatless jerky, a more inexpensive dried fruit option, or some fresh bananas which cost less than a buck a pound versus the whopping $2 an ounce for these shriveled 'nanas, there are plenty of better (not to mention cheaper) snack alternatives out there for you to enjoy.
Justin's Peanut Butter
First things first: Of course, peanut butter is a snack. Few things are more satisfying than spooning into the jar and then making a beeline directly to your mouth. And while there is room for debate whether to go chunky or smooth, there is no denying that classic brands like Skippy and Jif more than adequately fulfill our peanut butter needs.
Yet, there is always room for more competition and Justin's is, without a doubt, a welcome addition to the crowded space. Each jar of the classic version contains only two ingredients: dry roasted peanuts and palm oil. (You can also opt for flavored versions that contain all-natural additions such as maple, honey, and coconut.) And yes, the streamlined approach results in, dare we say, a superior peanut butter product. As for the economic aspect of the comparison, though, is it three times better than the competition? For the price, our childhood faves still get the edge.