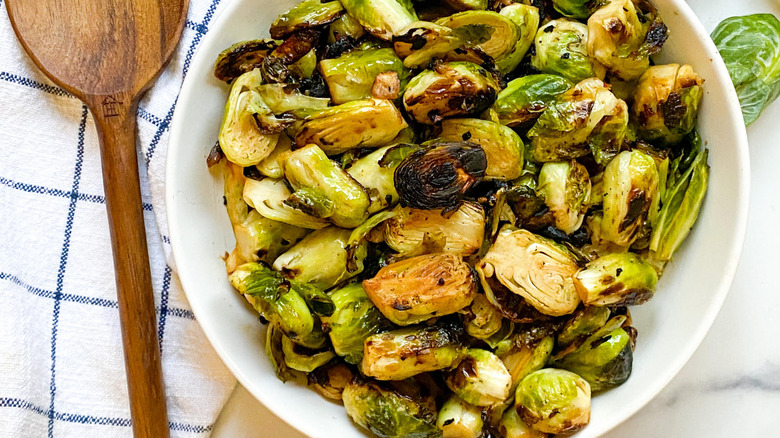 If you have tried them with an open mind and you think you simply don't like Brussels sprouts, then there are three possible explanations as to why.
The first is that, with apologies, you or whoever is cooking them is doing it all wrong. Overcooked Brussels sprouts can be a soggy mess, while undercooked Brussels sprouts can seem like a wild veggie you really shouldn't be eating.
The second possibility is that you have not, in fact, tried this vegetable since the 1990s, the decade in which, according to NPR, a team of Dutch scientists and farmers worked together to identify some heirloom varieties of the vegetables that were less bitter and more flavorful than the options sold almost everywhere at the time and revived much tastier versions of the food.
As for the third possibility, maybe you really just don't like them. If you closely follow this recipe from chef and recipe developer Miriam Hahn of YouCare-Selfcare, you'll know for sure, because it yields some mighty tasty veggies, and it's "super easy," says Hahn. So grab a good sharp knife, a cutting board, a cast-iron pan (or any good skillet) and a few classic ingredients and let's get cooking so we can find out!
Gather your ingredients for these panfried Brussels sprouts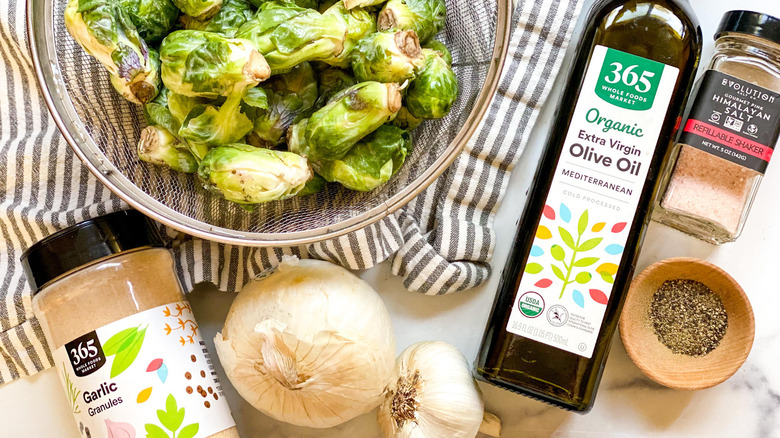 If your kitchen is stocked with standard stuff, then really the only thing you'll likely need to make these panfried Brussels sprouts are — you guessed it — the Brussels sprouts themselves. Aside from the veggies that are the main player, the recipe calls for some olive oil, half a white onion, a couple of cloves of garlic, a bit of water, some salt, some garlic powder, and some black pepper.
Want a bit more excitement? "Red pepper flakes would be a delicious addition for some heat," Hahn says, "and you can use broth [instead of water] to add a little more savory flavor."
Prep the Brussels sprouts
Start the recipe off by rinsing the Brussels sprouts well under cool, running water. Then prep the Brussels sprouts by cutting off the stem and cutting each sprout in half lengthwise. The outer leaves will become loose; discard these leaves and the stems (ideally compost them) and then, if you see any dirt on the trimmed pieces, rinse them again.
"The only thing to watch out for is if you have huge Brussels sprouts, you may need to cook [them] longer, or you could always quarter them," Hahn says.
Cook the onion and garlic
Heat a cast-iron skillet (or a sturdy stainless steel or nonstick pan or Dutch oven that's stovetop safe) on a stove burner on high heat. When the pan is hot, add the oil and sauté the onions and garlic for about three minutes, and then add in the Brussels sprouts.
Let them cook on medium high heat for 10 minutes undisturbed, then stir the pan and let the veggies sit for another 10 minutes at the same heat.
"If you like them charred and want more char, you can cook them on high a little longer," Hahn says.
Add the water or broth and simmer until tender
Now it's time to add the water or broth to the pan and lower the heat to low. "This allows the sprouts to steam and finish cooking on the inside without getting too charred," Hahn says. Simmer them for another five to 10 minutes, or until the Brussels sprouts are tender.
Next, add the salt, garlic powder, and pepper (black pepper and red pepper, if you're using it) to the Brussels sprouts in the pan, stir everything well, and then it's time to serve. And if you're looking for serving ideas, Hahn says: "I serve these with everything from pasta to sandwiches."
Got leftovers? "They store well for up to five days in an air tight container in the fridge," she adds. "I usually reheat in the oven or the stove, [or] if you have an air fryer, you can throw them in there to reheat if you don't feel like turning on the oven."