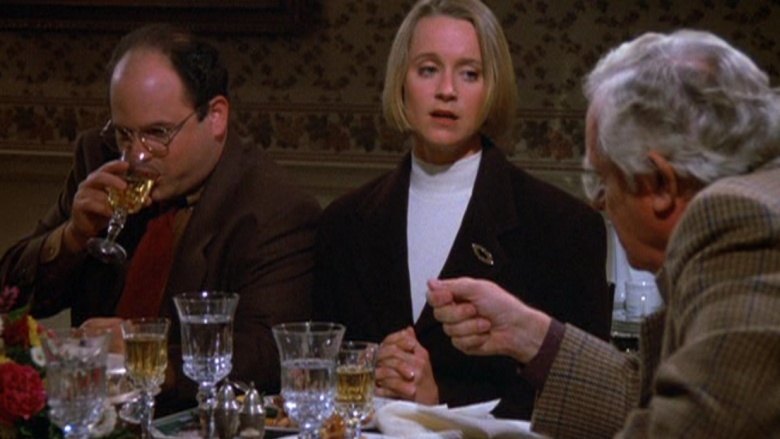 Producers kill off TV show characters for a number of reasons. For example, an actor or actress might be difficult to work with, and show brass and co-stars want to get rid of them with very little chance for a comeback. Sometimes it's no hard feelings at all, and just business — the show may need a major character to die in order to pack an emotional wallop and sustain the interest of a dwindling audience. Or, it could just be that it was part of the story's long-term plan all along.
While we'll probably never know the reasons for the death of every single character who has ever died on a TV show, some stories from behind the scenes just couldn't stay under wraps. Here are some of the most scandalous reasons why some well-known characters on well-known TV shows kicked the fictional bucket.
Prue Halliwell – Charmed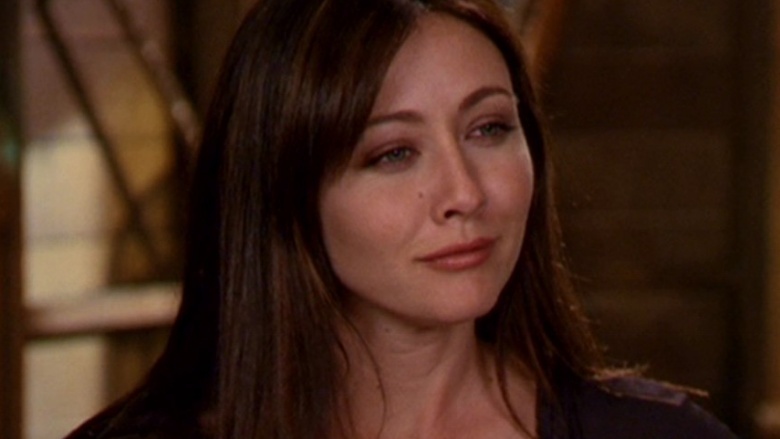 Shannen Doherty is arguably better known for being difficult to work with than she is for her acting. Her feud with co-star Jennie Garth on Beverly Hills, 90210 led to her dismissal from that hit show. After Tori Spelling witnessed "like a fistfight" between the two co-stars, she asked her father, 90210 producer Aaron Spelling, to axe Doherty. Her character, Brenda Walsh, moved out of the show's sunny zip code.
Just a few years later, however, Aaron Spelling surprisingly cast Doherty in another project, the WB supernatural drama Charmed. History repeated itself: Doherty quit the show in 2001 amid reports of a feud with co-star Alyssa Milano. Doherty told Entertainment Tonight that her actual reasons for departure were "too much drama on set and not enough passion for the work." Onscreen, the fates of Charmed witches Prue (Doherty) and Piper (Holly Marie Combs) were left unclear with a third-season-ending cliffhanger. When season 4 began, it was revealed that Piper lived, while Prue didn't.
James Evans, Sr. – Good Times
There weren't many shows about working class people or African-American families on TV in the early 1970s, which is part of what made Good Times such a welcome arrival upon its debut in 1974. The show's entire dynamic changed, however, in 1976, with the episode in which Florida Evans (Esther Rolle) reads a letter informing her of the death of her husband James. What most people don't know about this devastating moment is that John Amos, who played James, was as surprised to hear of his character's death as anyone — he'd just been told his services would no longer be needed on Good Times. In an interview with the Archive of American Television, Amos has since opened up about why he was fired from the popular sitcom, saying he had issues with the show's direction. "I felt too much emphasis was being put on J.J. and his chicken hat and saying 'dy-no-mite' every third page," argued Amos, referring to breakout star Jimmy "J.J." Walker and his catchphrase, "when just as much emphasis and mileage could have been gotten out of my other two children." Of course, Amos admits that he "wasn't the most diplomatic guy" and probably approached producers the wrong way.
Chef – South Park
South Park has long offered screen time to the exploration of many faiths and religions… in order to take satirical jabs at them, that is. In the early seasons, Jesus Christ was a character who lived in the show's sleepy mountain town and hosted a cable access talk show, and over South Park's two-plus decades on TV, creators Trey Parker and Matt Stone have knocked around Judasism, Islam, Mormonism, and even Atheism. But the time they took on the Church of Scientology, the faith system popularized by science fiction writer L. Ron Hubbard and followed by a gaggle of high-profile celebrities such as Tom Cruise and John Travolta, well, that was too much for South Park cast member Isaac Hayes.
The soul music legend voiced Chef for nine years, and quit the show when he felt the episode "Trapped in the Closet" savagely mocked his religion: Scientology. "There is a place in this world for satire, but there is a time when satire ends and intolerance and bigotry towards religious beliefs of others begins," Hayes said in a statement. Nine days after Hayes quit South Park, the show addressed the Chef problem. After revealing that he'd been brainwashed by a sex cult called the Super Adventure Club, the show killed off Chef in a gruesome fashion — he catches fire, falls off a bridge onto jagged rocks, is impaled on a branch, and devoured by a bear and a lion.
Dr. George O'Malley – Grey's Anatomy
T. R. Knight left Grey's Anatomy in 2009 after five seasons with the extremely popular medical soap, despite the fact that his character, shy, innocent, lovelorn young doctor George O'Malley, was a fan favorite. (Not to mention that the role earned Knight an Emmy nomination in 2007.) Knight told Entertainment Weekly that he thought something was up with the show's first nine episodes of the 2008-09 season: He landed only 48 minutes of screen time, less than half of colleague Sandra Oh. Rather than ask his boss, producer Shonda Rhimes, just what was happening, he walked away instead. "My five-year experience proved to me that I could not trust any answer that was given," he said. "And with respect, I'm going to leave it at that."
Perhaps he angered Rhimes, what with the horrific way the show killed off George: He's hit by a bus, admitted to the very hospital where he worked, and, after his doctor friends finally recognize him, he's pronounced brain-dead and passes away. Couldn't George have just decided to stop being a doctor and work as a barista or something?
Ana Lucia Cortez and Libby Smith – Lost
From the outside, it may appear that Lost characters Ana Lucia Cortez and Libby Smith (portrayed by Michelle Rodriguez and Cynthia Watros, respectively) met their ends due to bad P.R. from offscreen misbehavior. During the middle of the show's second season, both actresses were arrested on suspicion of drunk driving on December 1, 2005 after failing field sobriety tests. Not long after, both characters died, and both at the hands of Michael Dawson (Harold Perrineau).
In actuality, the arrests didn't affect the show at all. In an interview with TV Guide, Lost co-creator Damon Lindelof said that the characters' deaths had already been written, and, in the case of Ana Lucia Cortez, out of necessity: Michelle Rodriguez only wanted to do one season of the show. "She wanted to do one kickass arc, as she described it, and we basically started to wrap our brains around her energy and say, 'Yeah, we'll bring you on the show and then we'll kill you off at the end of the year.'" However, her character also happened to die at the same exact time as Watros' Libby Smith, a mere coincidence regarding the actresses' offstage arrests. "Basically then we said, "Oh, s***. Both Michelle and Cynthia were busted the same night for DUI and we've got this story point coming up where they essentially both get shot at the same time, so it's going to look like this is the Lost producers attempt to say, 'Don't drive drunk!'"
Susan Ross – Seinfeld
Seinfeld could often be callous and cruel — that was the appeal of the show, what with characters stealing bread from old people, versus the sickly sweet antics of contemporary sitcoms like Full House. The show outdid itself in a 1996 episode when it killed off a major recurring character, simultaneously shocking viewers and relieving George Costanza (Jason Alexander). His fiancée, Susan Ross (Heidi Swedberg) died at the end of the seventh season, having ingested a toxic amount of glue from licking super-cheap wedding invitation envelopes (the ones George picked out).
Apparently, George, who'd wanted out of the engagement, wasn't the only one happy to hear the news of the character's death. In an interview with Howard Stern (via The Hollywood Reporter) several years later, Alexander revealed that Swedberg was difficult to work with, but not in the traditional sense. "Her instincts for doing a scene, where the comedy was, and mine were always misfiring." Alexander explained that he'd then recalibrate his acting to match Swedberg's. "And I'd adjust, and then it would change."
And he wasn't the only one on set who felt that way. Alexander related how his costar Julia Louis-Dreyfus agreed with him, casually remarking, "Don't you wanna just kill her?" Once writer Larry David heard this, that was the end of Susan Ross.
Eddie LeBec – Cheers
Poor Carla Maria Victoria Angelina Teresa Apollonia Lozupone Tortelli LeBec (played by Rhea Perlman). Just when it looked like she'd finally found true love with hockey player Eddie LeBec, the poor doofus went and got himself killed. While Cheers was generally one of the more mature, reserved comedies on television during its 11-year run, the writers scratched their wacky itch when it came time to kill Eddie and unveil the aftermath of his death. He's killed in a bizarre Zamboni accident, setting up a wacky chain of events that led to Carla meeting Eddie's secret other wife during the funeral. The character's demise seemed to entirely come out of left field and with more sour grapes than a bottle of wine that Frasier Crane would adore. In 2006, Cheers writer Ken Levine revealed on his blog just why they killed off Eddie LeBec — and in such a perplexing way.
Thomas, who also worked as a radio DJ, responded to a caller who asked him how it felt to act on Cheers. "It's brutal," Levine recalled Thomas quipping. "I have to kiss Rhea Perlman." That got him fired, and it got Levine and writing partner David Isaacs to compose the Eddie LeBec death episode.
Lawrence Kutner – House
While House had its lighter moments (like how Dr. House savagely mocked even his closest friends), it could get pretty dark too. One example: the fate of eager diagnostic medicine fellow Lawrence Kutner. The character had to make a hasty exit when his portrayer, Kal Penn, embarked on a political career of sorts partway through the show's run in 2009, taking a job with the brand-new Obama administration. His official job: associate director of the White House's public liaison office.
Not wanting to pass up the opportunity to wring a bit of drama out of his departure, the show's writers opted to have the Kutner character commit suicide. Chilling as that end may have been, it seems that there were no hard feelings between the actor and the showrunners. Penn came back to reprise his role as Kutner for House's series finale in the form of a hallucination.
Mrs. Wolowitz (a.k.a. Howard's mom) – The Big Bang Theory
Even though we never saw her face, we all know her voice. Debbie Wolowitz was a mainstay of the hit CBS series The Big Bang Theory. Mrs. Wolowitz joined Charlie from Charlie's Angels and Carlton the Doorman from Rhoda in the canon of heard-but-never-seen TV characters. She never appeared onscreen, merely shouting at Howard (Simon Helberg) from across their house in a booming, raspy New Jersey accent. Her never being seen became one of Big Bang's signature running gags, as writers could make up all kinds of physical traits for Mrs. Wolowitz that they'd never have to actually show; she apparently had a mustache and a neck that measured 43 inches around.
A real person voiced Mrs. Holowitz, of course, and that was late character actress Carol Ann Susi. She died of cancer at age 62 in November 2014. Mrs. Wolowitz passed away (offscreen, in her sleep) in a February 2015 episode of The Big Bang Theory.
J. R. Ewing – Dallas
The only character to appear in every episode of the original Dallas, J. R. Ewing was famously shot in the cliffhanger episode "A House Divided," which left America wondering "Who Shot J.R.?" all summer. Though he survived that assassination attempt (Kristin Shepherd, J.R.'s mistress and sister-in-law, was to blame), a second shooter finally felled the infamous oilman during the second season of the series' 2010s revival on TNT. While that plot twist could have served as a shocking and clever callback to the original show's most famous moment, writers had to include it out of necessity. Larry Hagman, who played J.R. Ewing on both iterations of the series, lost his battle to cancer in November 2012. Dallas 2.0 was still in production, forcing the creative staff to both explain his sudden absence while also hurriedly writing the character off the show. The end came with "The Furious and the Fast," which aired several months after Hagman's death, and used pre-existing footage to cobble together his character's exit story. So who shot J.R. that time? In classic soapy, Dallas fashion… J.R. did, sort of. His top lieutenant Bum (Kevin Page) later revealed that J.R. had cancer, and that he asked Bum to steal a gun from rival Cliff Barnes (Ken Kercheval) to frame him.
Tuco Salamanca – Breaking Bad
Who knows how many Breaking Bad viewers found the sheer intensity and violence of Tuco Salamanca to be too much to handle? Joining them in their extreme discomfort: actor Raymond Cruz, who played the character on four episodes of the classic series, up until Tuco's death at the hands of crusading DEA agent Hank Schrader (Dean Norris). Essentially, actor Raymond Cruz, who portrayed the psychotic drug dealer, found the character very draining to play. He explained in an interview with Washington's WTOP in 2015, saying, "I wasn't sad to see Tuco go, because it's such a hard part to try to pull off. What you're watching is condensed. That's days and days of shooting scenes for 12 to 14 hours. It's a lot of hard work. It's so physically, emotionally, mentally draining, so when they finally killed him, I was happy." Cruz clearly harbored no ill will at the show's creative staff, or even his character, because he returned to the role for Better Call Saul, the Breaking Bad prequel series.
Brian Griffin – Family Guy
Family Guy has done countless shocking things over its 300-plus episodes — being shocking is kind of its thing. But maybe the most audacious moments came via "Life of Brian," a November 2013 episode in which martini-drinking, novel-writing, talking dog Brian Griffin dies after getting hit by a car. The Griffins are understandably gutted, and they tentatively accept a new dog named Vinny into the family. But then, two episodes later, Brian returned. This left viewers wondering: if the producers were going to bring the beloved character back so soon, why kill him off at all? According to show creator Seth MacFarlane, Brian's death was something of an experiment. "We thought it would create a little bit of a stir," MacFarlane said at a Television Critics Association press tour (via Entertainment Weekly). "It did what it was designed to do — it reminded people this is still a show where anything that can happen despite the fact it's been on for awhile." (Also, Family Guy is a cartoon, where the laws of life and death don't have to apply.)
Charlie Harper – Two and a Half Men
The tabloids could barely keep up with Charlie Sheen in early 2011. Not long after leaving drug rehab, Sheen partied in Las Vegas for a weekend with an adult film star and then returned to rehab; Two and a Half Men thusly (temporarily) shut down production After Sheen denied any problems on The Dan Patrick Show, Two and a Half Men creator Chuck Lorre gently mocked Sheen on his title card during an episode of his sitcom ("If Charlie Sheen outlives me, I'm gonna be really p*****.") That set Sheen off, who went on The Alex Jones Show to call Lorre a "charlatan" and alarmingly appointed himself the "new sheriff in town." CBS then went ahead and ended production on Two and a Half Men for the season. Sheen then pubicly wished Lorre "nothing but pain in his silly travels especially if they wind up in my octagon."
When the show returned in fall 2011 for season nine, Sheen was out, and Ashton Kutcher was in. As for his character, womanizing jingle writer Charlie Harper, he died offscreen, reportedly hit by a train and eulogized in an onscreen funeral. (Of course, the show's final episode in 2015 featured a Sheen lookalike playing Charlie Harper, revealing that he hadn't really died at all. And then a piano fell on his head, killing him for real this time.)
Matthew Crawley – Downton Abbey
At the end of Season 3 of Downton Abbey, the will-they-or-won't-they of Lady Mary (Michelle Dockery) and Matthew Crawley (Dan Stevens) was finally resolved when the two were married and quickly became pregnant with their first child and future lord of the manor. Mary went into labor, and after meeting his newborn son, Matthew jumped into a car to share the news—but the car crashed, and Matthew was instantly killed. It was a shocking TV death, but one that had to happen. Dan Stevens had asked to leave the extremely popular period series in order to pursue a movie career—he's been one of the breakout stars of the series and he wanted to cash in on other opportunities. Ultimately, a movie career hasn't really panned out yet—he was in bombs such as The Fifth Estate and The Cobbler. In 2017, he returned to TV, starring in FX's Legion.
Dr. Sweets – Bones
John Francis Daley was part of the cast of Fox's long-running procedural drama Bones from almost the beginning … but not until the end. As Dr. Lance Sweets, Daley played a psychologist and behavior expert who helped the crime fighters of the series in their investigations. Over the years, Daley developed a second career as one of the most sought-after comedy screenwriters in Hollywood, working on the scripts for Horrible Bosses, The Incredible Burt Wonderstone, and Cloudy with a Chance of Meatballs 2. In 2014, Daley was offered the chance to not only write the remake/reboot of National Lampoon's Vacation, but to direct it as well. Daley asked for a few months off from Bones to do the movie, but the writers couldn't think of a good way to explain a prolonged absence. So his character took a bullet from a bad guy and died.
Maude Flanders – The Simpsons
Just like live-action actors, voice performers have to renew their contracts every few years. The cast of The Simpsons has gone through some major re-negotiations over the years—in 1998, Fox threatened to replace the actors rather than meet their salary demands. Things have worked out every time for the main cast, but not for Maggie Roswell. From the show's beginnings in 1989 until 2000, she provided the voices for several secondary Simpsons characters, including do-gooder neighbor Maude Flanders. At the beginning of the 1999-2000 season, Maude suddenly started making fewer appearances. When she did appear, her voice was different—Roswell had been replaced. In a February 2000 episode, Maude was killed in a shocking and ridiculous fashion—she fell off a grandstand when she was shot by a T-shirt cannon. So why the replacement and then the send-off? Fox said Roswell quit The Simpsons because she didn't want to commute from her home in Denver to Los Angeles for recording sessions anymore. But according to Roswell, it's because she asked for a pay raise.
Will Gardner – The Good Wife
Josh Charles was a huge part of why The Good Wife turned in such compelling drama each week—his character, Will Gardner, was a brilliant attorney in the show's courtroom scenes, and he was also a foil and romantic interest for Alicia Florrick (Julianna Margulies). That and the fact that The Good Wife didn't usually contain a lot of violence meant it was pretty shocking when Will was brutally shot in a courtroom scene in a 2014 episode. But creators Robert and Michelle King didn't have any animosity toward Charles. Before the 2013-14 season began, Charles knew his contract would be up, and he let the Kings know that he'd like to move on at the end of the year so they could actually plan an explosive exit for Will. "I was just ready to kind of move on," Charles said on The Late Show with David Letterman. As for his character's death, "I think it was great for the show and also I think was a proper goodbye to the character, so that was special."
Adewale Akinnuoye-Agbaje – Lost
One of the biggest new shows of the 2004-05 season was also among the most innovative: ABC's time- and mind-bending desert island sci-fi adventure series Lost. Many of its cast became instant stars on the way to the show winning the Emmy for Outstanding Drama Series. Other actors on the show didn't enjoy the process of making the series at all. Adewale Akinnuoye-Agbaje, for example, who played the mysterious and conflicted Nigerian priest/thug Mr. Eko, left the series in Season 3. Why? Well, Lost filmed in Hawaii, and while this might be hard to believe, Akinnuoye-Agbaje hated living in Hawaii. He asked to leave the show, and long-term plans for Mr. Eko were abruptly halted. The character was killed off, a victim of "the Monster."
Harrison Wright – Scandal
Character deaths were a semi-regular occurrence on Scandal. Anyone who got caught up in the high crimes and political machinations of Olivia Pope (Kerry Washington) and her relationships with the First Family instantly saw their lifespan decrease by a few years. Helping her help high-powered individuals were fellow fixers, or "gladiators," including Harrison Wright (Columbus Short). Like so many other Scandal standouts, he went and got himself killed by Olivia's evil father Eli Pope (Joe Morton), a top-secret CIA operative. At the end of season three of Scandal, Harrison finds out Eli killed the president' son, and, well, he knew too much to live.
In April 2014, just two days after the episode aired, Short assured viewers that his character was really dead: He'd quit the show. After enduring a series of legal problems (including a bar fight and charges of spousal battery, according to TMZ), Short admitted on Access Hollywood Live (via New York Daily News) that he'd left Scandal due to a cocaine issue. "I had a lot on my plate, and you know, I was using unhealthy ways to kind of self-medicate and deal with a lot of heavy stuff in my life," Short said. He added that Scandal boss Shonda Rhimes allowed for him to be written out so that he could "get my stuff together."
Valerie Hogan – Valerie
In 1986, NBC nailed down Emmy-winning Rhoda and The Mary Tyler Moore Show star Valerie Harper's return to television. The vehicle: Valerie, a very much of the time family sitcom about working mom Valerie Hogan raising three rambunctious boys. It was a pleasant enough, innocuous show… until it killed off the title character. She died offscreen in a car accident between season two and season three, and in September 1987, the newly retitled Valerie's Family (and then The Hogan Family) found her widower and kids dealing with the aftermath. Also, Sandy Duncan had joined the cast as Aunt Sandy, a live-in mother figure.
Why such a sudden and brutal departure for Valerie Hogan? Because Valerie Harper wanted more money. In the summer of 1987, she lobbied production company Lorimar Television for a bigger salary. It refused, so Harper didn't show up to film the first episode of season three. Both sides then reached what they thought was a deal, until Harper sat out shooting in protest once again. Lorimar fired Harper from her show — and publicly announced that they'd kill off her character — and then filed a $70 million breach of contract suit. Harper countersued for the same thing, requesting $180 million in damages. Ultimately, a jury sided with Harper and awarded her $1.4 million.
DeDe Pritchett – Modern Family
Even after more than 30 years, Shelley Long is still best known for her role as Diane Chambers on Cheers, a character and show she famously left in 1987 for a film career. She never did become an A-list movie star, but found one of her biggest gigs in a long time with the recurring role of DeDe Pritchett, the emotionally and geographically distant mother of Claire (Julie Bowen) and Mitchell (Jesse Tyler Ferguson) on Modern Family. Long prominently bowed out of this show, too, although this time it wasn't her idea — the Modern Family writers just wanted to explore the effects of death on the family unit.
Before the beginning of Modern Family's tenth season in 2018, show co-creator Christopher Lloyd told Entertainment Weekly that before long, a "significant character" on the show would die. "We do deal with a death, which is certainly a topic that families have to deal with." Indeed, on the show's Halloween episode, Claire gets a call from her stepfather, and she, along with viewers, learns that DeDee Pritchett died in her sleep.