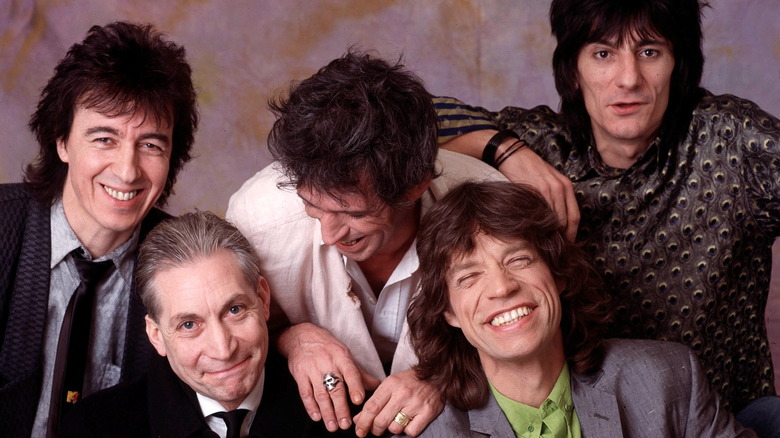 The Rolling Stones have been an icon of rock since they first got together in 1962. That's a lot of decades for a regular, everyday sort of non-celebrity couple to be married… and we're talking about a rock 'n roll group made up of very different and very creative personalities, plus Keith Richards, who's just an extra dose of everything.
When a group's been around that long, it's safe to say that there will have been some major changes along the way. That includes the loss and replacement of key members, but here's the surprising thing: Not only has the core of the Rolling Stones remained the same, but there are fewer former members than you might expect. There are, too, some longtime fixtures that haven't been around lately.
As the decades rolled on, members have come and gone, both in the studio and on tour. So, what happened to all of the former members of one of rock's biggest groups?
Brian Jones: Gone too soon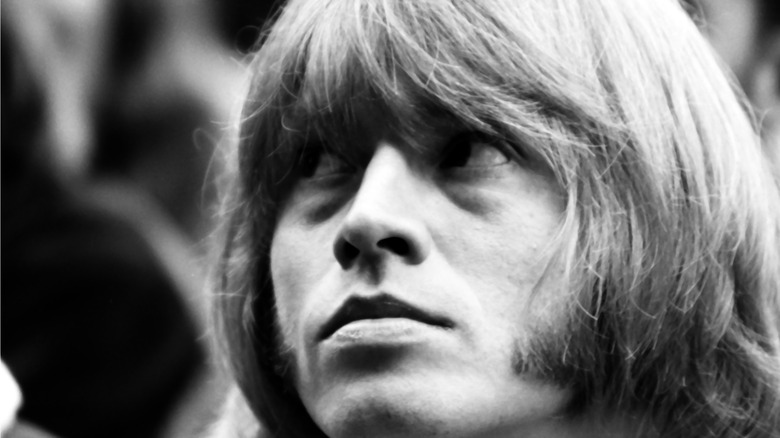 When the Rolling Stones first hit the scene, they were revolutionary — and it was Brian Jones who defended them to the naysayers, to the press, and to the jazz musicians who didn't want these upstarts playing in their clubs.
Life as a Rolling Stone was chaotic, and Jones' life in particular was filled with drug charges and pressure. He announced — amid major conflict — that he was leaving the band on June 8, 1969. According to Rolling Stone, he said, "I want to play my own kind of music." He never got the chance.
On July 3 — less than a month later — his body was discovered in his pool. The official cause of death was "drowning by immersion in fresh water associated with severe liver dysfunction," which the inquest shortened to "misadventure."
Exactly what happened is one of rock's long-standing mysteries. Three other people were there that night: Jones' girlfriend, Anna Wohlin, and friends Frank Thorogood and Jenny Lawson. The three friends later said that Jones's speech had been "garbled" before he'd gotten in the pool, and while headlines played up the alcohol and drug angle, some people had different ideas about what happened.
A 2020 documentary "Life and Death of Brian Jones" looked into long-whispered claims that Thorogood (who has since died) either killed Jones, or was guilty of at least manslaughter and death via negligence (via Variety). Efforts to reopen the case have been unsuccessful, and questions remain.
Ian Stewart: The forgotten Rolling Stone
The Scotsman calls Ian Stewart the "forgotten" bandmate, and that's legit: It wasn't until 30 years after his death that the newspaper was reporting on his recognition by the Scottish Music Awards.
Stewart was one of the founding members of the group, and was brought in after answering a 1962 help wanted ad placed by Brian Jones. Stewart was only on the official line-up for about a year, though, and was booted out by then-manager Andrew Loog Oldham. Oldham claimed that there were too many people in the band, and the burly Stewart was the odd man out as he just didn't look like he fit in.
Still, he continued to perform with the Rolling Stones for another 20 years. In addition to playing strings on studio albums, he went on the road, too. He acted as a tour manager and a sessions manager up until his untimely death in 1985.
Stewart was in the waiting room of his doctor's office when he had a heart attack and died almost instantly. Rolling Stone says he was there for a regular checkup and a follow-up on an old lung issue, and he was just 47 years old. Stewart — who drank moderately, didn't partake in drugs, and loved scuba diving and steam trains — was credited as being the guy who got the whole thing started.
The Scotsman reports Keith Richards as saying, "The Rolling Stones are only here because of Ian Stewart. … I still have so much affection for the man."
Mick Taylor: Revolutionizing the revolutionary
Mick Taylor joined the Rolling Stones after the departure of Brian Jones, and according to Far Out, he was a huge part of the reason the Stones went from pop to critical acclaim with albums like "Exile on Main Street" and "Sticky Fingers." Charlie Watts called that period in Stones' history "a creative peak," but Taylor's time with the group wrapped up in 1974.
He officially walked away from the group on December 12, 1974 (via UCR), and his reasons were complicated. For starters, he was the younger newcomer and as such, always felt out of place. He'd later say: "Towards the end of my time with the Stones, it became very laborious, and monotonous, and a lot of people around the Stones seemed to drag them down and hold them back, and obviously, certain people's addiction to drugs didn't help."
Taylor later said that his own experiences with heroin were enough to put the finishing touches on his desire to leave. He went on to found another group with Jack Bruce, and to a career in his own right.
Although Mick Jagger suggested conflict with Keith Richards played another part in Taylor's departure, it seems there's at least minimal hard feelings there. Taylor continues to perform, and in 2013, he rejoined the Stones for their 50th anniversary tour. When Richards talked about the tour, he said (via Contact Music): "We have the added beauty of keeping Mick Taylor with us as well this time."
Ian McLagan: Innovative keyboardist, longtime friend
Keyboardist Ian McLagan (left, with Ronnie Wood) is more heavily associated with the bands Small Faces and the Faces, but he had a massive impact on some of the Rolling Stones' most popular songs, too. That's not entirely surprising: His band became the Faces in 1969, when he was performing alongside Rod Stewart and Ronnie Wood. That group split in 1975, and according to the Guardian, that's when he joined Wood in the Stones.
That's him on the electric piano on "Some Girls," says Rolling Stone, and that's definitely not the only place he showed up after the Faces dissolved. He went on to become a massively in-demand session musician — appearing alongside artists like Bruce Springsteen, Joe Cocker, Chuck Berry, Jackson Browne, and even on Keith Richards' non-Stones projects.
McLagan died on December 3, 2014. His unexpected passing came after he suffered from a massive stroke, and tributes poured in for not just his music and his group, the Bump Band, but for his unwavering kindness.
Tony Chapman: Not pictured
Tony Chapman was an early, early member of the Rolling Stones. How early? When Time did a piece on musicians who left bands before they became big, they didn't even have a photo for Chapman with the Stones. That's because he left in 1962 — before they even recorded anything.
He was, however, one of the six-member lineup that Brian Jones dubbed the Rolling Stones, and he did have a long-lasting impact: he's the one who invited Bill Wyman along for the ride.
Chapman wasn't keen on the musical direction the Rolling Stones were going in, and found them a bit too experimental for his tastes. When he left, he stayed in the music world and ultimately founded the Preachers — which would later include Peter Frampton. Music historian Bruno Ceriotti tells a slightly different story, and says that he was fired when the Stones discovered Charlie Watts.
His longtime friendship with Wyman led to the Stones' bassist producing the Preachers' debut and recording several of the songs he'd written, but when that group broke up in 1966, Chapman faded into obscurity.
Charlie Watts: Rolling Stone staple for decades
Charlie Watts was one of the originals, joining the Rolling Stones way back in January 1963. According to Variety, his last in-concert appearance was on August 30, 2019 — he was 78 years old at the time, and the band was performing in Miami. The COVID-19 pandemic derailed other planned performances, but he did also appear on a livestream with the rest of the band in April 2020.
When the Rolling Stones went back on the road in August 2021, it was fully assumed Watts was going to be where he always was: behind the drum kit. Until… he wasn't. He pulled out of the tour with apologies to fans, writing: "For once my timing has been a little off. I am working hard to get fully fit but I have today accepted on the advice of experts that this will take a while. … I have therefore asked my great friend Steve Jordan to stand in for me."
Just 20 days after his August 4 announcement, news broke that he had passed away. The cause was unspecified, and tributes poured in from across the music industry. From Duran Duran and Elton John to Ringo Starr, Tom Morello, Lenny Kravitz, and John Fogerty, the sentiment was unanimous: Watts was legendary.
Mick Jagger posted a single photo of Watts, smiling and sitting at his drums. Sometimes, a picture is worth a thousand words.
Dick Taylor: From blue boy to garage rock
Taylor was — along with Keith Richard and Mick Jagger — a founding member of a group that was at the time called Little Boy Blue and the Blues Boys. It was 1962, and a lot happened very quickly, says Louder Sound: Jagger and Richards met Brian Jones, and Taylor dropped out of the group to concentrate on art school.
Music wasn't quite done with him yet, though. It was at that school where he met Phil May. They went on to form another group — the Pretty Things — and according to Guitar Exchange, they've since been credited with pioneering (if not inventing) garage rock.
Taylor later said that driving his decision to leave the young Rolling Stones was that he didn't really want to commit to playing only the bass at a time when band line-ups were suddenly expected to fall into regular roles. And it worked out: The Pretty Things ended up being just as long-lived as the Stones, and while they didn't have quite the same popularity, they're still recognized for their vast contributions to the ever-changing shape of rock music.
The band only came to an end with Phil May's death in 2020, and while Taylor says there's no more Pretty Things without May, he also says, "seventy-seven is nowhere near as old as it used to be, so watch this space."
Bill Wyman: 'Have you left?'
Bill Wyman was a member of the Rolling Stones for an impressive 31 years, and when he announced that he was leaving in 1992, the LA Times says the world said a collective, "Wait, what?" In 1994, he met up with Charlie Watts and Mick Jagger for dinner, who wanted to confirm… "Have you left?"
The announcement — and his replacement, bassist Darryl Jones — were made public in 1993, by which time Wyman had already seen it all with the band. That included things like the 1969 Altamont concert stabbing, a time that he called "an awful, awful thing."
What's he been up to since? Firstly, he says there's no hard feelings. "… they didn't want me to leave, but we get on great now. I had 30 years with them, then a really nice divorce and, corny as it may sound, we are still family." (via Ultimate Classic Rock). Wyman rejoined the Rolling Stones in 2012 for the band's 50th anniversary tour, and offstage, he splits his time between homes in London and France.
He remains the Stones' chronicler, and saved memorabilia from throughout their careers — along with journals that allows him to look back at any day, and tell "whether it was raining and everything." He opened a restaurant called Sticky Fingers in London (and filled it with memorabilia), regularly performs with a group called the Rhythm Kings, and has an interest in painting, photography, and archaeology.
Bobby Keys: Unofficial Rolling Stone, official legend
Texas native and saxophonist Bobby Keys was never an official member of the Rolling Stones, but given that he toured with and performed alongside the group for more than 45 years, it's safe to say he paid his dues.
After starting alongside fellow Texan and friend Buddy Holly, Keys was one of the major backup saxophonists throughout the 1960s. He hooked up with the Stones late in the decade, and that's him on "Exile on Main Street," "Sticky Fingers," and "Let It Bleed."
Keys was super regular until one night in 1973: Rolling Stone says that there was a bit of a falling-out when he missed a show, and Keith Richards later found him in a bathtub of champagne with a random woman. His off-stage hell-raising was too much even for them, and Keys became an occasional player rather than a regular.
He was always close to Richards, though — they shared a birthday — and in 1989, Richards campaigned to get him on board in a more permanent way. Mick Jagger absolutely wasn't happy, but the sound made up for it. Keys remained a fixture, but when he missed a tour in Australia, rumors started circulating that he had been diagnosed with cirrhosis of the liver. When Keys passed away in 2014, Richards issued a statement: "I have lost the largest pal in the world and I can't express the sense of sadness I feel, although Bobby would tell me to cheer up."
Nicky Hopkins: Behind the scenes
It was Bill Wyman who called Nicky Hopkins "the greatest rock 'n roll piano player in the world," according to the Independent.
Hopkins, sadly, never toured with the Rolling Stones, as chronic ill health made it impossible for him. He was, however, one of the band's most valuable session musicians, and was crucial to the sound and success of albums like "Exile on Main Street" and "Let It Bleed." In addition to the Stones, he also played with groups like the Steve Miller Band, the Kinks, the Hollies, and the Who. But in spite of all his success in the studio, he never managed to break out and make it as a solo artist — and he did try.
That said, according to the New York Times, session work was absolutely his thing — and he turned down offers to join the Stones (and Led Zeppelin) on a more permanent basis to keep playing with other groups.
Hopkins died in 1994. He was 50 years old, and the official cause of death was reported as "complications from previous intestinal surgeries."
Merry Clayton: Gimme Shelter
While Merry Clayton might not be considered a band member in the traditional sense, her contributions to one of the Rolling Stones' most iconic songs — and the sacrifice she made to sing it — is one that needs to be remembered.
Clayton, says Open Culture, didn't even know who she was going to the studio to meet when friend and producer Jack Nitzsche called her in the middle of the night and asked her to go to the studio for a duet with "some guys in town from England." There were some initial protests, as it was late and Clayton was extremely pregnant at the time. Still, she got out of bed, went to the studio, and absolutely nailed the haunting vocals that open "Gimme Shelter."
For a long time, she wasn't even able to listen to the song, much less perform it. After she left the studio that night, she suffered a miscarriage. She later said, "We lost a little girl. It took me years and years and years to get over that. You had all this success with Gimme Shelter and you had the heartbreak with this song. … It left a dark taste in my mouth. It was a rough, rough time."(via the Guardian).
Clayton has had a long and incredibly successful career since. From working with Bobby Darin at 14 to coming back from a 2014 car accident that resulted in the amputation of her legs and then finally releasing the album "Beautiful Scars," her sister explained: "If she's singing, she's fine."
Lisa Fischer: From backup to center stage
How long does a backup singer have to tour and perform with a band before they're a part of the group?
Just ask Lisa Fischer what she thinks — she toured with the Rolling Stones for a whopping 26 years before playing her last show with them on July 15, 2015. That's when she left to concentrate on her own group, Grand Baton.
She was touring with her band when she talked to the Times Colonist in 2018, saying of the Stones, "They have been so supportive and loving and kind to me. I miss them. I love them to the ends of the earth. [But] I got to the point where I was running myself ragged, and I felt like I wasn't giving my best because I was so exhausted. It was a scary time for me, so I finally had to make a decision. I cried when I made that phone call."
Fischer has also performed with acts including Aretha Franklin, Luther Vandross, and Dolly Parton, and her career spanned 40 years. She told the Guardian that it was Vandross who encouraged her to break out of being a backup singer and kick off her own solo career, which she did in 1991. She's been candid, too, about a lack of self-worth: in spite of winning a Grammy in 1992 (and beating Aretha Franklin to do it), she struggled with the spotlight.
Now, though, she's grateful to "actually make some decisions of my own, musically and personally."