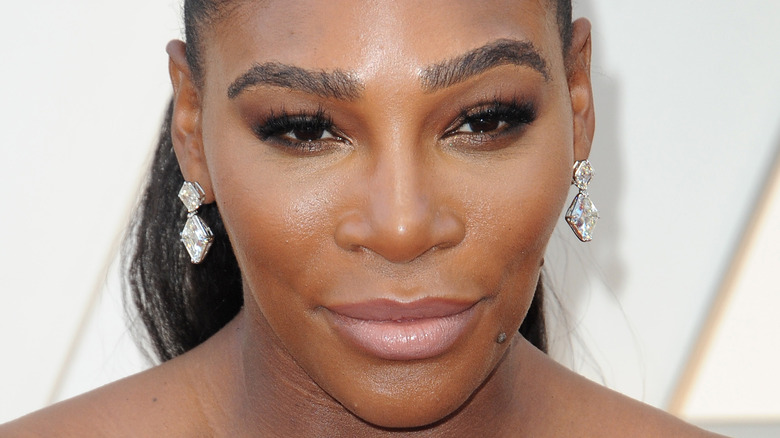 On November 19, 2021, fans of tennis' reigning siblings will get an inside look at the tragic real-life story of Venus and Serena Williams and learn more about the man who made them tennis superstars — dad Richard Williams — when a biopic based on their father's life, titled "King Richard," hits theaters and HBO Max. These days, Venus' net worth and Serena's bank account balance are as impressive as their history-making gameplay, but that wasn't always the case. The sisters come from humble beginnings and that's the story they hope to tell as they executive produce "King Richard" with Will Smith in the title role, per Variety. Although Smith's casting has sparked colorism backlash, the film's first trailer is already generating plenty of positive buzz. Calling the flick "the origin story for some REAL DEAL superheroes," Smith enthused on Instagram that portraying the tennis coach was "one of the greatest honors."
So who is the real Richard Williams? The Louisiana native grew up picking cotton before eventually moving to Chicago, then California, per Elle, which is where he started a family with Oracene Price. Once the couple had two daughters, Richard set to work to make them champions. If you're wondering how that impacted their bond, read on to discover the truth about Venus and Serena Williams' relationship with their father.
Richard Williams had big dreams for Venus and Serena before they were born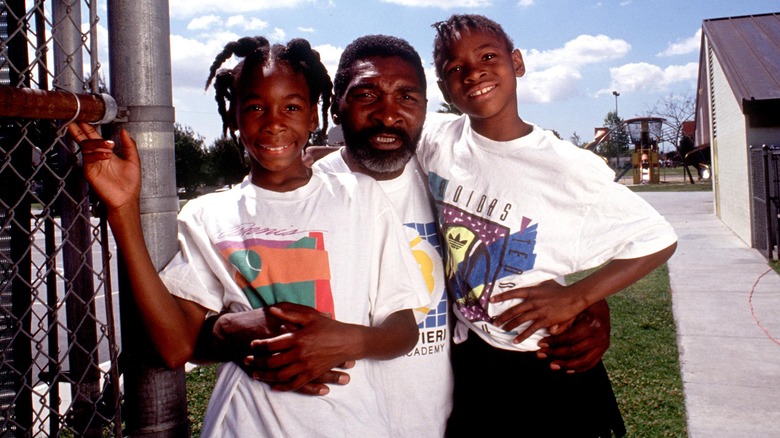 Richard Williams began training his daughters when they were four years old, but as he told CTV in 2014, he had big plans for Venus and Serena Williams long before that. Revealing that he penned a "78-page manifesto" before they were born in which he planned out his would-be daughters' tennis domination, he admitted, "A lot [of] people used to think I was crazy because I used to walk around with a sign, 'Number 1 girls in the world.'"
Why tennis? As Richard recalled in his 2014 biography, "Black and White: The Way I See It" (via Daily News), he was watching TV one Sunday when "a tennis match caught my attention" — a moment that would change his family forever.
"Actually, the match was over," he continued. "I will never forget standing there in amazement, watching the tournament director present a 25-year-old professional tennis player from Romania named Virginia Ruzici a $40,000 check for winning the tournament." As he listened to the announcer quip, "That's not bad for four days' work," Richard couldn't help but agree. "Without hesitation, I said to myself, 'I'm going to have two kids and put them in tennis,'" he wrote. Venus Ebony Starr Williams was born in 1980 and Serena Jameka Williams followed in 1981, and he was set. "I had my game and I had my girls. It was time to put them together," he concluded.
Richard Williams wasn't afraid to literally fight for his daughters
Richard Williams was convinced he'd turn his daughters into tennis superstars, but it wasn't going to be easy. The young family settled in Compton, California, where local tennis coach Larry Ready told ESPN the sisters made their tennis debut at such a young age that he'd see them sitting courtside with "rackets sticking up out of their strollers" as their parents played. Once they were old enough, Venus and Serena Williams played "three or four hours a day," but not before their dad fought gangs off the courts. He was so committed that he didn't back down after an altercation left him with several broken ribs and 10 missing teeth. "To this day, [I] wear my 'toothlessness' as a badge of courage,'" Richard wrote in his biography, "Black and White: The Way I See It." He then returned to face off against a gang's leader — and won. "It had taken two years and almost destroyed my body and my spirit, but in that moment, none of that mattered. What mattered was the courts were ours," Richard reminisced.
The family played in Compton until 1991 before moving to Florida and, as Serena reflected, their dad's dedication changed everything. "It's changed sports," she once mused (via NBC Sports). "It's changed history. Who would have thought that he could have raised two black girls to play a sport that African Americans haven't typically done well in? Every time I stand out there, I think that I wouldn't be here if somebody didn't have that vision for me."
Richard Williams has no qualms about protecting his daughters from media
Richard Williams has always had his daughters' backs and never was that more evident than in 1995 when the Williams patriarch shut down an ABC News reporter who tried to question a 14-year-old Venus Williams' self-confidence. In the clip, which recently resurfaced on Twitter, Venus, who would, as Sports Illustrated recounted, go on to become the first Black female player to reach "best player in the world" status in 2002, was asked if she thought she could win an upcoming match. "I know I can beat her […] I'm very confident," she professed. And when the interviewer asked why she was able to "say it so easily," the budding superstar fired off, "Cause I believe it."
At that moment, Richard stepped in and said, "What she said, she said it with so much confidence the first time, but you keep going on and on." Venus' dad pointed out that they were "dealing with [the] image of a 14-year-old child," before stating, "This child gonna be out there playing when your old a** and me gonna be in the grave." He went on to add, "You're dealing with a little Black kid, and let her be a kid. She just answered you with a lot of confidence. Leave that alone!"
Richard also accused the press (via ESPN) of doing "the worst media job that they have done on any human being in the world" when it comes to covering his daughters.
The life-changing advice Richard Williams gave Venus and Serena
Richard Williams didn't just teach Venus and Serena Williams on the court; he passed on invaluable life lessons that would serve his daughters for years to come. First, he instilled in his girls the greatest lesson his own mother, Julia Mae Williams, taught him: "You got to be rough, you've got to be tough, and you've got to be strong," he shared with CTV. He also endorsed "a hierarchy of values" they'd never forget in which tennis wasn't their be-all and end-all, per The Guardian. As the outlet noted, Richard taught "God first, family second, education third, business fourth, and then only tennis — some way back in fifth place."
Serena also took her father's financial advice to heart. As she told Chase Chats (via People) in 2020, "My dad always said 'athletes lose their money'. He always talked about the importance of not losing it once you get it and not just buying everything you see. That has stuck with me for my whole life." She also said that she could've used even more guidance. "Honestly, I wish I had learned more about banking and how it works," she conceded. "I didn't learn that until way later and I really wish I would have learned that sooner so that I could have made my money work for me in different ways sooner and probably better."
Richard Williams may raise eyebrows but his daughters don't mind
When Venus Williams won her first-ever Wimbledon match in 2000, she became the first Black female Wimbledon champion since Althea Gibson won two back-to-back tournaments in 1957 and 1958, per History. Perhaps the only person more excited than her was her father, Richard Williams. During the game, Richard made headlines for holding up six different signs, per Daily Press, including ones that read, "The British fans are the best in the world" and "I need an ice-cold Coca-Cola." When his daughter won, he held up a board that proclaimed, "It's Venus' party and no-one's invited." The move raised eyebrows, as did the fact that he allegedly shouted "Straight outta Compton!" before jumping over the NBC broadcasting booth, per The Guardian, to perform "a triumphant dance." Chris Evert, a former tennis player-turned-commentator claimed that the commentators in the booth "thought the roof was coming down," per Deadline.
Oprah Winfrey brought up the incident with Venus during a 2003 interview, asking, "Your father has received some criticism […] are you ever embarrassed by your dad?" She was adamant that "no — nothing embarrasses us," adding that her dad's actions at Wimbledon were misinterpreted. "It wasn't a dance — people just wrote that," she said.
"He jumped up and down. I'm proud of my dad," Venus continued. "He is an unbelievable visionary — and I think Serena and I understood that even when we were small."
Serena Williams credits her dad as the 'most important person' in her career
Throughout the 2015 tennis season leading up to the U.S. Open, there was one person visibly missing from America's biggest tennis courts: Richard Williams. According to the New York Post, health issues were to blame for his absence, as Richard was rushed to hospital that spring for an undisclosed reason and continued to heal (and watch his daughter play) at home in Florida.
Serena Williams felt his absence and she made that clear on numerous occasions. When she won in Miami in April, she told reporters, per The Guardian, "I would like to dedicate this to my dad, he's not here. I miss him, I hope he's watching," she said, adding, "I love you daddy and this one's for you." Then, at a post-match press conference in August, she called him "the most important person in my career" and shared, "I do miss my dad, obviously. I try to reach out to him a lot. He still tells me things I'm not doing right." Jump to that September when she called him "probably the best coach ever" at a pre-Open press conference (via ESPN), quipping, "If we talk about numbers, he's got a lot of [Slam titles] and he's only had two players. Imagine if he had three!"
As Serena told Oprah Winfrey in 2003, "Our father doesn't get enough credit. He showed us how to serve — and we have the biggest serves in women's tennis," she said, adding, "He stayed up many nights watching films so he could teach us."
When Richard Williams would not walk Serena down the aisle, she understood
When Serena Williams said "I do" to reddit co-founder Alexis Ohanian at New Orleans' Contemporary Arts Center in November 2017, there was one thing visibly missing from the ceremony. Or, rather, one person. Richard Williams was supposed to walk his daughter down the aisle but as she revealed in her 2018 HBO documentary, "Being Serena," he pulled out just one hour before the nuptials. "He was in New Orleans, he had a suit, and I know he was really excited," she recalled (via People). "But then he wrote me [a text] and said: 'Serena, I don't want you to be mad at me, but I just can't walk you down the aisle. I'm not myself anymore. I'm just too nervous.'"
She understood why he wouldn't walk with her. Noting that "maybe a lot of daughters wouldn't react the same way," Serena acknowledged "the struggles he's had" over the years. "His health is better now, but I know he still doesn't feel like himself, doesn't feel like he's perfect," she said. "And if he doesn't want to be up there in front of a lot of people, I completely understand."
Per the doc, she texted back, "Daddy, it's okay, if you don't want to come to the wedding at all, that's okay too. I'm not going to be upset with you about it, so I don't want you to be upset about it." She concluded, "Our family knows what we have. We just want each other to be happy. That's what matters."
Venus and Serena Williams' half-sister doesn't share the same bond with Richard
Before Richard Williams married Oracene Price in 1980, he was married to Betty Johnson with whom he had five children. The eldest, Sabrina Williams, spoke with The Sun in 2020 and revealed that while Venus and Serena may have a tight relationship with their father, she doesn't share the same bond.
Accusing Richard of being "a serial cheat" and "selfish man" who "just uses his kids to get what he needs," she slammed, "He's not a dad, he was just a sperm donor. He had five kids, and left them to my mom to grow up in poverty, and never once helped." She said that her early childhood was "fantastic," but then her parents began fighting and, when she was eight, "my dad left and said he was getting a bike for me and that's the last I saw of him."
Recalling how "within a year, we became very poor," Sabrina told the outlet she eventually "got hold of my dad through a relative and asked for $1,000 to pay some of the college bill at Hope Christian University." According to Sabrina, he offered it as a loan. "That's when I knew he was an a******," she said, noting that she "was done" with him after that. She also said she's been told he has "between 15 and 19 [kids] all over the place."
Richard Williams is still coaching, despite health problems
Richard Williams can't stay away from tennis, despite reportedly being in poor health. In 2016, he suffered two strokes, which it was later revealed had a major impact on his day-to-day life. As Richard's divorce proceedings with Lakeisha Williams grew nastier in 2020, his doctor told a court, per The Sun, that he suffered damage to his brain tissue and "the complications after the stroke included inability to remember things," as well as weakened muscles and "problems speaking and finding the right word to use." While the doctor conceded that Richard eventually "recovered from problems forming your words," they stressed that their patient had not "recovered from what is called dementia."
Despite these serious issues, it seems Richard isn't able to resist coaching his daughters. In July 2021, Venus Williams posted a video to Instagram showing her practicing on a court with her dad standing by her, giving advice. As one Twitter user commented, "The coaching legend is still at it" and Venus confirmed just that herself when she responded to a comment praising Richard for being "still at it 30+ years later" by writing "Every practice!" She also responded to a second fan who wrote, "Love that he still trains with Vee" with a simple "Always!"
Just don't expect him to go easy on his girls. When a reporter asked about Serena's chances of winning Wimbledon back in 2012, Richard said they "were great," but couldn't resist adding, "I think she needs to make a few minor adjustments."
Richard Williams couldn't be prouder of his superstar daughters
Unsurprisingly, Serena and Venus Williams' dad is a big fan of his legendary kids. "He always tells me I'm so good and he's so proud of me and he can't imagine how good I am," Serena once said of Richard Williams (via NBC Sports), adding, "He always says, 'Don't put pressure on yourself. Be happy with what you have.'"
That's exactly what he did before Wimbledon 2012. Serena had been incapacitated for nearly 12 months before returning to the sport in mid-2011. In July 2010, she cut a tendon in her right foot in a freak accident after stepping on broken glass, per USA Today. In March 2011, she was, as she told The Guardian, "on my deathbed at one point — quite literally" after doctors found "several blood clots in both lungs."
Then, "just as Serena started to recover, she got an infection in her stomach and had to have a drain tube put in to help her heal," Richard recalled in his 2014 biography, "Black and White: The Way I See It." And so, he felt anxious about Wimbledon and told her "to forget about winning the tournament or losing the tournament." Instead, he joked, "You go out there and you put your best foot forward. Not the one you cut up — put the other foot forward." Serena won and Richard felt "pride beyond measure" as "tears coursed freely down my cheeks and I didn't care who saw them." There's a lot of love in the Williams family — and no, we don't mean a goose egg.