Pulled chicken and pork sandwiches, smoked brisket, and ribs are just a few all-American favorites among meat lovers. Barbecue is serious business and one chain, in particular, is turning heads with a plethora of tasty choices that are winning over barbecue fans with each new location. Opened in 2011 with all of its meals created the "American Way," Mission BBQ has become a staple for customers looking for a lunchtime meal that tastes just like it was made fresh at home.
With a menu cooked from scratch for each and every customer, it's not hard to see why the patriotic restaurant has become so popular, especially since the chain has been known to give back to a variety of charities and causes through its sales. So, what's the untold secret behind Mission BBQ's success? How does one idea honoring Americans and their service to the country turn into a restaurant that's becoming more well-known and loved across the country? Mashed is here to tell all.
Former Under Armour and Outback executives founded the franchise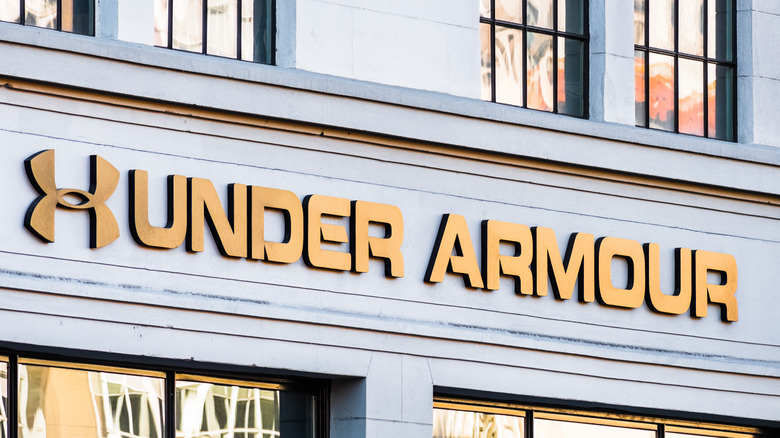 Fans of Mission BBQ may not know that it was actually founded by not one, but two vice presidents of famous brands — Under Armour's Bill Kraus and Outback Steakhouse's Steve Newton, according to Restaurant Business. After retiring from Under Armour, Kraus wanted to spend more time with his family, including two children serving in the military. Kraus and Newton had been friends long before his retirement though, attending church and bonding over golf together, as well as the restaurants they encountered in their work travels. The friendship and love for restaurants led to an idea, one that could honor our troops, policemen, firefighters, and more, while serving up tasty meals.
"We started with our why," Kraus told Restaurant Business. "Why we wanted to be in business, and what we wanted to do to serve, honor and thank American heroes. And then we worked on footprint, menu, and the service component. But it's all about 'Why are we in this business?'"
The concept for Mission BBQ would allow for profits to make their way to the community, as well as to multiple organizations and charities that benefit those who serve us with a menu Americans would love. "We wanted to build something that had meaning and significance," Newton added. "Barbecue is a true, American-type cuisine, with protein, mac and cheese, and comfort food."
Mission BBQ opened on the 10-year anniversary of 9/11
With a love for patriotism, Kraus and Newton chose to open their restaurant on an important day in history, one that affected all Americans. The first Mission BBQ opened its doors on the 10th anniversary of the September 11, 2001 tragedy. The event changed everyday life in the country and Mission BBQ describes the decision to open on this difficult day in history as the desire to "in some small way … change it back." The idea would be the foundation for the restaurant's patriotic spirit and decision to honor both those who serve in the military and first-responders.
In the "Our Story" section of its website, Mission BBQ writes, "We believe there is nothing more American than BBQ. And nobody more American than the brave men and women who have sworn to protect and serve Our Communities and Our Country. We do what we do for the love of our soldiers, firefighters, police officers, first responders—all our loved ones in service."
Kraus furthered this statement in his interview with Forbes, telling the magazine, "We're in the barbecue business, but we're going to give you a healthy side of patriotism. We're doing it at a time when our company needs to be brought back around the table and know how fortunate we are to have these folks serving our community and our country."
Mission BBQ offers three styles of barbecue
Unlike many other restaurants serving barbecued food, Mission BBQ offers three different styles: Texas barbecue, Kansas City barbecue, and North Carolina barbecue. The choice came rather to the entrepreneurs, with Kraus telling Forbes, "Steve and I are a couple of Midwestern kids, and we're not smart enough to know what kind of sauce you like. As long as you're a carnivore and enjoy smoked meats, we give you the option by dry rubbing our protein. And then we offer you as many as nine or ten different sauces for you to determine your particular taste profile."
Whatever your barbecue tastes may lie, you'll find the right choice. "All the sauces on the table or in the Craftsman's toolbox represent different areas that have different flavors — vinegar from the Carolinas, sweetness of sauces from the South, to the tanginess of Kansas City," added Newton in the interview.
The choices available in both meats and sauce are just one of the many things fans can appreciate, allowing them to indulge in whatever type of barbecue that's perfect for them. Some of the most popular three meal choices with customers are North Carolina pulled pork, Texas-inspired brisket, and baby-back ribs with Maggie's Mac-N-Cheese. All of the meat is smoked on-site for up to 16 hours every day and barbecue sauces are homemade. When it comes to sauce, popular sauce choices include: KC Classic, Bay-B-Que, Smoky Mountain, Texas Twang, Memphis Belle, and Tupelo Honey Heat.
Customer reviews are mostly positive
During each restaurant opening, it's not uncommon to find a line of people eager to try the new restaurant that has just made its way to their hometown. With many restaurants, the reviews are pretty mixed, some love it, some hate it, but in the case of Mission BBQ, it seems more people love it as the restaurant has garnered pretty positive reviews throughout the years since its opening. During the recent opening in Westminster, Maryland, customer, Neale Knight commented that she was happy to have some of Mission BBQ's cornbread and to order from "someone who knows how to cook a d*** bean," according to the Carroll County Times.
Furthermore, the Canton, Ohio location has ranked #1 of 12 Quick Bites in Canton on TripAdvisor, with one customer review from February 2020 stating, "… The food is not fast food grade fortunately and they definitely will beat most all places with their speed! Their pulled pork was very juicy and flavorful. We liked the BBQ sauce options on the table and it is awesome to be able to try them all! But I think the best part is their FRIES, I believe they have some kind of seasoning salt on them which puts them in a class of their own!"
The franchise donates to military and first responders
Strong in the efforts to give back to first responders, veterans, and those serving in the military, Mission BBQ has found many ways to show its appreciation. Over the years, the chain has donated meals to firefighters and Vietnam vets, as well as financial donations to organizations such as United Service Organizations, Wreaths Across America, Honor Flight Network, Special Operations Warrior Foundation, and more, Mission BBQ has shown its true passion for giving back to not just the military, but every firefighter, officer, nurse, doctor, and member of the CIA that they can. This is one of the company-owned restaurant's main missions, of course.
"Whenever we decide to go to a community, we do fundraisers the week before we're open," Newton told Forbes. "The proceeds for those fundraisers go to local police, fire, and charities and we also host a military appreciation night." Kraus further added, "We want to be the first responder to the first responders."
Mission BBQ donates an estimated $3 million dollars a year to nonprofits, according to Regent University News.
Every restaurant shuts down for two minutes at noon
Many patrons of Mission BBQ may know if you're hitting the spot at lunchtime, you may be there just in time for Mission BBQ's two-minute shut down at noon. The tradition, which was started when they first opened, stops all work from employees of the franchise and gives them a moment to honor our troops, including those who have lost their lives in battle, by playing the National Anthem.
"Our best two minutes of the day are when those cash registers aren't ringing. If you put on the cloth of our nation to fight and keep us free and keep us safe, you really are the 'why' behind what we do at Mission BBQ," Kraus told Regent University News in a speech for its Executive Leadership Series. "We're going to make sure that you're well-fed, but at the same time, we're going to give you some food for your soul. And every day, that National Anthem is indicative of that."
This tradition even continued through the COVID-19 pandemic, with the employees all going outside to allow customers to witness and be a part of the moment, despite not being allowed inside the restaurant. So, if you ever find yourself at a Mission BBQ during noon, take a moment to stand up and honor those who are fighting for us.
Walls are decorated with objects from those who have served
If walls could talk, what are the stories they would tell? Mission BBQ's walls are full of stories of war heroes and first responders who have lost their lives while serving. It's yet another way the restaurant honors those who have fought for their country and have taken the ultimate sacrifice.
"They're what I'll call 'priceless pieces of art,'" Kraus told Regent University News. "There's patches, there's pictures, there's stories of heroes, stories of service, stories of good. And in it all, we step back and say, 'What a privilege this is to serve a community like this.'"
With medals of honor, helmets, photographs, patches and more, Mission BBQ has celebrated these lives and their stories on the 11th of every month, according to its official website. Titled as "Stories of Service," Mission BBQ has created videos honoring military veterans, first responders, and those who lost their lives serving. These videos cover military members of all different wars, from World War II to the Vietnam War to the War in Afghanistan, and make sure every hero is honored with the respect they deserve, while allowing customers to reflect on their accomplishments.
Servant leadership is one of Mission BBQ's passions
One strong teaching at the company-owned restaurants is servant leadership, a concept started in the 1970s. A form of leadership that replaces self-interest with service to others, according to a video by Agile at Barclaycard, servant leadership shows a caring leader whom employees enjoy working with. It creates a shift from managing results to designing an environment that creates results in the workplace and looks at influence instead of power and control. This type of leadership allows for listening to employee opinions and ideas, as opposed to giving orders, resulting in innovation and better communication among teams.
"Create an organization where people can care, and they'll take care of your customers, and that takes care of your organization," Ken Blanchard said of the concept in a LinkedIn Learning video shared by the franchise.
Mission BBQ not only teaches this form of leadership, but they also recognize each employee that has shown it in their everyday work life through "A Servant's Heart" video series and describes the concept as the core of its brand. The monthly videos honor employees in leadership roles that have shown kindness, helpfulness, passion, and diligence for their role, as well as respect for their employees. These are leaders with good hearts who are always willing to learn from those working roles below theirs.
Mission BBQ has sponsored multiple college athletes
The restaurant not only supports its troops, it supports sports teams, too. Like many restaurants, it has sponsored multiple sports teams, including the more recent Wisconsin Badgers and Notre Dame Fighting Irish offensive lines. The Badgers sponsorship comes after a change to the NIL policy that allows players to receive compensation using their name, image, and/or likeness for a commercial purpose outside of the team, according to the Milwaukee Journal Sentinel. With multiple locations in Wisconsin, Mission BBQ signed on as the sponsor of several Badgers football players. The new policy is also what led 17 Notre Dame players to sign with the barbecue company, starting with offensive lineman Josh Lugg. This marked an exciting event for the two teams.
"This is an important day for college athletes since they all are now able to take advantage of name, image and likeness opportunities," NCAA President Mark Emmert said at the time, according to 247 Sports. As for how much free barbecue players might get as part of their financial sponsorship, well, that remains between them and Mission BBQ.
Mission BBQ is expanding with 20 to 25 new restaurants a year
If you don't have a Mission BBQ in your state yet, just be patient, the baby back ribs are on their way. Kraus and Newton keep their schedules packed by opening 20 to 25 new restaurants a year. With 96 locations in 16 states under their belt as of 2020, the two look to continue expanding more yearly with a focus on states east of Mississippi.
"[We] look for metropolitan areas that are densely populated with strong demographics and attractive real-estate sites," Newton told Forbes. All locations are without drive-throughs, freezers, and microwaves, allowing for a freshly-cooked sit-down American meal for any individual to enjoy (via Restaurant Business). From its passion for helping our first responders, veterans, and our troops, to its servant leadership, Mission BBQ is not just a restaurant, assures its co-owners.
"I think we've created a place of comfort, warmth, togetherness and bringing people together around our tables," Kraus told Forbes. "The entire atmosphere, including the décor on the walls, indicates service to one's community or our country, including pictures that now people have shared."