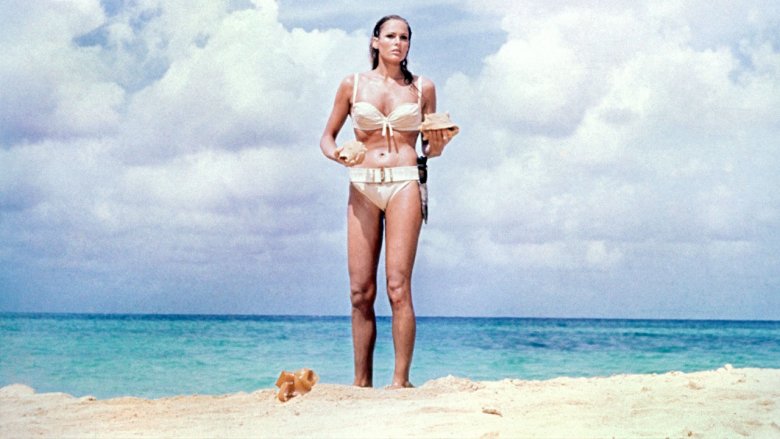 Ever since Ursula Andress walked up on the beach as Honey Ryder in Dr. No, Bond girls have been an unshakable part of the James Bond mythos. Sometimes they're Bond's allies, sometimes they're his enemies, and sometimes they're total wild cards, but for more than 50 years, Bond girls have given Agent 007 a run for his money in the race to see who can be more compelling on the big screen. In celebration of that incredible legacy, and the many actresses who've contributed to it, let's take a look at the 30 most important Bond girls, then and now.
Note: This is not a list of every single "Bond girl" in the sense that it doesn't include every female character Bond has encountered over the course of 24 films and counting in his MGM releases (that means Kim Basinger is also out). This is a list of the major Bond girls, meaning heroes and villains who played a major role in each film's plot. Sometimes that means two actresses for one film; other times it means just one.
Lois Maxwell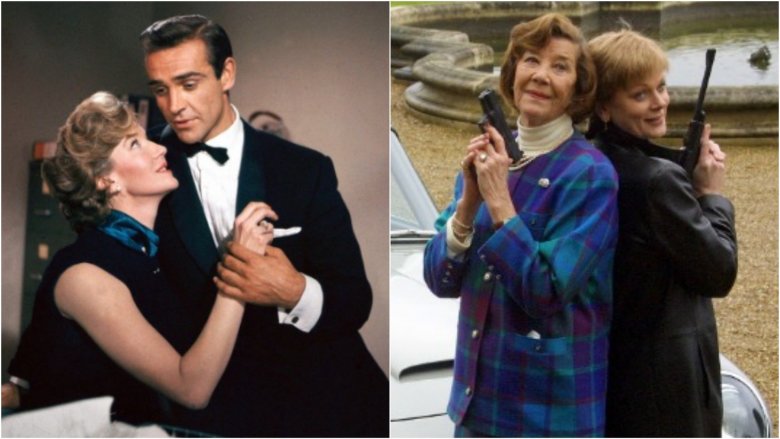 No list of Bond girls would be complete without Lois Maxwell as Miss Moneypenny. She didn't fit the same role as the others, but she was a steadfast supporting star, playing the role in 14 films for more than two decades until her final appearance alongside Roger Moore in A View to A Kill in 1985. She never climbed into bed with Bond in all those years, but her scenes trading sly jokes and smiles with him outside M's office made her a fan favorite and an essential part of the franchise's legacy. She was not asked to continue the role in Timothy Dalton's Bond films, but continued to act sporadically in film and television until 2001. Maxwell, whose film acting career stretched all the way back into the 1940s, died in 2007 at the age of 80.
Ursula Andress
Ursula Andress helped set the template for Bond girls when she appeared as Honey Ryder in 1962's Dr. No, and the film made her a massive star. The scene in which she walks out of the ocean in a bikini is one of the franchise's most memorable entrances, and has since been paid homage to numerous times, including in other Bond films like Die Another Day (by Halle Berry) and Casino Royale (by Bond himself, Daniel Craig). She was a prominent sex symbol throughout the 1960s and 1970s, and continued acting regularly through the 1980s, most prominently playing Aphrodite in Clash of the Titans in 1981. Her acting work slowed in the 1990s, and she hasn't made a film since 2005.
Daniela Bianchi
For some Bond girls, time in the spotlight is memorable but brief, and that's true of Daniela Bianchi. An Italian model and beauty queen, Bianchi's biggest role as an actress came as Tatiana Romanova in the second Bond film, From Russia With Love. Though her voice was dubbed because of her thick accent, she became instantly recognizable around the world, and continued acting in various films in Europe for several years after From Russia With Love's release. She retired from acting in 1970 to marry Italian businessman Alberto Cameli, though she has since appeared in documentary footage discussing her time as a Bond girl.
Honor Blackman
For many, Goldfinger is the quintessential James Bond film, and Honor Blackman's Pussy Galore is the quintessential Bond girl. Though she wasn't the famous girl painted gold (that was Shirley Eaton as Jill Masterson), Blackman did get to play a villain who proves Bond's equal and ultimately switches sides for him. Her work in the film set the standard for villainous Bond girls, and her legacy can be seen in films like GoldenEye, A View to a Kill, and Die Another Day. Since Bond, Blackman continued working regularly on stage and screen, and enjoyed a singing career. Her final screen credit came in an episode of You, Me & Them in 2015; in April 2020, Blackman passed away of natural causes at the age of 94.
Shirley Eaton
As Jill Masterson in the third Bond film, Goldfinger, Shirley Eaton didn't have much screen time. Her character was killed off relatively early in the film after one night with Sean Connery's Bond, but it was the way her character died that made her an icon. Eaton played dead while covered in gold paint, creating an instantly memorable scene for the film and for her career. Eaton was already a star of some status by the time Goldfinger came around, having co-starred in comedies like Panic in the Parlor and dramas like The Girl Hunters, but her Bond role made her an international sensation.
After Bond, Eaton continued acting in Hollywood in films like Rhino! and Around the World Under the Sea before landing a cult hit role as the evil Sumuru in the spy films The Million Eyes of Sumuru and Rio 70. Eaton retired from acting in 1969 to focus on raising her two sons, Grant and Jason. She published an autobiography in 1999, and enjoys painting and sculpture.
Claudine Auger
Claudine Auger, a former Miss France, was part of a worldwide search to find the perfect Bond girl for Thunderball, and beat out actresses like Faye Dunaway and Raquel Welch for the coveted role of Domino. Though she never achieved much American success, her acting career continued in Europe, and she acted alongside fellow Bond girls Ursula Andress (in Anyone Can Play) and Barbara Bach (in Black Belly of the Tarantula). She continued acting through the 1960s and 1970s and well into the 1990s, but has been largely absent from the screen in recent years. Her last appearance was the TV movie The Red and The Black in 1997.
Luciana Paluzzi
Like Goldfinger, Thunderball had to have a memorable and sexy villain, and that came in the form of Luciana Paluzzi as the SPECTRE agent Fiona Volpe. Paluzzi was swept up in the phenomenon of Bond, and the resulting fame kept her acting throughout the 1960s and 1970s, including a guest spot on Hawaii Five-O and films like The Klansman, The Two Faces of Fear, and her final film Deadly Chase. Since 1980, she has been married to American businessman Michael Jay Solomon. She has also given interviews reflecting on her time as a Bond girl, and in the documentary film Behind The Scenes of Thunderball she said of all her memorabilia from the Bond years: "It's so much, it's overwhelming."
Akiko Wakabayashi
Though Mei Hama's Kissy Suzuki is the last Bond girl standing in You Only Live Twice, Akiko Wakabayashi arguably made the bigger impression as the Japanese secret agent Aki, so we're calling her the primary Bond girl for that film. After You Only Live Twice, Wakabayashi continued acting throughout the 1960s, but by the early 1970s she had retired, due in part to injuries sustained while working. Since then she's largely stayed out of the spotlight, though various Bond experts and journalists have made efforts to reach out to her about her time with the franchise. The most recent confirmed photo of her, a private snapshot with Bond author Raymond Benson, can be found here.
Diana Rigg
For many Bond girls, a Bond film is the biggest thing they've ever done and ever will do, but that was not the case with Diana Rigg. By the time she appeared in On Her Majesty's Secret Service, she was already a star in her own right thanks to her role as Emma Peel on The Avengers. Since the film, in which she had the honor of playing Bond's only wife (who, sadly, ended up dead by the end of the film), Rigg has continued to work steadily in film, television and theater, and has booked memorable roles for generations of fans. She was made a Dame in 1994, and her most famous recent role was her Emmy-nominated turn as Queen Olenna Tyrell on HBO's Game of Thrones. In 2018, she was nominated for a Tony Award for her work in My Fair Lady on Broadway. Her daughter is the acclaimed actress Rachael Stirling.
Jill St. John
Jill St. John's screen acting career stretches all the way back to 1949 and her days as a child star. She worked steadily throughout the 1950s and 1960s before she was cast as Tiffany Case in Diamonds Are Forever, making her the first American Bond girl. She continued acting through the '70s, '80s, and '90s — landing roles in everything from Brenda Starr to The Concrete Jungle — until 2002, at which point she largely retired. Since 1990 she has been married to actor Robert Wagner — with whom she co-starred in Around the World in 80 Days, Something to Believe In, and The Calling – and her most recent screen appearance was as Mrs. Claus alongside his Santa in the Hallmark movie Northpole in 2014.
Jane Seymour
Jane Seymour rocketed to worldwide fame in 1973 as the enigmatic Solitaire in Roger Moore's James Bond debut, Live and Let Die. Since then she has worked regularly in both film and television, most famously in her television series Dr. Quinn, Medicine Woman, for which she won a Golden Globe, as well as films like Wedding Crashers and Austenland. She is also an author of self-help and children's books including The This One 'N That One series and Jane Seymour's Guide to Romantic Living, and designed the "Open Hearts Collection" of jewelry for Kay Jewelers. She was appointed an Officer of the Order of the British Empire in 2000.
Britt Ekland
Britt Ekland was one of the most famous women in the world throughout the 1960s and the 1970s thanks to roles in The Night They Raided Minsky's, Get Carter, and The Wicker Man, as well as high profile relationships with Peter Sellers (they were married from 1964-1968) and Rod Stewart. Her role as Miss Goodnight in The Man with the Golden Gun cemented her sex symbol status, and she continued acting well into the 1980s. In 2018, Ekland appeared as a contestant on the Swedish series Let's Dance. Her fame has even led to her portrayal by other actresses, including Charlize Theron in The Life and Death of Peter Sellers and Helena Mattson in My Dinner with Herve.
Barbara Bach
Barbara Bach was a highly sought-after model before embarking on an acting career and achieving fame as Agent Anya "XXX" Amasova in The Spy Who Loved Me, a film in which she followed Pussy Galore's legacy of playing Bond's equal and rival before eventually becoming his ally and lover. After following up her Bond outing with a leading role in Force 10 From Navarone in 1978, Bond continued to act in the 1980s, but has not appeared in a film since To the North of Katmandu in 1986. Since 1981 she has been married to former Beatle Ringo Starr. She's also been active in charity work, forming the Self Help Addiction Recovery Program (SHARP) in 1991 and continuing to work with her husband on their charity the Lotus Foundation.
Lois Chiles
Lois Chiles began her career as a model, then took on acting and landed high-profile roles in The Way We Were, The Great Gatsby, and Death on the Nile before she was offered the female lead in The Spy Who Loved Me. Chiles was taking a hiatus from acting at the time and turned the role down, but was then offered the role of Dr. Holly Goodhead in the final Bond film of the 1970s, Moonraker, which she accepted. Chiles continued acting throughout the 1980s and 1990s with roles in films and television series like Dallas, Creepshow 2, and Broadcast News. In 2002, she taught film acting at the University of Houston, and her most recent film role was in 2006's Kettle of Fish.
Carole Bouquet
Carole Bouquet's film career kicked off in 1977 with films like That Obscure Object of Desire and Blank Generation, and she achieved international fame as the vengeance-seeking Melina Havelock alongside Roger Moore in For Your Eyes Only. She has continued acting in dozens of films, plays, and television series ever since, including New York Stories, The Malady of Love, Northeast, and an episode of Sex and the City. She won a Cesar Award in 1990 for her performance in Too Beautiful for You, and in 2014 she served on the jury of the Cannes Film Festival. Most recently, she was seen in the 2018 release Kiss & Tell.
Maud Adams
Maud Adams is unique among the actresses on this list, because she has the distinction of playing two different Bond girls. After appearing as Scaramanga's lover Andrea Anders in The Man with the Golden Gun (a secondary role to Britt Ekland's Goodnight), she returned to the franchise for the title role of the mysterious female crime lord with a taste for jewels in 1983's Octopussy. If you look very closely, you can even see that she appeared in a third Bond film, with an uncredited cameo in A View to a Kill. She continued to work regularly as a film and television actress until largely retiring in the late 2000s.
Tanya Roberts
Tanya Roberts began her career as a model before landing high-profile roles in Charlie's Angels, The Beastmaster, Sheena and more in the early 1980s. In 1985, she co-starred as Stacey Sutton in A View to a Kill, Roger Moore's final Bond film, and continued to act regularly throughout the 1990s before landing her most famous recent role as Donna's mother Midge on That '70s Show.
Roberts ultimately left the show in 2001 to spend more time with her husband Barry when he became terminally ill, though she did return for a brief run of episodes in 2004. Barry Roberts died in 2006, and in January 2021, it was reported that Tanya Roberts had passed away at the age of 65. In a bizarre turn of events, Roberts' representative later issued a statement saying that the actress was still alive – despite previously telling TMZ that she had died, issuing a press release announcing Roberts' passing, and sharing with TMZ a quote from Roberts' husband Lance about her death. The following day, TMZ reported that Roberts had indeed passed away on Monday, January 4, 2021.
Grace Jones
A View to a Kill, the final Roger Moore Bond film, managed to pack two major Bond girls into its runtime, and Grace Jones was instantly memorable as Max Zorin's (Christopher Walken) deadly bodyguard and lover May Day. To this day, though the film was not particularly well-received, she and Walken remain an unforgettable villainous pair. Along with Conan the Destroyer, the film was Jones' biggest release as an actress, though she has continued to appear sporadically in films and television. Jones' major pursuit, as it was before Bond, is music. Since 1977 she has released 10 studio albums and remains one of the most distinctive performers of her generation. She released an autobiography, I Never Write My Memoirs, in 2015.
Maryam d'Abo
In 1987, Maryam d'Abo kicked off the Timothy Dalton era as cellist Kara Milovy in The Living Daylights. Her work as a Bond girl was a breakthrough, and she has continued to work as an actress and model ever since. In 2002, she hosted the documentary Bond Girls Are Forever in tribute to the legacy of women in Bond films, and co-wrote a companion book with the same title, celebrating the women of the Bond franchise. In 2007 she suffered a near-fatal brain hemorrhage, from which she later recovered. She has spoken openly about the experience and her recovery.
Carey Lowell
Carey Lowell began her career as a model before breaking into film and achieving success as Pam Bouvier in Licence To Kill, the second and final Bond film of the Dalton era. She continued to act throughout the 1980s and 1990s, including a major role as Jamie Ross on Law & Order beginning in 1996. In the mid-2010s Lowell's divorce from actor Richard Gere was the subject of a three-year legal battle which finally settled in 2016. As of 2018 she has made a return to television acting with roles on the CBS series Blue Bloods and Bull. In 2012, she briefly returned to the role of Pam Bouvier to voice the character in the video game 007 Legends.
Samantha Bond
In 1995 the Pierce Brosnan era of Bond began, complete with a new Moneypenny in the form of Samantha Bond, a stage and screen actress who's been a long-standing member of the Royal Shakespeare Company. Bond co-starred in all four Brosnan films as Moneypenny, lending a somewhat updated edge to the character as her verbal barb-trading with Bond (and even with Judi Dench's M) became a bit more pronounced. Since the Brosnan era ended Bond has continued to act regularly in everything from The Sarah Jane Adventures to Outnumbered to Home Fires. Most recently she was recognizable to American audiences as Lady Rosamund Painswick on the hit series Downton Abbey.
Judi Dench
The Brosnan era also brought with it a new, female M. Judi Dench played the head of MI6 as a tough, resourceful woman who could put Bond in his place and who, ultimately, became his closest confidante. She was so good that she stayed on into the Daniel Craig era before retiring the character in 2012's Skyfall. As for what she's been doing lately… well, she's Judi Dench. She's continued to play memorable roles on stage and screen, including Philomena, The Best Exotic Marigold Hotel, and Victoria & Abdul. She's a Dame, and her extraordinary acting has earned her one Oscar, four BAFTAs and two Golden Globes since her appearance in GoldenEye. In 2019, she will be seen in the adaptation of the bestselling Artemis Fowl novels as well as the film version of the Broadway musical Cats.
Izabella Scorupco
Izabella Scorupco was already a successful model, singer and actress when she was cast as Russian hacker turned Bond ally Natalya Simonova in GoldenEye, making her one of the first Bond girls of the Pierce Brosnan era, and she's continued that trajectory ever since. Her other memorable acting work includes roles in Exorcist: The Beginning, Vertical Limit, Reign of Fire, and Micke & Veronica. In 2011 she returned to singing with a collaboration with Swedish vocalist Peter Joback, and in 2012 she served as host of Sweden's Next Top Model.
Famke Janssen
Famke Janssen was a successful model before transitioning into acting and achieving breakout success as the assassin Xenia Onatopp in GoldenEye, who had the memorable technique of killing men by crushing them to death with her powerful thighs. The role rocketed her to stardom and helped land her the role of Jean Grey in the X-Men franchise, a role she went on to play in four hit films. Since then she's continued acting regularly in a series of memorable roles, including Taken, Nip/Tuck, How to Get Away with Murder, and Hemlock Grove. She can also be seen in the Netflix original series Central Park Five.
Michelle Yeoh
Michelle Yeoh established herself throughout the 1990s as a major player in Hong Kong action cinema — performing both dazzling fight scenes and compelling dramatic moments — before breaking out worldwide as Wai Lin alongside Pierce Brosnan in Tomorrow Never Dies. In 2000 she again wowed international audiences with a role in Crouching Tiger, Hidden Dragon and has had continued success ever since, most recently with roles in the CBS All Access Star Trek: Discovery and the 2018 megahit Crazy Rich Asians. In 2008, she was named the Greatest Action Heroine of All Time by Rotten Tomatoes, a title other actresses will be hard-pressed to take from her.
Teri Hatcher
The trend of dual high-profile Bond girls continued with Tomorrow Never Dies, as the second Brosnan film also added Teri Hatcher in the key role of Paris Carver. Before Bond, Hatcher became a television superstar with one of the title roles in Lois & Clark: The New Adventures of Superman. After Bond, she hit TV superstardom again with a leading role in the ABC series Desperate Housewives, for which she won a Golden Globe Award and three Screen Actors Guild Awards, and was nominated for an Emmy Award. More recently, she has appeared in the CBS series The Odd Couple, and returned to DC Comics-inspired roles as well, playing Rhea on Supergirl.
Denise Richards
Denise Richards started her career as a model before gradually transitioning into films throughout the 1990s, culminating in her role as Christmas Jones in 1999's The World Is Not Enough. Since then she has continued to appear in films and taken on a career as a reality television personality, starring in her own series Denise Richards: It's Complicated in 2008 and 2009 and joining the cast of The Real Housewives of Beverly Hills in 2019. Other memorable roles include the cult classics Drop Dead Gorgeous and Wild Things, the TV series Blue Mountain State, and the drama series Twisted.
Sophie Marceau
Sophie Marceau became an international star in the 1990s, beginning with hits in Europe including Fanfan and Revenge of the Musketeers. In 1995 she gained more international fame as Queen Isabella in Braveheart, and in 1999 she achieved more blockbuster success as the villainous Elektra King in The World Is Not Enough. She has continued to work steadily as an actress, writer, and director ever since. In 2002 she made her feature directorial debut with Speak To Me of Love, and followed it up with another film, Trivial, in 2007. In 2015, she served on the main competition jury for the Cannes Film Festival.
Halle Berry
Halle Berry was already a major star when she played Jinx in Pierce Brosnan's final Bond film, Die Another Day, having starred in films including X-Men and earned an Academy Award for her performance in Monster's Ball. In the aftermath of her success as both Oscar winner and Bond girl, her career suffered a few missteps, including Gothika and the infamous flop that was her Catwoman movie, but she rebounded and has continued to work steadily in film and television. Among her most notable projects since Bond are a return to the X-Men series for three more films as Storm, Cloud Atlas, Frankie & Alice (which earned her a Golden Globe nomination), and the sci-fi television series Extant.
Eva Green
The Daniel Craig era required a memorable Bond girl to kick things off, and it got one with Eva Green's commanding performance as Vesper Lynd. The role made Green an international star, set a new standard for Bond girls in the 2000s, and earned her a BAFTA Rising Star Award. She's since gone on to roles in Penny Dreadful (for which she received a Golden Globe nomination), Camelot, Dark Shadows, Miss Peregrine's Home for Peculiar Children, and White Bird in a Blizzard. In 2019, she reunited with director Tim Burton for a role in his remake of Dumbo.
Olga Kurylenko
After a successful modeling career, Olga Kurylenko kicked off her film career in 2005 and achieved breakout success through roles in the video game adaptations Hitman and Max Payne. By 2008 she had landed the role of Camille Montes alongside Daniel Craig in Quantum of Solace, for which she was nominated for both a Saturn Award and an Empire Award. She has since continued to earn high-profile roles in films including Oblivion, The Water Diviner, To The Wonder, The Death of Stalin, and Johnny English Strikes Again. In 2008, she also transitioned briefly into screenwriting, earning an additional dialogue credit on the TV series Tyranny, in which she also co-starred.
Naomie Harris
Naomie Harris was a 10-year veteran of film acting — courtesy of roles in 28 Days Later and the Pirates of the Caribbean franchise, among others – by the time she landed the role of the third big-screen Moneypenny alongside Daniel Craig in Skyfall, and she immediately won fans over with her portrayal. She reprised her role in 2015's Spectre, and has since garnered acclaim for her work in Moonlight (which earned her Oscar, BAFTA, and Golden Globe nominations) and appeared in major releases including Rampage and Mowgli: Legend of the Jungle. In 2017, she was named an Officer of the Order of the British Empire.
Léa Seydoux
Léa Seydoux has been acting for more than a decade, but in many ways her career is still very young. She achieved international acclaim in 2013 for her role in Blue is the Warmest Color, and parlayed that into her role in Spectre, as well as roles in films like The Grand Budapest Hotel, The Lobster, and Isle of Dogs. In December 2018, it was reported that she's expected to reprise her role as Dr. Madeleine Swann for the 25th Bond film in 2020, a rare repeat performance for a Bond girl.