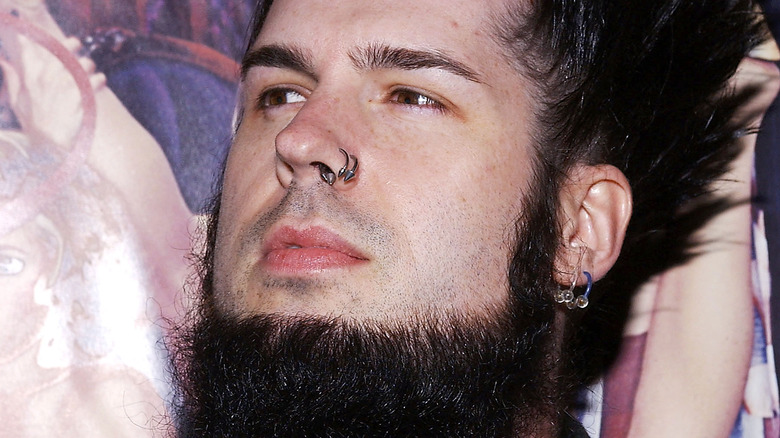 From grunge icon Kurt Cobain to R&B songstress Aaliyah, fans continue to mourn the untimely deaths of myriad iconic 90s musicians. Grief counselor Rachel O'Neill, Ph.D. has explained why fans are emotionally affected by celebrity deaths. "Celebrities connect with us, and even though we didn't personally know them, their presence is still felt in our lives," she told Teen Vogue. "For example, maybe the individual was an integral part of your childhood in some way. Maybe they were your first crush or maybe they represented an ideal, something you hoped that you could be."
But not all celebrities are awarded laudatory fanfare when they die. Unfortunately, the deaths of many musicians go largely unreported due to not achieving superstar status; in other instances, the memory of the artist's passing has sadly faded in time. These musicians from the 90s passed away and received very little media attention, despite amassing hordes of adoring fans throughout their careers. Although these artists are gone, their legacies live on through the immortalization of their music.
Peter Steele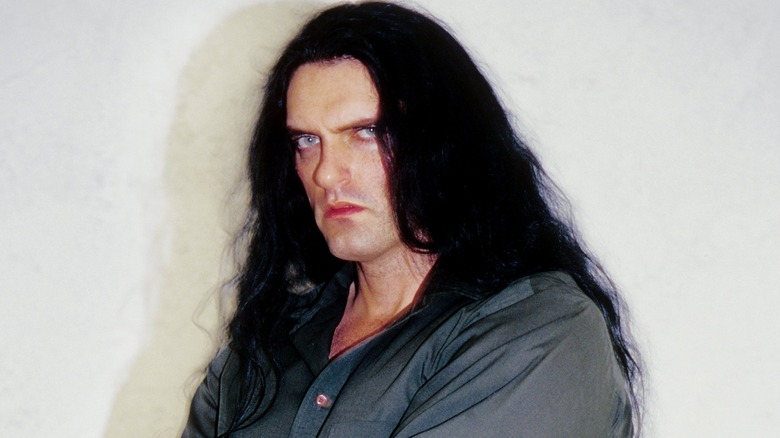 Type O Negative was one of the most unique gothic rock bands of the '90s. Led by the imposing baritone Peter Steele, the group released seven studio albums, including 1993's gold-certified "Bloody Kisses." Producer Monte Conner told Revolver of the hit release, "Type O proved on that album that they're geniuses. The record is completely unique and it's so cinematic between the sound effects and the way the music flows together with all these Beatles-like harmonies and little hidden messages. It's a masterpiece."
Steele was quite the heartthrob in the '90s, even appearing on "The Jerry Springer Show" in 1995 in a segment about rock star "groupies," per Rolling Stone. In his final interview with Metal Hammer Magazine (archived by Louder) in 2008, Steele was asked what he wanted to do "with the second half of [his] life." Poignantly, he replied, "I'm probably closer to seven-eighths of the way through my life, that's what I hope anyway. What makes me happy is making other people happy." Steele died just two years later.
Sadly, he died of suspected heart failure in 2010, aged 48. According to his cousin, singer-songwriter James Toth, the bowel disease diverticulitis also played a role in Steele's death.
Mary Hansen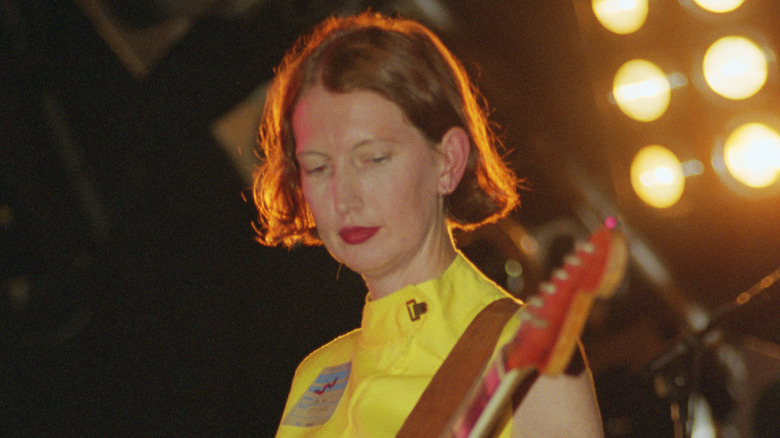 After moving from her native Australia to the UK in the late '80s, Mary Hansen settled in London. The 10,000 mile trek proved to be a wise decision, as she joined Anglo-French indie pop group Stereolab as backing vocalist and guitarist in 1992. According to an archived 1994 Chicago Sun-Times review of the band's "Mars Audiac Quartet" album, "The English quintet Stereolab only does one thing – hypnotic rhythmic drones with sly melodies delivered in a mix of English, French and nonsensical syllables – but, boy, does it do that well."
In 2002, Hansen's life and career were cut short when she was struck by a car while riding her bike in London. She was 36. A touching obituary by The Guardian described her as "generous, open and fun to be around. A wiry figure, decked out in thrift-store chic, she had the rare ability to be enthusiastic about almost everything."
The remaining members of Stereolab reflected on the impact of Hansen's death in a 2004 interview with the Independent. "I'm very proud that Mary managed to do so much in her short life. She always understood that you were alive and had to make the most of it," vocalist Lætitia Sadier said. "Our dedication to her on the album says 'We will love you till the end', meaning of our lives. I'm not religious, but I feel Mary's energy is still around somewhere. It didn't just disappear."
Charmayne Maxwell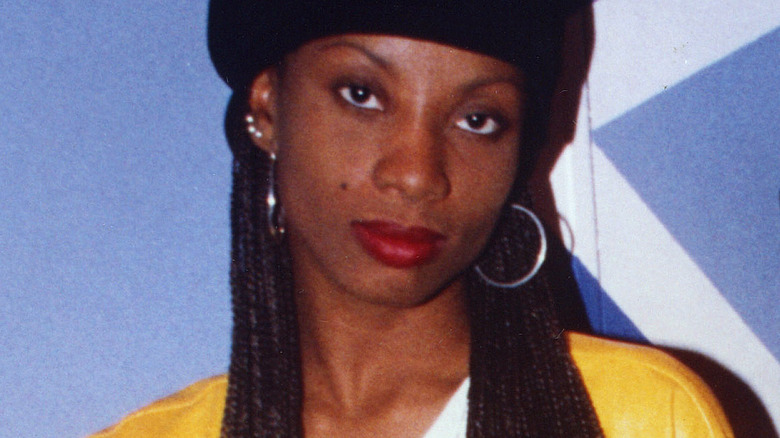 Comprised of members Charmayne Maxwell, Monica Doby, and Nichole Gilbert (later replaced by Kina Cosper), R&B girl group Brownstone was flying high in the mid '90s. Having been signed to Michael Jackson's MJJ music label, Brownstone's 1994 single "If You Love Me" was the group's biggest hit, garnering a Billboard Music Award and a Grammy nomination in the process.
In 2019, the group reunited for its 25th anniversary, but one member was notably absent: Charmayne Maxwell. The 46-year-old died in 2015 after a suspected fall that reportedly resulted in a severe injury to Maxwell's neck. In an exclusive interview with TMZ, a member of Maxwell's family explained that the singer was found with a cut on her neck and while being rushed to the hospital. "LAPD went to the home … and tell us it was a broken wine glass that cut Charmayne's neck. Detectives do not suspect foul play," TMZ reported at the time.
According to the Danish publication Ekstra Bladet, Maxwell was survived by her husband, the record producer Carsten Soulshock, and her son, Nicolaj.
Wayne Static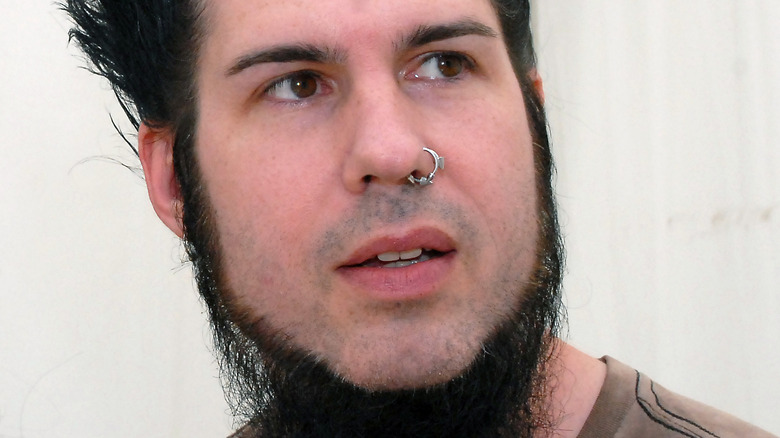 With its fusion of metal and industrial music, Static-X stood out from the crowd in the nu-metal era. The band released its debut album "Wisconsin Death Trip" in 1999, with Metal Hammer favorably contrasting the release to the work of Static-X's nu-metal peers: "Lacking both Korn's self-lacerating angst and Limp Bizkit's obnoxious bro-dom, the Chicagoans' debut album was never designed to be taken seriously. But 'Wisconsin Death Trip' was a blast all the same – a glorious rush of grinding riffs and squelching electronics."
Fans were devastated when frontman Wayne Static (born Wayne Richard Wells) died at the age of 48 in 2014. Blabbermouth reported on the official coroner's report, which concluded that he consumed a fatal combination of alcohol and prescription drugs, though it states that Static "stopped using illicit drugs in 2009" and his death was subsequently deemed "natural."
Tributes poured in following Static's death, with Smashing Pumpkins frontman Billy Corgan reflecting on the musician's lively personality. "I am shocked to hear that Wayne Wells (Wayne Static) has passed away," Corgan tweeted (via NME), adding, "He was a real gentleman, and loved music (and KISS, Ace in particular). Even had the hood of his car painted with the KISS logo."
Less than two years later, his widow, Tera Wray Static, took her own life at the age of 33.
If you or anyone you know is struggling with addiction issues, help is available. Visit the Substance Abuse and Mental Health Services Administration website or contact SAMHSA's National Helpline at 1-800-662-HELP (4357).
Big L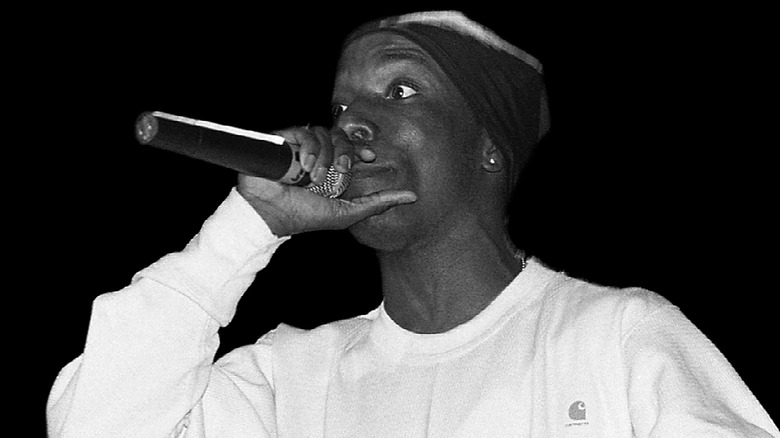 Underground hip-hop artist Big L (born Lamont Coleman) may not be as famous as his contemporaries, but he was highly lauded during his all too brief lifetime. Active on the New York underground hip-hop scene, Rolling Stone wrote that "Big L left an indelible impression on many of the people he met in the hip-hop community in the 1990s," noting that Big L is regarded "as one of the best rappers to ever touch a microphone."
Tragically, Big L was fatally shot near his Harlem home in 1999. He was just 24. Gerard Woodley, an acquaintance of Big L who had a long criminal history, was arrested in connection with Big L's murder. However, DNA Info reports that Woodley, who was fatally shot in 2016, was ultimately never charged for the rapper's murder due to lack of witnesses. As for Woodley's alleged motive, it remains unclear, although authorities speculated that Big L's alleged association with underworld figures may have conflicted with Woodley's own illicit activities.
Fellow rapper Mac Miller, who also went on to shock the hip-hop world with his untimely death, said that Big L was a major inspiration to him. "He really inspired me to be clever and witty," Miller told XXL Mag in 2012. "My early stages of rapping, I was basically trying to be like Big L — trying to be a super raw MC."
David Roback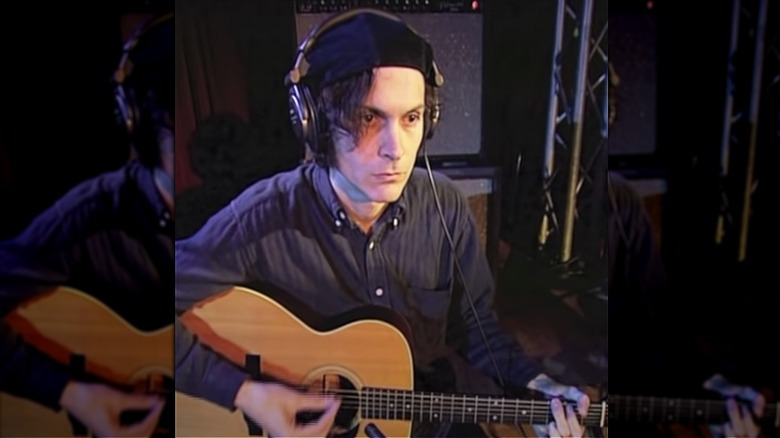 Indie darlings Mazzy Star featured extensively on MTV when the group's 1994 single "Fade into You" became a major hit. Characterized by the whispery, breezy vocals of frontwoman Hope Sandoval, all of the band's songs were the product of an intense collaboration between Sandoval and guitarist David Roback.
Throughout his career, Roback had been mythologized to an extent, earning a status as a mysterious and enigmatic figure. As Uncut noted in a 2013 interview with Roback and Sandoval, "It's tempting to ask, does anyone really know David Roback? Along with Hope Sandoval, his creative partner in Mazzy Star, Roback comes across as elusive, often cryptic." The musician's obituary in The New York Times further traced his meandering career, which started in the early '80s with a "psychedelic rock" band that was part of the so-called "paisley underground." It was with Roback's second band, Opal, that he would link up with Sandoval, with whom he found a creative partnership for the rest of his life.
The indie world was in mourning when Roback died in 2020, aged 61. According to his mother, Rosemary, his cause of death was metastatic cancer. Following Roback's death, Sandoval expressed her heartache on her Facebook page. Alongside a photo of an uncredited poem, Sandoval wrote, "It's been a few days since I lost my dear friend and I am devastated…"
Stephen Gateley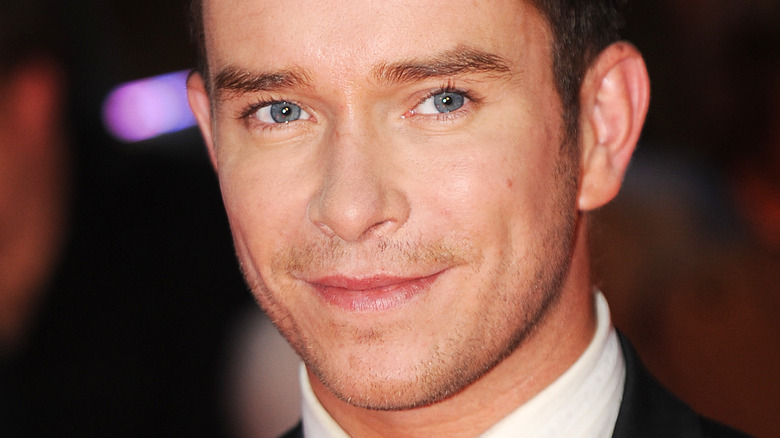 Irish pop sensation Boyzone was one of the biggest boy bands of the '90s. Despite the immense nostalgia with which we look upon the decade, homophobia was rife throughout the era. For instance, homosexuality was only decriminalized in Ireland as recently as 1993. Accordingly, Boyzone's Stephen Gately was an LGBT+ pioneer when he came out as gay in 1999.
Gately died while on holiday in Majorca in 2009. He was 33. The Mirror reported that the cause of death was "pulmonary oedema — fluid on the lung — caused by an undiagnosed heart defect." Speaking with the same outlet, Gately's husband, Andrew Cowles, reflected on the couple's final moments together: "The night he died, we'd had such a good time, a lovely evening in our favourite restaurant. He was the most happy and confident he'd been in his life, and he'd just finished his book. He died under my arm, curled up on the sofa and it was a few good hours before I realised he wasn't sleeping."
In 2020, Gately's bandmate, Ronan Keating, commemorated the eleventh anniversary of his friend's death in a touching Instagram tribute. "11 years has zipped by and it's still as hard as ever to not have you in all our lives," he wrote. "Miss you brother. Miss your laugh, miss your sense of humour. Miss your strops miss your high kicks miss the bones of ya [sic]. I know you are still smiling straw balls. God Bless."
Mia Zapata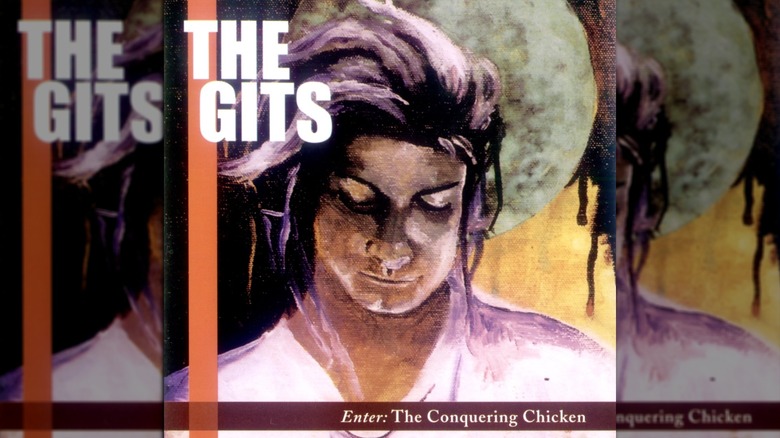 Although they may not have enjoyed the same monumental success as their grunge peers, Seattle rockers The Gits nonetheless made it onto Rolling Stone's "50 Greatest Grunge Albums" list with their sophomore album "Enter: The Conquering Chicken." Led by the formidable Mia Zapata (depicted above in an artist's rendering on the band's aforementioned album cover), The Gits developed a cult following in the early 90s.
In a shocking turn of events, Zapata was found dead on a Seattle street in 1993. She was 27. Her death was ruled a homicide, but would remain a cold case for a decade. Frustrated by the lack of leads on the Zapata murder case, the grunge community unified and organized benefit shows in an effort to raise money for a private investigator. Nirvana, Pearl Jam, and Soundgarden featured on "Home Alive," a 1996 benefit album. Finally, there was a major break in the case in 2003 when advanced DNA technology enabled investigators to identify the saliva of fisherman Jesus Mezquia in connection with Zapata's murder. He was sentenced to 36 years in prison, where he remained until his death in 2021.
Of their late bandmate, Andy Kessler, Matt Dresdner, and Steve Moriarty told Rolling Stone in a statement, "Mia Zapata was an extraordinary human being. She was a beloved friend, a gifted songwriter, musician, visual artist, and performer. Rather than focusing on her death, we prefer to remember her friendship, talent, humor, and the incredible art and music she left to the world."
Mark Linkous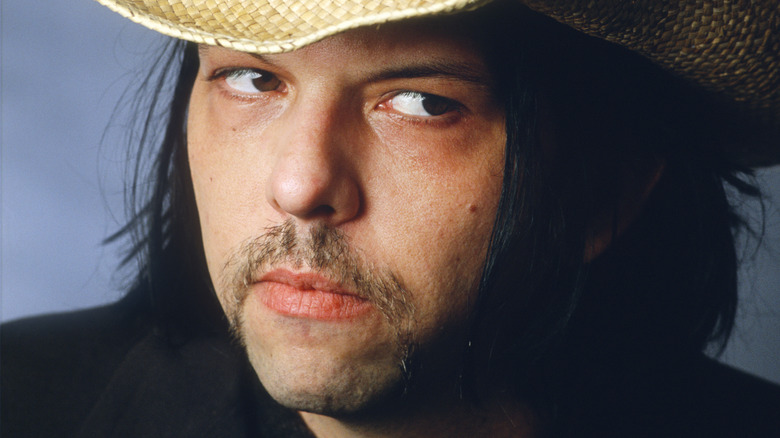 Virginia-based indie rock band Sparklehorse was characterized by broken, somewhat infantilized vocals and deeply personal lyrical content steeped in childhood regression. The emotionally charged music was a reflection of the personal struggles frontman Mark Linkous endured for years.
In a 1996 interview with NME, Linkous was asked whether he had a newfound lust for life following a near-death experience in which he collapsed in a London hotel room, resulting in partial paralysis to his legs. Poignantly, he replied, "I mean, I never realized how many people love me… I'm glad to be here now. I'm really glad to be here, y'know."
After seemingly staging somewhat of a professional renaissance in the mid 2000s, Linkous tragically took his own life near a friend's house in Knoxville, Tennessee in 2010, at the age of 47. In a touching NPR profile, Robin Hilton, an admitted fan of Linkous, wrote of the impact the late singer-songwriter had on his fans, noting his ability to "reach into the hearts and minds of those fortunate enough to hear [his] music and leave them with the belief that they were common friends."
If you or anyone you know is having suicidal thoughts, please call the National Suicide Prevention Lifeline​ at​ 1-800-273-TALK (8255)​.
Wesley Willis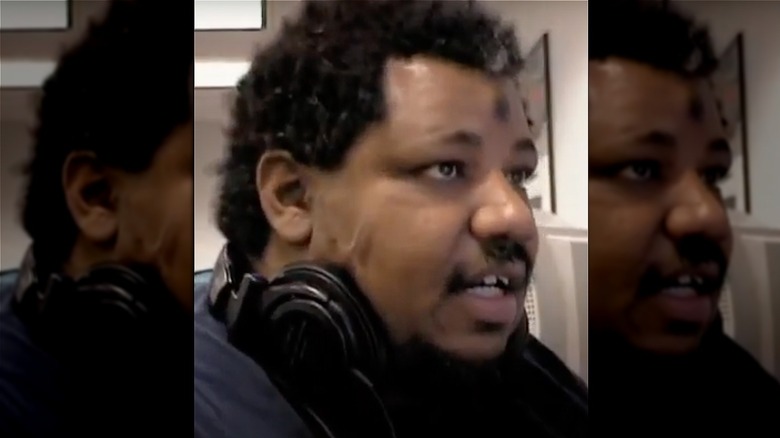 Attracting the attention of acclaimed musicians such as grunge icon Eddie Vedder and Beastie Boy Mike Diamond, experimental punk rocker Wesley Willis was a prolific underground singer-songwriter, who released an impressive 50 albums throughout the course of his career.
A diagnosed schizophrenic, Willis made a name for himself on the alt circuit by performing what the Chicago Tribune called his "meticulously penned" lyrics over original music composed on "his pre-programmed Technics KN 2000 keyboard." The outlet also noted that one highlight of Willis' music, and the attribute possibly most adored by his fanbase, was his penchant to include "an ad slogan" in his songs. In fact, his satirical 1994 tune, "Rock 'n' Roll McDonald's," which was arguably his biggest "hit" per se, was posthumously used in the documentary "Super Size Me" in 2004.
After being diagnosed with Chronic Myelogenous Leukemia in 2002, Willis died a year later at the age of 40. Former Dead Kennedys frontman Jello Biafra was close friends with Willis and paid him a moving tribute. "Wes was deeply religious," Biafra said in a statement (via MTV News). "He was afraid that if he died he would no longer get to go see bands play. If there is a hereafter I hope he's right up front with Jimi Hendrix, Stevie Ray Vaughan, his beloved Otis Redding and his dear friend Bradley [Nowell] from Sublime 'storming the stage' as the crowd 'roars like a sea monster.' All opening for Wesley, of course."
Natasha Shneider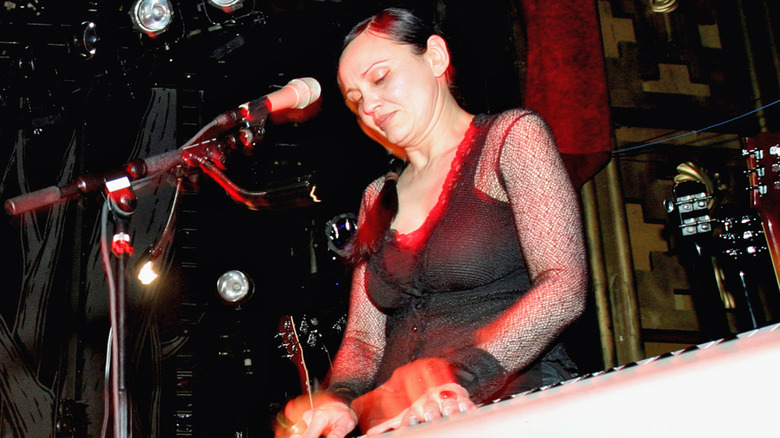 Born in the USSR, Natasha Shneider was the vocalist and keyboardist for LA-based alt-rock group Eleven, which was fronted by her husband Alain Johannes. She also worked with Queens of the Stone Age and the late Chris Cornell, collaborating with the latter on his debut album "Euphoria Morning" (1999), having co-produced it and composed the music for several of the songs.
As reported in a 1980 Orange Coast Magazine profile, Shneider, who at the time went by the married name Natasha Kapustin, had fled from Moscow to New York in 1976. "We had no money, no friends, and no professional contacts of any sort," Shneider explained. "It was hard starting all over again in a new country." Before its dissolution, the Soviet Union suppressed musical expression, which contributed to her decision to defect. "In Russia, the government controls everything, including musical arrangements and production," she told the publication.
Shneider died from cancer in 2008, aged 52. According to a Guardian exposé on the mounting costs of healthcare in the U.S., she had been struggling to afford her cancer treatment: "She was put on chemotherapy pills – two a day at $500 a time. Schneider had health insurance that split the cost, but that still left her paying $500 a day for essential treatment."
Two months after her death, Queens of the Stone Age put on a benefit show in Shneider's memory at the Henry Fonda Theater. British musician PJ Harvey and Jack Black's Tenacious D were also in attendance.
Guru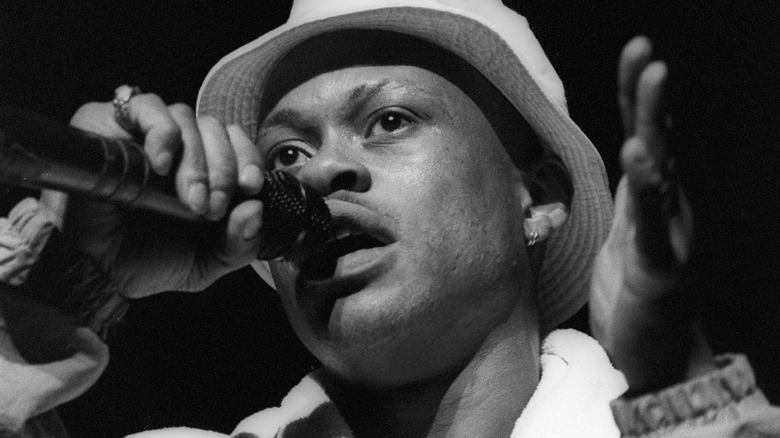 Guru (born Keith Edward Elam) was a prolific rapper who is widely regarded as a jazz-rap innovator. One half of hip-hop duo Gang Starr, alongside DJ Premier, Guru enjoyed solo success with his "Jazzmatazz" albums in the '90s and 2000s. A year before his death, Guru elucidated the inspiration behind his unique fusion of jazz and hip-hop in a Blues and Soul Magazine interview: "When I first came up with the 'Jazzmatazz' concept – I was noticing how a lot of cats were digging in the crates and sampling jazz breaks to make hip hop records. … I wanted to take it to the next level and actually create a new genre, by getting the actual dudes we were sampling into the studio to jam over hip hop beats with some of the top vocalists of the time. … I knew it was an idea that would spawn some historic music."
According to CNN, Guru was diagnosed with myeloma over a year before his death, but kept his diagnosis a secret. He died in 2010. Various outlets report that he was 43, though his date of birth is cause for speculation.
His friend, rap producer Solar, said that the enduring support of Guru's fans helped him get through those difficult final days. "I would read him the e-mails that would come in and play him the voicemails. I really do believe that was part of the reason why he was able to go on as long as he did," Solar told CNN.
Vic Chesnutt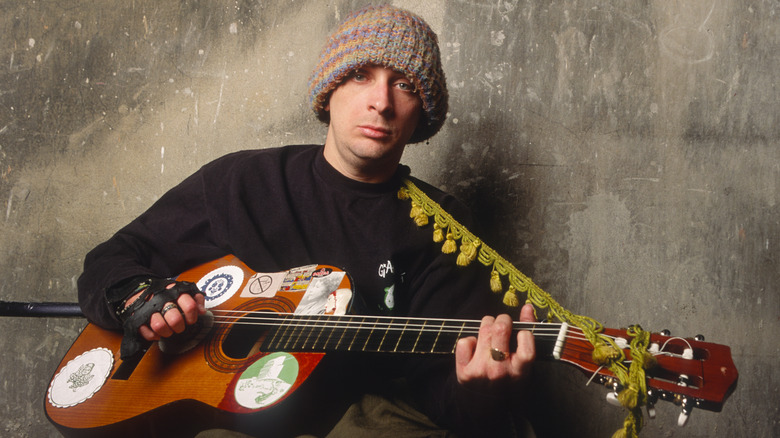 Alternative singer-songwriter Vic Chesnutt released multiple albums in the '90s and 2000s to cult acclaim. His 1996 major label debut "About to Choke" was reissued posthumously in 2010, with Pitchfork writing, "It was dark, death-obsessed, and the only potential singles were a country-leaning song about small-town gentrification." Indeed, these themes of morbidity and anti-capitalism would prove prophetic.
Partially paralyzed following an accident in his youth, Chesnutt discussed how his paralysis affected his music in an interview with Terry Gross on Fresh Air. Mere weeks before his death, he told Gross, "It was only after I broke my neck and after even like maybe a year later that I really started realizing that I had something to say."
Chesnutt took his own life on Christmas Day 2009, following mounting debts. He was 45. According to the The Guardian, Chesnutt had approximately "$70,000 in unpaid medical bills and had recently been served with a lawsuit by a Georgia hospital," at the time of his death. In an interview with The Quietus, conducted just months before his death, Chestnutt lamented the "grind" of "worrying about paying the bills … It diminishes the joy that you can get out of music sometimes." However, he did concede his love for his 20+ year career, calling it "a triumph" and "a thrill" in the sense that he had been "living the indie rock & roll dream."
If you or anyone you know is having suicidal thoughts, please call the National Suicide Prevention Lifeline​ at​ 1-800-273-TALK (8255)​.
Trish Keenan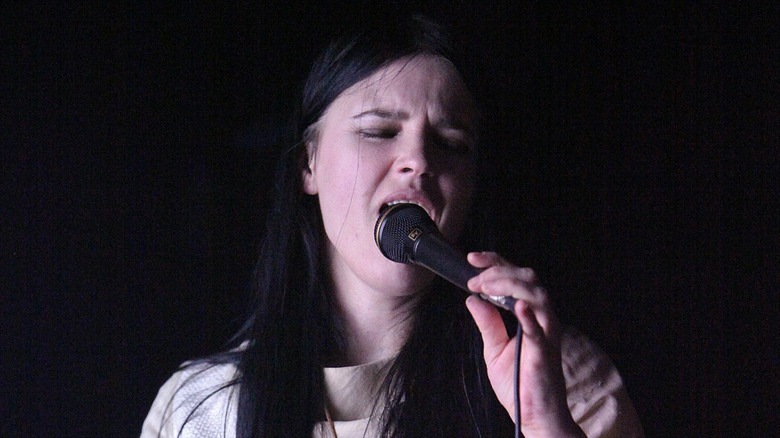 It may seem like coronavirus is the deadliest pandemic in recent history, but there was another pandemic that caused several hundred thousand deaths just over a decade ago. According to a study by medical journal PLOS Medicine, the swine flu pandemic of 2009 was far deadlier than initially believed and continued to claim lives years after the virus peaked.
Trish Keenan, the lead vocalist of late '90s/early 2000s British electro band Broadcast, was one of several hundred thousand people who succumbed to the potentially fatal respiratory virus. Per the BBC, Keenan died of "pneumonia-related complications" after contracting swine flu in Australia in 2011. She was 42.
In a 2009 interview with The Wire (archived in 2020), Keenan exhibited her quirky sensibilities when discussing the influences of her album "Witch Cults Of The Radio Age": "I'd like people to enjoy the album as a Hammer horror dream collage where Broadcast play the role of the guest band at the mansion drug party by night, and a science worshipping Eloi possessed by 3/4 rhythms by day."
Throughout her career, Keenan was famed for her humility and nonchalant approach to stardom. Describing a video that Keenan recorded at the 2007 Moseley Folk festival, The Guardian eulogized, "Rather than concentrating on who was performing, Trish focuses on festivalgoers…Trish is clearly revelling in their happiness. As legacies go, it doesn't get much better than that."