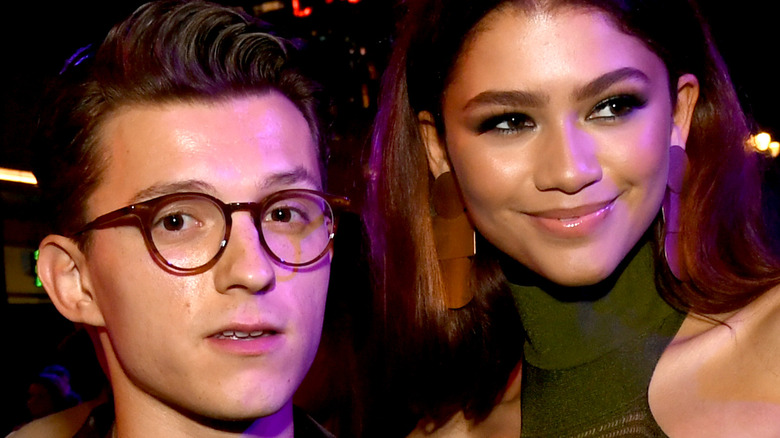 Zendaya and Tom Holland have the perfect ingredients for a Hollywood power couple: they're beautiful, they're young, and they're massively successful. They're more than just "Spider-Man" co-stars. They're actual on-screen love interests, and if there's anything fans love, it's art imitating real life (unless that involves Thanos actually vying for global genocide).
As the youngest person to ever win an Emmy for best actress in a drama series, Zendaya's multifaceted depiction of Rue in HBO's "Euphoria" elevated her reputation beyond Disney Channel star. As for Holland, he's the type of actor Teen Choice Awards were made for. Nonetheless, despite their global fame, the pair are unusually private about their personal lives. They might drop vague breadcrumbs in interviews and on social media, but it's only enough to encourage the tabloids to pry (and inevitably be denied).
For years, since just about the very first moment the pair were cast in "Spider-Man: Homecoming," there's been a well-documented will they, won't they, and wait a minute, haven't they already? At this point, romance rumors between the pair are a favored tabloid pastime, but there's never been hard evidence — at least until now.
Whether they intended it or not, Zendaya and Holland are paparazzi official. Here's a look at their journey from friendship to romance, magic that's been at least five years in the making.
In 2014, Tom Holland and Zendaya walked their first red carpet together
Tom Holland and Zendaya's fairytale began in July 2016 when the casting for "Spider-Man: Homecoming" was officially announced. Holland was to star as the title character, the Spider-Man (a.k.a. Peter Parker), and Zendaya would portray Michelle "MJ" Jones, a revamped version of Parker's iconic love interest, Mary Jane Watson (though, not explicitly the same character).
Not long after that, the pair's friendship — or whatever it was — became Instagram official. While Zendaya posted some obvious work-related snaps with Holland and her castmates, Holland took us behind the scenes with a photo of the pair hanging out in a pool. He captioned it "Summer Sundays," and it served as the first piece of definitive proof that the Brit and Disney star actually saw each other outside of work.
That same month, Zendaya and Holland walked their first red carpet together at Comic-Con in San Diego (as pictured above). Sure, this is customary for co-stars, but according to Vulture, MJ's role in "Homecoming" was actually pretty small. She wasn't the star, though her character would become one. MJ was always meant to be the love interest, and whether that translated to real-life is up for debate, but either way, the chemistry was evident.
They then graced the cover of The Hollywood Reporter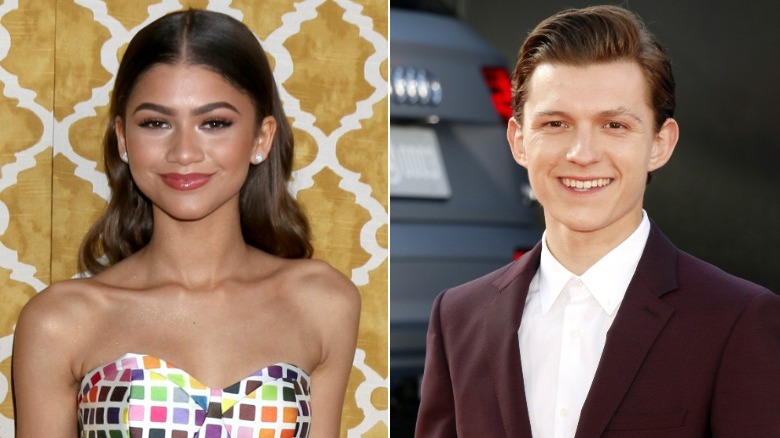 In November 2016, Tom Holland and Zendaya became dual cover stars for The Hollywood Reporter's "Next Gen" issue, which highlighted 20 rising Hollywood actors under the age of 35 including Alex Wolff, Olivia Cooke, and Tye Sheridan. In the cover story (via Just Jared), Holland admitted that he was in bed, "scrolling through Instagram," when he found out about his casting via Marvel's website — just like the rest of us. At the time, he wasn't exactly a household name in the United States.
Zendaya, on the other hand, was a genuine TV star. In the same issue, she spoke out about the controversy regarding her role as an African American Mary Jane (even though her character wasn't technically Mary Jane, anyway). "I'm like, 'I don't know what America you live in, but from what I see when I walk outside my streets of New York right now, I see lots of diversity and I see the real world and it's beautiful," she said (via Just Jared). "And that's what should be reflected and that's what is reflected so you're just going to have to get over it.'"
The pair didn't gush over each other in print, but Zendaya definitely did later that month after they popped by the Presbyterian Children's Hospital of New York. The former Disney Channel star shared an Instagram video of their visit, in which she hailed Holland, who was dressed as his Marvel character, the "world's best real life Spider-Man."
Tom Holland admitted he's 'the best of friends' with Zendaya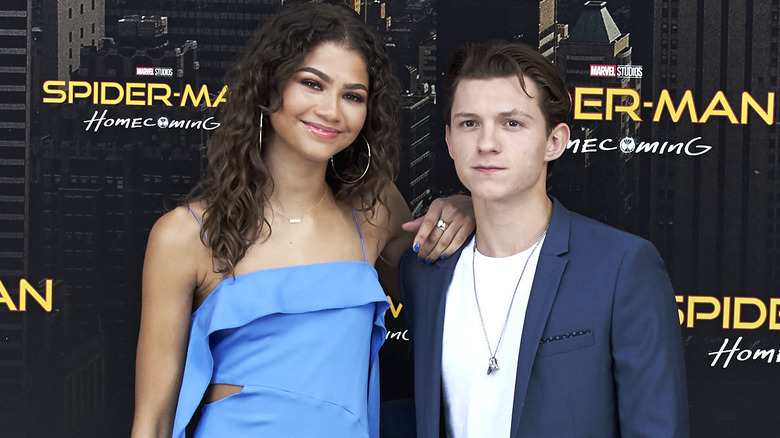 July 2017 marked the premiere of "Spider-Man: Homecoming." According to Variety, the Marvel flick had a massive opening weekend, pulling in an estimated $117 million at the domestic box office. Zendaya and Holland were officially blockbuster stars, and it only took them about a year after Marvel's casting announcement and numerous Instagram posts for one of them to finally – finally – acknowledge their obviously close friendship.
Right before the premiere, Holland opened up to People about his relationship with the former Disney Channel star, admitting that Zendaya was helping him navigate his newfound fame. "We are like the best of friends," he revealed. "I'm a little worried [about dealing with fame … but] Zendaya is super famous and she's been through this and I just call her up and say, 'How do I manage being famous?' I'm very glad I have a friend like her." If there was anyone who had been through it before, it was Zendaya.
That same month, the tabloids' Spidey senses start tingling
There's nothing tabloids like more than two co-stars in love. Of course, with the premiere of "Spider-Man: Homecoming" came an onslaught of romance rumors. People broke the alleged news, claiming in a July 2017 report that Tom Holland and Zendaya were officially hiding a behind-the-scenes romance.
A source told the magazine that the co-stars started dating while filming, but they'd been carefully shielding their budding relationship from the paparazzi. This allegedly included hiding entire secret vacations — or, as we'd like to imagine, alleged romantic holidays. The pair were reportedly trying to "spend as much time as possible with one another," which was probably pretty easy considering they were doing joint press rounds. In the same article, a separate insider revealed, "They're both really ambitious and they challenge each other — but, most importantly, they make each other crack up. They seem to have a really similar sense of humor and love joking around together. They have great banter back and forth."
While the banter may be real, Zendaya and Holland casually laughed off the rumors via Twitter. The former Disney Channel star even admitted that her "favorite" part of People's report was the pair's supposed vacations. By her own admission, she hadn't had a vacation "in years." Still, as Page Six pointed out, they didn't explicitly deny the rumors, but they didn't confirm them either.
Zendaya used the F-word to describe Tom Holland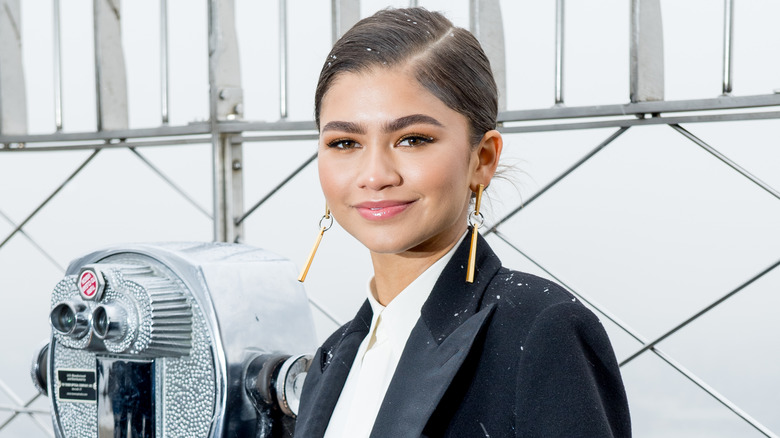 In August 2017, Zendaya graced the cover of Variety, which claimed she "fell in love with Spider-Man." Unfortunately, the magazine was just talking about the film series and not her co-star as fans had hoped. Instead, as romance rumors buzzed around the tabloids, the "K.C. Undercover" actor put Tom Holland firmly in the friend zone — at least publicly.
In the profile, she spoke about her first meeting with the British actor, which he reportedly remembered as "super awkward." She admitted, "He went for a handshake and I went for a hug. But I don't remember that. I thought it was cool." The former Disney Channel star also brushed over a scary encounter that happened when a paparazzi spotted her riding in a car with her co-star. "This guy was being super dangerous, driving through a busy intersection, doing a U-turn, driving on the side of the freeway to catch up to us — the side where you're not supposed to drive because there's no lane. I was like, 'This is nuts,'" she said.
Blame it on the rumors, which she also explicitly dismissed. "No," she told the magazine of the pair's supposed romance. "He's a great dude. He's literally one of my best friends. This past how many months we've had to do press tours together. There's very few people that will understand what that's like at 20 years old." Case closed for now.
Tom Holland met Zendaya's parents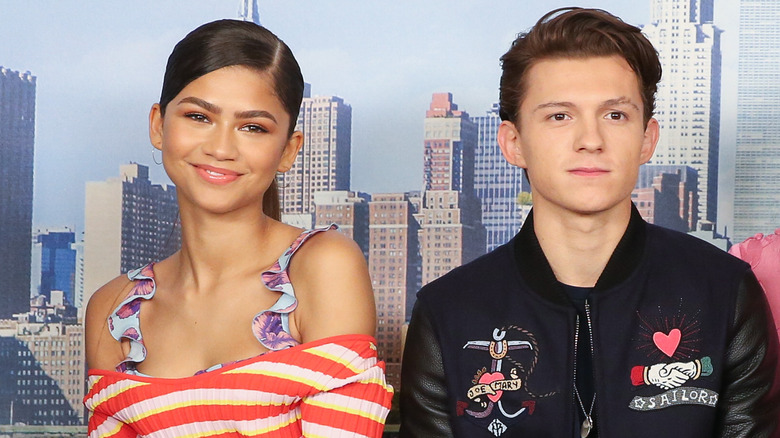 Up until this point, Tom Holland and Zendaya may have claimed they were just friends, but they were apparently the sort of friends who were important enough to meet the parents. That's a big step, both for a romance and for a friendship. By the time prime cuffing season rolled around (i.e. December, when it starts to get chilly and those of us not in Los Angeles need a cuddle buddy for warmth), Zendaya reportedly whisked Holland away to New York to meet her family.
According to Page Six, Holland allegedly "charmed" Zendaya's parents at Bobby Van's Central Park South, a pricey steakhouse in one of Manhattan's most picturesque locales. The restaurant reportedly "made a special cake" to celebrate Zendaya's film "The Greatest Showman," which was set to premiere in the coming months. The cake featured the actor's beloved dog Noon, who has his own Instagram account.
Tom Holland gushed over Zendaya's 2018 Met Gala look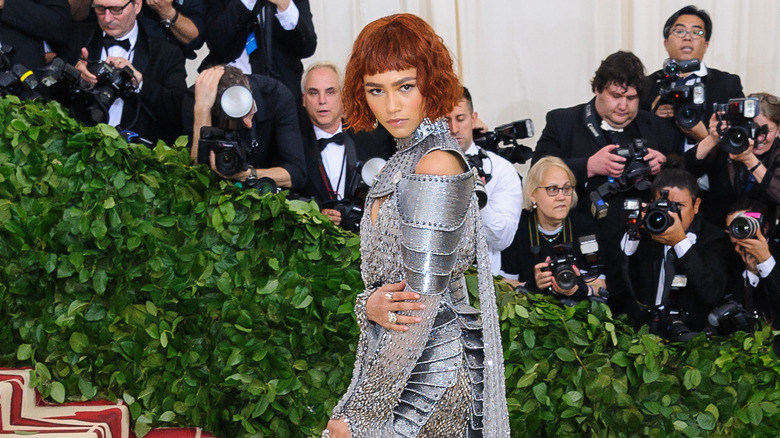 Most of us remember the 2018 Met Gala as the time Rihanna cosplayed the Pope, but the red carpet was filled with breadcrumbs leading us to Tom Holland and Zendaya's alleged romance. That year, the "Greatest Showman" actor (who landed a spot on our best-dressed list) walked the red carpet alone in a Joan of Arc-inspired ensemble by Versace. Think: armor and chainmail, but make it fashion — and we weren't the only ones swooning.
Tom Holland, who did not go to the event, gushed over his co-star and her custom gown, reposting an image of the look on Instagram. "All hail the queen," he wrote. "Killing it mate." Of course, we can only suspect that the word "mate" was to throw the tabloids off his trail considering most men don't dedicate a whole grid post to a photo of their bestie in a red carpet gown, but who are we to judge? Maybe he's just supportive.
The same year, Zendaya and Tom Holland celebrated each other's birthdays on their respective Instagram accounts. The posts weren't exactly gushy, but Holland's did include a heart.
Skai Jackson's mom seemingly confirmed Tom Holland and Zendaya's relationship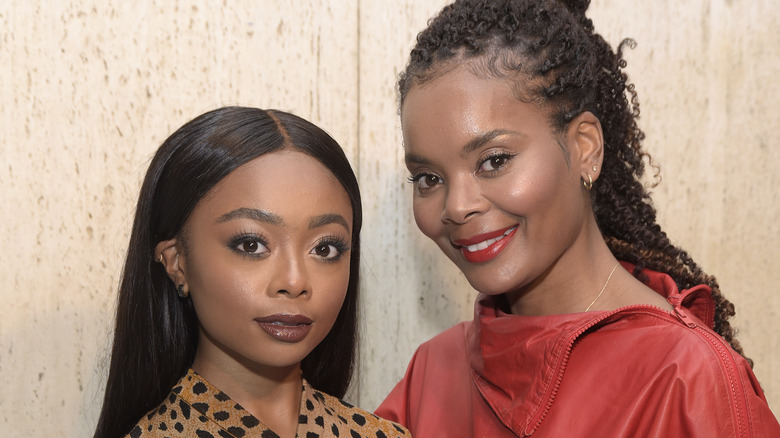 Telephone is a dangerous game, and that's exactly what we learned from Zendaya's alleged relationship with Tom Holland. In September 2018, the romance was seemingly confirmed by Kiya Cole, the mother of Zendaya's friend Skai Jackson. Did she have inside intel, was she just repeating a rumor, or was this some kind of tabloid-induced fever dream and nothing actually happened at all? We'll go with the latter.
According to Elle, who captured the comments, it all happened under a post on Just Jared's Instagram account. The magazine had claimed that Zendaya celebrated her 22nd birthday in London with her "rumored real-life boyfriend," Tom Holland. A fan mocked the relationship rumors, to which an account that appeared to be Cole's explained, "Yes. It's true. They been on the low for a while." Unfortunately, Cole's account wasn't exactly a valid source at the time.
Zendaya's longtime stylist Law Roach quickly stepped in to shut the rumors down, tagging Cole and writing, "Really … and how would you know?" Not long after the comments were posted, Cole claimed her account had been hacked, apparently by the type of hacker who thrives off celebrity gossip rather than phishing scams. The comments have since been deleted.
In July 2019, Tom Holland was linked to family friend Olivia Bolton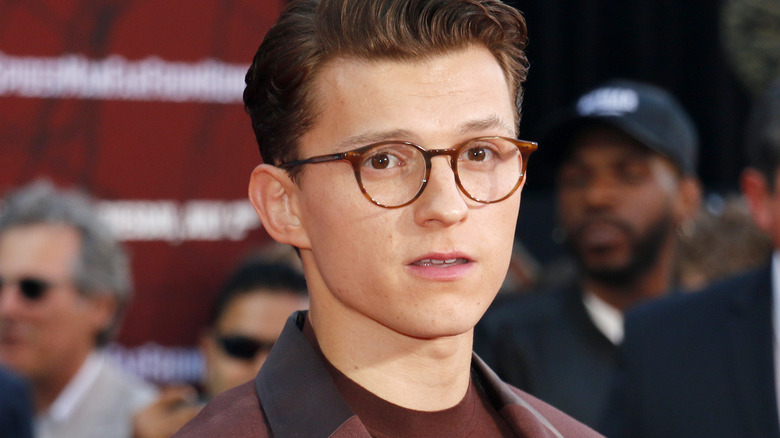 Another year, another "Spider-Man" film, and another relationship denial. In July 2019, "Spider-Man: Far From Home" premiered, pulling in a whopping $185 million at the box office in its first six days in theaters, according to Variety. It also reignited relationship rumors as Zendaya and Tom Holland explored an off-screen romance. This time around, Holland was quick to shut them down. In an interview with Elle, Holland admitted that though he hung out with Zendaya on the set of "The Greatest Showman," the pair were not an item. In fact, the self-described "relationship person" was patently single.
Shortly after Holland's Elle interview was published, he was spotted out and about with a so-called "mystery woman" in the Hyde Park area of London. Per Page Six, the beauty behind the buzz was Olivia Bolton, and the couple "put on a cozy display." That combined with the matching outfits exuded some big new relationship energy. According to The Sun, Bolton was an old family friend, not a child star like Zendaya. Holland was allegedly "smitten."
Zendaya was then linked to HBO co-star Jacob Elordi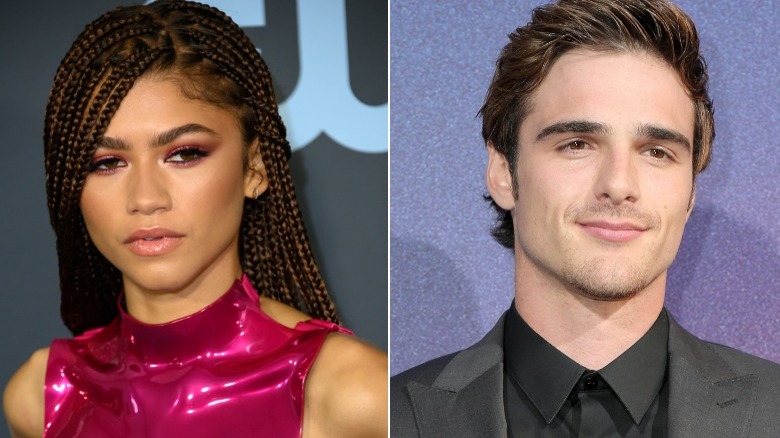 In 2019, summer romance was in the air. Tom Holland wasn't the only one supposedly nurturing a budding relationship. In August, Zendaya sparked romance rumors with her "Euphoria" co-star Jacob Elordi after the pair were spotted on holiday in Greece. This time, the star's vacation wasn't all that secret. According to Elle, Zendaya and Elordi visited the Acropolis of Athens, a major tourist spot where they failed to stay incognito. In fact, they were caught in the background of a tourist's snap. The actress also posted a video of her co-star cozying up to her beloved dog, and if he's Noon approved, you know it's serious.
Weirdly enough, Elordi shot the rumors down a few months later, telling GQ that Zendaya was "like [his] sister." By February 2020, they were gallivanting around New York City, laughing in the streets and being papped by Page Six as siblings do? According to Us Weekly, any mystery of are they or aren't they was solved when paparazzi caught Elordi kissing Zendaya on the forehead.
Tom Holland went Instagram official with Nadia Parks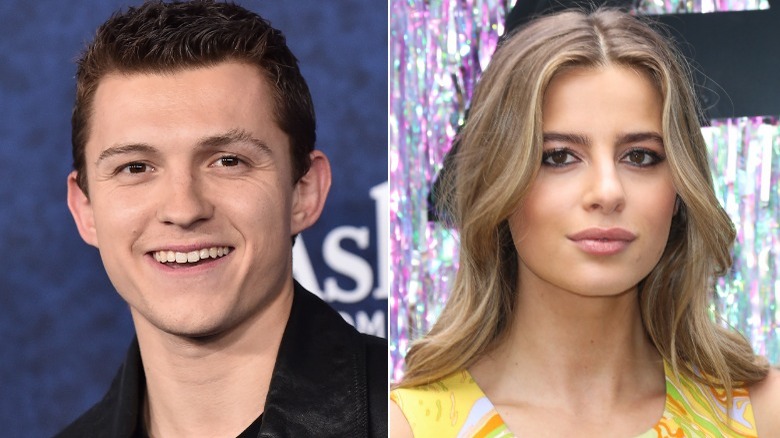 Whatever was going on between Tom Holland and Olivia Bolton didn't even last a year. According to a report from The Sun (via Daily Mail), the childhood friends split in April 2020 after coming to the realization that "they're better off as friends." It was reportedly "very amicable" and the pair stayed "very close." Holland moved on quickly, but how quickly is up for debate.
A month after the actor's alleged split, the Daily Mail revealed that Holland was officially in a relationship with actress Nadia Parkes. This is where reports conflict: Daily Mail claimed that the pair had been dating for "over three months," which places the start of their relationship sometime around February 2020. That's two months before Daily Mail's previous report, which claims Holland split with Bolton in April 2020. Nonetheless, it's possible the timeline is botched. Maybe he split with Bolton earlier than reported or the pair were never exclusive. It's also possible the relationship didn't even happen considering that, to the best of our knowledge, he's never publicly mentioned it.
Either way, Holland and Nadia supposedly got cozy during London's lockdown, during which they quarantined together in Holland's home. "Living together so soon into their romance has only made them stronger," a source told the tabloid. It's worth mentioning that Holland also had two other flatmates at the time, but his alleged relationship with Parkes was serious enough to make Instagram official.
Zendaya and Jacob Elordi were no longer living in euphoria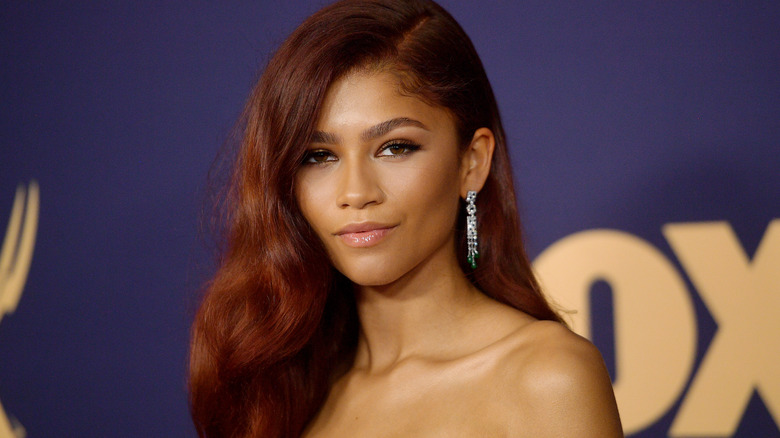 While the world patiently awaited Season 2 of "Euphoria," Zendaya's alleged relationship with Jacob Elordi was seemingly canceled after the first season. According to Us Weekly, the pair spent Thanksgiving together in Australia (Elordi is an Australian native) but were last spotted together in March 2020. So what happened?
As for now, it doesn't look like there was any drama. It could be the distance that did them in. As most people casually browsing the news know, Australia had some pretty strict lockdown measures that would've undeniably kept the couple apart if they tried to maintain a long-distance romance. GQ reports that Elordi was staying with his parents in Brisbane around that time, and at the time of this writing, non-residents (barring some exceptions) still aren't allowed in the country. It's safe to say that most relationships would suffer after more than a year apart — much less Hollywood relationships, which are a notorious whirlwind.
Tom Holland admitted he's having a hard time dating in the spotlight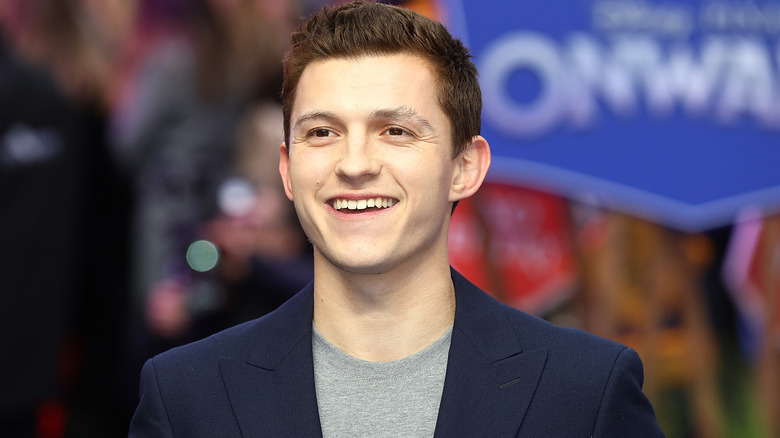 We don't know if Tom Holland was dating Zendaya when they filmed their threequel "Spider-Man: No Way Home," but we do know that Holland was having a hard time dating anyone else. As it turns out, being subject to an onslaught of dating rumors isn't the best lead for a Tinder profile.
In an interview published in April 2021, Holland admitted to GQ that being a Marvel superhero isn't all it's cracked up to be. His fame made dating "incredibly frustrating," and he couldn't even make an obvious mistake like accidentally tagging Zendaya over his groin in an Instagram photo without triggering an army of tabloid headlines.
"It's very nerve-racking," he said. "It means that if you are dating someone, you have to be really conscious of their feelings, because if something does happen between the two of you, it's not just happening between the two of you, it's happening in front of the entire world. And it can be very complicated. It's one of the things I worry about most, of all the things in my career." Sounds like he needs a partner who understands, right?
In 2021, paparazzi confirm Zendaya and Tom Holland's relationship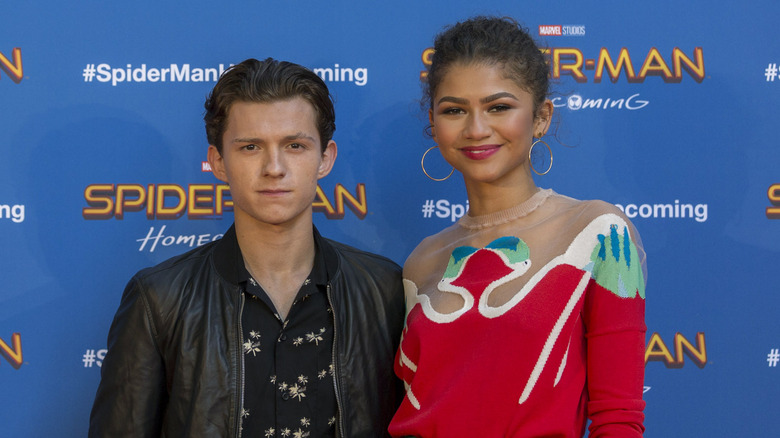 After years-long friendship and relationship rumors that may very well endure longer than their actual film franchise, Zendaya and Tom Holland are officially dating. The romance was confirmed in July 2021 by none other than the sneaky paparazzi who caught them kissing. According to Page Six, who posted a video of the smooch, the pair had a "passionate makeout session" in Los Angeles while sitting at a red light in Holland's $125,000 Audi. Oh, to be young movie stars in love.
Maybe the pair was method acting, but a slip of PDA seems like it was just a matter of time. A day prior, TMZ claims the pair were spotted at a Thai restaurant near Universal Studios on what appeared to be a date. Though they showed up separately and the restaurant was relatively empty, people started to notice when the couple removed their masks. On the day of the infamous kiss, Page Six reports that the couple was hanging out with Zendaya's mom, which signals that their relationship is probably not that new.
All in all, the pair's on-screen chemistry makes perfect sense — whether they were hiding their romance, or not.