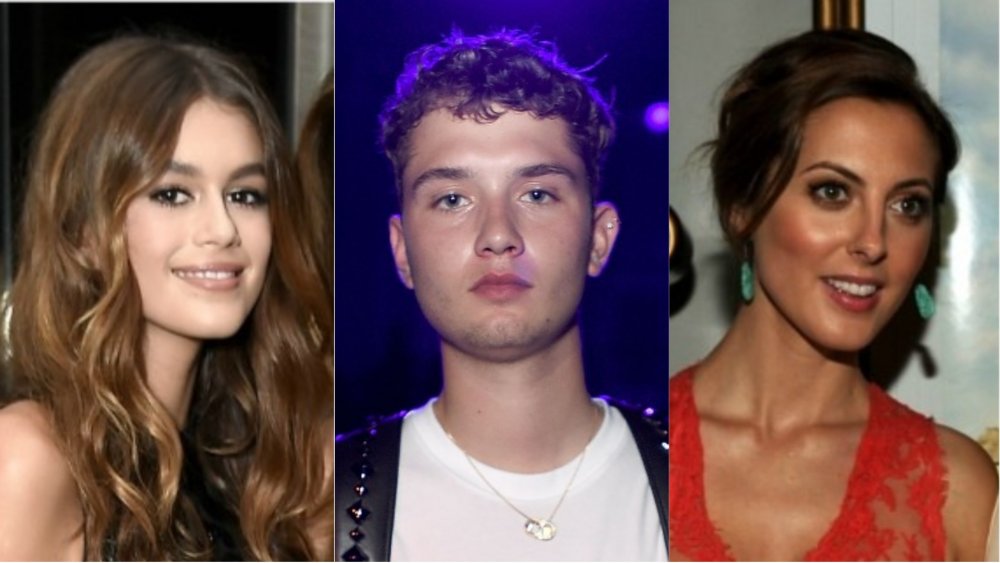 We've all fantasized about sharing the DNA of some of the hottest and most talented celebs in Hollywood who walk red carpets exuding genetic perfection. While some of the exotic looks stars have can be bought as long as you don't mind a few nips and tucks, the more natural features that make the famous so unique can't be recreated by even the greatest plastic surgeons. Their offspring, however, are not only reaping the genetic benefits of having celebrity parents, but are even being mistaken for them when they're out in public!
Let's check out the kids who are basically their celeb parent's twin.
Goldie Hawn and Kate Hudson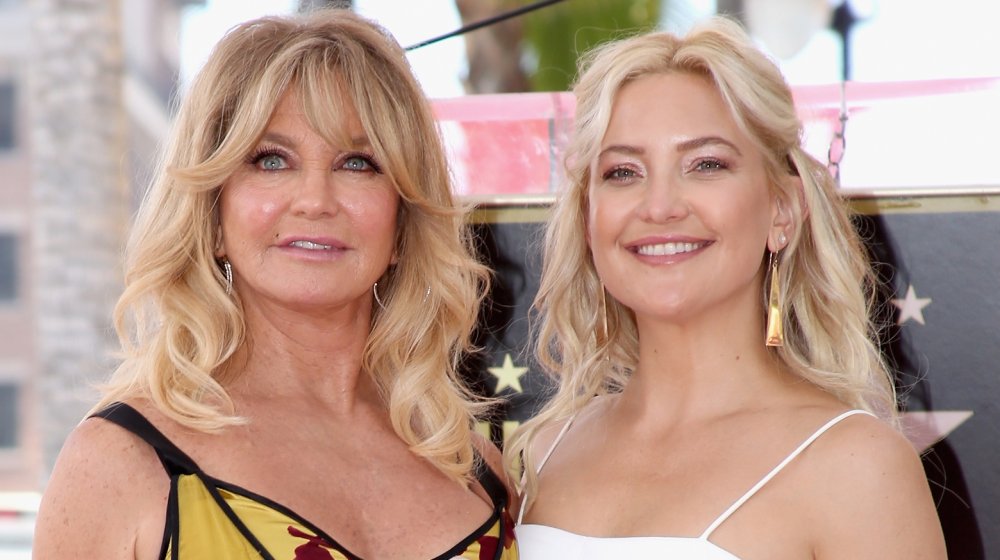 Goldie Hawn is not only known for decades worth of hit movies, but also for her humor, big smiles, and of course those iconic blonde locks. Even though her only daughter, Kate Hudson, who is also a famed actress, is half her age, the two hold a shocking likeness.
Hudson was blessed with more than just her mother's sexy curves and golden curls, as they both seem to have taken a few sips from the fountain of youth. You'd never guess that Hawn is well past retirement age, looking decades younger than she is. When the two are side by side, their eyes, nose, and of course that enormous grin they share are all practically identical — making this duo appear more like sisters than mother and daughter.
Reese Witherspoon and Ava Phillippe
It must be nice to often be confused with your celeb mother, getting the A-list treatment, but it must be even better as a woman to be mistaken for your 17-year-old daughter. This is what often happens to Reese Witherspoon and her look-alike daughter, Ava Phillippe, who has recently been joining her mother at public events and making a name for herself.
Even though Phillippe isn't interested in following in her mother's footsteps, she's apparently still getting compliments regarding her performance on screen. Witherspoon told E! News, "People come up to her [all the time]. We were at a premiere and they were congratulating her on her performance. She's like, 'I'm not in the movie.'" Phillippe may not want to make her career in Hollywood, but with that face, it might be hard for her to keep a low profile!
Jude Law and Rafferty Law
It only makes sense that one of Hollywood's sexiest men would reproduce a mini-me that would grow up to be just as yummy. Jude Law's oldest son, Rafferty Law, surely hit the jackpot when it comes to his looks, and those eyes … damn! This stud-muffin has certainly earned himself one of those little emoji faces with hearts for eyes.
If you're already in love, know that you won't be seeing Rafferty (or Raff, as he doesn't like his full name) on the big screen any time soon. Apparently, he inherited his father's sculpted cheekbones but not his acting skills, as he took drama classes in school but claims he wasn't that great. "I think everyone thought 'Oh God, he's going to be so brilliant,'" Rafferty told the Evening Standard. "Then they realized that I wasn't that good, so they just let me get on with it." He has since made a career for himself modeling and last spoke about focusing more on music.
Demi Moore and Rumer Willis
You might think Rumer Willis looks more like her father, legendary actor Bruce Willis, than her mother, Demi Moore, but to be fair, Demi Moore hardly looks like Demi Moore anymore. If you whip out a photo of Moore from her days working alongside Patrick Swayze on the set of Ghost and place it side-by-side with a current photo of her daughter, the resemblance is uncanny.
Willis got her mother's smooth, milky skin, as well as her defined jawline that gives the pair their unique beauty. Unlike many other look-alike celeb children, Willis dove headfirst into Hollywood, appearing in movies like The House Bunny and Sorority Row.
Susan Sarandon and Eva Amurri Martino
If Eva Amurri Martino looks familiar it's likely because you've seen her in practically every movie her mother, Susan Sarandon, has appeared in since she could talk. Most adorably, Martino plays the young teacher Ms. McGarricle in Adam Sandler's comedy, That's My Boy, while Sarandon plays the same character 30 years later.
Strangely enough, the onscreen duo don't share many facial features, as they each have different shaped faces, extremely different noses, and even significantly distinct lips. They're eyes, however, are so wide and unique that sharing this feature alone makes the two look nearly identical.
Cindy Crawford and Kaia Gerber
Supermodel Cindy Crawford has graced us with her beauty and presence for decades as the spokesperson for numerous brands, and now it's her daughter's turn to take the runway. Practically her mother's twin, Kaia Gerber is new on the scene, having only been modeling for the last few years or so.
The two share Crawford's notorious cheekbones, adorable nose, and pouty lips, but Gerber wasn't gifted with her mother's most notable feature: her mole. Strangely enough, however, Crawford's son, Presley Gerber, was. Well, sort of. His mole is on the opposite side and slightly further away from his mouth, but there's no mistaking that he carries the Crawford genetics, something that has likely helped him get into the modeling world, as well.
Jay-Z and Blue Ivy Carter
If you haven't already noticed, the daughter of Beyoncé and hubby Jay-Z is practically a clone of her father, as Blue Ivy Carter has everything from her father's lips to his chubby cheeks. Most notably, baby Blue has inherited her father's constant look of confusion and sense of fashion as she often dresses like the musician. She has been seen walking around with her father in matching baseball caps, dressed head to toe in white, and even adorable coordinating tuxedos. Queen B certainly wouldn't let her little princess grow up to be a tomboy though and she often dresses up with her daughter in matching outfits, as well. While Blue Ivy certainly has many of her father's features, she also has a softened, feminine look with her mother's eyes.
Meryl Streep and Mamie Gummer
Often considered the greatest actress of all time, Meryl Streep is a legend in Hollywood, certainly making it difficult for anyone, especially her daughter, to live up to her reputation. That doesn't mean there's no point in trying, and with Mamie Gummer's looks being nearly identical to her mother's, her unique look has become a classic alongside Streep's.
Gummer has been blessed with her mother's white-blonde hair that can't be found in any bottle of hair dye, as well as her distinct nose and simple smile. The two look so much a like that they were even cast to play mother and daughter on screen in the film Ricki and the Flash, something not all mother-daughter duos can do!
Tom Hanks and Colin Hanks
A doting father to four children, Tom Hanks' eldest son can practically pose as his reflection in the mirror. An actor as well, Colin Hanks shares his celeb dad's mannerisms, face shape, hair line, and straight-lipped smile. Most importantly, Colin has his father's small yet laughing eyes that have won us all over in dozens of his movies. They seem to enjoy playing into their likeness, and often go out dressed like four-year-old twins whose mommy dressed them up for a professional photo at Sears.
Several years ago, the two even played father and son onscreen, something it seemed young Hank was a bit hesitant about. In an interview with Parade, Colin spoke about filming The Great Buck Howard with hid dad, saying, "I was not necessarily looking to co-star with him. It wasn't high on my priority list. But I'm no slouch, if someone like him wants to be in your movie, you better let him." It seems that even though Colin has been in some critically acclaimed television shows, such as Band of Brothers, Mad Men, and Fargo, he still feels like he has some pretty big shoes to fill!
Fantasia Barrino and Zion Quari Barrino
Fantasia Barrino gave birth to her daughter, Zion Quari Barrino, when she was just 17 years old. According to Us Weekly, this was shortly after the American Idol winner dropped out of high school. Though she admitted to the magazine that she would've waited to have a child if she could have, every move the singer's made since then has been for Zion, including signing up for the reality TV show that made her famous.
In an interview with O Magazine, Barrino revealed that she first saw American Idol when Zion was about two years old. At the time, she recalled crying watching Ruben Studdard win because "someone had finally gotten something he wanted." It made her think: "Why am I sitting here in the ghetto, living on food stamps and a tiny government check?" She added, "I'll be honest: Those checks just weren't enough, and I had to steal what I needed — diapers, milk, food … I didn't want her to turn out like me … living like that was hard."
Studdard's win inspired Barrino to spring into action. She borrowed her brother's Oldsmobile, scrounged $50 from her grandmother and aunt to fill the tank, and drove to Atlanta to audition. The rest is history. Today, Barrino's daughter is the spitting image of her mom. At the time of this writing, Zion is about same age Barrino was when she first tried out for American Idol. A high school graduate, Zion lives a pretty private life in Charlotte, N.C.
Giuliana Rancic and Duke Rancic
Giuliana Rancic's path to motherhood wasn't easy. The E! host has been open about her fertility struggles. According to People, she was diagnosed with breast cancer in 2011, which she treated with a double mastectomy. Since then, she's been on cancer-suppressing medication, which makes pregnancy a risk. But even before that, Rancic spent four years trying to conceive after prioritizing her career over expanding her family.
"I always say how I chased my career instead of chasing guys. And everybody was patting me on the back. No one ever told me, 'Oh, by the way, your eggs change when you reach a certain age,'" Rancic told Health in 2012. "I didn't think 35 was old! So when the doctor said, 'It's not as easy as you thought it would be,' it was a real blow."
According to the outlet, Rancic endured three rounds of IVF, one of which ended in a miscarriage and one that just didn't take. Thankfully, the third time was a charm. Following her cancer diagnosis, the television personality used a surrogate for the embryo, and her son, Duke, was born in August 2012. Today, Duke doesn't just look like his mama — he also works alongside his mama, even though he's just a kid. The pair collaborated on a gender-neutral clothing line for Abercrombie Kids in March 2019.