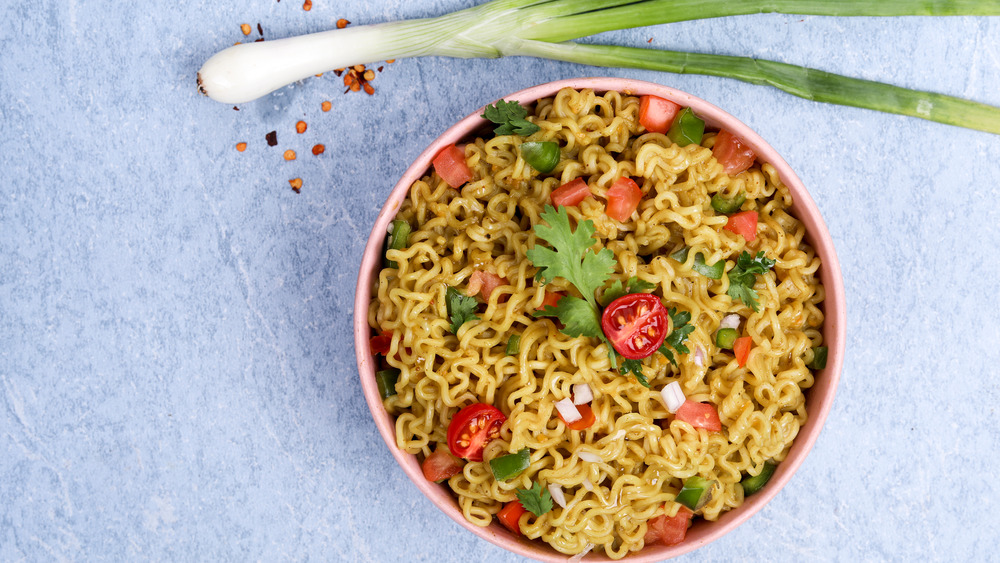 You don't have to spend hours in the kitchen to cook up delicious, crowd-pleasing recipes for every occasion. In fact, whether you're prepping an appetizer for a party, or you're rushing to get dinner served on a busy weeknight, there are lots of 20-minute recipes that are guaranteed to hit the spot.
Part of the trick is to cut corners where you can — for instance, you can use rotisserie or pre-cooked chicken for a number of easy recipes. Or to cut down on prep time, buy pre-cut veggies from your local grocery store's deli or just prep them yourself. And of course, the fewer pots, pans, and dishes you have to use, the faster you'll be able to throw a meal together (and cut down on clean-up time, too), so look for one-pot recipes whenever you can.
At the end of the day, the most important thing is to leave the table full and happy, regardless of how much time you spent cooking. And chances are, the less time you spend in the kitchen, the more time you spend around the table with your family and friends, and the more satisfied you'll end up feeling. So ditch the hour-long cooking sessions (at least occasionally) and opt for fast and simple meals like these.
Spaghetti is quick, uncomplicated, and always popular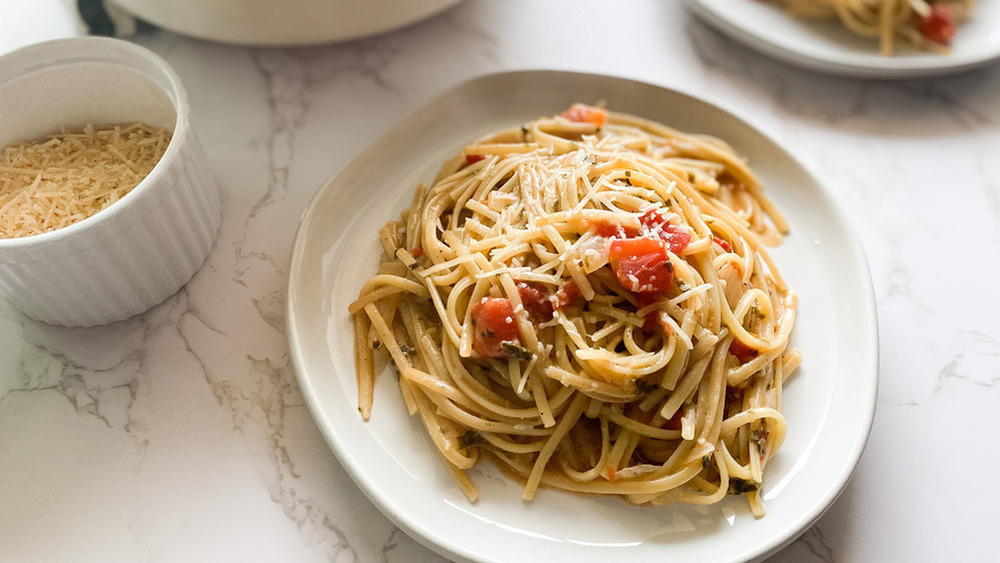 Spaghetti is always a crowd pleaser, and this easy, fast spaghetti recipe is destined to become a family favorite. That's in large part because it's so easy to make (just throw all the ingredients into a single pot and boil!), but it's also because the flavor doesn't come from canned pasta sauce. Rather, you'll use chicken broth to boil the noodles in instead of water, and then, you'll add in lemon juice, lemon zest, onion, diced tomatoes, and traditional Italian seasonings like basil and garlic for an authentic taste. While the pasta is boiling, simply throw together an easy side salad and you've got a full meal ready to put on the table.
Shrimp rolls are an unexpected (and fast) recipe to mix things up
This shrimp roll recipe looks like it would be complicated, but it's surprisingly fast and easy — ready in less than 20 minutes, and that includes prepping the homemade peanut sauce. The advantage comes in that shrimp only takes a few minutes to boil, and the vegetables in this recipe are actually served raw, allowing for a crunchy, fresh flavor sensation, almost like eating a poke bowl in the form of a wrap. If you want to save even more time, pick up pre-cut vegetables from your grocery store so you don't even have to think about wasting time slicing and dicing.
Ready for a quick and easy dessert? Make these chocolate covered strawberries
Chocolate covered strawberries are ubiquitous for romantic Valentine's Day celebrations, but really, you should be whipping up a dessert recipe for these fresh sweets in the summer months when strawberries are typically at their juiciest and freshest. It's incredibly easy to simply dip strawberries in melted chocolate and hope for the best, but if you're looking to make the treat with restaurant-quality professionalism, follow this chocolate covered strawberry recipe to get the smooth, beautiful finish you typically fine in a candy store or bakery.
This puppy chow recipe is a quick option for a party
Puppy chow is a crowd-pleasing sweet that's perfect for game day parties or sleepovers for your kids and their friends. The best part is you can make a big batch of the dessert (enough to satisfy a room full of teenagers) in less than 20 minutes. Simply melt chocolate, peanut butter, and butter in a sauce pain, pour the mix over a platter full of Chex, toss to mix well, then coat with powdered sugar. And, on the off chance that the batch isn't eaten all in one night, you can store it in an airtight container for a few days before you need to toss it (but the chances it won't get gobbled up before then are pretty slim).
Bruschetta makes for a fast starter your whole family will love
Freshly prepped bruschetta is the perfect pre-dinner starter or side that instantly levels up whatever meal you're about to serve. Plus, if you're looking to put together a quick, tapas-style meal, you can simply serve bruschetta with an assortment of meats, cheeses, salsas, and other toppers to let people build their own easy menu. The best part? It's quick and easy. You can prepare your bruschetta in about 15 to 20 minutes, and while the bread is toasting in the oven, you can throw together your toppings and lay out a hearty (albeit simple) buffet to let the masses feed themselves.
Fill everyone up fast with beef and broccoli lo mein
Asian dishes prepared in a stir fry style are often a lot faster to throw together than those that require you to fire up the oven. That's why you should be sure to include this beef and broccoli lo mein recipe in your weekly repertoire, especially when you know you have a busy week ahead of you. In total, it only takes 20 minutes to make, but you may be able to cut down on prep time even more if you purchase pre-cut veggies like the broccoli florets and shredded carrots you can usually find in the deli section at the grocery store.
Taco Tuesday will be even easier with this 20-minute chicken taco recipe
If you're a big fan of Taco Tuesday, but you tend to pick up pre-made tacos because it's too much of a hassle to make them at home, you need to check out this 20-minute chicken taco recipe. It really couldn't be easier — the trick is to cut your pieces of chicken tenderloin small enough so they cook quickly on the stovetop with nothing more than oil and taco seasoning. Once the chicken is done, you simply top them with fresh favorites like diced avocado, onion, chopped cilantro, and a drizzle of lime juice. You can even cut up the veggies while the chicken is cooking (just be sure to keep a close eye on it) to save a couple extra minutes.
You'll be surprised how quickly this shrimp Alfredo comes together
Pasta? It cooks quickly. Shrimp? You can prep it and cook it in just a few minutes. So together, the two can make a fast, delicious meal that will blow your family and friends away. The thing is, shrimp Alfredo pasta seems like it would be a fancy meal that requires a lot of prep, but when you cook your noodles in the milk that serves as the base of the Alfredo sauce, the process ends up taking a lot less time than expected. Once the noodles are cooked, you simply add in Parmesan cheese, stirring until it melts, then combine with the shrimp you cooked first. Just like that: A one-pot meal ready in 20 minutes flat.
A quick lasagna that seems like it took hours
If you've ever made lasagna, you know it can take awhile, so this 20-minute lasagna recipe is bound to be a recipe you revisit time and time again. The trick here is to purchase oven-ready lasagna noodles that have been pre-cooked and dehydrated before being shipped to the grocery store. This eliminates the need to cook your noodles before starting the typical lasagna-layering process, because all the noodles need to get re-hydrated is the tomato sauce and the juices from the cooked beef and other ingredients to return to a perfectly-cooked consistency. The other "trick" is cooking the whole thing in a high-walled saucepan on the stove, rather than baking it in a casserole in the oven for an hour. The end result won't be exactly like your grandma's lasagna, but it will deliver all the same flavor and layer sensations in a fraction of the time.
Save time with this sesame chicken recipe for busy weeknights
Once you've mastered how to make this 20-minute sesame chicken recipe, you'll love the crispy, flavorful meat so much that you'll start getting creative with how to serve it. The beauty is, the chicken and sauce only take 20-minutes to prep and cook, and if you're serving it with rice, the rice will cook at the same time, so you really can have a whole meal ready to go with little to no effort. That said, you can always serve the chicken as Asian-style tacos, or serve it on a hamburger bun for a fun twist on burger night.
Warm up fast on a cold night with this quick chicken noodle soup recipe
When it's cold outside, there's nothing tastier or more comforting than a piping hot bowl of chicken noodle soup, and when you make this chicken noodle soup, you can have a whole pot ready to serve in just 20 minutes. The way to cut corners and save on time is to use pre-cooked chicken — either leftovers you already have on hand, or a rotisserie chicken from the grocery store. Then, most of the work comes from chopping the other veggies, like onions, carrots, and celery, although you already know you can pick up pre-chopped options as well. Then, you simply boil all the ingredients together (herbs and spices play a big role!) and when the veggies and noodles are sufficiently cooked, eat up! (Preferably in front of a roaring hot fire.)
For a delicious and fast take on Asian food, try an egg roll in a bowl
If you're the kind of person who would gladly eat egg rolls for breakfast, lunch, and dinner, but every now and then you'd like the same experience, but in a more "meal-like" package, then you're in luck. This 20-minute egg roll in a bowl recipe delivers all the taste of an egg roll, complete with a delicious sauce, ground pork, and an assortment of veggies, but it's served up in a bowl, either by itself or on top of a bed of rice. If you use pre-chopped veggies, you may even have enough time to fry up some wonton strips to toss on top, and you'll still have the whole dish on the table in 20 minutes.
Chicken picatta is a surprisingly fast dinner option
If you didn't grow up in an Italian family, chicken piccata probably sounds like the type of meal that's best made by restaurant chefs with serious know-how. But surprisingly, this dish — side of pasta and all — can be served up at home in just 20 minutes with this simple recipe. The trick is having nice, thin pieces of chicken that cook quickly on the stove, so if you don't feel like butterflying chicken breasts yourself, you can use thinner-cut chicken strips from your grocery store's meat department. Even the lemon caper sauce that chicken piccata is known for is surprisingly easy to make with nothing more than white cooking wine, capers, unsalted butter, and lemon juice.
Start your morning right with a 20-minute breakfast taco recipe
You may not have time to cook up a hot meal every morning, but if you're looking for a fun, tasty (and portable) way to fill up your family on the weekend, look no further than this simple 20-minute breakfast taco recipe. It's hearty and filling, including eggs, potatoes, cheese, onions, and peppers, and you can always sneak in some extra veggies with pico de gallo (pre-made, of course, to save on time). And of course, if a breakfast taco isn't a breakfast taco without a little meat, you can always mix in breakfast sausage or bacon (you can often find pre-cooked versions in the deli of your grocery store) to give it an extra kick.
Crepes seem upscale and complicated, but they're actually a quick, homemade breakfast treat
Crepes just sound so much more decadent than pancakes, right? But the reality is, they're almost as quick and easy to make as the more traditional breakfast bread, and they're a fun way to kick off a weekend with your family. In fact, all you need for this crepes recipe is flour, eggs, milk, butter, and salt. The main difference between crepes and pancakes? You don't want to over-mix the batter, which will be thinner (to make those thin and light pastries). Each crepe itself only takes a couple minutes to cook, and then, you can serve them up hot with your choice of toppings. We suggest powdered sugar and fresh berries for a classic take.
You can make a copycat Chick-Fil-A sandwich in 20 minutes
If you're a sucker for Chick-Fil-A, but you don't have a restaurant near your house, you don't need to worry — this recipe for a copycat grilled Chick-Fil-A sandwich takes just 20 minutes to make and is just as good as the real deal. You may be surprised by some of the ingredients, like grape juice and molasses, but it's these extra items that really serve up the Chick-Fil-A flavor. You'll end up prepping and marinating the chicken for about half of your 20 minutes, while the actual cooking only takes six minutes on an indoor grill. The rest of the time? You spend it slicing veggies and building your burger — it's really that easy.
Try a copycat McDonald's Sausage McMuffin recipe to save a trip through the drive-thru
If you have roughly 20 extra minutes on a Sunday to prepare your breakfasts for the whole week, you've got to give this copycat McDonald's sausage McMuffin recipe a try. Using a package of sausage meat, English muffins, six eggs, cheese, and butter, you can easily prepare and freeze six of these filling breakfast sandwiches to grab and go (after quickly warming them up in the microwave) before you head out the door. You won't be disappointed by the flavor, which is practically a dead-ringer for the fast food favorite, and you'll save money and won't have to wait in the drive-thru, either.
You'll want to eat this quick chicken salad recipe for lunch every day
Another "couldn't be easier" recipe you can prep in just 10 minutes and store in the fridge to use throughout the week is this copycat Trader Joe's chicken salad recipe. It includes nothing more than pre-cooked chicken, celery, cranberries, and pecans as the main ingredients, with additional sauces, spices, and flavorings to whip up the sauce. If you double the recipe, you'll have plenty left over to serve up throughout the week on sandwiches or atop a bed of lettuce for a slightly more veggie-focused salad.
Who knew you could make salmon patties in just 20 minutes?
Salmon patties may not be the type of dish you think of serving up on a regular basis, but if you're looking for an easy appetizer to prepare for friends, or you want to bring something different to your next potluck dinner, look no further than this quick salmon patty recipe that's ready in just 10 minutes. You start with a can of cooked salmon, then simply add sliced green onions, fresh dill, breadcrumbs, a few seasonings, and an egg to help hold the patties together when cooked. If you use a large griddle to do the actual cooking, you can double or triple the recipe (the original recipe makes eight patties) and cook for a larger crowd without adding much time to the process.
This hearty biscuits and gravy recipe is ready in just 10 minutes
When was the last time you made biscuits and gravy for breakfast? If your answer is "a really long time" or "never," then you have a new recipe to try out this weekend. You see, biscuits and gravy are the perfect breakfast option for cold winter mornings, especially when you know you're going to be busy and active for the rest of the day. Plus, since you can make enough for your whole family in just 20 minutes, the prep and cook time won't interfere with the rest of your schedule. The real trick is using packaged biscuits to cut down on cook time. Aside from popping those in the oven, you simply brown your breakfast sausage and whip up the gravy, which really just consists of flour, butter, milk, and seasonings.
Quick and easy garlic bread is perfect for a party
Everyone needs a go-to garlic bread recipe on hand to throw on the table with all your favorite foods. This one is ready to go in less than 20 minutes, and you'll want to pair it with everything. Spaghetti? Obviously. Fried chicken? It's a must. Steak and potatoes? You better believe it. The flavor is so good, you may even want to use it to make garlic-y grilled cheese sandwiches to pair with your favorite soup. The combos are endless when the recipe is this good and this easy to make.
Colorful and delicious bird's nest cookies are also fast to make
Bird's nest cookies may be more common around Easter, and certainly during the spring months, but these bright, colorful treats make an excellent (and fast) dessert choice for practically any occasion. You basically make the nests themselves out of a Rice Krispie treats variation, using peanut butter and white chocolate to level up the flavor. Then, you'll simply mold the nests in a cupcake pan and decorate them with the egg-shaped candy of your choice. And if you happen to be making these during the "off season," you can usually find candy eggs online.