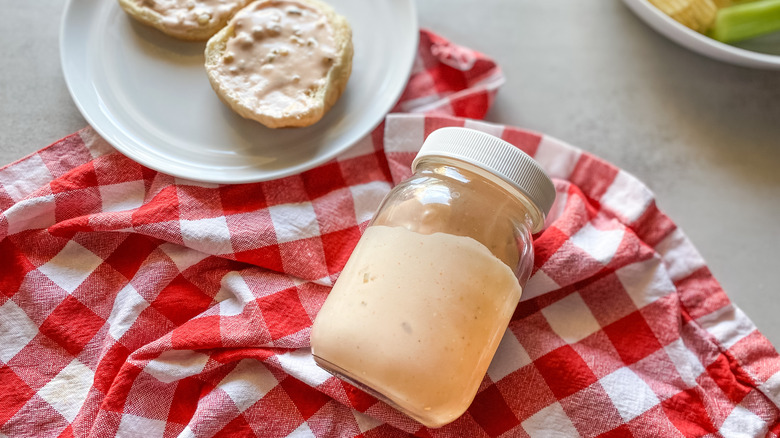 Grabbing a bottle of salad dressing from the grocery store is super easy, but there's no competing with the fresh taste of your favorite homemade Russian dressing. Not only does private practice registered dietician Kristen Carli's homemade version of Russian dressing taste better than anything you can get out of a plastic squeeze bottle, but it's quick, easy, and delicious on much more than just salads.
"I love Russian dressing," says Carli. "Any chance I get, I like to spread it on my sandwiches. I love it on a turkey club! I also love it with fries as a dip!" So, whether you're filling up with a big bowl of greens and veggies or indulging in a crispy plate of fried yumminess, this zippy dressing makes a perfect accompaniment. And with a recipe that can easily be scaled up or down according to your needs, you're always sure to have the exact amount you need for whatever your stomach desires.
Grab your ingredients to prepare homemade Russian dressing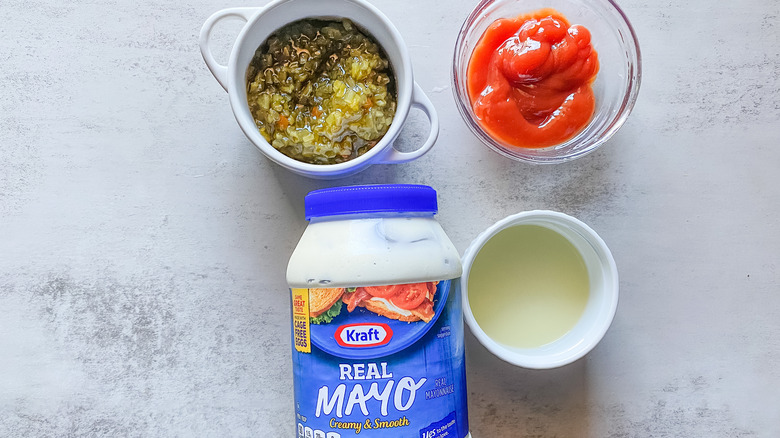 One of the greatest things about this Russian dressing is that it can be made with ingredients you probably already have on hand. For this recipe, you'll need to round up mayonnaise, ketchup, pickle relish, lemon juice, salt, and pepper. If you're in a bind, you can always chop up pickle slices or even whole pickles to make your own relish. While fresh lemon juice is always preferable when making your own dressing, bottled juice will work in a pinch.
Measure everything out
This recipe for Russian dressing comes together in a snap, with just a few ingredients that can all be put into the same bowl after measuring them out. If you're using fresh lemons to prepare this recipe, one lemon will typically yield 3 to 5 tablespoons of juice. Juice your lemon into a small bowl first, then measure out the amount of juice you need. This will also keep seeds from getting into your dressing.
Mix up your dressing
Once you have everything together in a bowl, mix it all together until thoroughly combined. The dressing should be a pale pink, flecked with bits of relish. Or, if you'd like, you can add all the ingredients to a mason jar, then place the lid on tightly, and shake until it all comes together. If you choose to go this route, make sure that no unincorporated clumps of mayonnaise or ketchup are left clinging to the side of the jar.
Chill, and enjoy
Once your Russian dressing is all mixed up, pop it into the fridge for at least an hour, and that's it! It's ready to top your favorite salads or slather onto sandwiches or burgers. Russian dressing is an important component of a classic Reuben sandwich, a tasty sandwich that is traditionally served on rye bread filled with corned beef, Swiss cheese, and sauerkraut, then slathered with tangy dressing and then grilled. You can also serve it as a dip alongside fresh veggies, chips, or as Carli suggests, "I love it on a turkey club! I also love it with [French] fries as a dip."
Store for later
If this recipe makes more dressing than you need right away, you can keep the leftovers in an airtight jar in the fridge to use over the next few days. Just make sure to give it a good shake before using it again, since the ingredients may separate a bit in the refrigerator. It's easy to whip a batch of this dressing up on the weekend to use in lunches and snacks throughout the week, so you can enjoy Russian dressing whenever a craving strikes.
½ cup mayonnaise
3 tablespoons ketchup
2 tablespoons relish
2 tablespoons lemon juice
½ teaspoon salt
¼ teaspoon pepper
Place the mayonnaise, ketchup, relish, lemon juice, salt, and pepper into a medium-sized bowl.
Stir to combine.
Chill in the fridge for at least 1 hour before serving.