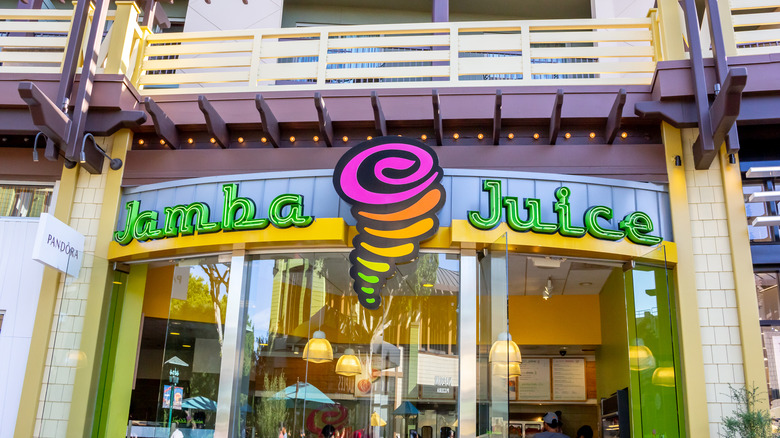 Jamba Juice was one of the original names in smoothies. Founded in 1990, this fast food location made it easy to get a few servings of fruit into your diet first thing in the morning. Sure, each menu item came with a hefty dose of sugar, but fruit is fruit, right?
Although smoothie shops are commonplace around the world these days, Jamba Juice still remains the most well-known. Even after changing its name to Jamba in 2019, this quick-service chain has done a good job of clinging to health trends and adapting their menu accordingly. Over the past couple of years they have added even more to their menu, which now includes fruit- and veggie-packed smoothies, fresh juices, açaí bowls, breakfast foods, and grab-and-go items.
There are dozens of items on Jamba's full menu and it can be tough to decide which smoothie, sandwich, or juice option you should start your day with. We've rounded up the most popular menu items and ranked them from worst to best to help you spend your money wisely. Happy juicing!
15. Matcha Green Tea Blast Smoothie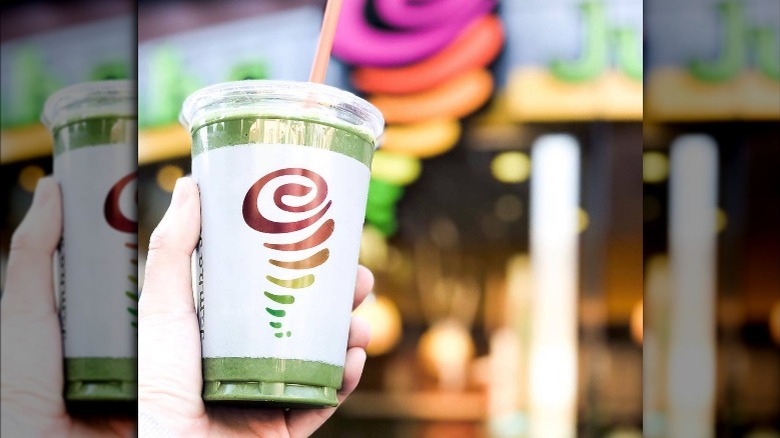 Sorry matcha lovers: this smoothie is one of our least favorite items on Jamba's menu. The fact that you have to like the taste of matcha immediately excludes a good chunk of potential customers. Sure, matcha is packed with antioxidants and has been shown to improve liver, brain, and heart health, but it just doesn't taste very good. Anyone who doesn't enjoy the taste of this type of green tea won't enjoy this smoothie.
Matcha purists probably won't like it either. To make the drink more customer-friendly, the frozen yogurt used in this smoothie is packed with sugar. A 16-ounce serving contains 51 grams of added sugars. That sweetness, combined with the soy milk base, will mask most of the matcha flavor. This results in a drink that's too matcha-y for most people and not matcha-y enough for drinkers who actually like green tea.
Stick to a classic matcha latte if you're craving a green drink in the morning. You'll get all the health benefits without heaps of added sugar. This flavor is incredibly popular at the moment, so you should be able to find one at a local coffee shop or cafe.
14. Vanilla Blue Sky Smoothie
Even though the color of this smoothie is dreamy, the flavor is … meh. According to one reviewer from Business Insider, the drink is "fairly watery, unlike the thick and creamy Jamba classics." They concluded that while the smoothie wasn't bad, it "didn't exactly wow" with its taste.
We do have to hand it to this drink for offering a healthier alternative to many of its menu items. It only has 27 grams of sugar in a 16-ounce serving, which is still high but not as bad as most Jamba items if you're watching your sugar intake. Its ingredients (unsweetened almond milk, vanilla coconut milk, bananas, and pineapples) are fairly simple and leave little room for additives. Spirulina, which gives the smoothie its distinct color, is packed with nutrients that can benefit your body and brain.
That all being said, food should taste good and we'd rather spend our money on more flavorful menu items.
13. Iced Bold 'n Cold Brew with Sweet Cloud Whip
Jamba recently launched its Bold 'n Cold Brew, which is its answer to the cold brew craze that is always present in the coffee community. The Sweet Cloud Whip is a fluffy, sweet cream topping that bears a striking resemblance to a certain coffee chain's popular cold brew topping. In terms of overall flavor, however, we feel that this coffee falls short. Made with agave, the drink is a little too sweet and masks the rich coffee flavor that a cold brew is known for.
While the whipped topping is vegan-friendly (which it gets a point for), the coconut base is a little strong if you're not a fan of the flavor. It's also surprisingly high in saturated fat, containing 30% of your daily value in one 16-ounce serving. And while we don't want to put too much pressure on Jamba to be a health-food stop, we've had better cold brews with better nutritional facts. We'll stick to the smoothie side of Jamba.
12. Orange Carrot Twist Juice
We all want to get more vegetables in our diets, right? It feels like an eternal struggle, especially if you're someone who has a hard time finding ways to prepare veggies in a way that actually tastes good. Juicing is one of the easiest ways to consume more vegetables and get them down quickly.
This Jamba menu item is made with only two ingredients: carrot juice and orange juice. Carrot juice is pretty mild as far as vegetable options go and the orange juice masks most of the flavor anyway. The result is a drink that is good if you want a bunch of nutrients in a few gulps. With tons of vitamin A, vitamin C, and potassium, this juice has an impressive nutrient profile for only containing two ingredients. It also maintains a decent dose of fiber, which is often lost when juicing. However, at the end of the day, it's just carrot juice and orange juice. We'd rather make our own and spend our money on a more substantial smoothie or snack.
11. Peanut Butter Moo'd Smoothie
It's hard to deny the appeal of Peanut Butter Moo'd. Peanut butter, bananas, and chocolate? As Ashton Swank from Something Swanky put it, this drink is "is obviously the best smoothie in the world." And we admit, the vanilla frozen yogurt, soymilk, chocolate base, banana, and peanut butter combination churns out a treat that is incredibly creamy, indulgent, and tasty.
So why doesn't Peanut Butter Moo'd top our list? As hard as it is to ignore how delicious this drink is, it's also hard to ignore the nutrition label. One medium-sized smoothie contains a whopping 720 calories and almost 30% of your daily fat intake. It also has over 100 grams of sugar. We love a good dose of sweetness, but that is a lot! While there is a little bit of protein in this drink, it doesn't contain much fiber or other nutrients to balance out those other numbers. In short, this is a great drink to indulge in occasionally, but we don't think it can be our go-to every time.
10. Caribbean Passion Smoothie
Want to be transported to a tropical paradise instantly? Get the Caribbean Passion Smoothie from Jamba. It's made with strawberries, peaches, orange sherbert, and a pear, white grape, mango, orange, and passion fruit juice blend. All of those yummy flavors translate to a refreshing drink with a fantastic flavor.
We do have a couple of gripes about this drink. First, some of the more tropical flavors, namely passion fruit and mango, are pretty hidden. We'd love to see those flavors pop more instead of the strawberries and orange that seem to do most of the talking. Second, most of the flavors in this smoothie are in its juice base. Instead of real-fruit flavor, this gives us a super-sweet nectar flavor that doesn't come with many vitamins or minerals. It also has barely any fiber, which is disappointing for a smoothie that should be packed with fruit pulp. This drink would probably be the best on our list if it was made completely from fresh fruit.
9. Acai Primo Bowl
Açaí bowls, which seem to fill our Instagram feeds every morning, gained a lot of their popularity from places like Jamba Juice. The Açaí Primo Bowl was the original smoothie bowl here and has remained popular because of its taste, texture, and presentation. The bowl has a base made from soy milk and an açaí juice blend before being topped with organic granola, honey, shredded coconut, strawberries, blueberries, and a banana.
While we love the flavor of this bowl, we agree with Spoon University that it does have a very high sugar content. The bowl is also smaller than you may be expecting and is not super filling with only eight grams of protein in the entire thing. On the plus side, it does contain the recommended 44% of your daily fiber intake. If you're planning on grabbing this bowl for breakfast, pack a protein bar to enjoy with it so you're not hungry again in two hours.
8. Pumpkin Smash Classic Smoothie
Another seasonal favorite, this smoothie should not be missed during the fall. This smoothie is made with milk, a pumpkin spice blend, and vanilla frozen yogurt. The drink will "satisfy any pumpkin lover's cravings," according to a reviewer for The Union. "Vanilla frozen yogurt, unlike honey or sugar, captures the true texture of the actual dessert," they said.
This smoothie really does taste like you're drinking a slice of pumpkin pie. That is great for lovers of the Thanksgiving classic, but not so great for people who aren't a fan of that flavor. It also doesn't have many nutrients because no actual fruits or veggies are present in the smoothie. We'd love to see some real pumpkin puree in the drink, which would add flavor and a hefty dose of fiber. The Union reviewer also noted that "after the specks of cinnamon and nutmeg melted away, the Pumpkin Smash lost its initial pumpkin flavor and resembled a vanilla milkshake." Real pumpkin wouldn't disappoint us like that.
7. Island Pitaya Bowl
This smoothie bowl is the brighter cousin of the açaí bowl. It gets its pink color from pitaya, which is a part of the dragon fruit family. Dragon fruit boasts an array of health benefits, including improved digestion, better immune health, and increased iron levels. This smoothie bowl also contains pineapple juice, mangoes, pineapples, and bananas. It's topped with strawberries, granola, blueberries, honey, and shredded coconut.
The food blog Triangle Foodies love this smoothie bowl, saying they were "extremely surprised at how flavorful the bowl was." They added that the smoothie based was "just sweet enough" and they "loved the nice crunch that the granola added." This bowl loses a few points from us because while pitaya is supposed to be the shining star, that's not the flavor that comes through. Dragon fruit has a notoriously subtle flavor, which is masked with all the other fruits in this menu item. We'd still order it again, though.
6. Orange Dream Machine Smoothie
Do you remember those orange creamsicles you used to be obsessed with as a kid? Well, this smoothie tastes just like those. The smoothie's ingredients are pretty simple: just orange juice, orange sherbet, soy milk, and vanilla frozen yogurt. The combination of orange sherbet and frozen yogurt is undoubtedly what gives it that iconic popsicle taste.
So what's the downside of this smoothie? That darn sugar content again. Considering there is no whole fruit in the smoothie, we can safely assume that most of the sugar is added. While this makes the drink taste fantastic, it does mean that nutritional information for this menu item is lackluster. It has little protein, just a few vitamins, and no fiber. This smoothie is great for the occasional treat, but it's not going to leave us satisfied for very long.
5. Belgian Waffle
The Belgian waffle at Jamba Juice is almost as iconic as its smoothies. It's fluffy, sweet, and a perfect way to compliment a morning drink. Sure, the nutritional aspect of these waffles isn't great. They're high in saturated fat and low in fiber. However, they do have a few grams of protein, and did we mention they taste amazing? Everything can be enjoyed in moderation and with only 310 calories per waffle, you're not going to ruin your diet by enjoying this baked good every so often. If you want to make it more filling, spread a little bit of peanut butter on top or pair it with a protein-packed smoothie from Jamba. (You can add protein boosts to any smoothie on their menu!) Of course, if you don't have a Jamba Juice nearby and are still craving a Belgian waffle, well, then you need to try this waffle recipe.
4. Watermelon Breeze Smoothie
What fruit is more iconic in the summer than watermelon? This smoothie is only available seasonally, and it's worth the trip to your nearest Jamba before it's gone. It's made with a watermelon grape juice blend, raspberry sherbet, strawberries, and pineapples for a refreshing and sweet twist of summer flavor. According to Spoon University, it is "an absolute must-have." The only downside is that all the fruit flavors mask the watermelon a little bit, but the final product tastes so good that we're willing to let it slide.
One 16-ounce smoothie also has 110% of your recommended daily vitamin A intake and 100% of your recommended daily vitamin C intake. Vitamin A helps promote good eye health and tissue development while both vitamins A and C boost the immune system. A smoothie that tastes fantastic and keeps you healthy? Sign us up. The smoothie also contains a hefty dose of iron, which is rare in fruit-based goodies.
3. White Gummi Smoothie
This smoothie is so good, it used to only be available on Jamba's secret menu. Eventually, it became popular enough that it was added to their regular menu in 2019. "We're making our most requested secret menu item, the White Gummi Smoothie, available for the first time," Shivram Vaideeswaran, Chief Marketing Officer of Jamba Juice, announced in a press release.
The White Gummi Smoothie is made with a white grape, pear, and peach juice blend, pineapple sherbet, soy milk, lime sherbet, orange sherbet, raspberry sherbet, and mangos. According to Hack the Menu, this sherbert concoction makes the smoothie taste like actual gummy bears as opposed to a typical fruit smoothie. Specifically, it tastes like the white gummy bears that resemble every other flavor mixed together. Sure, the sugar content is high and there aren't many other nutrients, but this drink tastes so good that we are willing to look past all that. Save it for a once-in-a-while splurge, but believe us, it's worth the sugar high.
2. Strawberries Wild Smoothie
This simple smoothie is made from strawberries, bananas, fat-free vanilla frozen yogurt, and an apple, pear, and strawberry juice blend. Jamba really nailed it with this refreshing treat: it's refreshing, smooth, and no too sweet. Seriously, strawberry banana is a combination that's hard to beat, right?
This smoothie is also lower in sugar than many of its menu companions with the added benefit of nutrients from its fruit blend such as folate, vitamin C, and potassium. What's "folate" exactly? Folate is important for red blood cell production while vitamin C helps keep your immune system healthy. Potassium, which many people don't get enough of, helps with heart health, nerve function, and nutrient absorption. Add a protein boost to this smoothie and you've got a filling breakfast that will keep you healthy, give you some energy, and taste amazing.
1. Mango-A-Go-Go Smoothie
One of Jamba's most popular smoothies, Mango-A-Go-Go is about as refreshing as you can get. According to one enthusiastic reviewer on TripAdvisor, "These mangos will get get you moving! Are you the president of the mango appreciation society? Do you count mangos to fall asleep? Then welcome to paradise. We blend heaps of mangos and passion fruit mango juice topped off with pineapple sherbert to make your dreams come true." That's heavy praise, and we agree! Made with mangos, pineapple sherbert, and a pear, white grape, mango, orange, and passion fruit juice blend, this smoothie is tasty, tropical, and tantalizing.
Thanks to real mangos in the drink, it also comes with a hefty dose of vitamins and minerals. One 22-ounce drink has over 100% of your daily recommended doses of vitamin A and vitamin C. It also contains potassium, fiber, iron, calcium, vitamin E, thiamin, and folate. Because of these nutrients, mangos have been shown to lower your risk of cancer, improve your heart health, and keep your digestive system stable. We can't think of a better way to start your day.