Sarah Hyland is one of the most recognizable actresses of her generation, thanks to her starring role on the beloved television series, "Modern Family," which ran for a whopping 11 seasons from 2009-2020. "Julie [Bowen] has been like a mother to me over the past 11 years. She is one of the strongest, smartest, most opinionated women I've ever met. But she is smart about being opinionated," Hyland wrote of her co-star in an essay for Glamour while reflecting on the show and her on-screen family at the end of its run. "Watching her in interviews, in work settings — really just in life — her brain is the most fascinating thing to me."
Hyland wasn't kidding when she said that Bowen, who played her on-screen mom for over a decade, had an equally important and influential role in Hyland's life off-screen, as Bowen revealed during a livestream with American media company Skimm in January of 2020 that Hyland's fiance, Wells Adams, asked for permission to propose to her (via Daily Mail).
And while Hyland and Adams have been going strong for years, the "Modern Family" star had to kiss her fair share of frogs before she finally found her Prince Charming. Read on for everything to know about Hyland's complex dating history.
Sarah Hyland dated Max Ehrich before she got her big break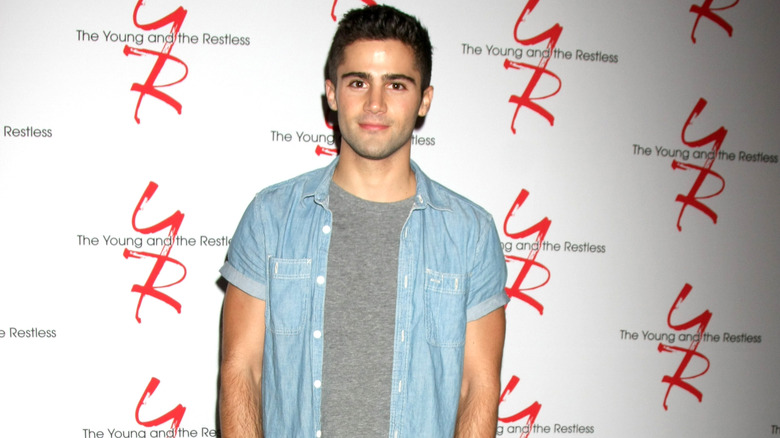 Before landing her iconic role as Haley Dunphy on the wildly popular Emmy award-winning show, "Modern Family," Sarah Hyland moved out to Los Angeles with her boyfriend, Max Ehrich (via Seventeen), who is best known for his role on "The Young and the Restless" and for his whirlwind relationship with pop superstar, Demi Lovato.
"I decided to move out with a girlfriend at the time and experience LA and I will say I think I had a privileged experience," Ehrich revealed to Page Six in March 2019. "At first, I was living with my girlfriend at the time. She had done a Broadway show and the producer was kind enough to let us stay at their estate in Beverly Hills, but soon after that, I ended up living in a really, really sketchy apartment in Hollywood. So I got to see, like, the brightest side and then I got to get a hit of reality."
Hyland and Ehrich's romance was short-lived, though, and the couple broke up in October 2008 after about a year of dating. The following year, Hyland was cast in "Modern Family," which basically solidified her status as one of Hollywood's rising young stars.
Sarah Hyland dated Geek Charming co-star Matt Prokop for nearly 5 years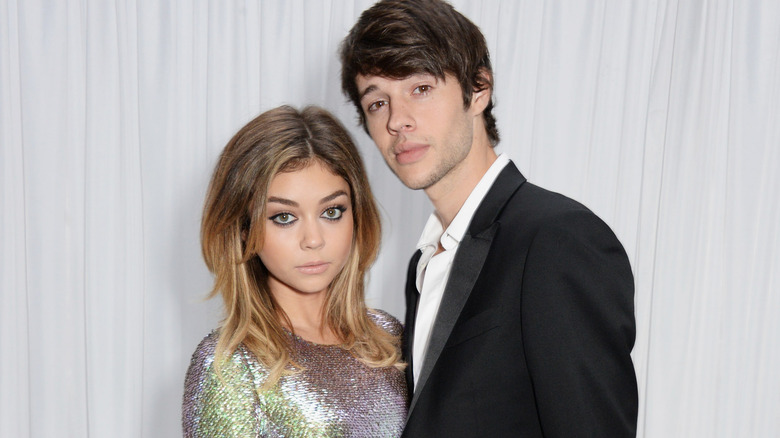 Sarah Hyland met "High School Musical 3: Senior Year" actor Matt Prokop in 2009 and was living with him by the following year (via NY Daily News). The couple starred in the Disney Channel Original Movie, "Geek Charming," together; however, their romance was anything but a fairy tale, and Hyland broke it off with Prokop in 2014 after enduring years of abuse from the actor.
According to court documents obtained by TMZ, Hyland was granted a temporary restraining order against Prokop after he choked her, called her vile names, threatened her, and engaged in other forms of verbal and physical abuse over the course of their relationship. A judge eventually granted Hyland a three-year restraining order against Prokop. "A lot of people like to think that once you're out of an abusive situation, it ends there, but it doesn't. The emotional trauma and scars on the soul stay there, and they impact you for the rest of your life if you don't get help," Hyland said (via Refinery29). "I still find myself being like, 'Oh, why did I just explode out of nowhere?' I realize it's tied to certain things, and it's an endless battle of correcting yourself and having self-love."
If you or someone you know is dealing with domestic abuse, you can call the National Domestic Violence Hotline at 1−800−799−7233. You can also find more information, resources, and support at their website.
Sarah Hyland dated co-star Dominic Sherwood after her split with Matt Prokop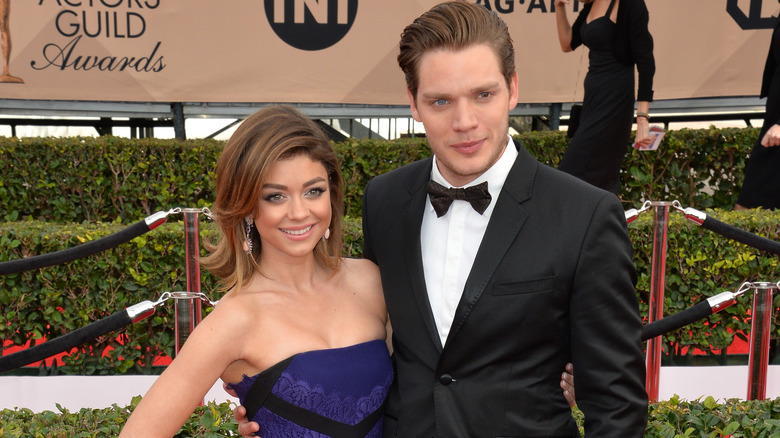 Shortly after splitting from Matt Prokop, Sarah Hyland began dating "Shadowhunters" star Dominic Sherwood after they met on the set of their 2014 film, "Vampire Academy" (via Seventeen). "Sarah makes me want to be a better version of myself," Sherwood told Entertainment Tonight in 2016. "That's what I love most about her. She inspires me to be the best version of me … It sounds like a cop out because I stole it from her. She said it earlier today, and I just completely stole it. I feel very bad!"
Although the pair dated for over two years, they decided they were better off as friends and amicably split in 2017. "It's genuinely mutual and amicable and they truly remain friends," a source close to the couple told E! News at the time. A second source echoed E! News' insider, telling People, "They aren't dating anymore but they both have mutual respect for one another and remain friends."
Sarah Hyland's love story with Wells Adams is straight out of a millennial fairy tale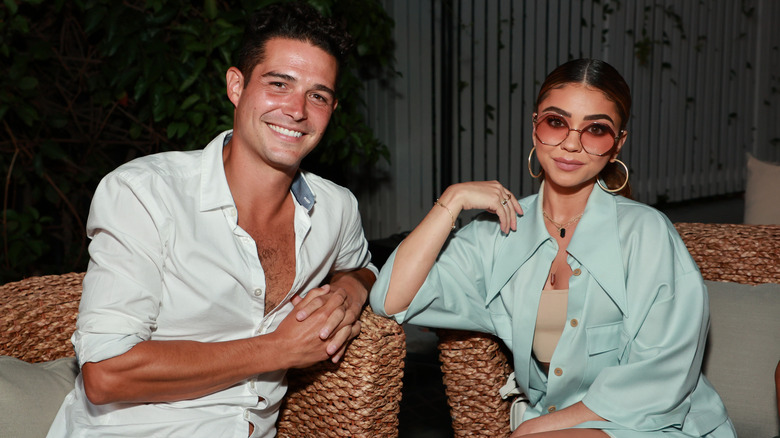 Sarah Hyland and "Bachelorette" alum Wells Adams' love story began the way many modern-day romances begin: by sliding into DMs (via Us Weekly). "Have you seen those memes of 'Slide Into the DMs'? That. He slid into my DMs," Hyland explained during an appearance on "Jimmy Kimmel Live!" in January 2018. "I thought he was funny, and he was a fan of [my] show. I saw him as the bartender [on 'Bachelor in Paradise'] and I was like, 'That's really cute!'"
"I was single, obviously, and was like, 'This is really awesome. You're being very forward," she added of Adams' messages to her on social media. "But very confident and sexy, and I liked that." The pair confirmed their relationship after months of romance rumors when Hyland posted a picture of them dressed up as Eleven and Dustin from Netflix's original series, "Stranger Things," captioning the adorable picture, "Stranger things have happened" (via Us Weekly).
Wells Adams and Sarah Hyland moved in together in 2018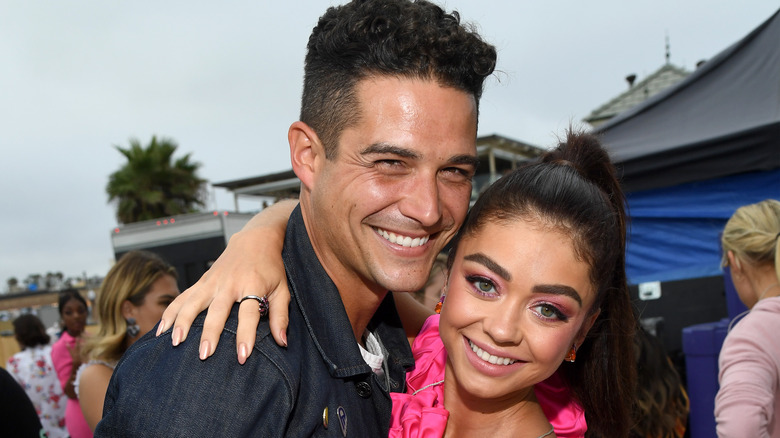 During an appearance on Brandi Cyrus' "Your Favorite Thing" podcast in July 2018, Wells Adams revealed that he and Sarah Hyland were moving in together. "Should I just say it? Should I not? It's gonna come out after. It doesn't even matter. I'm straight up moving to L.A. … My first thought [was], 'Let's go to California. Let's move in with the lady,'" he told Cyrus of his decision to make the move from Nashville to Los Angeles (via Us Weekly). "If we're gonna take the next step," he continued, adding, "This is the first step we've got to take, to decide if we can handle living with one another."
"I think it's brought us closer," Hyland told Us Weekly a month after Adams revealed the big news. "I don't think it's been long enough to discover pet peeves with each other. I think we're in that honeymoon phase of living together, so it's good that nothing is already starting because then I think that'd be a bad sign."
Wells Adams popped the question in 2019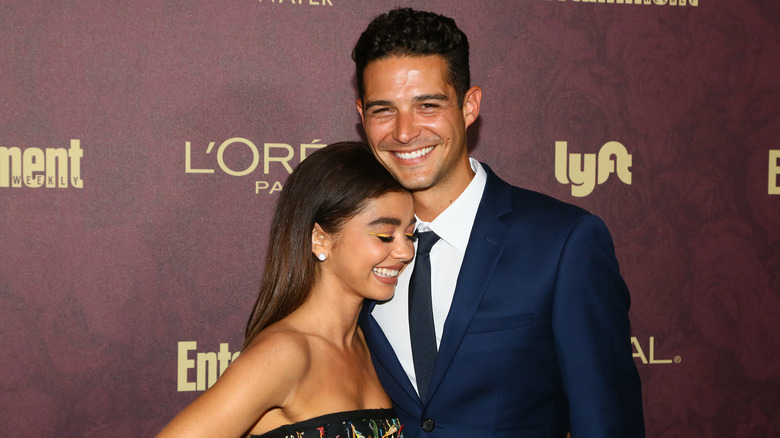 In January 2019, Wells Adams hinted at his future with Sarah Hyland while speaking with Us Weekly, telling the outlet, "Everyone thinks [Sarah and I are] engaged right now. … We are not engaged, let me just say that. We just moved in together, so I think we're still kind of, like, feeling each other out, but … it's gonna happen eventually."
In July of the same year, Adams made good on his promise and proposed to the "Modern Family" star on the beach. Hyland took to Instagram to share the joyful news with her millions of followers on Instagram, captioning a photo of Adams on one knee, "That can't eat, can't sleep, reach for the stars, over the fence, world series kind of stuff" (via People).
On the couple's two year anniversary In October, Hyland penned an emotional tribute to her future husband on Instagram, writing, "Two years ago I asked when you were going to ask me to be your girlfriend. This summer you asked me to be your wife. If two years feels like a lifetime then I can't wait to spend my eternity with you. You're the calm to my storm. The sun to my moon. The Chandler to my Monica. I can't wait to marry you @wellsadams. Happy two years baby #ToPlutoAndBack" (via Us Weekly).
The couple's wedding plans were put on hold due to the ongoing coronavirus pandemic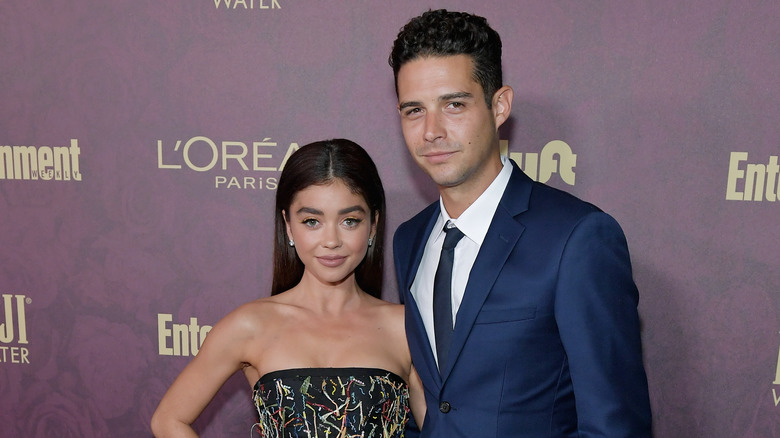 Unfortunately, Sarah Hyland and Wells Adams' wedding was put on hold because of the ongoing coronavirus pandemic. "No plans as of right now. We've put all planning on hold," Hyland told former "Bachelor" host Chris Harrison during an appearance on an episode of "The Bachelor: The Greatest Seasons — Ever!" in June 2020 (via People). "All of my family is mostly on the East Coast, so for them to fly out … and just ages and of course with my health risks, we want to be as safe as possible."
Hyland has been open about her battle with kidney dysplasia over the years and is immunocompromised, so it shouldn't come as much of a surprise that the couple prioritized her health and the health of others during the pandemic.
However, just because the couple's nuptials were put on hold didn't mean that the "Bachelorette" alum and "Modern Family" star were in any rush to walk down the aisle, as Hyland explained to People. "I just appreciate everything even more now. Even tiny things like sitting on the couch and eating chips," she said about quarantining with Adams. "Look, I love to do that all day long, but if you're doing it with the person you're going to spend the rest of your life with, it's just 10 times better."
Wells Adams and Sarah Hyland plan to marry in 2022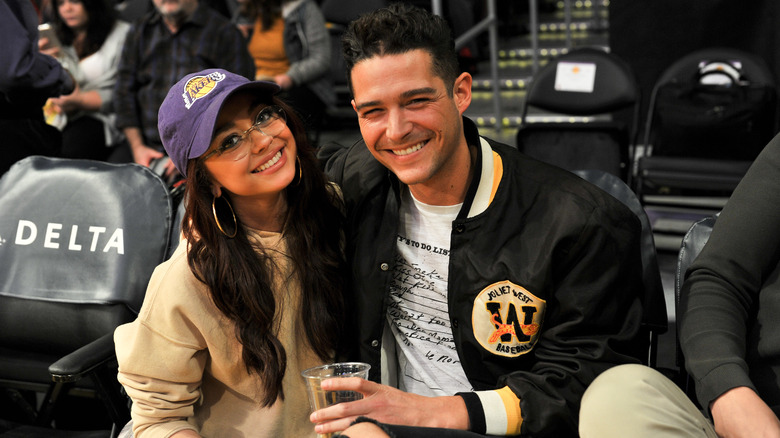 During a "Bachelor in Paradise" premiere event in August, Wells Adams opened up to People about his and Sarah Hyland's future wedding plans. "We were supposed to get married obviously last year, that didn't happen. We were supposed to get married this year, that didn't happen," he shared with the outlet. "So now we are hoping next year, or we're gonna go to Vegas, or the courthouse, I don't know — well, we're not going to do those last two things, but I don't know. 2022 has got to be our year, right?!"
Adams, who currently serves as the Master of Ceremonies on Season 7 of "Bachelor in Paradise," also told People that he and Hyland are going to re-plan their entire event. "We're going to do it all over again, we're going to go on a nice vacation to where we got engaged, we're going to re-plan the entire engagement party again, we're going to re-plan our bachelor and bachelorette parties, we're going to kind of like, start a new one doing the wedding stuff," he revealed, adding, "She [Sarah] got robbed of all that kind of fun stuff that you get to do as a new bride, so I think we're going to try to hit reset and do it all again."