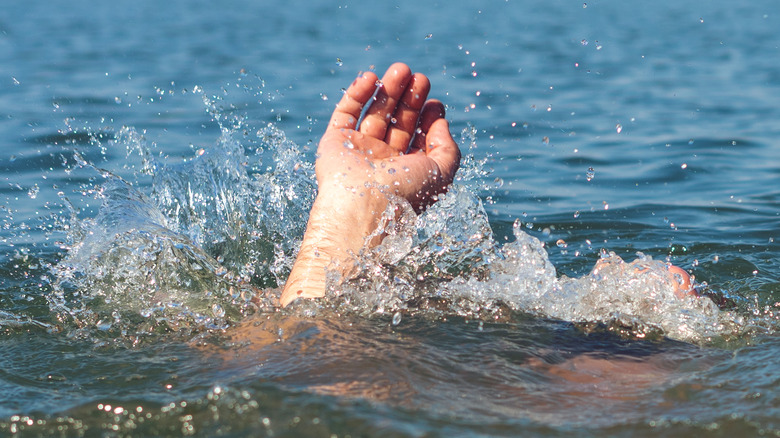 When researching vacation destinations, many people opt to go to the beach, and there are thousands of beaches around the world that are perfect for swimming, surfing, bodyboarding, and other water sports. Going to the beach is a great way to relax, get a tan, and enjoy time with friends and family. But while many seem like great spots to wind down, not all of them are safe. In fact, some are downright dangerous.
Before choosing a beach destination, make sure to do your research. A few beaches, for example, are known for the presence of sharks and other dangerous sea creatures. Some shark species are particularly aggressive, and there are also jellyfish which can deliver potentially lethal stings. These aren't the only animals you should be on the lookout for when planning a beach holiday, either. There are also saltwater crocodiles, desert lions, and dingoes, which travel in packs on the shoreline.
Other beaches to avoid (at least when it comes to swimming) are those with dangerous rip currents. The water can quickly sweep you out to sea, making rescue difficult if not impossible, particularly if there are no lifeguards on duty. Of course, you'll also want to avoid beaches that are polluted with sewage and fecal matter. Check out some of the most dangerous beaches on Earth below.
Cape Tribulation has deadly box jellyfish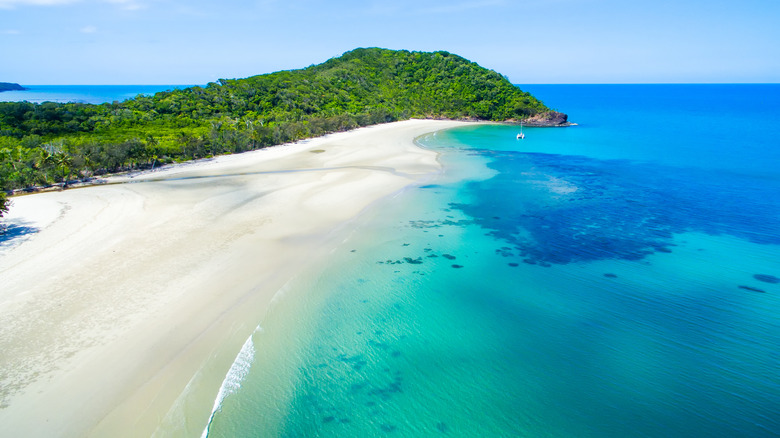 Cape Tribulation in North Queensland, Australia, is very picturesque with its stunning beaches, rainforest, and mangroves, but you must be careful should you choose to take a dip in its enticing waters. Tourists have to be vigilant when visiting the area because there are some dangerous, life-threatening forces that can turn a happy vacation into a nightmare. One of the biggest threats is the box jellyfish, according to travel blog Vagabond3.
These sea creatures are prolific from October through early June. If you're stung by one of these jellyfish, the venom will strike your cardiovascular system. The venom is so potent that you can end up drowning before you've managed to get yourself out of the water. Experts recommend avoiding the water entirely during this time of year. However, some sections of the beach have nets that are designed to prevent the jellyfish from getting close to swimmers.
Another animal to be wary of at Cape Tribulation is the saltwater crocodile. They have the ability to conceal themselves in both shallow and deep water, so both the ocean and fresh water is fair game. These crocs are very quick, so you need to be on the lookout at all times. They reportedly kill one or two people annually.
The Skeleton Coast has shipwrecks and desert lions
While not a popular tourist destination, the Skeleton Coast in Namibia does draw adventurous travelers, particularly those who enjoy surfing or are interested in shipwrecks. It's a hostile environment located in the country's oldest desert and is particularly treacherous for naval vessels, according to Drink Tea Travel. This is due to foggy conditions as well as the erratic Benguela current, a combination that has turned the area into the world's biggest ship cemetery. There are hundreds of wrecked ships on the coastline.
The area earned its name not just due to the number of shipwrecks but also because of the beached whale carcasses that are prevalent on the shoreline. The Skeleton Coast is in a remote area, so it doesn't attract a large number of visitors. However, those who do drive there are urged to bring proper supplies in the event of a vehicle breakdown. The area includes old mining sites, some of which are dangerous to explore. There's also an abandoned oil rig that some climb despite the fact that it's on the brink of collapse.
Tourists must also be aware of desert lions, who have adapted to the barren environment. They feed on marine animals, including seals and beached whales, as well as birds, and they're aggressive. The government has erected signs warning visitors to beware of the lions and stay in their vehicles at all times.
Hanakapiai Beach has dangerous rip currents
Visitors to Hawaii typically spend at least part of their time at the beach. And while many beaches are perfectly suited for swimming and water sports, others are much less hospitable. One of these is the remote Hanakapiai Beach on the Napali Coast. In order to get there, visitors must hike two miles on the Kalalau Trail, which is not recommended for inexperienced hikers, according to Kauai Beach Scoop. The hike can take one to two hours in each direction, and the terrain is steep and rocky. Hikers must also traverse the Hanakapiai River, which can feature treacherous currents.
Once you reach the beach, you can't swim in it. There's a wooden a sign that warns visitors not to go in the water because of the dangerous currents. Due to the geography of the area, swimmers who are caught up in the current are stuck unless they can swim to the nearest accessible shoreline, which is about 6 miles away. As many as 15 people have disappeared into the ocean and were never recovered. The sign at the beach claims that dozens of people have died there over the years, so it's best to stay out of the water.
New Smyrna Beach is the shark attack capital of the world
In June 2021, sharks bit two people in one day at Florida's New Smyrna Beach, known as the shark attack capital of the world. The attacks occurred within 90 minutes of one another, according to Spectrum News 13. Two attacks in a day isn't a common occurrence, but shark attacks in general are. Swimmers at New Smyrna Beach are 10 times more likely to be bitten by a shark than anywhere else in the United States. However, the attacks are typically not deadly, according to Gavin Naylor, manager of the International Shark Attack File (ISAF).
In 2020, the city experienced 244 shark attacks. New Smyrna Beach ​draws a lot of sharks because baitfish are attracted to the tidal flow in the Ponce de Leon inlet. The area is also great for surfing, and sharks get riled up by people splashing in the water with their hands and feet.
Chowpatty Beach is one of the world's most polluted beaches
While dangerous marine creatures and rip currents are big deterrents when it comes to a beach vacation, another reason to avoid the shoreline in a particular area is because it's polluted. If you don't like being covered in sewage when you swim, then it's a good idea to avoid Chowpatty Beach in Mumbai, India. It has the distinction of being labeled (several times) the most polluted beach on earth, according to the Latin American Post.
Mumbai has about 18 million residents and is one of the world's most populated cities, so you can imagine the amount of waste it produces. The city's drainage system brings fecal water to the beach, and it also collects industrial waste from the rivers. In addition, there's garbage strewn all over the sand. According to Pradip Patade, co-founder of Marine Life of Mumbai, wind currents bring garbage in from the sea, and oil also washes ashore. Plus, there are piles of plastic bottles on the shoreline, according to The Asian Age.
Fraser Island features packs of roaming dingoes
Australia is known for its beautiful beaches, but not all of them are safe for visitors. For example, Fraser Island Beach is home to approximately 30 packs of dingoes. This may trigger a flashback of the 1988 film "A Cry in the Dark" starring Meryl Streep, based on the murder trial of an Australian woman who claimed a dingo ate her baby (via CNN). While dingoes rarely attack humans, they can do so if they feel threatened. According to Sightseeing Tours Australia, to ensure their safety, tourists should visit the island in groups and avoid making any contact with dingoes.
In addition, the beach is home to great white sharks, jellyfish, and poisonous stingrays. As a result, visitors are advised not to swim in the water because it's possible to encounter one of these dangerous marine creatures. The area is also remote, and it can be challenging to receive medical assistance if there's an emergency. Finally, Fraser Island doesn't have any roads, and you need a vehicle with four-wheel-drive to get around. If you're unfamiliar with driving on sandy and rough terrain, it can be a challenge to get around safely and avoid an accident.
Lifeguards at Playa Zipolite rescue numerous swimmers every day
People love swimming, surfing, and bodyboarding at Playa Zipolite in Mexico, even though it has a reputation of being one of the world's deadliest beaches. The area was particularly dangerous in the late 1990s and early 2000s before storms eroded away part of the beach, which actually made it safer for visitors. Previously, there had been a sudden 16-foot drop-off in the seabed not far from shore, according to Vagabond Journey. The storms took care of that little issue.
In 1995, a volunteer lifeguard service was formed, and the number of drowning deaths decreased significantly. However, this crew continues to rescue people every single day. Drownings are relatively rare nowadays, but the undertow is still strong enough that people frequently need lifeguard assistance in order to get back safely to shore. Despite Playa Zipolite's reputation, beachgoers continue to swim in its waters, and lifeguards have rescued numerous visitors over the years. Some say they save up to 10 people daily.
A large percentage of shark attacks in Recife are fatal
The Brazilian city of Recife in the state of Pernambuco has some breathtaking beaches. While it's tempting to swim in the water, you might want to restrain yourself because the area has one of the highest shark attack rates on Earth. And compared to other infamous shark attack hot spots like New Smyrna Beach in Florida, the attacks in Recife are fatal much more often. The area has a death rate of about 37%, according to the BBC. This is in stark contrast to the worldwide shark attack fatality rate, which is approximately 16%.
The reasons for this trend are environmental disturbances due to the construction of Port Suape, the sheer number of people in the water, and the prevalence of dangerous sharks. There's a trench around 2,300 feet off the coast that sharks use a migratory route, and they hunt in the nearby shallow waters. Experts have deduced that bull sharks and tiger sharks are largely responsible for the attacks, the former being especially known for their aggression and attacks on humans.
Most of the attacks occur at Boa Viagem Beach, and lifeguards receive special training and use a SharkShield electronic device to deal with shark attacks. These lifeguards also train in a pool instead of on the beach for safety purposes. Surfing has been banned since 1999 after a man lost his hands to a shark attack.
Nuclear testing at Bikini Atoll created toxic beaches
Prior to the 1940s, fisherman, boat builders, and others lived a carefree life at Bikini Atoll in the Marshall Islands in the Pacific Ocean. That all changed when the U.S. government started performing nuclear tests in 1946, according to Orange Smile. Over the course of 12 years, scientists tested both atomic bombs and hydrogen bombs on the island, forever changing its landscape. These scientists carried out dozens of experiments, and the resulting radiation continues to be toxic for islanders and tourists.
During the testing period, locals were evacuated. Many were allowed to return to their homes in 1970, but the water was too dangerous for them to be exposed to. As a result, scientists and caretakers are the only ones who have lived there since 1977, according to the National Cancer Benefits Center. While few people currently inhabit the island, it is open to visitors. However, tourists are banned from swimming in the water. In addition, veterans and their families who lived on the island during the testing phase and were diagnosed with cancer due to radiation exposure have been compensated financially by Congress.
Swimming and surfing is banned at Réunion Island
Over the years, dozens of shark attacks have occurred at France's Réunion Island. In one case, surfer Rodolphe Arriéguy, 45, was at Saint-Leu, one of the area's top surfing spots, when a shark attacked him. His friend, Dr. Erwann Lagabrielle, rescued him, but he still lost his arm, according to 9 News. This is just one encounter of many, and these days, swimming or surfing outside the coral lagoon is prohibited. Between 1988 and 2016, there were over 50 recorded shark attacks, and 11 people have been killed since 2011.
Lagabrielle, who saved Arriéguy in 2015, has since concentrated his efforts on the surrounding area to determine why it's a shark attack hot spot. He discovered that over a 30-year period, the odds of being attacked by a shark off Réunion Island increased "by a factor of 23." Nine out of 10 attacks were by bull sharks, which are infamously dangerous to humans. He believes the bull shark population has risen, or a change in the animals' behavior patterns has caused the rise in attacks, but more research is needed. Other experts think the island's active volcano, Piton de la Fournaise, may also contribute to the activity. Sediment that washes down from the volcano turns the water murky, which makes the hunting grounds appealing for "smart" sharks like the bull shark.
Dumas Beach is reportedly haunted
Sharks, jellyfish, dingoes, crocodiles, pollution, and rip currents are legitimate reasons for avoiding certain beaches. But what about ghosts? India is home to several areas which are said to be haunted, including Dumas Beach in Gujarat, according to Times Travel. The beach is beautiful during the daytime, but once the sun goes down, it's reportedly a much different atmosphere. Numerous tourists visit the beach daily, but they leave at night to avoid supernatural occurrences.
Dumas Beach is located on the Arabian Sea and features black sand. Some believe it was once a Hindu burial ground, and the spirits of the dead are allegedly still roaming the area. Legend has it that the black sand was created by ash from burning bodies combined with white sand from the beach. There have been reports of missing tourists and locals and at least one death on the beach. Some have claimed to hear people laughing or crying even though there was no one around. In addition, white apparitions and floating orbs have been spotted in the area by locals.
The Red Triangle is a shark hunting ground
An area in California from Bodega Bay to 50 miles west of San Francisco is known as the Red Triangle due to its high number of great white shark attacks. The Red Triangle consists of around 200 miles of coastline and includes Big Sur, according to Only In Your State. The area is notable because "38 percent of all great white shark attacks" occur in it, which is home to a lot of shark prey: seals, sea lions, and otters. According to scientists, an increasing number of great white sharks are living between Monterey Bay, the Farallon Islands, and Bodega Bay, as reported by The Mercury News.
These oceanic predators can reach 20 feet long and can weigh over 4,000 pounds, making them fearsome creatures. The good news is that more sharks doesn't necessarily mean there will be an increase in attacks on humans. While a large number of great white shark attacks take place in the Red Triangle, they are rare, and just 5-15% of them are deadly.