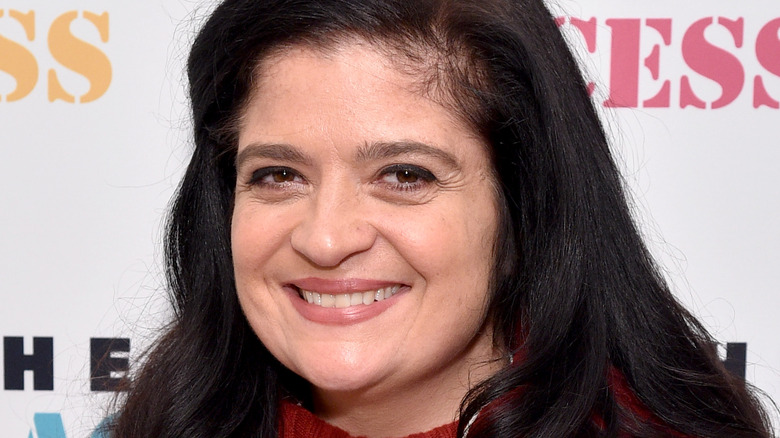 Food Network star and celebrity chef Alex Guarnaschelli is known for many things, including her role as a judge on "Chopped" and her title as "Iron Chef." But, before her success on mainstream culinary television, Guarnaschelli was a very successful chef with years of experience. After deciding to dedicate her life to cooking, she studied in France, worked in the Michelin Star restaurant Guy Savoy in Paris and restaurants around the U.S., and finally ended up in New York (via Authority Magazine).
New York is where Guarnaschelli landed in one of the most important positions of her career: the executive chef of Butter Restaurant. The storied establishment has a secure spot in NYC culinary history and popular culture and Alex Guarnaschelli's work has contributed greatly to that stature. Fans of the Food Network star who love her recipes and approach to cooking should definitely know everything about Butter, where she helms the kitchen to this day.
The 'fresh' culinary ethos behind Butter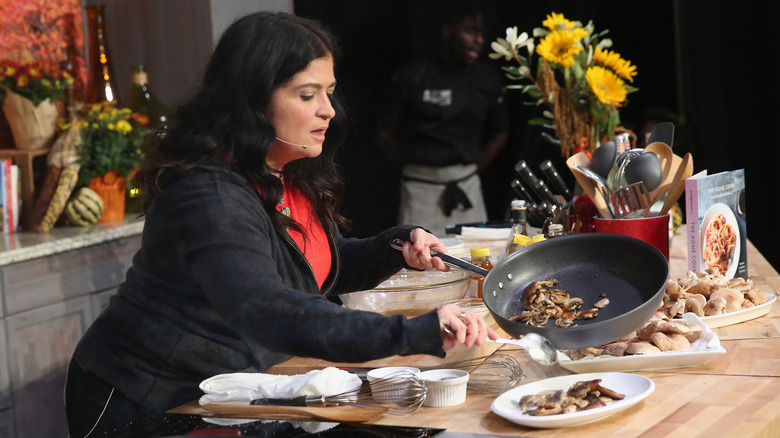 Alex Guarnaschelli creates the menu at Butter using greenmarket ingredients (sourced from the local farmer's market, per Grow NYC). In general, she brings an ingredient-forward approach to cooking and a cuisine style that is wholeheartedly New American — a term that implies it's "farm-to-table fusion food with French and Asian influences," per Slate. Though Guarnaschelli doesn't like to use the phrase farm-to-table, she does love fresh ingredients from the farmer's market.
"I shop at the market and that informs what I make … I definitely have farmers that I work with and when they put this beautiful stuff out there, how can you not serve that," Guarnaschelli says of her cuisine (via Fox News).
While the fresh ingredients are key to the menu at Butter, Guarnashelli also wants to impress the customer with bold seasonings and signature experiments with her dishes. "I like food to be really simple but have a lot of technique all the same. When we eat something at a restaurant, however simple it may look, there's something in it that makes you think 'well I couldn't quite do this from home,'" she said.
According to the restaurant's listing at New York Magazine, the menu includes steaks, Brussels sprouts salad, warm octopus, and raw fish options, among other delectable items.
Alex Guarnaschelli almost didn't work at Butter
It's hard to imagine her career without the amazing menus she has made at the restaurant for years, but when the executive chef position opened up at Butter, Alex Guarnaschelli almost didn't take the job.
"Somebody called me and said that Butter really needs an executive chef. They just lost their chef, blah, blah, blah. I was like, 'I'm not doing it. Nope. No!' I hung up the phone," Guarnaschelli recalled in a conversation with Pursue the Passion. The opportunity came knocking at a time when Guarnaschelli was prioritizing different parts of her life after focusing exclusively on her culinary career since graduating college. She was working as a private chef in Manhattan and teaching at the Culinary Institute of Education while thinking about marriage and family.
However, the chance to take charge at the restaurant was too good to pass up and Guarnaschelli accepted the offer in 2003. The bio on her website credits the executive chef position as an opportunity to develop her own menu inspired by her point of view, which she still does to this day at Butter.
The original Butter was a nightlife hotspot
Butter Restaurant's original location was a nightlife hotspot in the NoHo neighborhood of Manhattan that was frequented by the hottest A-list celebrities. The current iteration in Midtown is much more focused on Alex Guarnaschelli's cuisine, but when Butter was founded in 2002 by Richie Akiva and Scott Sartiano, it had more of a nightclub vibe (via NY Daily News).
In fact, Butter tops a list over at Eater of the biggest clubs and nightlife hubs in recent New York history. Big celebrities like Madonna, Ashton Kutcher, Demi Moore, and P. Diddy were seen eating there with much buzz and fanfare. Celebrity food habits and trends are almost always a surefire way to garner attention, and Butter's profile rose with the inherent publicity. This made it popular with famous and non-famous New Yorkers alike.
The original location had such a reputation for being one of the hottest places for socialites to grab dinner before going out to the night's biggest parties and clubs, it was even featured on the original "Gossip Girl" series as a go-to for the young socialites on the show (via Thrillist).
Alex Guarnaschelli can't believe it's not butter
As the executive chef at Butter restaurant, Alex Guarnaschelli has naturally become somewhat of a cultural reference on all things involving the ingredient butter. From tips and tricks to the perfect homemade butter to Tweets answering fan questions about the proper way to store butter, her expertise has made the rounds a few times. But, in a clever marketing campaign, she was also a spokesperson for a butter substitute.
By 2011, Alex Guarnaschelli had been successful as the executive chef at Butter for several years. Her star was also rising on the Food Network. This made her a perfect choice to endorse the spreadable butter replacement I Can't Believe it's Not Butter! She became affiliated with the brand and was featured in a full campaign based on her passion for the spread (via Eater). Playing off her restaurant's name in a marketing campaign was kind of genius, we have to admit.
In her tenure as the brand's representative, Guarnaschelli provided recipes that used the vegetable oil spread, including one for biscuits. However, she did admit that the substitute is not a catch-all replacement for all butter needs. "It's not butter. It can't just be used in place of butter for all your recipes," she said (via Grub Street).
Butter Midtown is open for business
Though the original Butter was founded in 2002 in the downtown district of NYC, that location of Butter closed in 2013 — meaning, sadly, you can't relive your "Gossip Girl" fantasy at the iconic bar of the original restaurant — but to this day you can still head over to Butter Midtown for Alex Guarnaschelli's signature menu and a chance to see the executive chef at work. The downtown location closed for renovations in 2013, but does not seem to have reopened (via Wall Street Journal). Instead, the Midtown location opened the same year the original one closed and continues operations to this day on West 45th Street right in the heart of Manhattan.
The new location matches the vibe and atmosphere of the original, as noted in by New York Post food critic Steve Cuozzo. He noted the woodland feel with stacks of logs outside the open kitchen, a forest mural of birch trees, and a wide atrium ceiling that opens into the Cassa Hotel tower above.
If you're in New York, it's worth a stop to taste Guarnaschelli's signature menu and a chance to see her at work in the Butter kitchen, or at least admire the work she's put into building the restaurant's atmosphere.