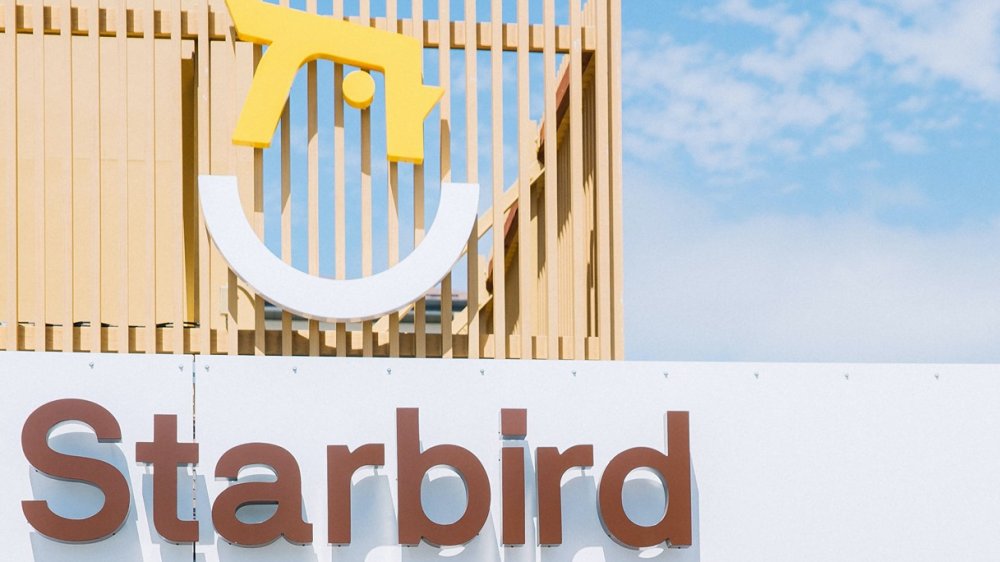 If you haven't heard of Starbird Chicken, not to worry — you haven't somehow missed out on the latest insider information (in fact, if you're reading this, you may be "in the know" before all of your friends. Take notes. Spread the word around).
According to Forbes, this up-and-coming "chef-led" fast food chicken chain opened shop in Northern California in 2016, and as of summer 2020, it operates six restaurants in the Bay Area, with three more locations planned by the end of 2021. But if you don't live in the Bay Area (or fly through the San Francisco Airport frequently — there's a Starbird location in Terminal 1), there's really no reason you would have heard about Starbird Chicken. That said, if the chain's expansion continues to go as planned, it's only a matter of time before you do start seeing the new restaurant popping up around the country. And for that, you'll likely be grateful, because if the food tastes half as good as the photos of its food? Your tastebuds are going to rejoice. (Sorry, Chick-fil-A, you've got some competition coming!)
Founded in 2016, Starbird is just getting started with plans to expand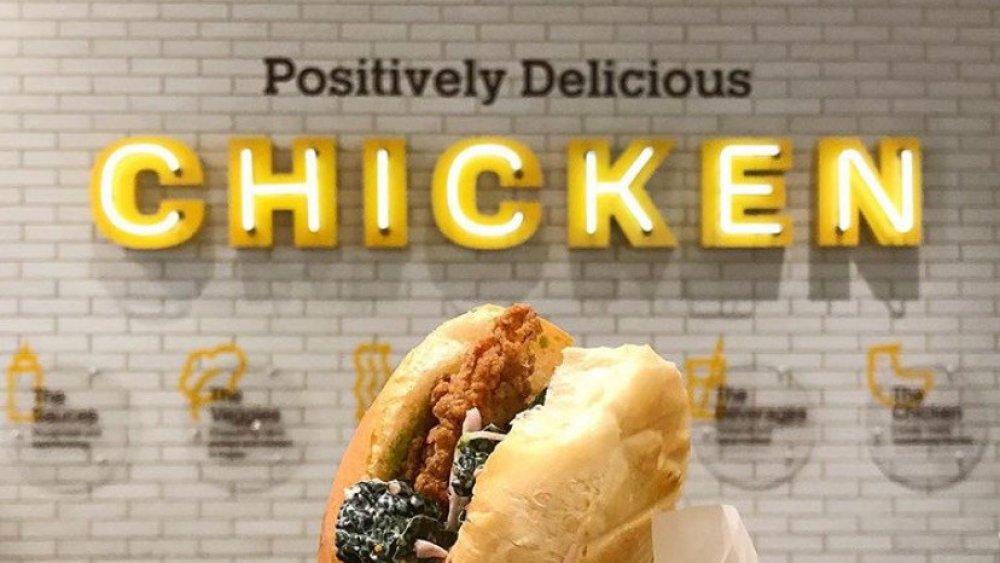 Starbird Chicken wasn't founded in the more traditional sense by some guy with a homemade chicken recipe all of his friends couldn't get enough of. No, according to an article in Forbes, Starbird was founded by the head of a food and beverage consulting company and investment incubator, Aaron Noveshen, who was looking for a new business to pour his own ideas into. After looking at the market, he and his firm, The Culinary Edge, decided "chicken was the place to be" — that there was room for innovation and differentiation that would be harder to come by with other fast food or restaurant concepts.
Thus, in 2016, the first restaurant opened in Sunnyvale, California, with Noveshen as CEO and The Culinary Edge team members helping provide funds, receiving equity and ownership in return. In the years since the doors first opened, six locations have gotten up and running with plans to continue expanding naturally, primarily along the West Coast, with Noveshen stating he expects to double its current number of restaurants by 2022. And as the chain does continue growing, it's hoping to turn the restaurant into a franchise too. That said, Noveshen insists the company doesn't have big plans for thousands of restaurants — it'll grow where and how it makes sense to grow.
Starbird wants to do fast food fried chicken better than Chick-fil-A
When it comes to fast-food fried chicken sandwiches, Chick-fil-A has practically written the manual. And the chain has done a good job of differentiating themselves from other fried chicken restaurants like KFC and Popeyes by focusing on fresher, house-made ingredients and offering some healthier options. Well, Starbird wants to school Chick-fil-A on how to do chef-inspired recipes and housemade, "gourmet" fast food fried chicken even better. And the company's not shy about saying as much.
According to a 2016 article in QSR, Starbird Chicken CEO Aaron Noveshen came right out and said it, "We think Chick-fil-A does a great job, but our approach was conceived to improve upon theirs." Uh-oh, sounds like shots fired. Especially when Noveshen also stated, "There isn't anyone doing chicken today with a super-premium product." Well, alright then.
So what, exactly is "super-premium" chicken? If that's what Starbird is offering, it starts out as free-range and antibiotic-free. But more than that, it's locally sourced, hand-cut, and fried in small batches. Then, all the recipes are chef-created and inspired, which upgrades the "fried chicken on a bun with pickles" to the Starbird, which includes crispy chicken, super slaw, avocado, and mayo on a house-made bun. Sounds pretty good, right?
The pandemic hasn't slowed down sales for Starbird
The 2020 worldwide COVID-19 pandemic hasn't exactly been kind to a lot of businesses. This is especially true of businesses focused on a model designed to serve customers in-store. As governments rolled out regulations for social distancing and reducing large gatherings in closed spaces, many restaurants found themselves shutting down temporarily (and sometimes permanently) in an effort to accommodate these changes.
But amidst a painful time for many companies, Starbird Chicken actually found itself thriving even more than it was pre-pandemic, noting in a Forbes profile that it saw a 30 percent sales spike in the second quarter of 2020. You know, right when many companies found themselves floundering.
The reason is largely based on the fact that Starbird was already positioned to focus on off-premise sales through mobile and online ordering using third-party delivery vendors like DoorDash, Uber Eats, GrubHub, and Postmates. Sure, Starbird needs its brick-and-mortar stores for boosting brand recognition, but ultimately, as a way to keep overhead costs relatively low, the company has always seen off-premise sales as a cornerstone of its business. So, when governments started shutting down in-store purchases, Starbird was already up and running with its alternative model for selling and delivering food. Talk about good timing.
Starbird engaged the community to help support medical professionals during the pandemic
As soon as news of a world-wide coronavirus pandemic started to break in January and February 2020, Starbird Chicken started making adjustments to its business model to help keep employees and customers safe. But according to a May 2020 article in QSR, the company also immediately used the opportunity to focus on one of its guiding principles: community. Located in the Bay Area, an area that was quick to institute strict stay-at-home orders, Starbird knew it wanted to support healthcare workers and frontline professionals while also encouraging customers to offer support too.
As such, the company created a matching campaign to donate food to the nurses and doctors at local hospitals who were working hard to keep the community safe. Essentially, customers were given the option when ordering their food to donate a meal to healthcare employees. Whenever a donation was made, Starbird would match it. Thus, a single sandwich donation became two. The beauty of this type of support is that it often is reciprocated. Starbird CEO Aaron Noveshen stated that they now receive catering orders from medical offices and businesses because these same locations experienced or witnessed the way Starbird was helping foster community support.
Starbird's salads are a big part of its business
For most fast-food restaurants, salads are an afterthought. Sure, you might have tried a salad or two at McDonald's or Wendy's, but that's not typically why you pull through the drive-thru, right? Well, that's just another way that Starbird Chicken is setting itself apart from other fast food restaurants. According to an article in Forbes, Starbird CEO Aaron Noveshen reports that 20 percent of Starbird sales are salads. And even though the chain is positioned around fried chicken, its salads can be served with grilled chicken, making them appealing to health-conscious buyers (something that's especially important in places like California).
And in a 2019 article from QSR, Noveshen further explains the importance of the salad to the menu and differentiation technique, stating, "If there's anything that we're really proud of, it's our salads … A lot of that comes from all the fresh California produce that we use, the fact that we really believe that vegetables are a good thing …" Noveshen even admits that the Chicken Chop salad, featuring crispy chicken, tomatoes, roasted corn, avocado mash, pepitas, crispy tortillas, cotija, cilantro, green onions, and chipotle lime dressing, is an item he personally craves. To be fair, it does sound delicious.
Starbird prides itself on 'house-made' bread and sauces and chef-driven menu items
If the selling point for your restaurant is "super-premium" food, then you'd better be putting a lot of effort into ensuring that every menu item you sell stands out from products consumers could find on a standard fast food menu board. And that's exactly what Starbird Chicken is trying to do. In a profile on Forbes, the company's CEO specifically vouched for the fact that the chain is a "chef-driven company," explaining that the food is high-quality and locally sourced with fresh vegetables and antibiotic-free meat. In fact, the company even makes its sauces and breads in-house.
But if you're not convinced, still assuming that a chicken sandwich is just a chicken sandwich (and who could blame you, really?), consider the restaurant's Big Star Sandwich, described in QSR as a "riff on a bold and saucy classic crispy chicken sandwich" (i.e., the item the company wants to give Chick-fil-A's chicken sandwich a run for its money). Sure, it's got the same ol' crispy chicken (antibiotic-free and free-range, of course), dill pickles, and bun (of course, a house-baked roll), but then it goes a little further, adding sliced tomato, shredded lettuce, and "Star Sauce," a house-made sweet and smoky white barbecue sauce, which has become the company's most popular dipping sauce. As good as this sounds it's, this company takes making high-quality food very seriously.
Starbird's sandwiches are winning awards
Apparently, Starbird Chicken has reason to be proud of its sandwiches and its "super-premium" approach to fast food. In 2019, Starbird's chicken sandwiches won The Mercury News' "Best Bay Area Fried Chicken Sandwich" award, edging out 15 other contenders. Apparently, it was a heated race (only a few hundred votes separated the winner from second place), with many small, local shops on the list.
Unfortunately, the article doesn't say which sandwich was put to the test. This means, obviously, you have to try them all to make your own decision. If you like something spicier, the Nashville HotBird is probably your best bet, featuring spicy fried chicken, classic slaw, dill pickles, Greek yogurt ranch, and mayonnaise. Or if you want something you surely won't be able to find anywhere else, consider the Korean Fried Chicken, which includes crispy chicken, gochujang glaze, honey miso slaw, cucumber, green onion, and sesame seed. Or, you know, you could go with the basic 'wich, the Big Star. Regardless, whatever you choose is probably going to be pretty delicious.
Starbird is targeting tech-driven millennials and their families
According to Biz Women, millennials are coming of age in their buying power. In fact, as of January 2020, millennials were expected to spend $1.4 trillion for the year (although, to be fair, that number probably didn't take into account the reality of a worldwide pandemic that would drastically affect spending). Regardless, only having been launched in 2016, Starbird Chicken investors knew they wanted to take advantage of millennials' buying power, focusing on marketing tactics that would appeal to this target audience. In a Forbes article, company CEO Aaron Noveshen stated specifically that the company wanted to offer tech-savvy ordering options that provide convenience while also recognizing that millennials are often willing to pay a little more if they feel they're getting a higher quality product.
The article in Biz Women supports his assumptions (or more likely, well-researched knowledge), pointing out that millennials are also willing to buy from companies who share their personal values and from those willing to give to charity. Clearly, Starbird Chicken is aiming to target millennials on all levels by bolstering community, giving back to healthcare workers, focusing on high-quality, locally sourced foods, and offering tech-friendly resources for ordering.
Starbird deep-fries in rice bran oil for 'health reasons'
It may be surprising that Starbird Chicken, a fried chicken fast food restaurant, decided to open its doors in health-conscious California. But in a Forbes profile, CEO Aaron Noveshen pointed out the company's focus on premium, locally grown produce is value-aligned with many people who live in the Bay Area. Plus, there are healthier options, like salads with grilled chicken and grilled chicken tacos. Then, he went on to make another claim: The rice bran oil the company uses to deep-fry their chicken is "more healthful" than other oils. He says that it lowers cholesterol, is less oily, and doesn't stick to the food.
Well … maybe. As an article on Healthline points out, this type of oil may, in fact, help support health in different ways, including supporting healthy blood sugar levels, lowering "bad" cholesterol and boosting "good" cholesterol, and offering antioxidant effects. That said, that's not that different than other vegetable oils, like olive oil, which is likewise low in saturated fat and is associated with heart-healthy outcomes.
At the end of the day, it's important to remember that all fats have the same number of calories per gram and really vary more in the level of processing they go through and the level of saturated fat versus unsaturated fat they contain. In this sense, it matters less what type of oil you're cooking in and more how much fried chicken (or other highly processed fatty foods) you're consuming regularly.
Starbird is hiring and prides itself on treating employees well
Unlike many companies struggling through the economic downturn associated with the 2020 COVID-19 pandemic, Starbird Chicken continues to expand. And as it expands, the company is continuing to hire. So if you live in the Bay Area or in other areas in the Western United States, you'd be wise to keep an eye on the Starbird Chicken employment page.
The thing is, Starbird Chicken isn't just hiring — it's hiring while keeping an eye on how well it treats its employees. There was no better time to see this in action than as when the pandemic started taking over the United States. According to a May 2020 QSR profile, the first guiding principle that Starbird focused on as the world and life seemed to come to a grinding halt was its people. Company CEO Aaron Noveshen said, "Let's take a risk on ourselves. Let's invest in our people, invest in their safety; let's invest in their wellbeing."
As such, the company instituted safety precautions to limit dining room capacity and encourage social distancing before such practices were widespread or government-mandated. At the same time, it provided all of its employees with raises and extra free meals to share with their families. It looks like the company made every effort to keep its employees safe during this unprecedented crisis.
Starbird has two 'virtual brands'
If you search online for "Starbird Wings," you'll find an entire website dedicated to Starbird Chicken's wings. But you won't find a Starbird Wings brick-and-mortar location anywhere in America. This is because it's a "virtual brand" — a virtual off-shoot of the "real" restaurant, Starbird Chicken. The concept is genius and one that the company's CEO Aaron Noveshen has pointed to as being a money-maker during the pandemic when, in the blink of an eye, online ordering and food delivery became weeknight norms.
Starbird Chicken actually has two virtual brands: Starbird Wings and Starbird Salads. Both brands are entirely digital. The idea is for people to order from these "restaurants" by using third-party apps to order food, like DoorDash or Uber Eats. When a person searches "wings" or "salad" in the app, restaurants with those keywords in their names will come back as the top results. So while there's not a physical Starbird Wings location to be found, you can get the food within these third-party apps, which provide the company with greater brand recognition. Of course, when the orders go through, they're fulfilled at the closest Starbird Chicken location and arrive with Starbird branding.
But in a QSR profile, Noveshen also notes that as the company expands, it may expand through virtual brands, focusing on making food in "cloud kitchens" rather than in brick-and-mortar stores that have in-house dining. This could allow the company to keep overhead costs down while reaching more markets in less time.
Starbird's social media pages will make your mouth water
When you're trying to sell food, you need imagery that makes people's mouths water, and whoever's taking photos for Starbird Chicken's social media pages is darn good at food photography. Seriously, just head over to the company's Instagram or Facebook pages to take a peek at what they've got going on. If you're at all influenced by photography, about three photos in, you'll be getting a hankering for Fully Loaded Nashville Fries and Fried Chicken Tacos. And even if you're not the "salad type," you might change your tune after seeing a few of the best options on the menu, like the Tokyo Katsu salad.
Granted, unless you live in the Bay Area, you probably won't be able to follow through on ordering any of these meals for a while, but there's something about viewing food porn like this that could still inspire your next meal.
The story behind Starbird's aesthetic is interesting
The Starbird Chicken logo is clean, simple, and frankly, adorable. Just look at that little chick hatching from an egg. Too bad you're actually eating the chickens at the restaurant, so the items on your plate aren't nearly as cute as the company's branding. But hey, it's selling a concept, right? And that concept has a story that was shared by Identity Designed.
Based on Starbird Chicken's goals, branding agency Strohl Design wanted to "tap into the joy and fun of the golden age of American fast food" but didn't want to come across as being "retro" or "inauthentic." As the design firm went through the initial sketching process, it focused on the ideas of simplicity, "freshness," and "hatching." And ultimately, it wanted a design that would "cut through the visual clutter" often found in fast food marketing and branding. Ultimately, the simple color pallet and even simpler logo, aim to communicate "bold freshness." And it works … who wouldn't love this clean but engaging design?