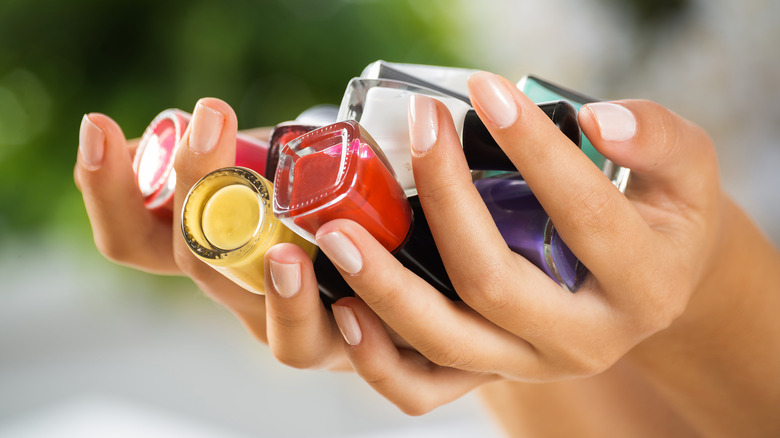 If you love nail polish colors, raise your (manicured) hand. It's great, isn't it? "Even for those on a tight budget, nail products offer a relatively guilt free treat, with the power to change their options," Karen Grant, vice president and global industry analyst of The NPD Group revealed in the 2013 Nail Care and Polish Consumer Report. If you, like more than half of women aged 18 or older, routinely treat yo' self to a manicure, you know how instantly gratifying the experience can be.
According to the report, most women consider the color of nail polish above all else. That's right, the perfect shade is more important than the brand. And, when it comes to colors, women were found to have quite a few favorites. "In general, the preference goes to brighter and neutral/natural shades, with pink/mauve, clear, and red coming out as the top color choices," the report highlighted. You may not think there's much to selecting a nail color other than deciding that it's pretty, but your preferred polish actually says a lot about your personality. This is the story your nails are telling.
A fiery orange nail polish color means you're spontaneous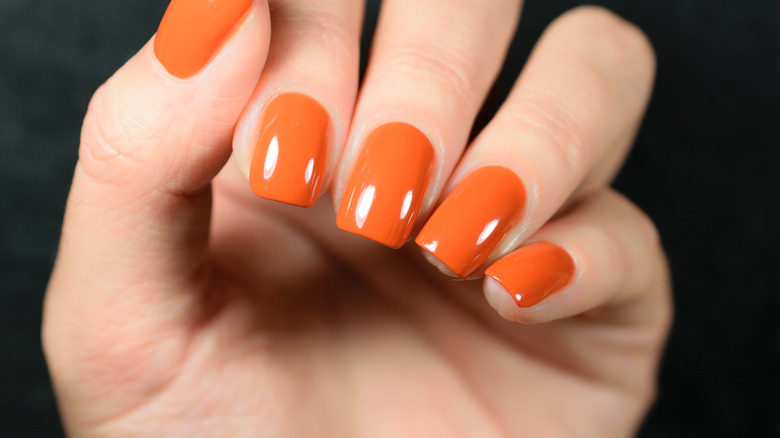 Is orange your go-to nail polish color? Gerry Holford, a manicurist at Paintbox nail studio in New York City, told HuffPost that a "bright pop of orange" is a "ballsy or impulsive" shade. As such, that means the wearer is equally spontaneous. If you've been considering giving the shade a whirl, there are plenty of fiery shades on the market. Holford recommended trying the long-lasting Neon Orange Knockout Nail Lacquer by China Glaze. If that polish is a tad too loud for you, check out the shade Enflammée by Jinsoon. According to the company's site, the polish is "a mix of coral and orange shades that is romantic and passionate, recalling the striking beauty of poppy flowers that grace the French countryside."
Oh, and don't think you need to wait until the fall to whip out your favorite orange polish. Celebrity manicurist Mazz Hanna told NewBeauty that orange — particularly burnt orange — is "the perfect transitional shade because it can play in both the summer and fall seasons."
Cool gray nail polish colors are totally chic
Celebrity nail artist Miss Pop says gray equals chic. The manicurist told Seventeen that you're equally as cool as that gray nail polish color you're wearing. Go 'head, girl. Gray shades have become increasingly popular, which means you have, well, more than 50 shades from which to choose. And that list just keeps on growing.
As StyleCaster reported in August 2019, Essie lined up 12 new shades for the fall season. According to the brand, one of the autumnal collections is inspired by a "countryside retreat" and features a stunning polish called Easily Suede, described by the publication as "a warm gray."
As is the case with orange polish, you definitely don't have to relegate your grays to the autumn months. In fact, the gray nail trend started taking off in winter 2019. "Grays are making a mark because they're a contemporary color but also cozy, soothing, and serene," Essie's celebrity manicurist Michelle Saunders told PopSugar. "Gray signifies balance and serenity, and I think sometimes we forget how it feels to be still and neutral."
Blood red and oxblood nail polish colors mean two different things
If you've ever hunted for the perfect red lipstick, you well know that there's no such thing as simply "red." Much like red lip color, some red nail polish colors can read more pink, orange, purple, and so on. And, according to manicurists, which red you choose for your nails can be very telling.
"I'd like to think there isn't such a thing as an 'angry' manicure, but if I had to choose, I would venture to say a blood red manicure could be construed that way," Gerry Holford, a manicurist at Paintbox nail studio in New York City, told HuffPost. We don't blame you if you want to try this bold shade — and you don't need to look any further than Marc Jacobs Beauty Enamored Hi-Shine Nail Polish in the color 134 Lola, which is described as an "opaque bright tomato red."
While tomato red talons might just mean you're angry, oxblood nails tell an entirely different story. "Sexy, sultry for me is always a dark burgundy nail," Holford revealed. The manicurist continued, saying, "It's a modern classic." My Glaze by Marc Jacobs Beauty is a sure bet.
Neon nail polish colors demand attention
Neon nails demand to be seen. If you sport these fluorescent nail polish colors, you're "the life of the party" for sure, celebrity nail artist Miss Pop told Seventeen. And, as of 2019, statistics show that more women are gravitating toward this bold manicure. Pinterest searches for "bright summer neon nails" were up some 131 percent by July 2019, the site confirmed to Allure. "Nails are a fun way to incorporate some neon into your life, and Pinners agree," Pinterest revealed. And nothing says hot girl summer quite like neon, right?
From lime green to bubblegum pink to even a technicolor rainbow manicure, there's no wrong way to rock this nail trend. According to the insights shared by Pinterest, "neon ombré" nails were searched for the most of all the neon varieties, followed by "neon French tip" — à la Kylie Jenner and Khloé Kardashian.
Thankfully, you don't have to be a celebrity to pull off neon nails. In summer 2019, Sally Hansen released their affordable Neon Collection by Miracle Gel. With playful hues like Lemon Chillo, Peach Please, and Miami Ice, you'll have just as much fun picking a shade as you will wearing one.
A black nail polish color shows a person's true personality
"People who choose black as their favorite color are often artistic and sensitive," Bernardo Tirado, an industrial psychologist and project management executive, revealed in an article for Psychology Today. "While these people aren't introverts, they are careful with the details of their lives and do not share easily with others."
Although Tirado wasn't necessarily referring to nail polish color, it turns out the psychology behind black nails is similar. "I feel that a beautifully painted black manicure is extremely chic," Gerry Holford, a manicurist at Paintbox nail studio in New York City, prefaced in an interview with HuffPost. "Having said that most gals wearing a black mani are creative types that think out of the box — and a little bit of a rebel. I think it takes a lot of confidence to wear a black manicure, and for most women that do wear one, it's their signature look." Black nails for the win!
Blue nail polish colors are for the creative
Like black, blue nail polish also points to creativity, according to Essie's celebrity manicurist Michelle Saunders. If you frequently paint your nails in this shade, Saunders told Cosmopolitan that you're probably a forward-thinker.
Fans of blue nail polish colors can experiment with periwinkle, navy, teal, and about a million other shades of blue. Even if you're not one to always don a blue polish, Harper's Bazaar suggested trying the polish as your "something blue" on your wedding day. It sounds daring, but that doesn't mean you have to go dark or neon blue, of course.
Butter London Nail Lacquer in the color Kip is a great muted blue, according to the publication, and it would pair well with white or ivory. Don't rule out those Tiffany-esque shades either, like Jin Soon's Peace. If you're looking for just a tiny bit of blue, Harper's Bazaar recommends No. 9 by Clé de Peau Beauté, which is "a pearly white polish shot-through with just a hint of blue sparkle."
What does it mean if you combine black and blue nail polish colors?
If black nail polish and blue nail polish both mean creativity, a combination of black and blue nail polish colors must mean… even more creativity? You'd think so, but no. "These shades tell others that you are outgoing and live on the wild side," Katie Saxton, nail expert and president of Custom Nail Solutions, revealed in an interview with Shape. "When people see these nails, like on comedian Whitney Cummings, they get the impression that you live an adrenaline-filled lifestyle full of constant excitement!"
Although black and blue may be the colors you associate with bruising, your fingernails certainly won't look discolored when you try this trend. As nail aficionados on Instagram have demonstrated, combining these two colors can actually make for a stunning look. Some styles mimic a starry night sky whereas others look less like a manicure and more like your nails have been transported into another dimension.
Pretty pink nail polish colors are super feminine
Neon and bright bubblegum pink aside, choosing a hue from the pink color family symbolizes relaxation. Ahh. "Soft colors like pale pinks, creamy beiges and even variations of bright colors like … coral can definitely add to a relaxed state," Gerry Holford, a manicurist at Paintbox nail studio in New York City, confirmed when speaking to HuffPost.
That's not all pink nail polish color says about you, though. Pink nails also reveal that you have a feminine and flirty personality, according to Katie Saxton, nail expert and president of Custom Nail Solutions. "Polish your nails with pink hues whenever you want to show off your girly and sweet side!" the expert advised when speaking to Shape.
If you're not sure which shade of pink is for you, you should know that pink nail inspo is everywhere on Instagram. As of this writing, #PinkNails generates some 2.7 million results. Whatever your color ends up being — muted blush or '90s mauve — you can guarantee it's on the social networking platform.
Nude and taupe nail polish colors show that a person is "unfussy"
Much to neutral nail fans' chagrin, neon nails steamrolled right over the barely-there trend. "That's right, folks: It appears that nude is out and neon is in this summer," Allure reported in July 2019. Neon colors may have usurped your favorite taupes in 2019, but these two color families attract two very different personalities.
While neon nails are perfect for people who want to stand out, nude nails, on the other hand (pun totally intended), are chosen by people with decidedly "unfussy" personalities, according to Michelle Saunders, Essie's celebrity manicurist. This type of manicure can be seen as "low-maintenance," the expert told Cosmopolitan.
Although choosing a nude nail polish color seems like it would be easier than picking out a neon shade, the process is, well, kind of high maintenance. Adeline Sarino, national director for nails at Red Door Spa, told Today that it's important to choose a shade that matches your skin tone. Doing so will work with — not against — your complexion.
Youthful people don white nail polish colors
If your go-to nail polish color is solid white, you've basically found the fountain of youth. Okay, okay, maybe that's a stretch, but, nevertheless, a white manicure points to a youthful personality. "It's fresh and very chic," Gerry Holford, a manicurist at Paintbox nail studio in New York City, said of an all-white manicure in an interview with HuffPost. "It works on all ages and lends an element of youth to anyone wearing it." Holford revealed that it had actually become her "favorite" manicure — and it's easy to see why.
Even if you do have a super playful and youthful personality, though, white monochrome nails may not always work as intended. "Avoid white if your skin tone is cool and super pale," Jocelyn Petroni, Chanel manicurist, told Marie Claire. White is, however, a great choice for medium and warm skin tones. "Its neutral and clean finish complements the nails and makes them look healthy," the expert explained.
It's also advised to pair white polish with a particular nail shape. "A short, natural nail shape will wear white polish best," Petroni explained. "It complements the hands without becoming too stark or heavy set."
Nail accents reveal a lot more than nail polish colors do
Whether you accent your nails quietly or loudly, you're telling a story. Celebrity nail artist Miss Pop told Seventeen that studded accents reveal that you like to look like a tough cookie, but you're actually a softie. If you accent your nails with a painted floral pattern, this not only shows that you're polite and sweet, but a trustworthy and responsible person, according to the manicurist.
But what if you choose a bold painted design? This demonstrates your creativity, Katie Saxton, nail expert and president of Custom Nail Solutions, revealed. "Choose this style when you want your nails to show off your artistic side," she advised when speaking to Shape.
Summer 2019 even introduced us to the "fruit nail" trend. Is there a better way to show off your totally artsy personality and style than by rocking a kiwi, strawberry, or even an avocado (because, yes, they are technically a fruit) nail accent? We think not. Even if you favor bolder nail graphics over flirty, fruity designs, these fun accents along with your chosen nail polish color — as a whole — demonstrate your optimism, Miss Pop confirmed to Seventeen. And that's pretty cool.
Nail wraps express what simple nail polish colors can't
Painting on a bold design or applying an accent appliqué to your nails is not the only way to deck out your manicure. Nail wraps, which are essentially stickers you apply to your nails, make it incredibly easy to sport bold prints like leopard, lace, gingham, and pretty much every pattern there is or ever was. Nail wraps are a great solution for when you want an super detailed look that would just be too difficult to do with simple nail polish colors. You can even purchase nail wraps that feature celebrity faces. True story.
But just what does wrapping your nails say about you? Good things, according to Katie Saxton, nail expert and president of Custom Nail Solutions. When speaking to Shape, she said it communicates your fun personality and trendiness. "Adorn your nails with wraps like these when you want to garner attention," Saxton added. There's definitely no way to ignore wrapped nails.
Glitter nail polishes point to how much fun someone is
Glitter came back in a big way, didn't it? Some of the biggest makeup trends of 2019 involved this magical, shimmery stuff. Even before glitter made its way into our eyeshadows, though, it was prominent in nail polish. If a glittery nail polish color is your go-to, Miss Pop revealed to Seventeen that you may always be on the hunt for a new distraction. That might mean you're a little restless, but it also means you're a ton of fun.
Unfortunately for glitter stans, some employers have a negative opinion when it comes to shimmering nails. One president of operations named Jasmine told Byrdie that a "glitter" manicure, among other "loud" varieties, "shows poor judgement on what's acceptable for our company culture." Yikes. Not every employer feels that way, though. Kim, a marketing manager, told the publication that "creativity is celebrated" in her field and she personally believes "individuality should be too." Before a big interview, you may want to think long and hard about whether to ditch the glitter or embrace it.
So, what if you wear clear nail polish or no nail polish colors at all?
If you gravitate toward clear nail polish, celebrity nail artist Miss Pop believes you can handle anything thrown your way. You're basically a DIY guru, the expert explained to Seventeen. After all, there's a good chance you painted your clear nails yourself, didn't you? Mhmm, we thought so.
Not all clear polishes are created equally, though. When going colorless, you'll definitely want something that makes your nails look their healthiest. That's where Dior's well-reviewed Nail Glow Nail Enhancer comes in. The nail polish color may look pink in the bottle, but it's actually "a universal shade that enhances the color of your natural nails." After application, "the pinks of the nails become pinker and the whites become whiter for a shining finish and healthy, glowing effect." Once you try the clear polish trend, you may never go back.
Or, you may find yourself going completely clear — as in no polish at all. Buffing your nails can provide the shine you need and, according to Alessandra Codinha, fashion news editor for Vogue.com, buffed nails feel "fresh," "less uptight," and "just the right amount of natural."