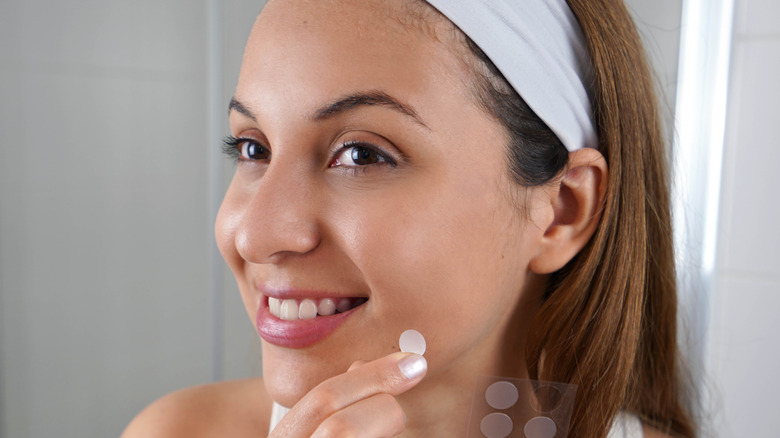 When it comes to diving into the vast sea of beauty products, there's a lot to consider. Maybe you want to explore a zero-waste routine or attempt to recreate the eyeliner flick seen on your favorite celebrity. Besides achieving your desired look, one of the best parts of experimenting is finding beauty products that are satisfying enough to add to your routine. While some fun purchases can feel gimmicky and end up gathering dust in the back of your cabinet, many YouTubers and people in the beauty community have found those must-try products that are both entertaining and rewarding.
The market is huge when it comes to beauty and personal care. According to Statista, the U.S. saw about $89.5 billion in revenue in those industries in 2018. With so many choices, many brands create innovative products that offer results as well as a satisfying application process. From the sensation of peeling off pigments to painting or stamping on blush and foundation, there's plenty of gratifying beauty products to try.
Peel-off products are pure fun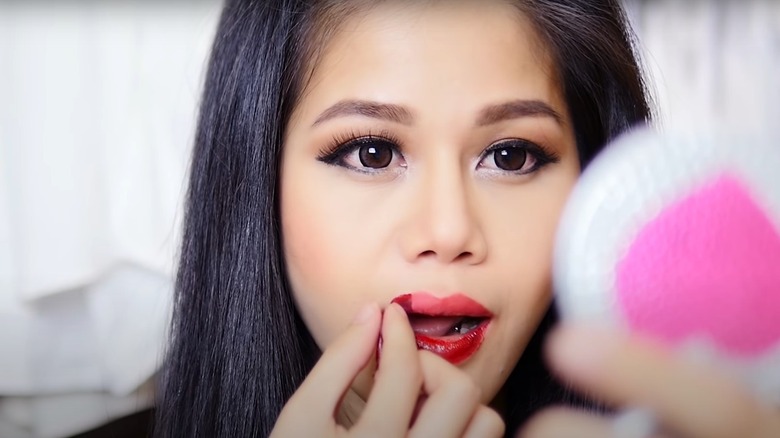 As a kid, maybe you enjoyed the amusing feeling of tugging off dried glue after putting it on your hands. Peel-off products have that same sensation, but they leave a colorful result behind. The Berrisom brand's "Oops My Lip Tint" pack goes on tacky but dries to a vivid and peel-ready product, as YouTuber Vy Qwaint showed in her first impression video. She explained that she thought the product would be "gimmicky," but she changed her mind and ended up very happy with the results. "I'm so impressed with by how this turned out," she said. The products are also practical, as Marie Claire noted in their roundup of top peel-off products, the pigments left behind will last through things like eating that other makeup might not.
There's also peel-off eyebrow makeup, and YouTuber Tina Yong did a review of one such product from Etude House. She noted that the way the product stains the skin under the brows could be great for people with thinning eyebrows.
When it comes to eyebrow lamination, you want your hair standing upright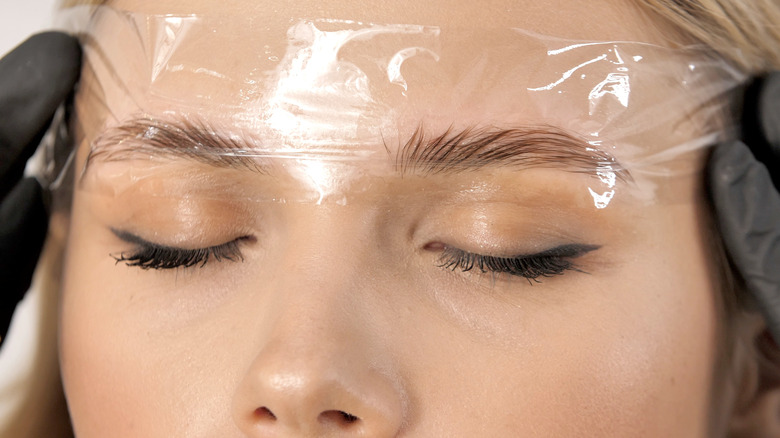 Eyebrow trends change all the time. In fact, you can usually look at a photo and make a great guess at the time period just by looking at the style of the arches. Right now, bushy brows are the newest favorite. Even The New York Times thinks so, and aesthetician Jasmine Winsett told the newspaper, "I think that we're all coming out of the thin-eyebrow phase, and so many people want to fix their brows from their over-plucked stages from the past."
Brow lamination gets that slicked-up look that's all over Instagram, as noted by Byrdie. YouTuber RRAYYME did an at-home lamination tutorial and explained that it's basically a "perm" for your eyebrow hair. Of course, as celebrity brow wiz René de la Garza told Glamour, the same issues that could arise from doing a treatment at home on your hair could happen with your eyebrows, so make sure to approach it armed with knowledge and read the instructions.
Stamping on your makeup can brighten your morning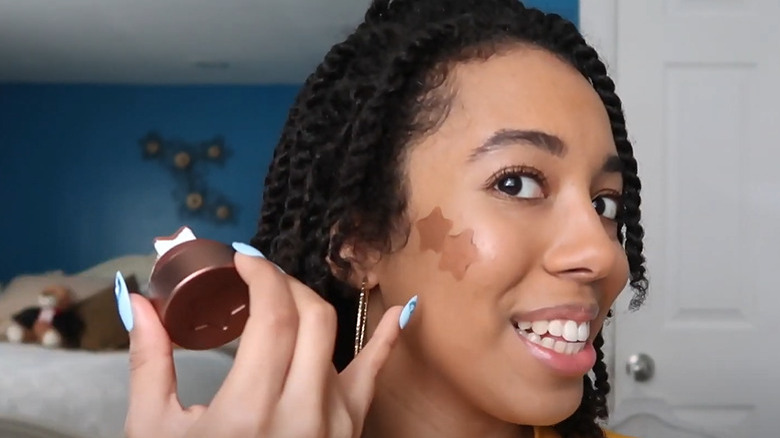 If you've ever wanted your makeup to feel more like art class, Kaja is the brand for you. This line is Sephora's K-beauty creation, and it means "let's go" in Korean, according to HelloGiggles. The collection is meant to be "bite-sized," and the brand's Instagram describes the line with the phrase, "As cute as it is good." You can stamp blush in a sweet little heart on your cheeks and paint on highlighter with a roller.
One YouTuber, Nicole Sanchez, tried out Kaja's stampable bronzer and highlighter for her channel, and she admitted that she initially thought the products were a bit of "gimmicky," which is a common worry with some inventive beauty purchases. However, she showed in the video that the bronzer stamp presses to the skin and creates a little star that you can then blend out, and she ended up thinking the bronzer results were "really pretty."
Kaja has more than just makeup stamps though. Refinery29's beauty assistant Megan Decker tried the brand's color-changing lipstick and, despite the product's blue appearance, found it to be soft and that it left "the prettiest touch of pink on my lips."
Pimple patches let you feel like Dr. Pimple Popper at home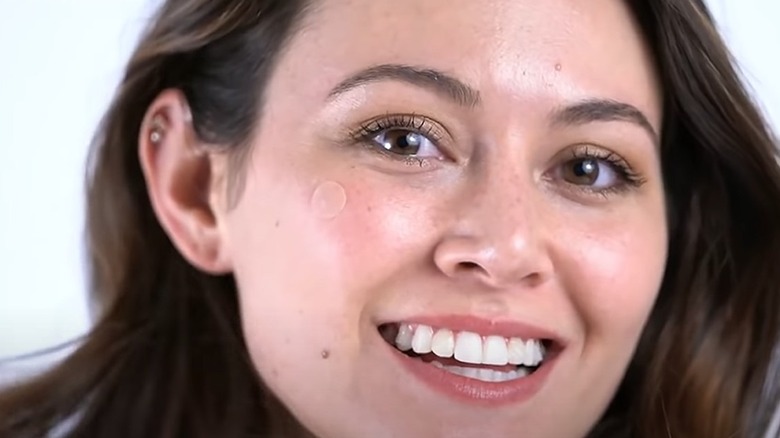 The popularity of Dr. Pimple Popper shows that people get plenty of satisfaction from looking at the gunk that comes out of our pores. The popping itself should be left to the professionals, though, and Healthline reports that doing it yourself can lead to scarring and inflammation. So, what are you supposed to do when you get the urge to squish a zit? Enter the satisfying world of hydrocolloid patches. This material has long been used by doctors to heal wounds, and dermatologist Dr. Debra Jaliman told CNN that they work by sucking everything from dirt, oil, and fluid into the patch.
So, if you want that same pimple-popping goodness safely at home, you'll want to get yourself a pack of hydrocolloid patches and see everything the patches vacuum out of your skin! The patches have other benefits, too. They can stop you from picking at your skin by adding a protective layer, and most of them, like Mighty Patch, don't have any added ingredients — making them great for sensitive skin (via Beauty Insider).
Get perfect eyeliner every time and have fun doing it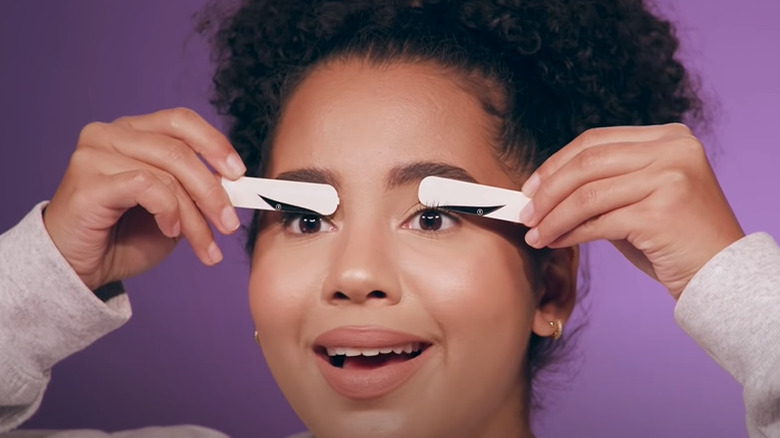 One thing that stops people from doing eyeliner is the fact that it can turn out messy and uneven no matter how much work you put in. There are endless memes dedicated to the hardship of trying to get both lines to look good. Eyeliner tutorial videos are some of the most watched in the world's quest for secrets to the perfect wing, and one on Vogue's YouTube channel featuring Selena Gomez has more than 12.9 million views. There's hardly anything in the beauty world as satisfying as when you finally get your eyeliner just right.
Enter eyeliner stickers, an easy and fun create the perfect shape. One woman who tested them for Beauty Insider applied perfectly and loudly gasped at how simple it was, exclaiming that the application process was "so fun!"
Hailey Bieber has posted a picture of herself wearing rainbow mirrored winged eyeliner stickers on Instagram. If you love following celebrity beauty trends, these stickers are for you!
Watch your tattoos (temporarily) disappear with satisfying makeup coverup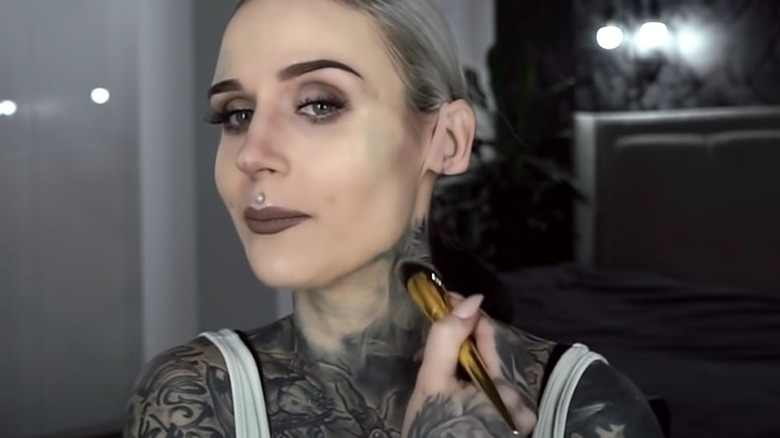 If you have tattoos, you may have encountered a scenario where you've needed to cover them. While they are becoming more common (Statista estimates that almost half of adults in the U.S. have at least one tattoo), the need or desire to conceal them from time to time could still arise. On the other hand, if you're covered in ink and want to see what you would look like without all the tattoos for a day, one oddly satisfying beauty product is tattoo cover-up, such as the tattoo cover-up products from Dermablend. YouTuber Ashley Quiroz experimented with concealing her tattoos to entertain her followers, and she said in her video that it was interesting to see herself without any for a moment since she'd gotten her first tattoo at 16. "Who is she?" she wondered aloud, marveling at her new look.
Many people find these transformation videos mesmerizing, and viewers can't get enough of these transformations, which has led heavily tattooed people like Jeffree Star to make videos covering theirs up with makeup. Why not get in on the fun too?
Feel like a kid again with beauty stencils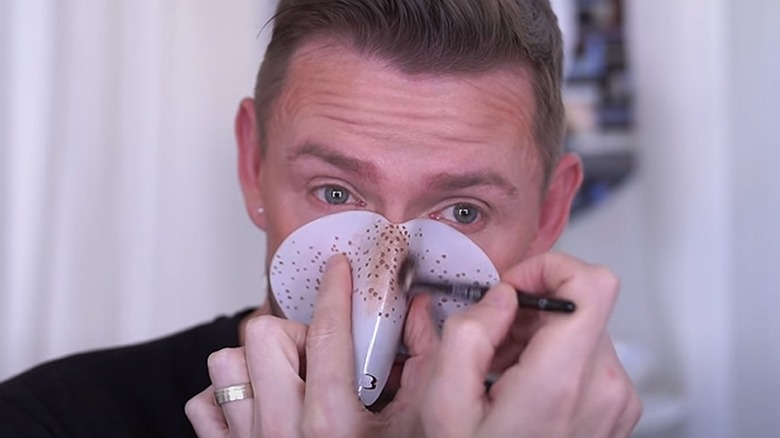 There used to be only two ways to get freckles. You could be lucky enough to be born with them, or you could sit in the sun and hope for them to pop up. Insider explained that having freckles is a result of a bit of both — genetics and UV exposure. But that means you'd either need to be lucky or expose your skin to sun damage. Around 2017, faux freckles started dominating Pinterest boards, as Allure reported. The look got so popular that people even began getting freckle tattoos (via Allure). Luckily, the trend hasn't faded, and more products have come out that help you master applying a pattern of dots and have fun doing it.
So if you've ever wanted the freckle look but didn't know where to start, patting self-tanner through a special stencil is an easy way to indulge in the whimsical wonder of this art form as an adult with pigmented payoff. Beauty Insider noted the benefits of using a stencil, like The Ultimate Tan Your Own Freckle Stencil by Bronzie, sharing that it gives a natural result while looking more natural than individually penciling on product. Beauty YouTuber Wayne Goss said the stencil "creates a really realistic smattering of freckles."
Dermaplaning is a satisfying way to reveal glowing skin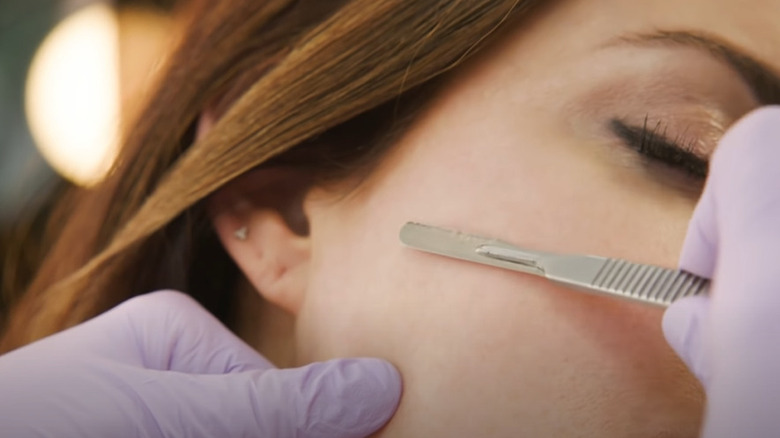 The desire to get spa-quality products without having to go out leads to plenty of DIYs for popular services. One such beauty experience is dermaplaning. But is it the same as just shaving your face? Not quite. Medical aesthetician Allie Summers told Good Housekeeping that "a surgical scalpel is used to gently scrape away dull dead skin cells and peach fuzz." You basically get to exfoliate without using any chemicals. There are plenty of benefits, but what people find satisfying is the immediate results you can clearly see. One video from Today showed the blade with a cluster of dead skin cells and fine hairs after a sweep across the skin!
Allure's digital beauty editor Devon Abelman tried to get these results at home. In her quest to understand dermaplaning at home, she spoke to aesthetician Kerry Benjamin who said, "Dermaplaning produces immediate results of even skin texture and tone." Abelman wrote after doing it herself that, "About two strokes in, I started realizing my skin had a radiance that I'd never seen before."
Spin your makeup brush right 'round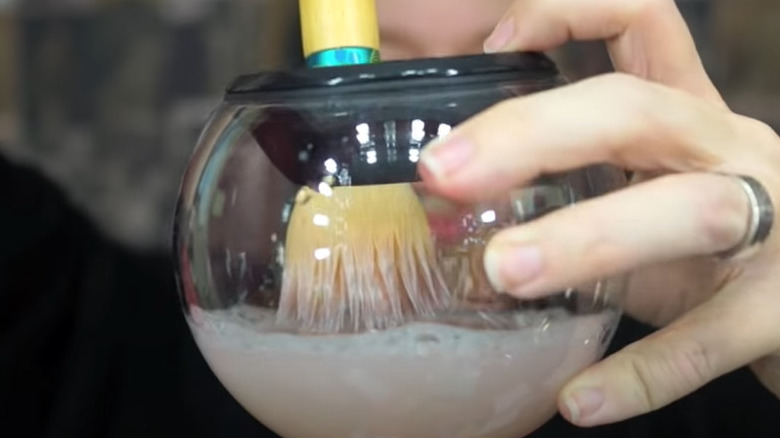 Most people don't put cleaning on the top of their list when it comes to fun things to do, but a makeup brush cleaner might change your mind. Unless you're one of the people that find any kind of cleaning satisfying — then you'll just love this little gadget more! YouTuber Glam Girl Gabi tried an electric makeup brush spin cleaner and dryer combo, which she said gets your brush "super-duper clean." She noted that one of the satisfying things this product does is enable you to dry dense brushes quickly.
Popular YouTuber grav3yardgirl, who has more than 8 million subscribers, tried out a similar one, the STYLPro brush cleaner. After using it, she shared, "It's really fun to just watch all the magic happen." However, she noted it's important to keep the metal part out of the water. One InStyle writer tried another spin cleaning brush, and her takeaway was this: "I'll keep up with this super satisfying ritual at least once a month, if not more often."
There's nothing like the perfect red lip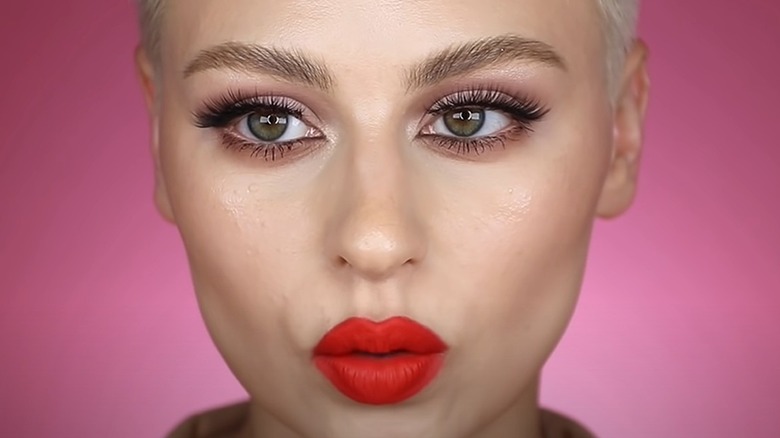 When it comes to MAC's Ruby Woo shade, there's a reason this lipstick has such a cult following. There are just few things as satisfying as finding the perfect red pigment after a long search, which is why YouTube is filled with pages upon pages of tutorials hoping to help viewers find the perfect product. Sometimes, one red will look great on some skin tones and not on others, but Ruby Woo is universally flattering, as noted by Teen Vogue.
According to Fashionista, Ruby Woo is the No. 1 selling shade for MAC in the U.S. A makeup artist and beauty writer reviewed the classic lippy for Byrdie and said, "Every single time I put Ruby Woo on, I feel confident and amazing. It's that hero product I can use when I don't want to put too much makeup on but want to look put together."
Time to make your feet baby soft with these booties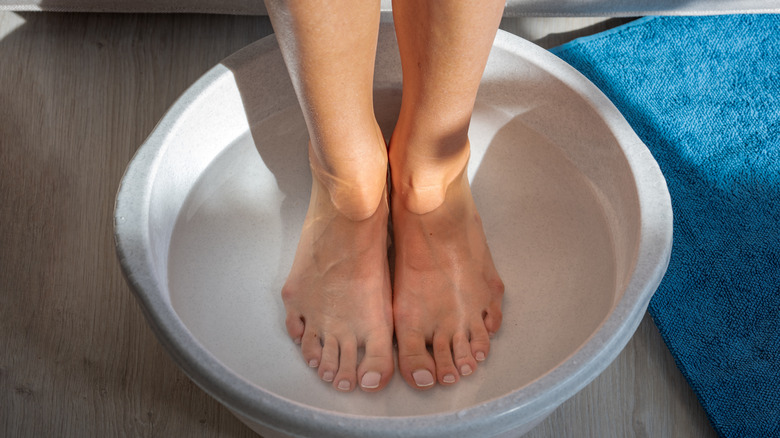 Lots of people love peeling things — there are even whole YouTube accounts and videos dedicated to it, but you should search carefully if you're squeamish. One of the most satisfying beauty products is a foot mask that makes your dry skin peel off in layers, revealing baby soft skin underneath. One Self writer tested out booties from Baby Foot during quarantine, and she wrote, "Baby Foot is absolutely disgusting and also a load of fun." This is one of those products that, if you love the reward of all things flaky and peely, you'll want to go full steam ahead. But if you worry it might make you cringe, a writer for the LA Times reported the product made it so that their "molting detritus resembled something halfway between pencil-eraser castoffs and grated Parmesan cheese." They say this as a good thing, but this should help you decide if it's for you.
An important thing to note is that while one of the gratifying elements of using a foot peel is to watch your feet, well, peel, you should let it happen on its own and not tug at the skin, as Baby Foot noted on its site.
Double, double, this mask bubbles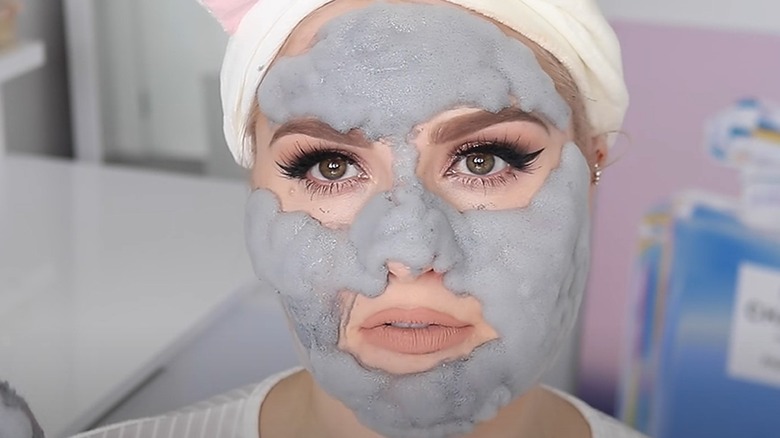 There are all kinds of face masks out there, so that leads to companies continually inventing new beauty products that change the application game. While peel-off masks and magnet masks are satisfying (as shown in this YouTube video where the testers shout as the magnet mask is sucked off their faces) nothing compares to the tingling Elizavecca Milky Piggy Carbonated Bubble Clay Mask. YouTuber Tina Yong tested the product and showed that you spread it on with the little spatula that is included. The popping noise of the bubbles could even be considered a little like ASMR. Tina gave it a "7.5 out of 10" because it does take a little bit to remove.
While it goes on smooth, the contact with the air and your skin makes the mask poof up and bubble. A writer for Today tried out the poofy product for and concluded that the results were in line with other pore-cleansing clay masks with the added bonus of a selfie-worthy application process. The mask has more than 10,000 five-star reviews on Amazon, and many of them vouch for how fun it is to use.
This satisfying cleanser should be a staple in your beauty routine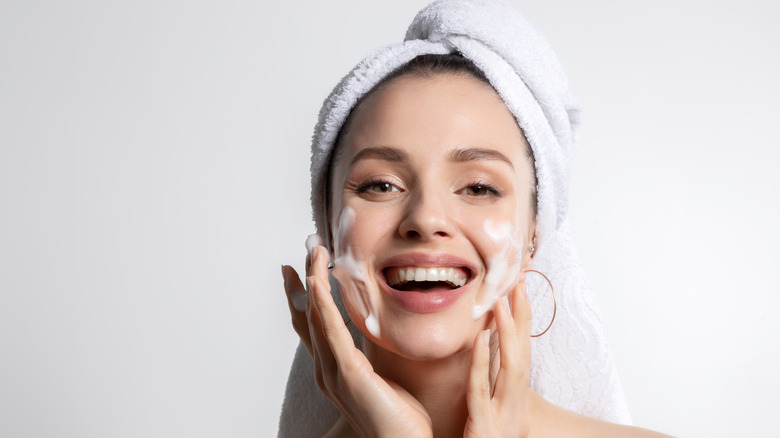 A good facial cleanser is key. Your makeup needs and products can alter significantly given the quality of your skin, so taking care of the supple baby cheeks that lie beneath your blush is crucial. But when we're thinking about satisfying habits and products, there is one cleanser that stands out from the rest. Listed on PureWow's oddly satisfying beauty product list, the Yuni Yunicorn Celestial Jelly Mask Cleanser takes cleaning your skin to a whole new level, and it's not just because it leaves your complexion fresh and glowing.
The cleanser in question has a "fluffy gel formula" that can be applied on dry skin. Once you add water, the cleanser turns into a milky-like consistency, and given its "pearlescent" quality, you'll seriously want to lather it over every inch of your face. You can also opt to use the cleanser as a mask by leaving it on the skin for a couple more minutes before washing it off. According to Yuni Beauty's website, the cleanser is plant-based and cruelty-free, and is made of organic ingredients. Not only is washing your face an important beauty habit, but this satisfying cleanser will take your cleanliness to a whole new level.
This foamy foundation is so satisfying and it belongs in your routine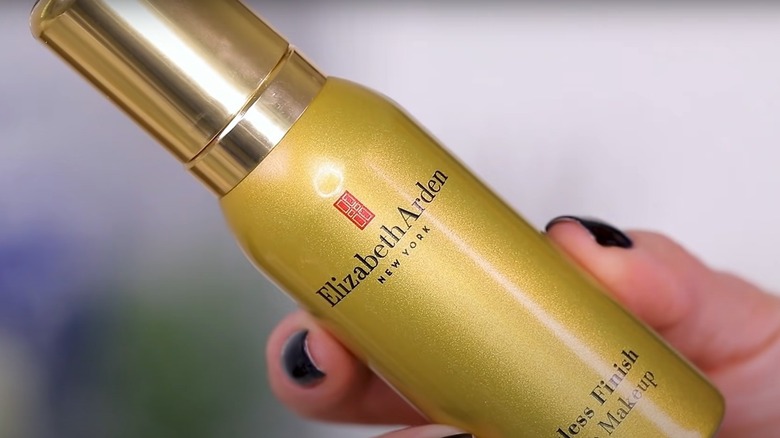 When we think of a beauty routine, the first product that truly comes to mind is foundation. Trying to find the perfect foundation can seem like a lifelong effort, but there is a super-satisfying product that could become part of your beauty habits. As noted by Glamour, one of the trendiest beauty products as of late is foamy foundation. Specifically, the Elizabeth Arden Flawless Finish Mousse Makeup is a fan favorite, and it literally is "foam foundation." Spraying the foamy consistency on the skin and then using either a brush or even just your fingers to spread the shaving cream-like texture over the skin is super gratifying, and the habit definitely belongs in your everyday approach.
Calling the foundation a "science experiment," Glamour highlighted the "bubble action that fizzes and grows on contact," and if that doesn't sound like a product you need in your life, then we don't know what does. The only downside to this product, Glamour noted, is the shade range. Good for our medium skin-toned friends, but not for many others, the mousse makeup is worth a try if your skin tone falls within the range of options.
This refining mask is so oddly satisfying, your life won't be the same afterward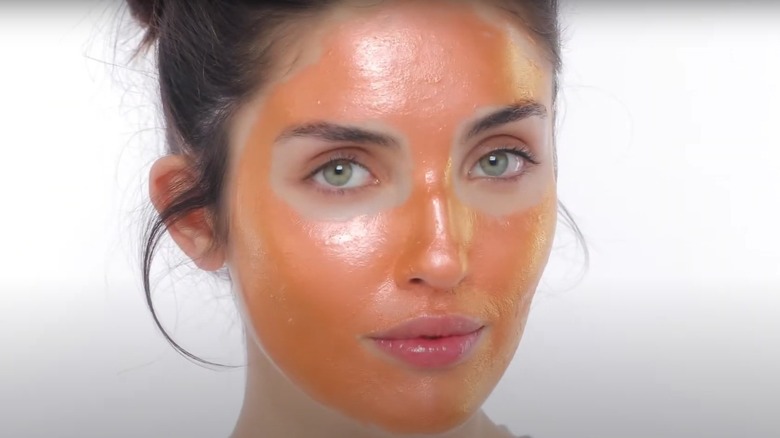 The first time we used the Origins GinZing Peel-Off Mask to Refine and Refresh, it changed our lives. From personal experience, we can safely say that it won't disappoint. If you're super into face masks (not the ones courtesy of COVID-19), and you're looking for an oddly satisfying choice out of which to make a habit, look no further than the GinZing mask from Origins.
As noted by Fashionista, it has such a satisfying peel-off moment that it's pretty difficult to beat. Not only this, but the mask itself has a gorgeous orange-gold hue to it. So if your crush hits you up on SnapChat while this mask is sitting on your face, don't fret — self care has never looked better. The Origins GinZing Peel-Off Mask is not only super satisfying to place on the skin, it's even better to peel off, and it will leave your complexion smooth and glowing. Yes, peeling the mask off can hurt a little, but what is beauty without a little sacrifice?