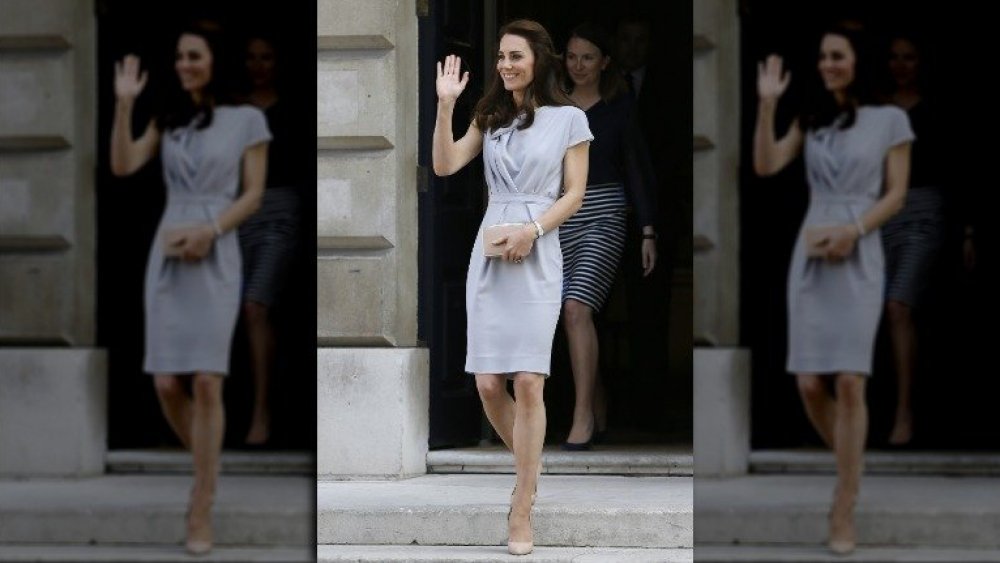 While many of us have to follow a policy of appropriate dress in the workplace, the royal dress code establishes a whole new meaning to the word "appropriate." From young Prince George who is always required to wear shorts — no matter the weather — to the royal ladies having to don hats during formal occasions, there's no shortage of rules that must be followed. Of course, the thing about rules is they're made to be broken, right? Well, the royals might not think that way. Nevertheless, they have been known to choose some inappropriate outfits from time to time.
While some of their fashion gaffes wouldn't cause us commoners to do much more than bat an eyelash, they've still managed to cause quite a lot of controversy. From eyebrow-raising costumes to clothing we probably all have in our own closets, here are some of the most inappropriate outfits ever worn by the British royal family.
Kate Middleton's island mix-up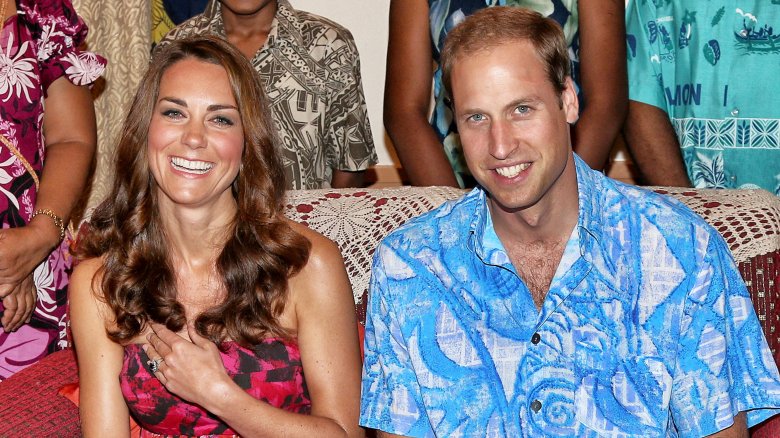 About a year and a half after Prince William and Kate Middleton tied the knot, they visited the Solomon Islands, a group of islands not far from Papua New Guinea. While there, the duke and duchess attended a party — and that's when it happened. Middleton accidentally wore the wrong dress. Gasp!
Was it a super short mini or a strapless maxi? No, it was a simple sundress from the Cook Islands, some 3,000 miles away from where she was partying in the South Pacific. If you're scratching your head and wondering what the big deal is, here's the situation: The couple was supposed to wear a handmade shirt and traditional Solomon Islands dress, but the wrong outfits were laid out by a member of the welcoming committee, according to The Telegraph. So, imagine wearing a costume to what you think is a costume party only to find out it's formal — that's essentially how it went.
Although Clarence House says all was well, reported The Telegraph, officials of the islands were frustrated to see a member of their welcoming committee proverbially thrown under the bus. Eek!
Prince Harry's Nazi — yes, Nazi — snafu
Prince Harry wasn't always the debonair prince we see before us today. In the early aughties, he was quite the royal rebel. That's all fine and good, but he made a fashion blunder in 2005 that went far beyond just testing the boundaries.
At 20 years old, Harry was third in line to the throne. Needless to say, everyone was keeping a watchful eye on this guy. According to The Telegraph, he had already developed quite a reputation in his late teens for his vices: pot-smoking and excessive-drinking. Of course, nothing excused what happened at a friend's birthday party.
Soon after the event, a picture of Prince Harry surfaced on the cover of the British tabloid The Sun. He was wearing a khaki-colored shirt that more than resembled a German uniform. He even had a red, white, and black swastika armband. Seriously, Harry?
Apparently, his costume was supposed to represent the Afrika Korps, but, as The Telegraph explained, that's a bit off for a birthday party with a "colonial" theme. Harry later apologized in a statement (via The Guardian) calling the costume a "poor choice." Surely a poor choice for anyone, but especially for a British prince.
Kate Middleton or Marilyn Monroe?
When you're a member of the royal family, photographers are pretty much everywhere waiting to capture your every move. Unfortunately for Middleton, that has meant having pictures taken of her various wardrobe malfunctions. When visiting Australia with William in 2014, a gust of wind blew up Middleton's modest-lengthed skirt creating an unintentional Marilyn Monroe moment. Although things like this probably happen to tons of women everywhere, we don't have cameras focused on us to capture stills of our embarrassing moments.
According to an Australian news agency, British magazines and newspapers refused to publish them, which is great. What's not so great, however, is that the photos were then sent overseas after "a frantic bidding war" and sold for an unspecified amount. Ugh.
Although Middleton's appropriate outfit transformed into an inappropriate outfit by way of wind, the same has never happened to the Queen. How come? According to Express, Queen Elizabeth II has her skirts hemmed below the knee and small lead curtain weights are added to avoid experiencing a Monroe moment. Perhaps it's time to add this tip to the royal dress code.
Kate Middleton's fur pas
It's no secret that wearing fur these days is controversial. If you're a public figure, the controversy only intensifies. PETA was less than happy when they saw what Middleton was wearing on a family ski trip. When photos of the trip surfaced, the duchess appeared to be wearing a pair of possum fur-lined Restelli Guanti gloves. Uh-oh.
"If the gloves are indeed made of real fur, we'll be contacting Kate," Mimi Bekhechi, director of PETA U.K. said in a statement to E! News. She further explained, "Since so many humane, warm and fashionable fabrics are readily available, there's no need to wear fur, possum or otherwise."
Middleton is not the first one in the royal family to wear fur, but she may very well be the last given the controversy. As it so happens, no one in the royal family is actually even allowed to wear it. According to Express, way, way back in 1137, Edward III banned the royal family and "men of the Church" from wearing fur. It's doubtful Middleton will make the same gaffe again.
Princess Eugenie's boots were made for walking … away
The Queen is not a fan of inappropriate — or what she considers to be inappropriate — outfits. Ahead of the Royal Ascot in 2008, The Telegraph reported that any visitors who bared their midriff, wore off-the-shoulder blouses, halter necks, or dresses with short hemlines would be "ejected on the orders of the Queen's representative, the Duke of Devonshire." She wasn't messing around.
But what happens when a member of the royal family steps out in a shorter than knee-length skirt? Princess Eugenie did just that when attending the Commonwealth Youth Forum in April 2018. According to Harper's Bazaar, never wearing skirts that are too short is "practically a no-brainer" for the royal family.
Whether Prince William's cousin simply missed the memo or just felt like taking a fashion risk that day, she attended the event wearing a long-sleeve short floral dress with knee-high black suede boots. The Queen may not be pleased but Eugenie still looked great.
Prince William's stretching pants
When speaking with BBC, etiquette expert Diana Mather even gave an example of times when jeans are considered appropriate for the royal family. "Outside walking the dogs for example, then jeans are fine." Hmm. So, what about when doing stretches? It's probably not the best choice. If you're thinking this fashion flop was attempted by either the duchess or duchess-to-be, you'd be mistaken. William — Prince William — took to the park in jeans to do some stretches before playing a polo match. Not only did he opt for denim, but he chose white jeans.
Perhaps the Duke of Cambridge thought them more appropriate than sweatpants. He did pair them with a collared shirt, after all. Still, his outfit can be classed as inappropriate in a couple of ways. For one, they're not even appropriate for the actual activity. Have you ever tried to exercise in jeans? Eesh. And two, you could argue that he should only be wearing them around his house, when attending an event like a rodeo, or, as Mather said, taking the dogs for a walk.
A bridal faux pas
Princess Eugenie married her longtime love, Jack Brooksbank, at St. George's Chapel in Windsor Castle on October 12, 2018. Like all royal weddings, it was an opulent, star-studded affair, and a fashion lover's dream. Naturally, everyone wondered what the princess would be wearing as she walked down the aisle. Unsurprisingly, it was absolutely stunning; the perfect mix of classic elegance. What did come as quite a shock, though, was her second wedding dress. Yes, she had two.
The fact that Eugenie wore a different wedding dress for her reception isn't what was shocking — both Kate Middleton and Meghan Markle also did for their respective weddings. What took everyone by surprise was what Eugenie wore. Cosmopolitan reported that her first breakaway from royal tradition was opting for a gown by Zac Posen, an American designer, rather than a British one — Kate wore Alexander McQueen and Meghan wore Stella McCartney. Even more shocking was the fact that her gown was blush pink rather than white or ivory. Though she strayed from tradition, no one can deny that she looked absolutely radiant.
The Duchess' dress déjà vu
It's safe to say that most little girls dream of one day becoming a princess (or discovering they already are a princess, total Princess Diaries style). And while part of the royal fascination can undoubtedly be attributed to the "unrealistic" standards put forth by classic Disney films, a large part of the princess appeal is the dresses. Every classic princess has their iconic dress — Cinderella has her blue ballgown, Belle has her sparkling yellow dress, and Kate Middleton has her lilac Roksanda Ilinčić dress.
It's not a ballgown, but this knee-length designer dress is definitely one of Middleton's favorites, if not the favorite. And while the dress itself isn't inappropriate, Middleton has worn it to public events multiple times — something that certainly breaks an unspoken protocol for both celebrities and royals. According to an article published by Express, since becoming a royal, Middleton has been responsible for an estimated £150 million each year in the UK fashion industry's revenue. However, while showcasing outfits from various designers may be the norm, Middleton obviously isn't afraid to play favorites.
Kate on the catwalk
Kate Middleton has been a staple of the royal family for so long that it's difficult to recall a time when she wasn't Catherine, Duchess of Cambridge. However, before Middleton married Prince William in a real-life fairy tale ceremony, she was just a regular college-going gal, hanging with friends and strutting her stuff on a catwalk.
Yes, you read that right. While she never pursued a career in modeling, Middleton did lend her good looks to the 2002 annual Don't Walk charity fashion show. Wearing a see-through dress by designer Charlotte Todd with only a black bra and underwear set underneath, the future Duchess of Cambridge looked every bit the part of a supermodel as she confidently glided down the runway. Little did she know that Prince William, aka. her future hubby, was sitting in the front row — and he was reportedly immediately taken with the brunette beauty.
It's likely no one thought the girl in the see-through dress at the fashion show would marry into the royal family less than ten years later — but Middleton is full of surprises.
Princess Michael's racist brooch
As obsessed as the world seems to be with the royal family, unless you're a bonafide royal aficionado, it's likely you've never heard of Princess Michael of Kent. Born Baroness Marie Christine von Reibnitz, she became part of the House of Windsor in 1978 when she married Prince Michael of Kent, the Queen's first cousin. Considering she's a part of the royal family, it was no surprise that Princess Michael was a guest at a Buckingham Palace Christmas banquet in December 2017. What did come as a surprise, however, was this royal's choice of brooch.
Fans of the royal family were shocked and angered when pictures were released featuring Princess Michael wearing a blackamoor brooch to the banquet. Blackamoor jewelry, which originated in 16th century Venice, has long been criticized for portraying racist, fetishized images of slaves and servants of African descent. Princess Michael's brooch was inappropriate for a number of reasons, but especially notable because it was worn to a banquet at which Meghan Markle, the first modern mixed-race royal, was present. Though Princess Michael has since apologized, her fashion faux pas will not soon be forgotten.
Diana's better-than-revenge dress
Princess Diana is arguably the most memorable royal in modern history. Though she died at a tragically young age, her impact can still be felt — not only within the United Kingdom, but throughout the world. Diana's legacy lives on through her humanitarian work, her sons, Princes William and Harry, her fearlessness, and, of course, her iconic fashion moments.
One of those iconic fashion moments came on the heels of another quite iconic moment in the young princess' life. As The Huffington Post reports, on June 29, 1994, Princess Diana arrived to Vanity Fair's annual fundraising event for the Serpentine Gallery in Hyde Park wearing a midnight-black, off-the-shoulder, curve-hugging cocktail dress with a plunging sweetheart neckline.
The night of the fundraising event just so happened to also be the night Prince Charles admitted in a televised interview that he had been unfaithful in his marriage to Diana, leading many to believe the little black dress was Diana's way of letting the world know she didn't need a prince. "She wanted to look like a million dollars," recalled Diana's former stylist, Anna Harvey, in 2013. "And she did."
Meghan Markle's ripped jeans
While you may never see the Queen wearing a pair of jeans — though, that would be pretty amazing — you will occasionally see members of the royal family sporting denim. Although the royals are much more a khaki-wearing family, jeans are sometimes appropriate.
"Many places will not allow jeans as they are still seen as very casual wear," Diana Mather, a senior tutor for The English Manner etiquette consultancy, explained to BBC, "so it is better to play safe for both sexes." Now, what about ripped jeans? Although there's no addendum to the royal denim rule citing ripped jeans are out, if plain old denim is considered "very casual," you can only imagine how they view the torn variety.
When Meghan Markle and Prince Harry made their first public appearance together at the Invictus Games in Toronto, many had opinions on Meghan's outfit. One Twitter user commented, "I'm thinking that you shouldn't be wearing ripped jeans while out walking in public with a Prince." While it may sound harsh, them's the breaks.
Tag, you're it, Meghan!
Ever since her days as a Hollywood starlet, Meghan Markle has been totally slaying the fashion game. And while some of her royal fashion choices have come as a shock to those who prefer tradition over change, they have yet to disappoint us. From sporting ripped jeans, to showing some skin, to refusing to wear pantyhose during her public engagement announcement, Markle has definitely made a name for herself as possibly the most relatable royal in history. This American actress turned Duchess of Sussex doesn't give the impression of an untouchable, highfalutin royal; instead, she genuinely seems as though she could be your BFF. And much like your BFF (and yourself), Markle makes mistakes, too.
Case in point: in October 2018, photographers captured the new bride and expectant mother wearing a bold, red midi dress while stepping off a flight with Prince Harry in Tonga. Upon first glance, everything looks business as usual — but a closer look reveals a tag still dangling from the bottom of the Duchess' dress. Hey, we've all been there. And with the whirlwind year Markle has had, we think this slight oversight can certainly be forgiven.
Hide those shoulders, Megs!
Princess Eugenie wasn't the only member of the royal family turning heads for her fashion choices at the Commonwealth Youth Forum. Meghan, who was also in attendance, made an "inappropriate" style decision as well.
While mingling with people outside, Meghan was spotted wearing a black Camilla and Marc blazer over a black-and-white sleeveless pinstriped dress by Altuzzarra, AOL reported. Once she stepped inside, however, Markle decided to take off the blazer, which exposed her — wait for it — shoulders! The royal family is apparently not a big fan of showing off their shoulders. "They don't usually wear sleeveless dresses," English Manner Chief Executive Alexandra Messervy explained to InStyle.
Even if Meghan hadn't chosen to forgo sleeves, it's possible she still would've done something inappropriate, as far as the royal family is concerned. According to Harper's Bazaar, Meghan's soon-to-be sister-in-law, Kate Middleton, never takes her coat off in public — even when she transitions indoors. Taking off a coat is supposedly considered an "unladylike" action and one that would "disrupt her outfit choice." Hmm, okay then!
Meghan Markle bares all?
When Harry and Meghan announced their engagement to the world, many people were looking forward to getting a glimpse of her amazing rock. Nevertheless, some people had a hard time looking past her legs. Yes, her legs.
When Meghan stepped outside with Harry and began waving to well-wishers and cameras, it became apparent that she wasn't wearing tights or pantyhose. The horror! You may not even be able to remember the last time you put on a pair of pantyhose under one of your dresses or skirts, but they're basically a requirement for the royal ladies.
Jo Bryant, an etiquette adviser, explained the crime of fashion to Women's Wear Daily, saying, "One should wear tights for formal occasions; bare legs are often too casual, especially with smart outfits." Meghan may not have known the — let's be honest — totally odd royal rule at the time. Nevertheless, she probably has some regrets.