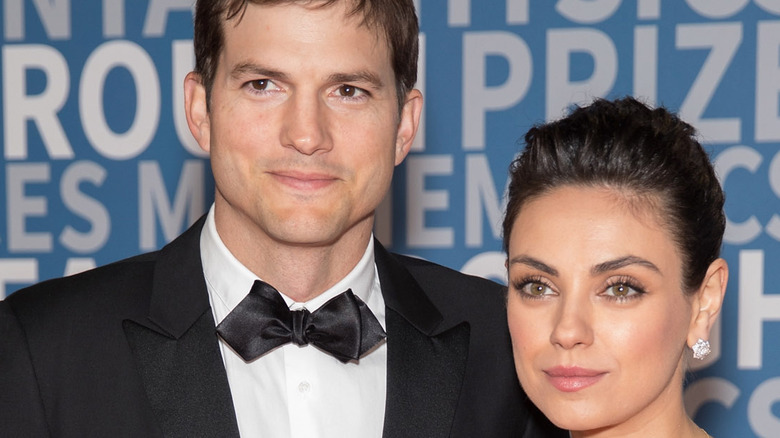 When a Hollywood hunk marries a celebrity sweetheart, the combination is pretty powerful. Just look at the life of one of the most glamorous couples in the entertainment industry, Ashton Kutcher and Mila Kunis. What makes their fairytale romance even more adorable is the fact that they met on set as teenagers on "That '70s Show." In fact, Kunis even had her first kiss on screen with her future husband, when she was just 14 and Kutcher 19. Kutcher was unsure of the situation, given her age, telling Howard Stern, "I was like, 'Isn't this illegal?'" Kunis was also uncomfortable with the lip-locking, telling People, "I had the biggest crush on him."
Although they were just friends for a decade and a half — with Kutcher married to Demi Moore and Kunis in an 8-year relationship with Macaulay Culkin — things got hot and heavy for the pair when they reconnected at the 2012 Golden Globes. The brunette beauty told Marc Maron, "I was like looking around, and there was like a really beautiful man from the back … And then he turned around, and I was like, 'Oh, my god! It's Kutch!'"
Life for Kunis, who grew up in a small Ukrainian town, and Kutcher, who swept up cereal and washed dishes before he was famous, is now quite lavish. They live in a custom-built Beverly Hills mansion, have a garage of flashy cars, always sit courtside, and have an investment portfolio full of the biggest companies in the world.
The Kutcher-Kunis family home sits on six acres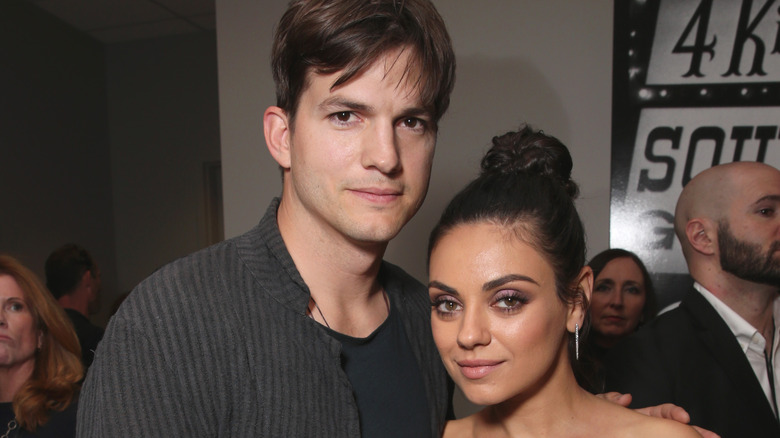 Not many couples can say that they actually built their own dream house. But when it came to where they would raise their family, Mila Kunis and Ashton Kutcher spared no expense in erecting a home together. "Building a house from the ground up is no small thing," Kunis told Architectural Digest. "This was either going to make us or break us."
This passion project began while Kunis was pregnant with their first child, and because of its magnitude, took them five years to complete. To create their dream abode — which is so lavish they even named it KuKu Farms — they hired famed architect Howard Backen, who said that the duo had their hand in everything from its beams to concrete. The environmentally-conscious couple also made sure to think of sustainability when designing the Kutcher-Kunis palace. "Ashton and Mila are concerned about the quality of the soil, the purity of the food they eat and the water they drink," Backen revealed to Architectural Digest.
Amenities include an entertainment barn and barbecue pavilion, a set of silver throne chairs that Kutcher had custom made in India, and a 10-foot crystal chandelier. And the sprawling property is so large that the couple even dug a well on it to irrigate the land, and harvested an entire corn field during the COVID-19 pandemic. They had so much extra cash left over, they even invested in a home renovation for Kunis' parents.
Mila Kunis and Ashton Kutcher's net worth is staggering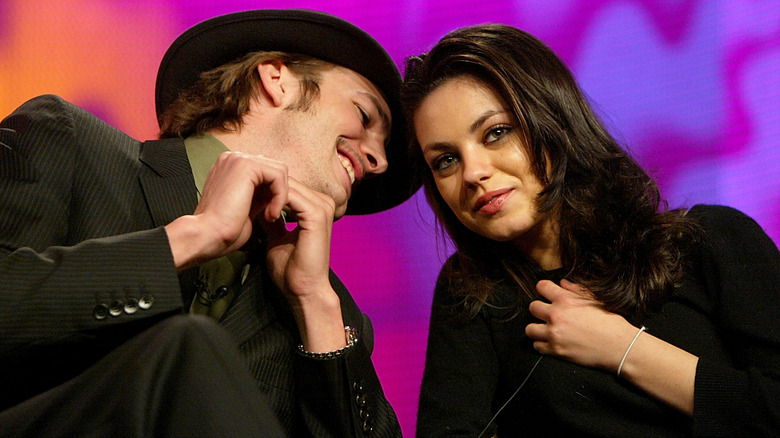 Before becoming an actor, Ashton Kutcher studied biomedical engineering, but he dropped out of college to pursue modeling. In the '90s, he posed for Calvin Klein and was the runner-up in the Male Model of the Year contest, losing to Josh Duhamel. Ultimately, Kutcher chose acting, getting cast in "That '70s Show" and going on to land roles in films like "Dude, Where's My Car?" and "Just Married." "I pursued something I was passionate about and for 22 years, I haven't felt like I've worked a day," he told Newsweek. The actor also padded his bank account by creating and hosting MTV's "Punk'd." There was so much money invested in that show that Kutcher revealed they once lost $300,000 when a shenanigan failed!
With a net worth of $200 million, Kutcher's made a bankable career for himself. In 2012, Forbes ranked him the highest-paid actor on TV for "Two and a Half Men," and it's estimated he earned $24 million a season. When discussing that with Howard Stern, Kutcher said, "I turn to my agent and sort of flippantly said, 'If they offered me that job for that kind of money I'd take it.'"
Kunis' net worth isn't too shabby either, as it's reported that she's worth $75 million. Her career includes roles in box-office hits like "Forgetting Sarah Marshall" and "Black Swan." She also voices the character of Meg on "Family Guy," which earns her around $200,000 per episode!
Ashton Kutcher was an early investor in Uber and Airbnb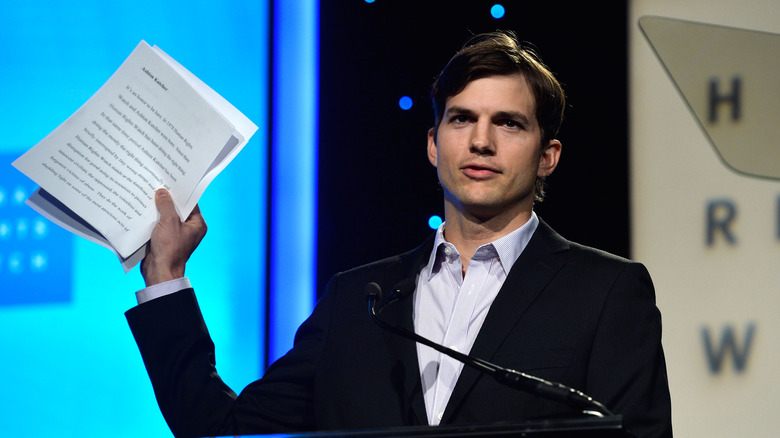 Ashton Kutcher is well known for his sound investment portfolio and for turning $30 million into $250 million in six years by shelling out capital for companies like Spotify, Airbnb, Uber, and Foursquare. In 2010, Kutcher invested $1 million in A-Grade Investments, the company he formed with business partners Guy Oseary, a talent manager, and billionaire Ron Burkle. Some of the actor-turned-entrepreneur's investments include $500,000 in Uber (via Forbes) with Oseary, with that original stake now worth 100 times what they paid! "I was pitched Uber before Uber ever raised a single dollar," Kutcher told Insider. He also put $1 million into Skype in 2009, and when Microsoft bought them, his investment quadrupled.
As for her role in the moneymaking, Mila Kunis acknowledged that she tried to stop Kutcher when it came to investing in then-unknown companies. Early on in their relationship, Kutcher pitched two ideas she initially thought were terrible. "He was like, 'Hey, there's this company, it's kind of like a ride share … but anybody can drive the cab.' I was like, 'That's the worst idea ever,'" she revealed on "The Late Show with Stephen Colbert." She added that she also tried to put the kibosh on Bitcoin. "He's like, 'There's this thing, it's like mining for money. It's called cryptocurrency, and there's this company' — this is eight-plus years ago — 'it's called Bitcoin.' And I was like, 'Well, I think this is a horrible idea.'"
Ashton Kutcher and Mila Kunis both have lucrative side hustles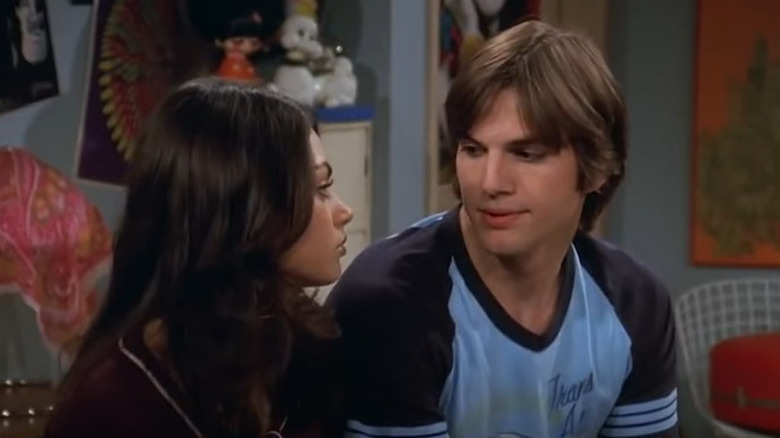 Besides their savvy investments, Ashton Kutcher and Mila Kunis also make some serious cash by serving as ambassadors for well-known brands. In 2013, Kutcher took on the role of product engineer for the tech giant Lenovo, earning him $10 million, and his famous face has also been used for commercials for companies like Nikon.
As for his partner-in-crime, Kunis has inked some notable endorsement deals herself. In 2013, she became the face of Gemfields, a gemstone producer, even traveling to Zambia to visit the company's mine (via WWD). The actress was also asked by bourbon company Jim Beam to serve as its global spokeswoman, and you can find her in their commercials. During the COVID-19 pandemic, the couple joined forces to produce a much-needed lockdown product: wine. They created "Quarantine Wine," a Pinot Noir whose proceeds went to charities. "And so, in a weird way, I just combined two of my favorite things, drinking and donating," Kunis revealed on "The Tonight Show Starring Jimmy Fallon."
In 2021, the dynamic duo appeared in arguably the largest ad platform in the world, a Super Bowl commercial. "And in the midst of quarantine, they sent us this ad to do," Kunis told Entertainment Tonight of the ad spot, which was for Cheetos and starred singer Shaggy. "I started laughing so hard and Ashton was like, 'This is kind of funny.' And I was like, 'We should do it,'" she added.
Mila Kunis and Ashton Kutcher rub elbows with celebrity friends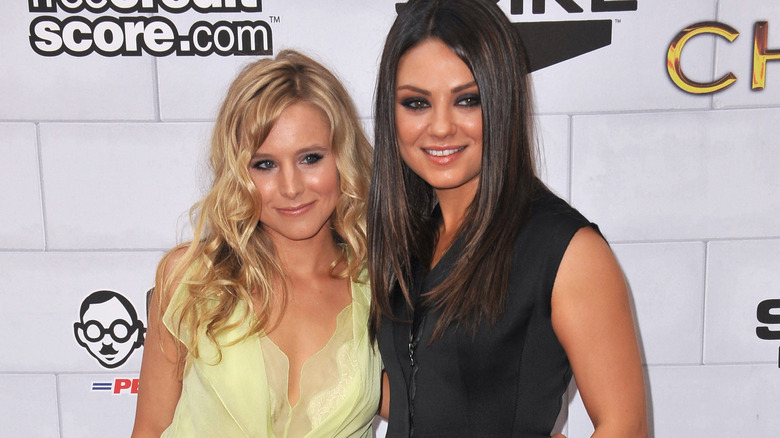 When it comes time to go out on the town, Ashton Kutcher and Mila Kunis do so with friends just as famous as they are. Kutcher bonded with Dax Shepard when they worked on "Punk'd" together, and the actors re-connected when their wives, Mila Kunis and Kristen Bell, were on "The Ellen DeGeneres Show" promoting their movie "Bad Moms." In fact, the two celeb pairs double dated on the "The Ellen Show," playing a game of "Never Have I Ever."
Even when Kutcher and Kunis are hanging out at home, they still do so with Hollywood royalty. One of their close pals is their neighbor Jennifer Lawrence, who lives two doors away. In an interview with Vogue, Lawrence said, "They're awesome. I go over there uninvited. They're probably getting pretty sick of me." Another one of Kunis' besties is Zoe Saldana. They are so tight that when Saldana received a star on the Hollywood Walk of Fame, Kunis delivered a speech at the ceremony. "This girl is my ride or die, my friend, my partner in crime," she gushed.
The stars get invited to fancy celebrity parties, too. Kutcher recounted the story of how his wife pranked him by making up a fake theme for Adele's birthday party. "My wife has a friend who's this very famous English singer," he shared on "The Tonight Show Starring Jimmy Fallon." "And she throws these birthday parties and they're kind of lavish."
Ashton Kutcher and Mila Kunis own a $10 million beach house
When the Kutcher-Kunis family wants to embark on a summer getaway, they have their own oceanside house to relax in that's literally steps from the beach. The not-so-humble abode, which is only a few hours away from their Beverly Hills mansion, set them back a whopping $10 million. It boasts six bedrooms and six bathrooms (via Trulia), and its exotic amenities include a sprawling wraparound porch, a balcony overlooking the water, and an outdoor hot tub. Celebrity neighbors include Mila Kunis' "Black Swan" costar Natalie Portman and her husband, Benjamin Millepied.
When the couple doesn't feel like lounging on the beach, they jet set to vacations in magical places like Disneyland. Another family vacation they took together was their honeymoon, in an RV that Kunis gave Ashton Kutcher a gift card for, which he called "the Taj Mahal of RVs" complete with Jacuzzis inside. On "The Tonight Show Starring Jimmy Fallon," Kunis explained that their journey was filled with mishaps. "Our honeymoon was like a real-life 'National Lampoon' movie," she quipped.
Speaking of trailers, the one Kunis' hubby unwound in when he was away from home during his "Two and a Half Men" stint had two floors, and was complete with seven 60-inch 3D plasma screens and two bathrooms (via the Daily Mail).
Mila Kunis and Ashton Kutcher hire celebrity trainers and stylists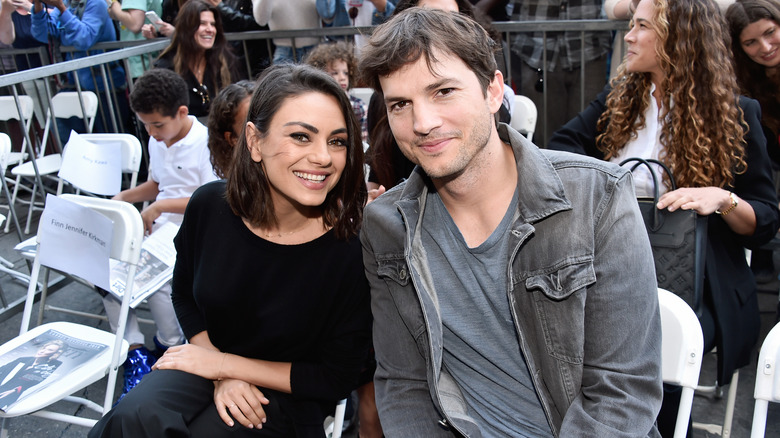 To keep them in shape for their movie roles, Ashton Kutcher and Mila Kunis hire celebrity trainers. For his role in "The Guardian," in which he played a member of the Coast Guard, Kutcher wanted to looked his best, so he found someone who worked with another Hollywood A-Lister. "I went out and hired Brad Pitt's trainer, which was great. He was a Navy SEAL who played one of the extras in 'G.I. Jane,'" he told the Pittsburgh Post-Gazette.
For her part in "Friends with Benefits" alongside Justin Timberlake, Kunis worked out with celebrity trainer Brian Abercrombie, whose clients include Gerard Butler (via People). To get toned for the rom-com, Abercrombie told Self that the actress was in the gym five days a week. "There was a joke in the script about her having no butt. I was determined to make them re-write it," he revealed.
To show off their toned physiques, the fit couple calls upon stylists to the stars. Kutcher works with Samantha McMillen, whose resume includes dressing the likes of Ryan Gosling, Brie Larson, Chris Hemsworth, and Chris Rock (via The Wall Group). In an interview with The Daily Front Row, she commented on the actor's look, saying, "He has a hip yet laid-back style … When he does casual, it's effortless." As for Kunis, her ensembles are coordinated with the help of Petra Flannery who also outfits Emma Stone, Zoe Saldana, and Megan Fox (per Refinery29).
Mila Kunis and Ashton Kutcher attend the most exclusive Hollywood events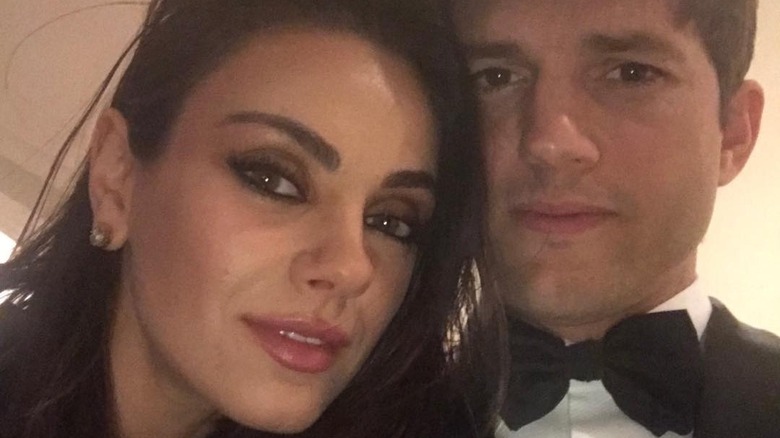 When you're as famous as Ashton Kutcher and Mila Kunis, you don't feel the need to attend every Hollywood event you're invited to. In fact, the ultra-glam duo rarely attends red carpets together. At the 2017 Breakthrough Prize Ceremony, which honors the outstanding work of scientists, the power couple presented an award surrounded by stars like Kerry Washington, Morgan Freeman, and Wiz Khalifa — and that was the first time the couple walked a red carpet together in over 16 years! As for their outfits that evening, Kutcher donned a bowtie and black tuxedo, and Kunis wore a Dolce & Gabbana floral skirt and Piaget earrings (via Elle).
Although Kunis and Kutcher don't typically attend red carpets arm-in-arm, when they do make an appearance, they do it in style. At the Oscars in 2019, the couple decided not to even show up to the biggest night in Hollywood (per People). Instead, they just went to the afterparty deemed "far more exclusive and secret" than the Vanity Fair event that most stars go to. The soiree that Kutcher and Kunis were invited to was hosted by Madonna and Guy Oseary and attended by VIPs like Lady Gaga. It's actually called "The Party," and guests are forbidden to share photos on social media once inside (via Time). Since he couldn't post from the swanky shindig, Kutcher was sure to take a sleek selfie at some point before or afterward!