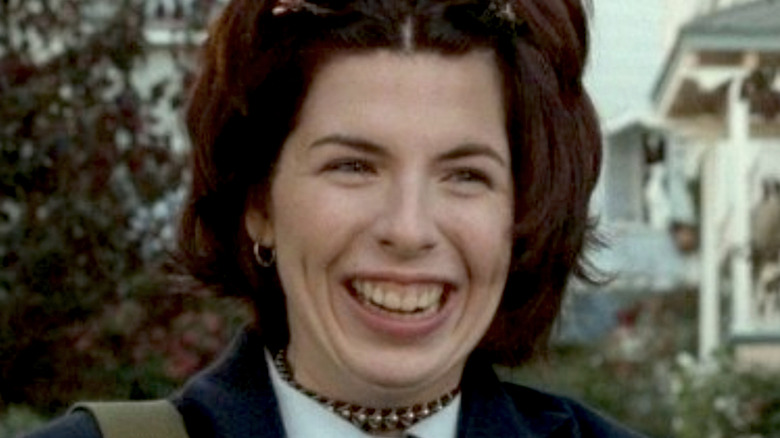 The Princess Diaries actress Heather Matarazzo might be best known for playing Princess Mia's best friend Lilly Moscovitz in the 2001 movie and its sequel, The Princess Diaries 2: Royal Engagement, but there is so much more to her than that (admittedly iconic) role. Matarazzo has been acting ever since she was a little girl, and she has proven her talent over and over again with dozens of roles in both blockbusters and indie films.
Beyond her career in the film industry, Matarazzo is also an outspoken feminist who advocates not only for women but also for the LGBTQ+ community. Much like her character Lilly, Matarazzo can be brash and opinionated, but she has a heart of gold. Far from just being the nerdy sidekick she's portrayed in movies, Matarazzo is gorgeous and confident, and she has come a long way since her days on the set of The Princess Diaries. Here's a closer look at the beautiful star.
Growing up as a child star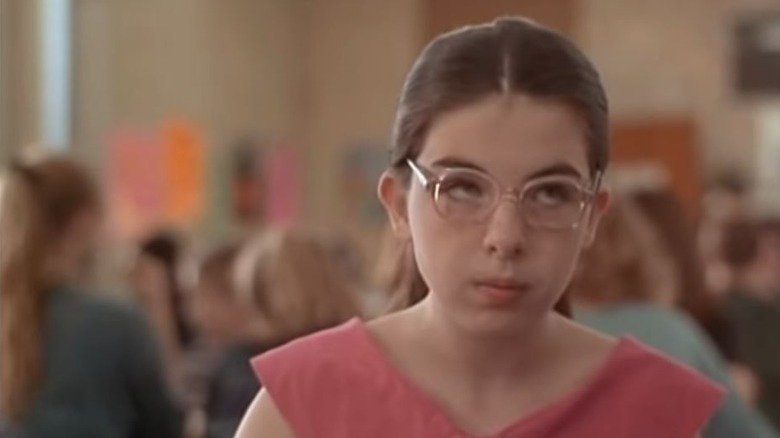 Matarazzo's breakthrough role was in the 1995 coming-of-age film Welcome to the Dollhouse. She was just 11 years old when she landed the lead role of Dawn Weiner, and she would go on to win the Independent Spirit Award for best debut performance for her work on the film.
This wasn't her first time acting, though. Matarazzo began her performance career at the tender age of seven, when she portrayed a Munchkin in a local production of The Wizard of Oz that was put on as a benefit for children with AIDS. Matarazzo captured the attention of a talent scout watching a rehearsal when she scolded her castmates for not taking the production seriously. "I grabbed a microphone and essentially told everyone off," Matarazzo told The New York Times. "I told them we were working for a good cause, and that everyone should get with it, do their parts and put smiles on their faces."
The incident would mark the beginning of both Matarazzo's career and her future as an outspoken advocate for causes in which she believes.
September 11 hit very close to home for her
The attacks on New York City's World Trade Center on Sept. 11, 2001, shook the whole world, but the devastating tragedy hit close to home for Matarazzo. Had things gone just a little bit differently, the actress might have lost her life on that day. Matarazzo shared on her Facebook page in 2015 just how close she came to being caught in the attacks. According to Matarazzo, it was a twist of fate that kept her from being at the center of the tragedy. "I had a meeting at World Trade Center 1, 15th floor at 9 AM," she wrote. "My alarm didn't go off. I woke up at 8:50 AM."
Matarazzo is grateful to be alive, and she still can't believe how things could have turned out. "Every year, on this day, I think about how my alarm didn't go off," she said. "I don't know that I'll ever fully process it."
She's not shy about getting involved in politics
Heather Matarazzo has never been shy about making her opinions known, and politics is no exception. The actress has been vocal in her support for certain candidates and has also made her criticism for those who support their opponents known. During the 2016 United States presidential election, she endorsed Democratic candidate Bernie Sanders. The Boston Globe shared a picture of a since-deleted tweet from Matarazzo in which she posted a picture of herself preparing to meet with fellow supporters of Sanders, captioning the image with "feelthebern."
She also weighed in on the 2018 midterm elections, criticizing the white woman majority that voted for Republican Ted Cruz over Democrat Beto O'Rourke in the Texas Senate race. "What the f*** is wrong with you fellow white ladies???!!!!!" she wrote in a tweet that has since been removed (via The Atlantic). Clearly, Matarazzo isn't about hiding her feelings.
"I'm not that pretty girl next door"
Matarazzo has faced criticism for her looks, and she's even lost roles because people didn't think she was pretty enough. In a blog post on her site, she shared that she had been recast in a film because the producers didn't find her attractive enough to play the lead, saying she wasn't "f***able."
Matarazzo had already been insecure about her looks because of her characterization as an "ugly duckling" in Welcome to the Dollhouse. As the years passed, however, she gradually grew comfortable in her own skin and confident in her appearance. "I'm not that pretty girl next door," she told AfterEllen, adding that she's grateful for the opportunity to play "interesting" characters.
Matarazzo concluded her blog post thanking the people who put her down. "I'm grateful to all of the people, whether they are producers, casting directors, agents, investors who said, 'Nope, she's not f***able,'" she wrote. "'She's talented, we love her, but she's not f***able,' Because, I am. I am f***able."
She searches for scripts that speak to her
Matarazzo refuses to compromise when it comes to roles, and will only accept a part if she believes in the script. This means that she sometimes goes for long stretches without a role, but it's important for the actress that the film resonates with her. "At the end of the day, it's just the biggest thing for me, when I read a story, when I read a script, is it something that I feel challenged by, is it something I'm horrified by, is it something I'm inspired by, is it something that I'm judging?" she told Advocate.
"It's those kinds of scripts that get me excited. It's the scripts where I'm reading 30, 40, 50 pages in and I'm absolutely bored to death and everything I see is on the nose that I say no to. And there are fewer and fewer scripts out there that are really telling any kind of truth. [Screenwriters] are pandering to the idea of what they think is going to be a good film as opposed to really being more concerned and excited about by sharing a story that they really want to tell."
She loves The Princess Diaries as much as the rest of us
The Princess Diaries is beloved by many, and Matarazzo is among its legions of fans (although she regrets the cropped hairdo she sports in the film). She said that the fact that it's still so popular over a decade after its release is thanks to director Garry Marshall and her co-stars Anne Hathaway and Julie Andrews. "It's a testament to Garry's talent," she told Cosmopolitan. "It's a testament to Annie's talent, and Julie's, and mine, and the whole entire package. It's a movie that is relatable to people of all ages. It's not dated."
She added that she'd love to star in a third installment of the franchise as long as Hathaway and Andrews are on board. And Matarazzo just might get her wish. Hathaway has confirmed that a script does exist for a third movie. "We all really want it to happen," she said on Watch What Happens Live with Andy Cohen early in 2019.
Musicals are her passion
Meeting Julie Andrews, a veteran of musical theater, on the set of The Princess Diaries was particularly thrilling for Matarazzo. The actress has long been a fan of musical theater, and she even studied it at the BOCES Cultural Arts Center in high school. "I love musicals more than anything else," she told AfterEllen.
Matarazzo confessed to Cosmopolitan that she was nervous meeting Andrews. "She was one of my idols growing up," she said. "I was that weird kid that was obsessed with musical theater. Not just The Sound of Music, but Victor Victoria, My Fair Lady… so I was a bit star struck. I think it took doing Princess Diaries 2 until I got comfortable with her because she is such a force."
Matarazzo added that she asked the star for her autograph, but she wishes she had asked Andrews more about her career. "I wish that I'd had the foresight to be like, 'You should sit down with Julie Andrews and ask her about Rex Harrison,'" she said. "'You should ask her about her relationship with Carol Burnett. You should ask her all of these things.'"
She felt pressured to hide her sexuality from the public for years
Matarazzo identifies as a lesbian, but she didn't reveal her sexuality to the public until 2004. She hid her sexuality for years because she was afraid of the impact that it might have on her career. She gradually became aware of her sexuality on the set of Welcome to the Dollhouse, where her character is teased by her classmates and called a "lesbo."
"I didn't even know what lesbo meant!" Matarazzo told AfterEllen, but researching the term brought her a newfound awareness. "Oh my God!" she said of her reaction to realizing her sexuality. "That's what I am, a lesbian!" The actress said that she excitedly told her friends on set that she was a lesbian, but, after filming wrapped, she didn't know how to talk to people about it. "It's like everybody else has been given this handbook on how to relate to other people and we haven't," she said about gay youth.
For years, Matarazzo was "apologetic, ashamed, secretive," and she felt pressured to bring male dates to premieres. Today, however, she is secure in her sexuality and proud of who she is. "It's a part of who I am, I embrace it, she told Advocate.
She considers herself to be deeply spiritual
While she grew up in a Catholic household, Heather Matarazzo struggled with her faith after coming to terms with her sexuality. "For years I struggled with the fear that maybe [religious education teachers] were right and that I was going to go to hell," she wrote in a HuffPost article. "From that stemmed a lot of dates I forced myself to go on with boys, who, while attractive enough, didn't pique my interest at all."
Matarazzo began exploring different faiths and read "books that spoke of a very different God, Universe, Divine Intelligence, Goddess, etc." It was an awakening for the actress, who now follows her own brand of spirituality. "I got to recognize that I could have my own relationship and experience, that I didn't need to believe as my parents did," she wrote. "I also found out that at least for me, there isn't any 'right way' to God, Universe, what have you. It's what's right for me."
Speaking out against sexism in Hollywood
The actress has been quite vocal about sexism in Hollywood, and she is determined to stamp it out. "I've been fighting for equal rights amongst the gay and lesbian community and women's rights [for years]," she told MTV News in 2015. "It seems as though it's starting, finally, to get more attention, so I feel people are noticing more. Things that I've been saying for a while are starting to get more attention."
A few years later, a wave of women planned to wear black to the 2018 Golden Globes to stand with survivors of sexual harassment and abuse, but Matarazzo was critical of the gesture. For the actress, the protest didn't go far enough. "As a native NYer, my wardrobe is mostly black," she wrote in a now-deleted tweet (via Teen Vogue). "Want to really protest? Wear sweatpants, or an outfit from the #HandmaidsTale and invite other victims of sexual assault/harassment rape as dates."
Fighting against typecasting
Matarazzo has struggled to be seen by Hollywood as something other than the "dork" she has been pigeonholed as. Matarazzo believes that it's this typecasting that has led to her having trouble landing roles. "I don't know if I took a step back from Hollywood, or Hollywood took a step back from me," she told The Guardian in 2017.
In order to remain relevant, Matarazzo has auditioned for roles even though she knew she wasn't right for them. "I had the experience of being a good girl and doing the thing I'm suppose to do," she said. "I literally felt like I'm f***ing dying every time I went before the proverbial gods to audition for something that I know I wasn't right for. But I had to do it because it shows I'm willing and open to everything, and I had bills to pay. It was frustrating because eventually I didn't get those roles anyway."
She considered driving for Lyft just to pay rent
With so many major roles under her belt, many might assume that Matarazzo is rich. Fame hasn't always translated to money for her, though. While she has a steady stream of acting credits, not all of her jobs have been lucrative. Many of her roles are in independent films, which typically don't pay much money. "Most people think that I probably get paid a lot of money," Matarazzo told The Guardian. "But I really don't and most working actors don't. I drive a beat-up f***ing Prius and I just bought my first pair of new shoes in over two years."
Matarazzo has supplemented her income through teaching and co-writing scripts, and has even considered driving for Lyft in order to make ends meet. For Matarazzo, acting isn't about the money. "I'm thinking, all I want to be able to do is pay rent, create and bring about stories to the world that need to be told," she said. "It's not about the awards for me. It's about a single tweet or the email or a letter that says, 'That movie changed my life.'"
Opening up about her struggles with mental health
Having a successful career from a young age might make it seem like Heather Matarazzo has lived a charmed life, but things have not always gone smoothly for the actress. She has struggled with depression and PTSD throughout her life, both of which were made worse after losing both her biological father and her adoptive father in the same year. The loss profoundly impacted Matarazzo, and led her to consider taking her own life. "It wasn't even a dramatic thing," she explained to The Guardian. "And that's the thing about suicidal thoughts. It's like, 'Maybe I should put gas in the car.' It's very matter-of-fact."
Matarazzo's therapist recommended that she try a plant-based spiritual hallucinogenic called ayahuasca, which Matarazzo traveled to Costa Rica to experiment with. The last-ditch effort turned out to be "transformative" for her. "I had come to the point where I was like, if this doesn't work, I don't know what I am going to do," she said. "It's not about going and getting high though. You literally are puking and s***ing in a bucket. You go to hell and back. I was terrified."
Her own happily ever after
Early in 2018, Heather Matarazzo announced that she was living her own fairy tale romance and that she had recently become engaged to her partner, comedian Heather Turman. "'There is only that moment, and the incredible certainty that everything under the sun has been written by one hand only,'" the Princess Diaries star wrote in an Instagram post, quoting the book The Alchemist by Paulo Coelho. "It is the hand that evokes love, and creates a twin soul for every person in the world. Without such love, one's dreams would have no meaning." Matarazzo added, "We kept this to ourselves for a few days, but on 1-11, I asked…..and she said yes. To death and back, I love you, Turman."
The two had met while working on the 2018 comedy Stuck, on which Turman worked as a writer and in which Matarazzo starred. Matarazzo and Turman were later married in late 2018 (via E! News). "My heart and life will never be the same," wrote Matarazzo on Instagram. "You are my everything."