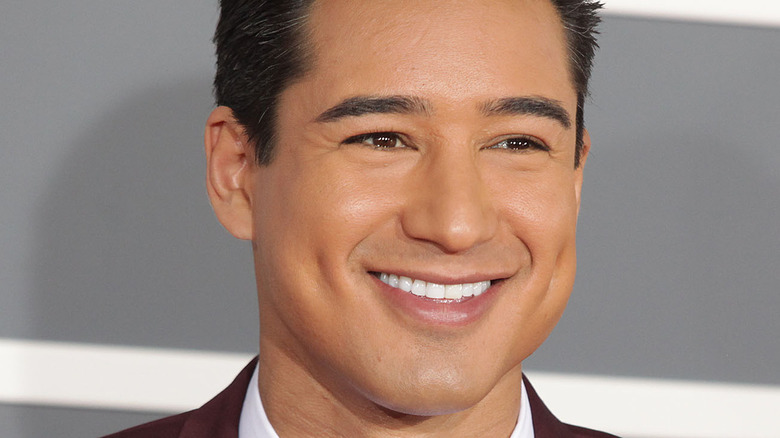 Mario Lopez has been famous since he was a teenager — the type of famous that puts you on the covers of Teen Beat and Bop magazine, where thousands of young adolescents scream your name when you make appearances. But the actor had to reinvent himself in order to have career longevity. It's not so easy to sustain pop culture fandom, yet Lopez found a way to keep his name in lights, even outside of acting. "I like to keep busy, man," he explained to GQ in late 2020. "I've always had sort of a hustler mentality," he said.
That go-getter attitude is what has kept him working steadily over the years, and as his family has grown to include a wife and three kids, there's even more to consider. Lopez loves to work, and he hopes to include his family in that situation — which might mean a reality show in the future.
Let's find out how Mario Lopez went from a teen-dream Saturday morning star to a successful multi-hyphenate entrepreneur. It seems like he had an easy road to get there, but it was trickier than anyone could ever imagine.
Mario Lopez was dancing from the very beginning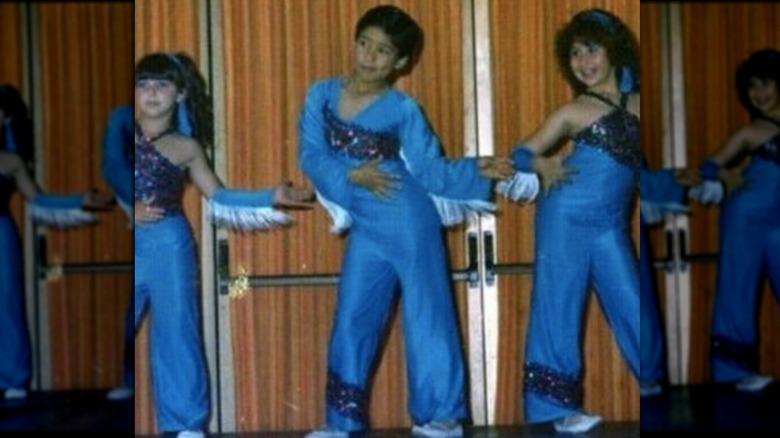 Mario Lopez was a talented little kid who found his calling early on with tap and jazz lessons. He was so active that karate and wrestling were also a part of his childhood activities. Lopez joked to GQ that he was "the only dancing-wrestling-karate-theater kid around."
His parents kept him busy for good reason, since the family lived in the "pretty tough neighborhood" of Chula Vista, California. Lopez started auditioning for TV and film roles after being discovered at his local dance recital, and he soon landed a role as a drummer and dancer on "Kids Incorporated" with eventual superstars like Fergie and Martika. (Lopez had left by the time Jennifer Love Hewitt joined the cast.)
Lopez loved his time on the show and has often shared photos and video clips of him performing on "Kids Incorporated." In 2019, he uploaded a hilarious glimpse of his younger days, when he was grooving to a Latin beat on the series. "#TBT to "Kids Incorporated" days… Outfit questionable, dance moves on point tho," he wrote on Twitter. All of those lessons his parents paid for to make sure he was keeping busy certainly paid off, but little did they know that his biggest job was just around the corner.
A breakthrough role changed everything for Mario Lopez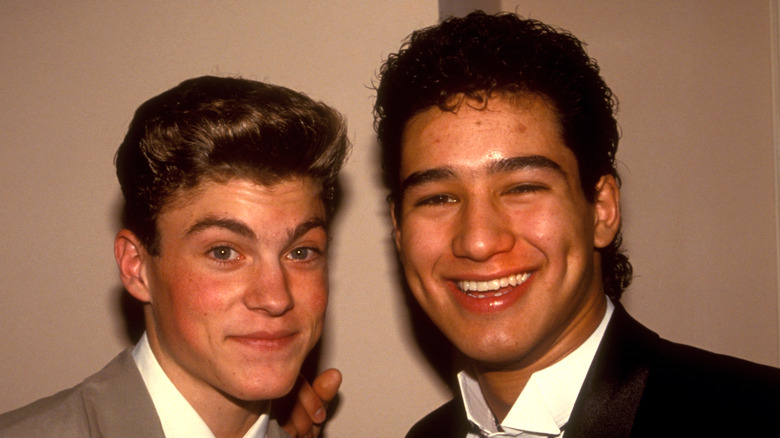 In 1989, Mario Lopez landed the role of A.C. Slater on "Saved By the Bell." And if anyone remembers one thing about this tough athlete with a warm heart, it's his very stylish mullet. "It was really aggressive when I first started," he told the "Today Show." "It was a curly, thick mullet. I didn't even know I had a mullet. It was, like, an unintentional mullet. I didn't know it was even a thing back in the day. But remember in that era, Mel Gibson, Steven Seagal, they all kind of had that mullet." Nobody seemed to care that his hairstyle would one day be laughed at, because the Saturday morning TV series would make him a teen heartthrob, who reportedly earned $3,500 an episode during the run of the show, per GQ.
Lopez believes that the show resonated with fans of diverse backgrounds because, as he told Yahoo News, "everyone could relate to [the characters] a little bit," whether it was Slater, Screech, Jessie Spano, Lisa Turtle, Zack Morris, or Kelly Kapowski at Bayside High. The magic of the weekend show continued until 1992, and Lopez moved on to the primetime spin-off, "Saved by the Bell: The College Years" from 1993 to 1994.
Mario Lopez found and lost love along the way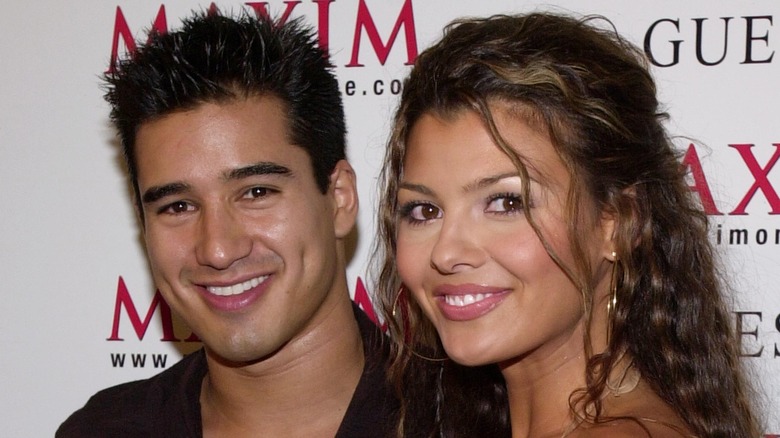 While Mario Lopez was chugging along in his young adult years, he met Miss USA 1996 (and the Doritos girl from the 1999 Super Bowl commercial) Ali Landry at the 1998 Miss Teen USA pageant. She was a commentator, and he was a host. Lopez knew right away that this was the woman for him.
"I thought this was the girl," Lopez wrote in his 2014 memoir, "Just Between Us" (via Yahoo). "If I wrote down the criteria of what I wanted in a wife and a mother — back then — she seemed to be it. She was a model, so she always had good style, she knew how to dress. And she was Catholic, very driven, ambitious, hardworking — but also charming and innocent at the same time." The couple dated on and off for six years before they walked down the aisle in April 2004 in Puerto Vallarta, Mexico.
But the story doesn't end there — their marriage was annulled two weeks later due to his infidelity at his bachelor party where he "got inebriated and a little too friendly with a young lady on spring break…" Ali Landry got wind of Lopez's infidelity and even confronted him before their wedding and after the honeymoon. Lopez denied the allegations, and they went ahead and got married for that very brief time.
After his teen success, Mario Lopez found it harder to land acting roles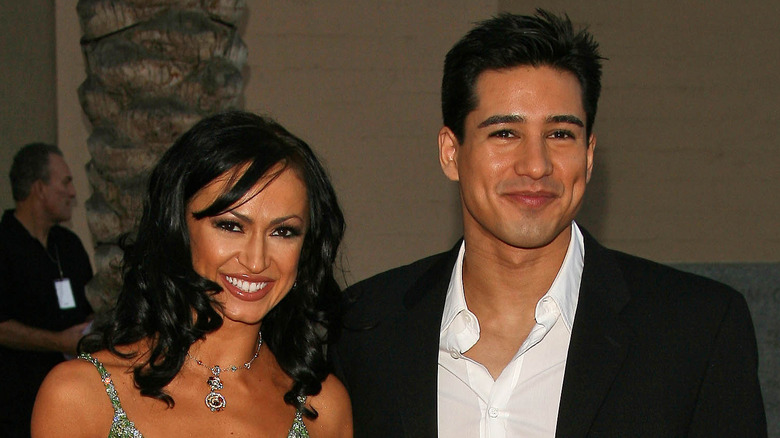 After his success on "Saved By the Bell," Mario Lopez found the transition to adult roles challenging. He followed up his teen career with a dramatic turn as Olympic diver Greg Louganis in "Breaking the Surface: The Greg Louganis Story" in 1997. In 1998, he joined the cast of "Pacific Blue," a bicycle cop show about officers patrolling the beaches of Santa Monica, California.
Lopez stumbled through the next five years until he landed a contract role as Christian Ramirez on "The Bold and the Beautiful," but that stint ended much sooner than expected. "Mario was a joy to have as part of the B&B family," Bradley Bell, the show's head writer and executive producer, explained to Soap Central. "He has done an excellent job. We wish him well in his future endeavors and one day, Christian could show up again."
The actor never returned to the soap, instead signing on for the third season of "Dancing with the Stars" to revive his career in 2006. We knew Lopez could dance, but could he rhumba? It turns out he was pretty good when it came to ballroom dancing, and he was the runner-up to former NFL running back Emmitt Smith. The show not only led to new career opportunities; it also introduced him to dance partner (and girlfriend!) Karina Smirnoff, whom he dated until 2008, when he reportedly cheated on her, too, per Fox News.
His Dancing with the Stars success fueled his hosting career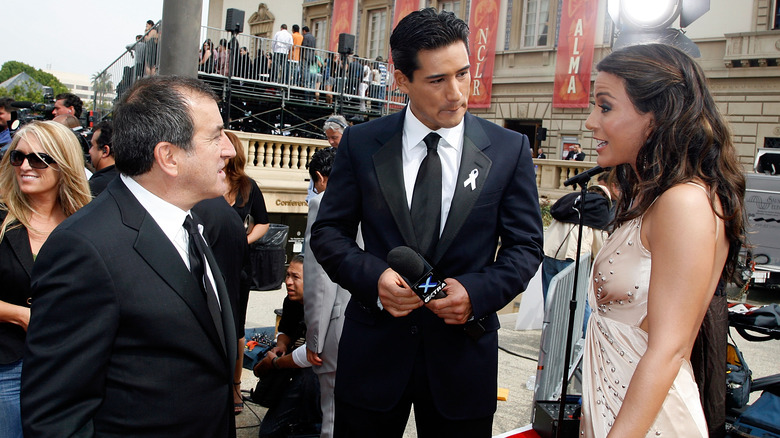 Because "Dancing with the Stars" showed off Mario Lopez's sparkling personality, he found no shortage of hosting jobs offered to him. He even got words of wisdom from the late Dick Clark, who saw innate talent in the young star. Lopez recalled to Yahoo Finance the advice he received from the television and radio icon: "You don't have to put yourself in one little box. You can be open to doing many different things, whether it's on Broadway or on television acting or as a host." Lopez added that Clark "really wanted me to lean into the hosting because you could tell that I like people and had personality for it."
And that's exactly what Lopez did. He joined "Extra" in 2008 and spent over a decade on the show interviewing some of Hollywood's biggest celebrities in the studio and on the red carpet. In 2019, he joined the "Access Hollywood" team in a major production deal that also gave him the opportunity to work behind the camera on personal pet projects.
"I have long admired the team at NBCUniversal and all the shows being produced," he said in a statement, via The Hollywood Reporter. "I'm thrilled to have an opportunity to join in that success and develop scripted and alternative projects on their many creative platforms." With his own nationally syndicated radio show, "ON With Mario Lopez," the TV personality has had no shortage of fulfilling gigs.
Broadway was more than a business endeavor for Mario Lopez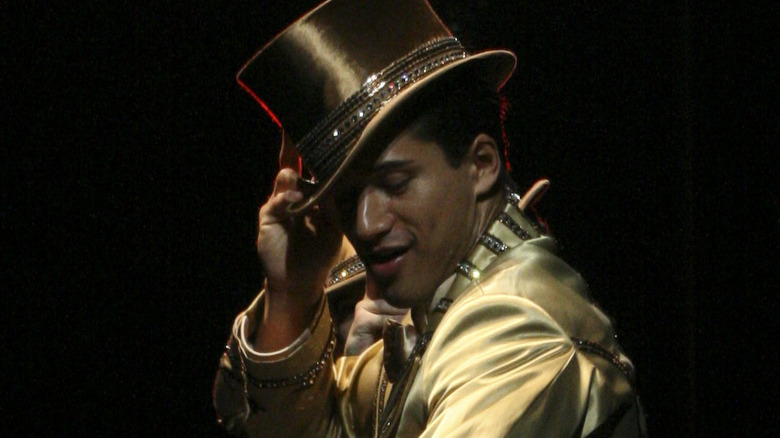 Mario Lopez was cast in the Broadway revival of "A Chorus Line," where he played the temperamental director, Zach — and yes, he has "Dancing with the Stars" to thank for this job, too. Showcasing his movement skills week after week on live TV made him just right for the demanding job in theater. "Every actor dreams about appearing on a Broadway stage. I have as well, and have been searching for the right time and opportunity," said Mario Lopez (via Broadway World). He continued, "'A Chorus Line' is a legendary musical and I am so honored to have been chosen to join the amazing cast and be a part of the Broadway family."
He made his Broadway debut on April 15, 2008, and stayed in the show until September, all while hosting "Extra" from their Times Square studio at the same time. It was a dream come true for the actor, who has always leaned into his " hustler mentality." Lopez told Yahoo Finance, "Not a day goes by that I'm not appreciative of what I've been able to do." "A Chorus Line" would also affect his personal affairs, too, allowing Lopez to meet the love of his life, co-star Courtney Mazza.
Mario Lopez added author to his list of jobs, too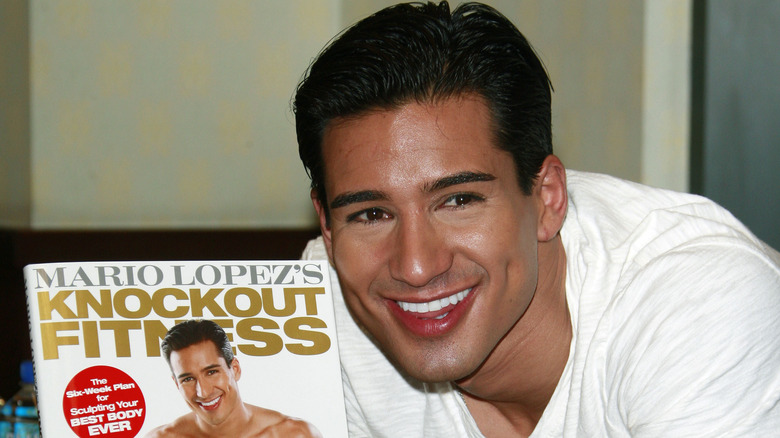 If two jobs weren't enough, Mario Lopez decided to add author to his list of skills. While he was hosting "Extra" and starring on Broadway in "A Chorus Line," he published his first book, "Mario Lopez's Knockout Fitness," in 2008. His nutritional book, "Extra Lean," became a New York Times bestseller. Then came "Extra Lean Family," followed by his 2014 memoir, "Just Between Us."
Lopez decided to share his story by writing about his upbringing and relationships in "Just Between Us." "I know I made my share of mistakes, and sometimes big ones," he told People. "I had to learn all my lessons the hard way," he added.
While some might think a memoir would be his most personal book to date, it's probably Lopez's children's books that really resonated with him. He wrote "Mud Tacos!" with his sister, Marissa Lopez. The actor read the picture book to his kids in a 2020 video for First 5 California. The next story, "Mario & Baby Gia," was inspired by his oldest child. "I wrote it as a gift for my daughter, Gia, on her first birthday. She was born on 9/11…so it's a bright spot on an otherwise bleak day," the star said on "Today." The author wanted families to "spend time together, celebrate each other, and read together."
Mario and Courtney Lopez made their dreams come true and started a family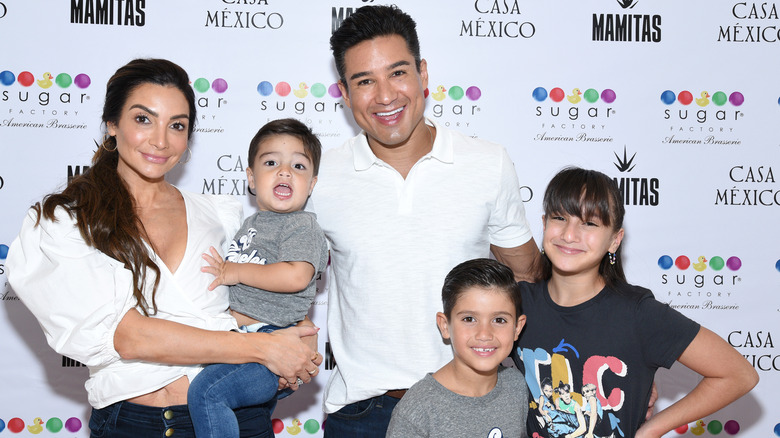 Mario and Courtney Lopez had their daughter, Gia, in 2010 — two years before they got married. But that didn't matter, because two-year-old Gia got to be a flower girl in her parents' wedding in 2012. The event was filmed for a two-hour TLC special called "Mario & Courtney's Wedding Fiesta." (The wedding was held in Mexico.)
The couple's priority after tying the knot was expanding their family. "We're working on that," Lopez laughed in a People magazine pre-wedding interview. "Right after the wedding. We'll wait for the guests to leave and then we're getting right on that!"
Sure enough, son Dominic was born in 2013, and son Santino arrived in 2019. One big component of their family unit is faith, as the Lopezes are devout Catholics who take their religion very seriously. "I am proud of who I am and what I am and being Catholic," Mario Lopez told Fox News. "I think as I've gotten older, I've just tried to build a more spiritual muscle in a business that is very unpredictable. It's nice to have something that is consistent in our life –- family and faith is that for me."
All of his jobs have made Mario Lopez a wealthy man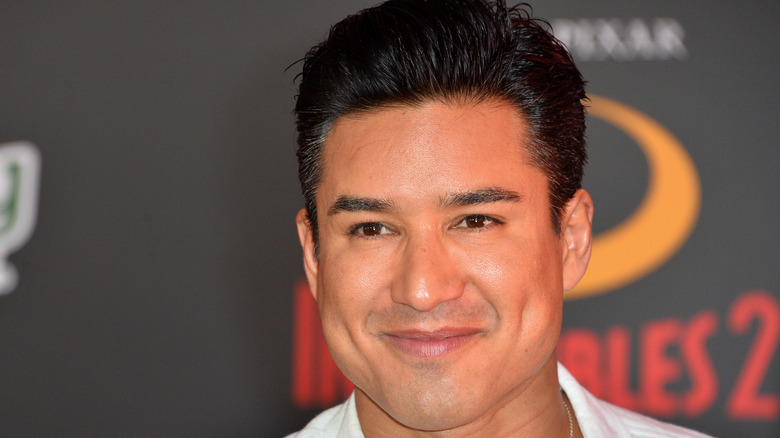 With his vast career in the entertainment industry, Mario Lopez has accumulated approximately $25 million, according to Celebrity Net Worth. He's done well in real estate and reportedly owns three homes in the L.A. area. His main residence is "a 6,000-square-foot Glendale home" with a kitchen fit for family dinners (via the Los Angeles Times).
The television host explained his money philosophy to GQ and shared what keeps him motivated. "I say no to a lot of stuff…[but] when you grow up without money, you have two attitudes when you start making some," he told the magazine. "You either think: Well, all right, I've made it and I'm just gonna get flossy and kind of rest on my laurels. Or you can think, which is what I do: You know what? This s**t can go away like that. And I don't ever want to regret it. I want to keep striking while the iron is hot."
That's the attitude that has kept Lopez successful since he nabbed his first TV job as pre-teen — and it's what keeps him in the limelight at the age of 47. Lopez circled back to the gig that started it all for him with the reboot of "Saved by the Bell" on Peacock in 2020. With no end to his career in sight, Lopez is happily surrounded by his loving family as he dances with them on TikTok and shines in his Hollywood career.