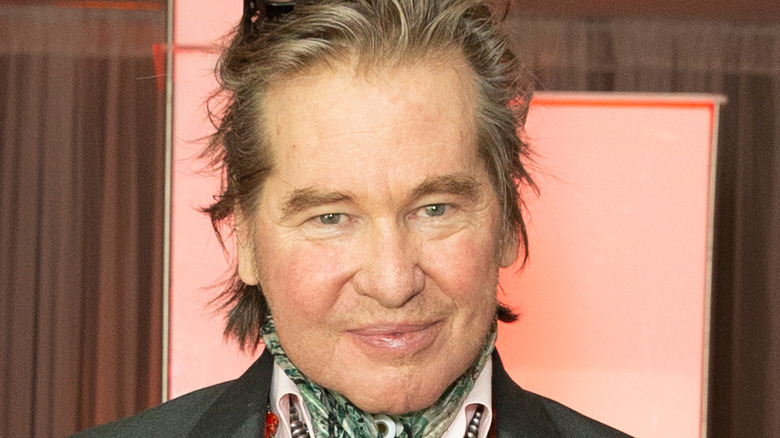 In his memoir "I'm Your Huckleberry" Val Kilmer writes, "I am a storyteller who has been deprived of his primary tool." Known for such roles as the antagonistic Iceman in "Top Gun," the infamous Doc Holliday in "Tombstone," and the dark knight himself in "Batman Forever," Kilmer's career has left an indelible mark on Hollywood's collective stage (via IMDb). And the trajectory of his life — good and bad — seemed to be set in his childhood.
Today, anyone can take a video with their smartphone, but back in the 1960s, Kilmer and his brothers worked with larger, less sophisticated equipment to make their home movies (via The Hollywood Reporter). These fun outings helped spark something in Kilmer. Even as a professional actor, he continued videotaping the behind-the-scenes happenings of his movies, demonstrating his love of both being on camera and behind the lens.
But just as his home movies cemented him becoming an actor, a habit he developed as a boy at least foreshadowed his future health problems. In "I'm Your Huckleberry," he writes about stealing cigarettes from his uncle and smoking in his treehouse. "The smoke bombed my tiny body," he writes. "I was probably eight, absolutely oblivious to the catastrophic effects." What impact smoking at such a young age had on his health can never be 100% known, but adult Kilmer developed throat cancer — and at a particularly devastating time in terms of his career (via The Hollywood Reporter).
Val Kilmer lost his professional integrity but kept the faith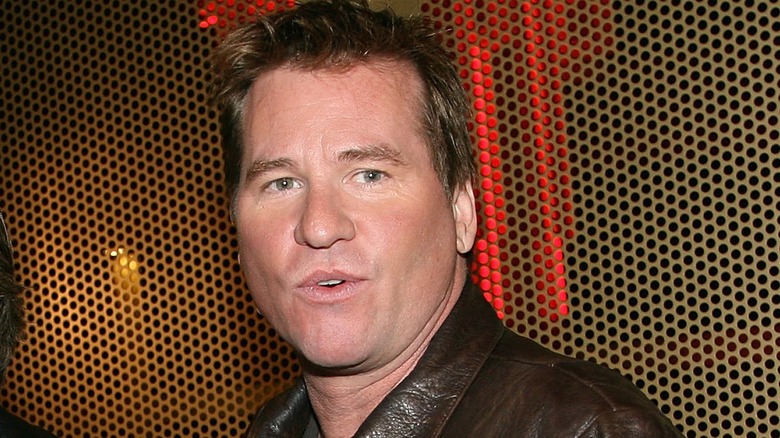 Although Val Kilmer has had professional high moments, by his own admission, his career includes peaks like "The Doors" and plateaus like "The Island of Dr. Monroe" (via The Hollywood Reporter). "I did a lot of terrible movies in the last 10 years to pay for my ranch (in New Mexico)," he told LA Weekly in 2012. "I had integrity about the land and really sacrificed integrity that built up from my career."
Even though Kilmer admits to sacrificing integrity, his religion has remained in his life. As his memoir recounts "I've held fast to that faith [Christian Science] throughout my life … ." In the 10 years he took part in "straight-to-video movies," Kilmer developed a passion project film, involving the founder of Christian Science, Mary Baker Eddy, and Mark Twain (via LA Weekly). Eventually, this idea led to "Citizen Twain," a one-man stage show where Kilmer played the celebrated writer.
As LA Weekly reports, Kilmer saw "Citizen Twain" as a way to express who he is on a more personal level. By this time, he had a reputation for being difficult to work with (although Kilmer told LA Weekly this is because of a misunderstanding that occurred while filming "The Doors"). Nevertheless, stepping into Twain's shoes would allow Kilmer to step away from his less than stellar films and reputation. Yes, "Citizen Twain" held a special significance for Kilmer, making what happened next like something from a Greek tragedy.
Val Kilmer was busy achieving a dream while developing cancer
As Val Kilmer worked on his film and one-man show, several changes happened in his life. He writes in "I'm Your Huckleberry" that he was forced to sell his place in New Mexico. "I have made a crucial decision to sell my home so that I might continue the momentum that is required to create a film as unique as its subject," he explained on the website for the project. He also discovered a lump in his throat. Yes, this was the beginning of his cancer, which eventually led to him moving in with his former girlfriend and world-famous entertainer Cher. "But after my ongoing challenges with breathing, she [Cher] suggested I stay in her guesthouse," he writes in his memoir.
Nevertheless, Kilmer saw "Citizen Twain" go from concept to reality. In 2012, he got to put on his one-man show in the home state of Mark Twain at the William Woods University in Missouri, as well as received an honorary doctorate in fine arts from the school (via William Woods News). Performing before a sold-out auditorium, Kilmer did a Q&A and later attended a dinner in his honor.
"Citizen Twain" became a great success. According to Kilmer's website on the project, it "ended up playing to sold-out audiences around southern California and grossed over a million dollars, without even the benefit of an opening by a theater or press." It was time to take the show on the road.
A terrifying experience sent Kilmer to the hospital
One of the most iconic scenes in the movie "The Godfather" is when the character Jack Woltz wakes up covered in blood and finds his prized horse's severed head in his bed. In his memoir, Val Kilmer recounts feeling like he was in the real-life version of that cinematic moment — only there was no horse head at his feet. The blood was his. "One night I suddenly awoke vomiting blood that covered the bed like a scene out of The Godfather," he writes (via People).
Kilmer recalls that the first thing he did was pray. Next, he let Cher know what happened and called 911. What followed were surreal moments where Kilmer readily admits that "my life seemed to be in mortal danger" and compared his appearance to "a stunt man from Tarantino's Reservoir Dogs," and yet, silently teased Cher for checking out one of the handsome paramedics rushing to his aid. "Despite the fact that I was covered in blood, I caught her eye and bounced my brows like Groucho Marx," he writes. "We laughed out loud before they finished with my vitals and shut me up with an oxygen mask." Besides making him laugh at a frightening moment, Kilmer has publicly praised Cher for her friendship and support (via People).
Val Kilmer began treatment for his cancer
Faced with throat cancer, Val Kilmer turned to his faith for help. According to Entertainment Tonight, the actor initially planned to pray with his practitioner with the goal of getting rid of his fears, which as Kilmer explains it are "manifest outwardly" by his body as "what can be diagnosed as a malady." These prayer sessions would have required Kilmer to relocate, and this original plan would not have included chemotherapy or other commonly prescribed treatments for his condition.
While a devout Christian Scientist, Kilmer ultimately chose a different approach because of his children, Jack and Mercedes. "I just didn't want to experience their fear, which was profound," Kilmer told Entertainment Tonight. "I would've had to go away, and I just didn't want to be without them." This doesn't mean that Kilmer stopped praying or turned away from his religion. The actor told Entertainment Tonight that he credits his cancer eventually going into remission to praying and his faith.
While Kilmer sees his religious beliefs as instrumental to him successfully fighting and surviving cancer, his medical treatments are another story. As he told the outlet, he attributes his chemotherapy and radiation therapy (not his cancer) to the physical difficulties he's still dealing with so many years later.
Val Kilmer's one-man show was impacted by his illness
As Val Kilmer went through treatments for his cancer, he continued to perform live on stage in "Citizen Twain." The one-man show had been a big success in Southern California, per the project's website. The LA Times described "Citizen Twain" as "a stream-of-consciousness monologue" with Kilmer "displaying vocal skills."
As Kilmer explains on the project's website, he had planned to start touring "Citizen Twain" around the country, beginning with the original building of the Grand Ole Opry in Nashville. That's the moment when those vocal skills that had earned him praise were now failing him. "But I had to cancel as I realized I could no longer speak clearly enough to satisfy my audience," he explained. Canceling in this case meant not just the sold-out shows in Nashville but the entire "Citizen Twain" tour.
A couple of years later, Kilmer was ready to try being Mark Twain again. He modified "Citizen Twain" so it now involved a film and a shorter live interaction by Kilmer with the audience (via People Magazine). However, he was still undergoing cancer treatments, so history repeated itself. This time he was in Florida when he had difficulty speaking, and according to the East Bay Times, slurred and drooled during a subsequent performance in Los Angeles. He told the audience that his tongue was swollen and so he needed to cancel the tour.
Michael Douglas weighed in on Val Kilmer's health
When someone who has been in the spotlight for so long suddenly seems different in some way, it's a recipe for speculation. And Val Kilmer suddenly having difficulty speaking during his one-man show's performances was no exception. But it was an event that had nothing to do with his public stage show that sparked problems between Kilmer and a former costar.
Michael Douglas and Kilmer were both in the movie "The Ghost of Darkness" (via United Press International). So when Douglas said at a Q&A that Kilmer has cancer, their work history plus the fact that Douglas is an oral cancer survivor gave credence to his statement even though throat and oral cancer are different conditions. "Val was a wonderful guy who is dealing with exactly what I had, and things don't look too good for him," Douglas said, adding that he's praying for him and that Kilmer's cancer is why "you haven't heard too much from Val lately."
Kilmer shot back at Douglas' statements by writing on Facebook, "I have no cancer whatsoever" (via East Bay Times). In fact, Kilmer denied ever having cancer; however, he later reversed these statements in a Reddit AMA, saying he "did have a healing of cancer, but my tongue is still swollen although healing all the time" (via United Press International). He also said Douglas "was probably trying to help me [because] press probably asked where I was these days."
Val Kilmer lost his voice
Val Kilmer's "Citizen Twain" character depended not only on his verbal improvisation but also his ability to do an accent. But that vital piece of his craft vanished for the actor. As Kilmer writes in "I'm Your Huckleberry," his swollen tongue eventually led to him getting two tracheostomies. "Tracheostomy … is a hole that surgeons make through the front of the neck and into the windpipe (trachea). A tracheostomy tube is placed into the hole to keep it open for breathing. The term for the surgical procedure to create this opening is tracheotomy," explained the Mayo Clinic.
This impacts a person's ability to speak because air moves out of the surgical opening as opposed to through the voicebox. As a result, the person may hold an electronic device to their neck to communicate (via Vancouver Coastal Health). However, it can be difficult to understand. Case in point, Kilmer needed a translator for a 2020 phone interview with Men's Health.
Kilmer specifically blames the chemotherapy and radiation treatments for his tracheostomies and needing a feeding tube (via Entertainment Tonight). For a while, he wore scarves around his neck for public appearances (via SurvivorNet). However, he was more open about his condition when he was honored at the United Nations for his TwainMania Foundation, joking that his speech would be short since he couldn't talk for a long time.
Val Kilmer found a different kind of voice through art
From an early age, Val Kilmer was inspired by creative pursuits — like acting, of course, but also being the one who framed the shots. This is evidenced by the home videos he and his brothers made (via The Hollywood Reporter). Now, with his voice forever changed by two tracheostomies, art took on new significance for him (via Men's Health).
From photography to sculpture to abstract painting, Kilmer has explored various mediums. And rather than shy away from his career (which, arguably could be painful to look back on), he created pop art versions of his iconic characters like Doc Holliday and Batman, stenciling a memorable quote (or paraphrased quote) from the film on each piece. As to why he chose these subjects, Kilmer told Men's Health, "It's not so much me thinking about myself. It's more about the icon. The icon of the warrior. Or the gunslinger — that black-and-white justice that's part of American history."
But even as he pursued his art, Kilmer had not forgotten his passion project, involving Mark Twain (via Santa Fe New Mexican). "All this incredible energy built up for two years to master the great orator and novelist now went into one of my favorite alternative pastimes, painting," he said regarding his one-man show.
Cancer hasn't ended Val Kilmer's acting career
While Val Kilmer's life has taken twists and turns, that doesn't mean he's no longer able to act. In 2020, he and his daughter Mercedes appeared on "Good Morning America" to talk about their new movie, "Paydirt." In this crime thriller, Kilmer plays a retired sheriff in hot pursuit of a criminal gang.
While his tracheostomy could have been a hindrance to him stepping back into the spotlight, Kilmer views it more as a challenge. "It's just like any other language or dialect," he explained on the morning show. "You have to figure out a way to communicate that's no different than any other acting challenge but it's just a very unique set of circumstances."
As for Mercedes, she has been cast in "Paydirt" as the daughter of Kilmer's character, a part she described on "Good Morning America" as both "trippy" and "perfect." She said she is proud to have been in this movie — but not just because she gets to work with her dad. "I know you don't really lead with this but you do have now a disability with your voice," she said to her father, "and it really meant a lot to me to be able to be involved in this film that centers a disabled actor, or an actor with a disability."
Val Kilmer is open about his cancer and career
While Val Kilmer was tightlipped about the "Top Gun" sequel when speaking with Good Morning America, he has become more open about his personal life. He goes into far more detail about himself — including his illness — in his memoir "I'm Your Huckleberry" (a phrase any fan of "Tombstone" will appreciate). Kilmer, of course, writes about his career. Stars like Tom Cruise, Robert De Niro, and Marlon Brando all appear in his book, but so too do statements that may surprise his fans and critics alike.
"Clearly I'm vain, but I'm workin' on it, baby, I'm workin' on it," he writes, adding, "In fact, I've never met anyone who has worked so hard on their vanity. LOL." While such statements may be a bit tongue in cheek, Kilmer's writings are also filled with more serious moments about his condition. "I am weighed down with worry and physical pain," he details, adding, "This hole in my throat, this fat tongue that impedes my speech, this fury I'm feeling, only fuels my commitment to a long-form blues that otherwise might be called an autobiography."
And yet this metaphor for the blues sets up not a dive into depression about his health but a coming out of the other side of a hard situation. "The blues are never right unless they also express joy," he writes. "For joy at overcoming unforeseen obstacles is reason for celebration."
Val Kilmer and his children produced a documentary about his life
As a boy, Val Kilmer made home movies with his brothers, Mark and Wesley (via The Hollywood Reporter). Ad an adult, Kilmer has teamed up with family again to make a documentary, aptly titled "Val," that does not shy away from his cancer (via SurvivorNet). And although he isn't the narrator, his son Jack steps into his father's shoes to help tell the ups and downs of his life.
"It is difficult to talk and to be understood, but I want to tell my story more than ever," Jack reads as a voiceover for "Val" (via SurvivorNet). The documentary mixes Kilmer's home movies, behind-the-scenes footage, as well as new footage — some of which features Kilmer's daughter Mercedes and Kilmer speaking through his tracheostomy device and requiring subtitles. "The fact that my impeded speech could spell the end of my career only served to motivate me," Kilmer writes in his memoir and puts into practice in his documentary.
Although the documentary was released in theaters and on Amazon Prime, "Val" initially premiered at the Cannes Film Festival. "And as grateful as I am for being selected with this high honor, I look forward most to sharing my life's story with all of you," the actor tweeted.
Those close to Val Kilmer spoke out about his health
Although Val Kilmer took to Twitter about the premiere of "Val" at the Cannes Film Festival, he was not in attendance (via The Hollywood Reporter). And while his son Jack and his daughter Mercedes were present for the screening at the Directors Guild of America in Los Angeles, Kilmer was nowhere to be seen — except, of course, on the screen.
His absence from both of these events could have led to speculation that his health might be taking a turn for the worse; however, Jack put any such rumors to rest, telling The Hollywood Reporter that his father is "doing good, physically and spiritually." Mercedes described her father having cancer as "a really tough battle" but added that he is a fighter. She also said that Kilmer is not one for looking back and "always preferred making the work over rewatching it and he's already seen this film so many times."
Besides his family, Kilmer's longtime collaborator and the co-director of the documentary, Leo Scott, told the outlet that he had hung out with Kilmer recently and said the actor was focused on new projects rather than his health. He described Kilmer as being in "good spirits," adding, "It's a shame he can't be here tonight but he's definitely here in spirit."
Val Kilmer received 'an incredibly special gift' from a software company
Although Val Kilmer will never be able to speak the way he once did, that doesn't mean his voice is completely lost. Yes, it will always exist in his past films, as well as his home movies (via The Hollywood Reporter). But thanks to the software company Sonantic, it might also be in future projects.
"I'm grateful to the entire team at Sonantic who masterfully restored my voice in a way I've never imagined possible," Kilmer said in a statement provided to The Wrap. By providing Sonantic with archival footage, the company is able to use an algorithm to create an artificial intelligence or AI version of Kilmer's voice. "As human beings, the ability to communicate is the core of our existence and the side effects from throat cancer have made it difficult for others to understand me," Kilmer explained, adding that Sonantic restoring his voice in some form is "an incredibly special gift."
Kilmer may be able to use his AI voice for future professional projects. However, the "Val" documentary did not feature the Sonantic version of Kilmer's voice, so it's official unveiling will have to wait.
Val Kilmer looks to the future
Val Kilmer's artwork has remained his creative voice even after his tracheostomies forever altered his ability to speak (via Men's Health). It's no wonder Kilmer wants to help inspire future artists.
According to Broadway World, Kilmer's HelMel Studios has partnered with fellow nonprofit Mosaic Sound Collective with the intention of setting up multidisciplinary art studios to encourage musicians, filmmakers, visual artists, and other creative types. "The dream for HelMel Studios was to have creative hubs throughout the world," Kilmer said. "A sandbox for creatives to feel inspired, safe and encouraged to 'go for it.'" Besides helping to establish artist communities, Mosaic Sound Collective is also helping Kilmer extend the reach of his arts and education outreach, the TwainMania Foundation.
When Kilmer first became a professional actor, he could not have anticipated where his life would go. His memoir details him being "deprived of his primary tool" — an understandable statement given his history. And yet, as Broadway World notes, his philanthropic efforts through HelMel have him looking to the future with encouragement. "This is the type of work that makes you feel like you are truly making an impact and cementing your legacy," Kilmer said.