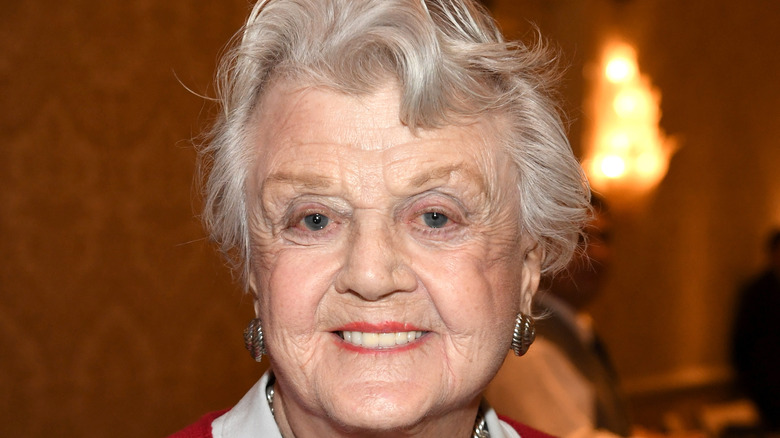 Award-winning actress Angela Lansbury's career spans more than 75 years and includes work on stage, TV, and films. Since making a splashy movie debut in 1944's "Gaslight," for which she earned an Academy Award nomination, Lansbury has found regular acting work. The following year, she appeared in "The Picture of Dorian Gray," getting another Academy Award nod, and winning a Golden Globe.
She continued getting film roles, such as playing the older sister of Elizabeth Taylor's character, Velvet Brown, in "National Velvet" (1944) and in "The Harvey Girls," (1946) alongside Judy Garland and Cyd Charisse. Other movies include "The Manchurian Candidate" (1963), "Blue Hawaii," with Elvis Presley (1961), and the Disney musical "Bedknobs and Broomsticks" (1971) (via Biography).
Lansbury is probably best known for her 12-year run playing Jessica Fletcher on the TV series "Murder, She Wrote." Although she never earned an Emmy Award for the role, she received nominations for Outstanding Lead Actress every year until the show's end in 1996, according to IMDB.
Despite that snub, her award list is long and includes an honorary Oscar in 2014; six Golden Globes; Screen Actors Guild and BAFTA lifetime achievement awards; five Tony Awards; a 2000 Kennedy Center Honors; induction into the American Theater Hall of Fame and the Emmy Hall of Fame; and she was named Dame Commander of the Order of the British Empire in 2014. An impressive haul, don't you think? (from Variety).
She was discovered working in a department store
When MGM cast its film noir, "Gaslight," in 1943, all the leads were set, including Ingrid Bergman, Charles Boyer, and Joseph Cotton. But the studio couldn't find the right actor to play Nancy, the conniving, flirtatious maid until one of the creative team, John Van Druten, spotted a teenage Lansbury at Bullock's department store, where she was a salesperson, according to PBS.
The 17-year-old did a screen test and impressed the director, George Cukor, enough that he cast her even though she had no experience acting in film. "She was immediately professional," he said in this book, "On Cukor," quoted by Variety. "She became this little housemaid — even her face seemed to change. Suddenly, I was watching real movie acting."
That job got Angela Lansbury noticed. Not only did she get an MGM contract, but she earned her first Oscar nomination for the role. "It was a thrilling experience to work with an absolute ace director, George Cukor, and to work with Ingrid, a wonderful lovely woman, who was so kind to me," Lansbury said, according to Movies! "It was a great experience for a first movie."
Her first marriage was to a gay man
When Lansbury was 19, she married actor Richard Cromwell ("Jezebel"), who was 35. They eloped in 1945 and stayed together for less than a year. The age difference never disrupted the union — but a secret her husband kept did: he was gay. "I had no idea that I was marrying a gay man," Lansbury said to the Radio Times. "I found him such an attractive individual, a very glamorous person — he knew everybody, he was a friend of Joan Crawford's, these people who I was fascinated by as a young actress."
Still, the marriage's failure didn't hurt their friendship. Lansbury and her second husband, Peter Shaw, stayed friends for years with her ex-husband until Cromwell passed in 1960. "It didn't injure or damage me in any way, because he maintained a friendship," she said. But it was a shock when everything ended. "I wasn't prepared for that. It was just a terrible error I made as a very young woman. But I don't regret it."
Lansbury married Shaw in 1949, and the second time was the charm; they celebrated 54 years together before he died in 2003 (from Smooth Radio).
Her first Broadway musical closed after nine performances
Throughout her career, Lansbury appeared on Broadway 14 times, according to Masterworks Broadway. While she's won five Tony awards —"Mame" (1966), "Dear World" (1969), "Gypsy" (1975), "Sweeney Todd (1979), and "Blithe Spirit" (2009), her first appearance in a Broadway musical didn't fare well. "Anyone Can Whistle," with music and lyrics by Stephen Sondheim, closed after nine performances, according to PBS.
"Hotel Paradiso" in 1957 was Lansbury's stage debut and she steadily appeared in theatrical productions until she finished her run in the play, "A Little Family Business." Then Lansbury left the stage for 23 years as she pursued other projects (like 12 years of "Murder, She Wrote"), said Broadway.com. She returned to Broadway in the Terrence McNally play Deuce (2007) and has appeared several times since then in shows such as "A Little Night Music (2009)" and Gore Vidal's "The Best Man" (2012).
She also revisited her first musical part, doing a concert version of the show in 1995. "Anyone Can Whistle at Carnegie Hall" featured a star-studded cast (including Lansbury, Bernadette Peters, and Madeline Kahn) that produced a still-available recording.
Her family was important in British politics
British Labor Party leader and activist George Lansbury was the actress's grandfather. "We had in our circle someone enormously charismatic," she said to the Guardian. "He was not, I suppose, speaking for everyone, but he wanted to represent the working class."
Her granddad was not afraid of controversy. He went to prison in 1921 after the Poplar rates rebellion in England. George, who was mayor of the borough, refused to enact a rule about increasing precept rates (essentially a tax) from the London County Council, believing it impacted the working-class unfairly, according to the East London Advertiser. "If we have to choose," said Lansbury, "between contempt of the poor and contempt of court, it will be contempt of court," reported Socialist Appeal. The strike and the subsequent protests pushed for change that ultimately made the rate more equitable.
Lansbury was leader of England's Labour Party from 1932 to 1935, said The Mirror. He also supported women's rights — something that also led to jail time in 1913, reported Layers of London. A pacifist, Lansbury's grandfather chaired the No More War Movement and was president of War Resisters International, said Academic Kids. While doing this, he met with Adolf Hitler and President Franklin D. Roosevelt. George died from cancer in 1940 at 81.
Angela Lansbury's father, Edgar, was also a politician in East London. He passed away from cancer in 1935 when Lansbury was 9 (via Spartacus Educational).
"Murder, She Wrote" was all about the Benjamins
The TV show about amateur detective, Jessica Fletcher, may have seemed like perfect casting in 1984 but the truth was that Lansbury took the role simply because of the money. "There comes a time in a theatrical life when you say to yourself, 'Well I can't make any money in the theatre', so television was a very specific decision I made," said Lansbury to the Mirror.
It turned out that Lansbury was right. She made more than $340,000 per episode during the show's peak when about 23 million viewers watched her character solve case after case. The show ran for 264 episodes over the 12 seasons it aired and played in almost 50 countries. One of her biggest fans was Ol' Blue Eyes, himself: crooner Frank Sinatra. The two had dinner together with their spouses and he even asked Lansbury how the show was created. "I was very touched to realize it gave him some sense of entertainment," she said.
The show ultimately received nominations for 14 Golden Globes and 41 Emmys, earning six statues and two wins, respectively. Four of Lansbury's Golden Globes came from her work on "Murder, She Wrote."
Nowadays, money isn't something Lansbury needs to worry about — she's earned about $70 million throughout her career, according to Celebrity Net Worth. Hmmm … it doesn't take a detective to see how successful Lansbury is.